Jennifer Arnow
Try as you might, sometimes it's impossible to fit everything you need for a trip into a single carry-on bag. Whether you're hitting the road for a month, packing clothes for more than one person, or just want to have room for all the things you know you're going to buy, there are times when checked luggage is exactly what you need for your travels. With that in mind, we've tried out the latest crop of large luggage on trips all around the world, road-testing the wheels on subways and sidewalks, noting how much each suitcase can hold, and deciding which pieces are attractive (or at least functional) enough to warrant the investment. For your next long-term or long-range journey, look to this lineup of our favorite staff-tested and
-approved checked luggage.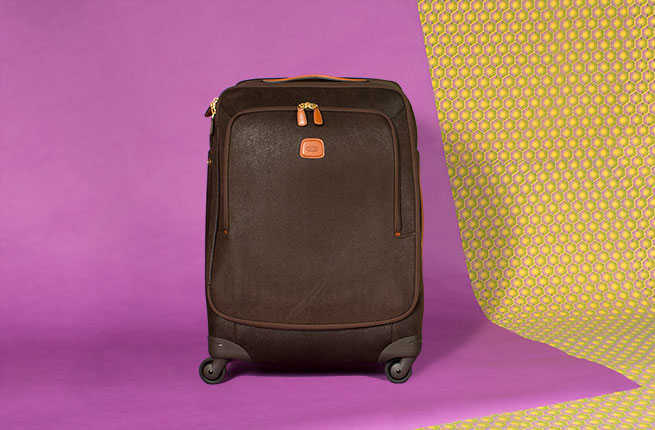 Jennifer Arnow
Bric's LIFE 26″ UltraLight Spinner
The Tester: Kristan Schiller, Editor, Cities and Cultural Destinations
The Review: I traveled throughout Spain with this suitcase for several days. It held clothes and toiletries with room on return for three pairs of espadrilles, a full set of locally made soaps, and a glass water bottle I carted home to hold flowers. The best feature is that it moves quickly through busy airports on its well-made wheels. A standout feature is the zipper hatch, which is surprisingly easy to open and shut.
The Catch: The bag is sturdy but bulky, so if you're looking for lightweight luggage, this is not for you. The loden-colored, suede-like outer fabric also seems to easily show fingerprints.
The Verdict: I would use it for an extended domestic trip but probably not again for long-haul travel.
The Price: $695, buy it here.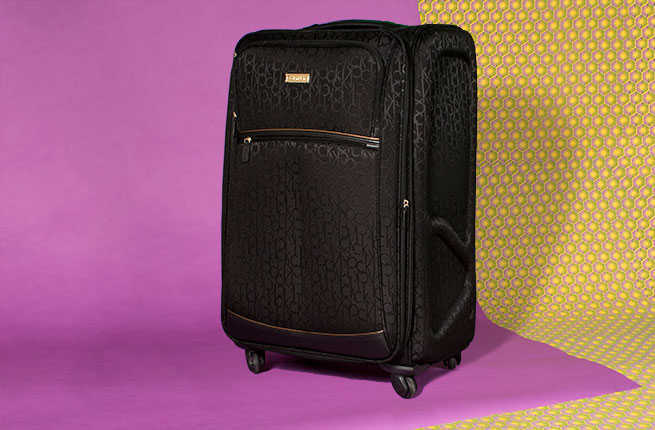 Jennifer Arnow
Calvin Klein Nolita 2.0 28″ Spinner
The Tester: Michael Alan Connelly, Editor, Fodors.com
The Review: I took this very tall suitcase with me on an eight-day trip to Germany in May, and it held a week's worth of clothes and shoes (for warm and cool weather) with no problem. The interior is pretty minimalist—no fancy dividers or anything of the sort—but I appreciated the simplicity that openness afforded me. For organizing smaller things, I simply used the exterior pockets. The wheels worked great on trains and sidewalks, and the dark color and sturdy construction lead me to believe this piece would hold up over several years.
The Catch: There's one design flaw I find a bit mystifying: the lack of a handle on the side of the bag. That made it difficult to place the luggage sideways onto conveyor belts, and airport employees who had to move it complained about the handle's absence.
The Verdict: Considering its very reasonable price point and durability, I think this suitcase offers great value for anyone who wants to invest in a checked bag without spending a small fortune.
Mary Robnett
Eagle Creek Lync System 26
The Tester: Lindsey Lazarte, Digital Sales Planner
The Review: I took my luggage to Manila, Philippines, and packed clothing, shoes, and toiletries, as well as other miscellaneous personal items such as a book and journal. This bag absolutely met my expectations and was a perfect fit for my personal style of travel. It was easy to transport, accommodated for all of my belongings, and was multifunctional. The standout features were the number of compartments and ability to transform from a rolling bag into a backpack.
The Catch: The only drawback I experienced was my confusion on how to make it stand completely upright. I later realized I had to clip the buckles at the bottom of the bag so it wouldn't tip over. This bag better suits a light traveler. Because it has a soft outer shell, it doesn't completely protect all the items within, so it wouldn't be ideal for traveling with fragile items.
The Verdict: I would definitely recommend this luggage to a friend. My only regret is that I didn't have it last year for my trip to Australia!
The Price: $279.95, buy it here.
Jennifer Arnow
Flight 001 F1 Rollaway 2 Check In
The Tester: Megan Mills, Publishing Assistant
The Review: This suitcase accompanied me on a weeklong visit to Walt Disney World. It held enough clothes for roughly two warm weather outfits a day, in addition to a hair dryer, shoes, and a couple of books. Needless to say, this suitcase offered plenty of room, and even though I overpacked, the lightweight and slim design made it simple to carry on the subway and through my travels to the resort.
The Catch: Despite the suitcase's four wheels, it wasn't the easiest to steer, and at times, I felt like I was dragging the bag rather than rolling it. Additionally, travelers who enjoy various compartments may not appreciate this suitcase's relatively open design.
The Verdict: I would use this bag again and recommend it to anyone looking for a fun, yet practical suitcase.
The Price: $335, buy it here.
Jennifer Arnow
Granite Gear 26″ Wheeled Duffle
The Tester: Caroline Trefler, Senior Editor, Cities and Cultural Destinations
The Review: I used this large, super sturdy bag to transport items while I was moving. I fit figure skates, winter boots, rain boots, some books, a few sweaters, and a flower vase into the bag's several compartments, with room to spare. I took it on the subway, pulled it half a mile to my apartment, and lugged it up five flights of stairs (and the vase didn't break). I never worried about this solid, well-built bag tipping or rolling away. I loved the bright color and its rugged, outdoorsy look. With its separate compartment, this would be the perfect piece of luggage to take on a scuba-diving trip or any adventure where I need a lot of gear.
The Catch: I usually pride myself on being a light packer, but this is a fabulous piece of luggage for when you need to a lot of stuff.
The Verdict: An intriguing feature of this bag is its shoulder straps and waist belt, so it can be carried like a backpack when wheeling isn't practical (i.e. up lots of stairs or a mountain). This would be a great feature on a smaller bag, but the sheer size and weight of this piece of luggage when packed makes it impractical for a small person like me to carry on my back. I'd recommend the backpack feature to my brawny, six-foot-three rock climber friends.
The Price: $189.99, buy it here.
Mary Robnett
Ricardo Beverly Hills Roxbury 2.0 25″ 4W Spinner Upright
The Tester: Linda Cabasin, Editorial Director
The Review: The lightweight, hard-sided Ricardo performed superbly during two trips via trains, planes, and cars: a week in Chicago and a wine-touring week in Burgundy, France. Even with packing for variable weather and bringing home treats, I didn't need the expander feature. Though not huge, the bag holds enough for two weeks, and it kept me organized while moving daily through Burgundy. Besides the built-in, TSA-approved lock, I loved how one side zipped closed. Four wheels and soft handles made it super easy to handle.
The Catch: A small one—it may take a few tries to learn to align the case so it closes easily.
The Verdict: Smart features and good portability make this bag one I'd recommend and use again.
The Price: $179.99, buy it here.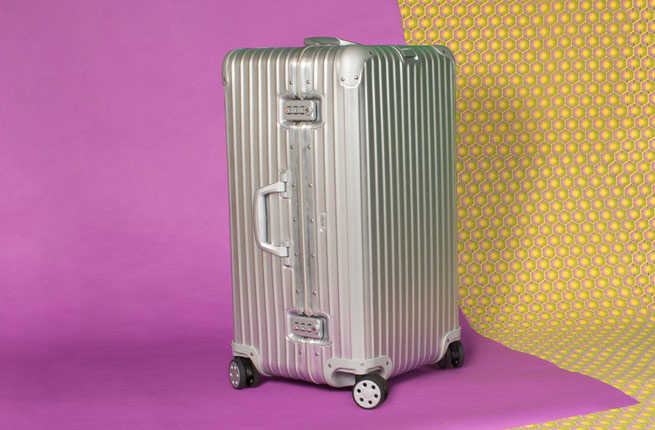 Mary Robnett
RIMOWA Topas Sport Multiwheel 89.0L
The Tester: Margaret Kelly, Senior Editor, Special Projects
The Review: This huge bag was great for traveling to Chicago with my one-year-old daughter. It was roomy enough to comfortably pack everyone's clothes, plus all the sundry things one needs for traveling with a toddler. The bag was surprisingly light for its size, and the four wheels and sturdy, retractable handles with multiple settings made getting in and out of taxis and through the airport manageable. I love the sleek, professional look.
The Catch: The cavernous interior could have used more compartments for easier organization, and it showed rough use after just one flight, so it may not age well.
The Verdict: I would certainly recommend this bag to anyone who needs a sturdy bag with maximum capacity.
The Price: $1,130, buy it here.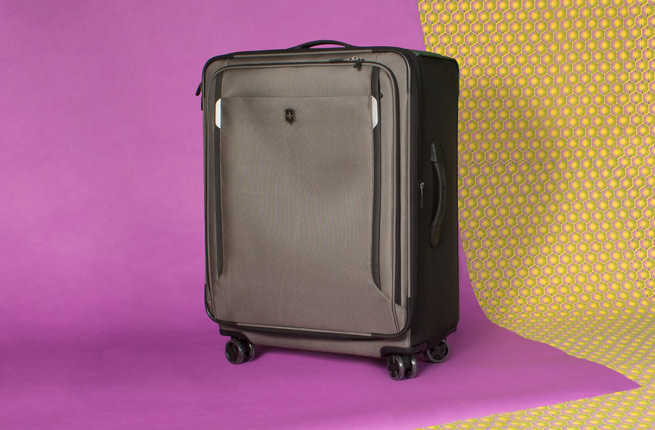 Mary Robnett
Victorinox Swiss Army WT 27 Dual-Caster Expandable 8-Wheel Upright
The Tester: Michael Alan Connelly, Editor, Fodors.com
The Review: I've become a big fan of Victorinox's luggage lines in recent years, and this newer model didn't disappoint. I took the suitcase on a nine-day trip to the U.K., and I found it easy to handle on the subway, in airports, and on sidewalks and cobblestone streets. It easily held all of the clothes and shoes for the trip, with ample room to spare for British candy, bottles of Scotch, and more. The interior compartments and dividers make it extremely easy to keep things organized and clothes from becoming too wrinkled. I love that the handle locks into place at three different heights, and the padded grip makes it surprisingly pleasant to pull this bag along behind you, even for long periods of time.
The Catch: I have no complaints, but some might find this bag difficult to maneuver when fully packed because of its large size.
The Verdict: I would absolutely use this bag again for long trips overseas, and I would recommend it to heavy packers and anyone who plans to buy lots of souvenirs when traveling, thanks to the expandable feature.
The Price: $449.99, buy it here.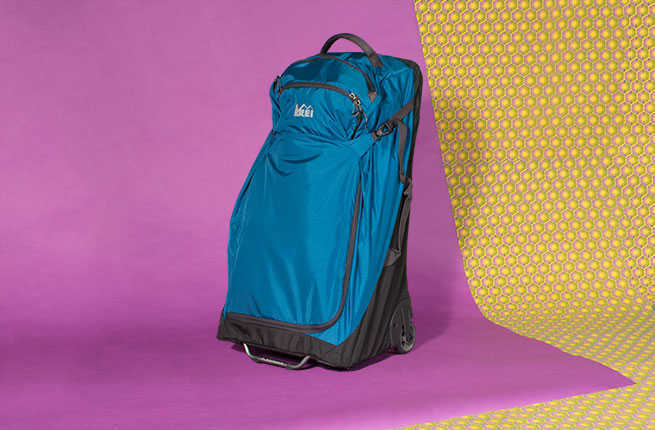 Jennifer Arnow
The Tester: Melissa Sin, Ad Technology and Monetization Manager
The Review: The bag was tested on a long weekend trip from New York City to Toronto. It's a roomy bag and easily packed for two people, including two pairs of shoes per person. Considering this is a soft-shell carrier, the internal Flex Frame is helpful in multiple ways. Not only is it lightweight, the Flex Frame emulates the sturdy, boxy structure of a hard shell carrier and allowed the bag to stand upright. There are two small internal compartments that I found very helpful in keeping my miscellaneous items accessible.
The Catch: Due to the bag's focus on weight reduction, the thin shell won't provide much protection against bumps when it's tossed around in the cargo holds.
The Verdict: The bag is great for a traveler looking to meet luggage weight limits while needing a sturdy structure for a lot of maneuvering.
The Price: $219, buy it here.