Airportag
Here at Fodor's, we make our love for travel known, loud and proud, and we think the perfect way to do this is through how we decorate our homes and offices. This collection of gorgeous prints, plates, pillows, and more make great gifts for anyone who wants to add some serious wanderlust to their daily life.—Amanda Sadlowski
With six different scents to choose from, each of these soy wax candles from Hawkins New York is evocative of a different place, from floral and beachy Cape Cod to lavender-soaked Provence.
Why we love it: Both the design and the scents of these candles are classy, understated, and perfect for making guests feel at home.
These colorful creations reject the notion that globes are only for stodgy and serious libraries. While NewlyScripted has a whole collection of hand-painted and hand-lettered designs to choose from, our favorite is this simple but striking blue, green, and gold globe, complete with compass and a friendly whale.
Perfect for: Couples celebrating a special anniversary together (many of the designs feature a space to include engraved names and dates).
Featuring more than 75 different cities from all over the world, this Oregon-based Etsy shop sells visually stunning maps colored in gold foil; they do custom prints too and also offer framed options.
Perfect for: Map collectors who want their next piece of art to really shine.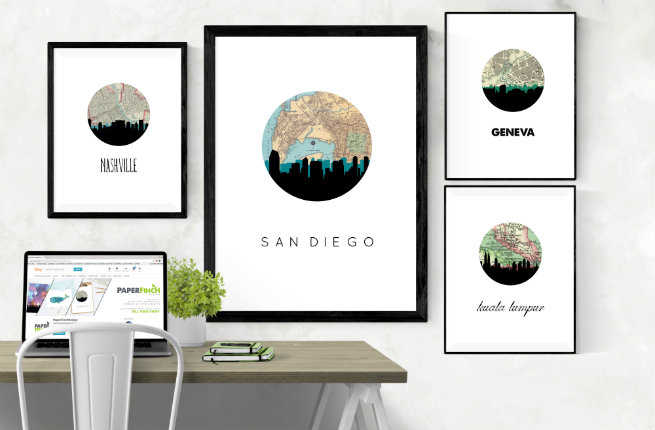 City Skyline and Map Prints
Etsy shop PaperFinchDesign creates modern yet subdued designs contrasting black city skylines against intricate and colorful maps.
Why we love it: Thanks to unique and handmade details, each print captures what makes the particular city so special.
Urban dwellers will love these vintage-style subway sign prints from Going Underground, which highlight the most recognizable subway stops of some of America's most beloved cities.
Why we love it: It's the perfect way to bring an early 20th-century flair to your living room or office.
Airport Code Throw Pillows
Airports get a lot of flak as one of least savory parts of traveling, but Airportag encourages you to show your airport pride with fun, colorful designs that turn simple airport codes into miniature works of art perfect for your couch or bed.
Perfect for: Anyone whose airport is a home away from home.
Blueberry pie in the shape of Maine, anyone? How about peach cobbler in the shape of Georgia? The Fifty United Plates are simple but gorgeous handmade porcelain dishes that come in the shape of each of the fifty states, and are a great way to serve hometown dishes with a side of state pride.
Perfect for: The transplant looking for the perfect way to share grandma's favorite recipe at next year's Friendsgiving.
These simple but attractive wooden clocks by Reed Wilson Design come in four different designs representing each time zone, offering a unique way to show off your regional pride.
Perfect for: The cross-country traveler who always wants to know what his friends on the other coast are doing.
These bold and funky maps from Etsy shop Lemon & Lime Paperie focus on a handful of U.S. states, with city and town names making up the overall shape of the maps.
Perfect for: Anyone who's homesick during the holidays.
Travelers can mark off the days of 2017 with this selection of vintage travel calendars from Cavallini & Co., with some focusing on specific, old-school destinations like Greece, the French Riviera, and New York City.
Perfect for: Your co-worker who loves decorating her office and dreaming of her next vacation in equal measure.