Courtesy of TCHO
Americans' love affair with chocolate is no secret: The average adult consumes 11.7 pounds of the sweet stuff every year. While candy bars are easy to find in convenience stores and vending machines, many shops throughout the country offer more luxurious alternatives. Chocolate lovers can stop by Brooklyn's Mast Brothers for free tastes of delicious bean-to-bar chocolate, or sample truffles made with exotic ingredients at Chicago's Vosges Haut-Chocolat. Whether you're looking for your favorite chocolate treat, or want to temot your taste buds with something new and exciting, these spots are stocked with irresistible confections that will satisfy your cravings. Here are our picks for America's best chocolate shops.
by Emily Wasserman
Photo Courtesy of See's Candies
WHERE: Los Angeles (and nationwide)
It's all in the family at See's Candies. Started by a mother-son team in 1921, the company continues to sell its "old-time candies" in shops throughout the US. Customers can satisfy their sweet tooth with cream- and caramel-filled chocolates, or sample a box of "nuts and chews" with California-grown walnuts and almonds. Popular confections include the signature gold-wrapped lollypops and "California brittle" made with toffee brittle and milk chocolate.
PLAN YOUR TRIP: Visit Fodor's Los Angeles Guide
Courtesy of Jacques Torres Chocolate
WHERE: New York City
New Yorkers rejoiced when Jacques Torres crossed the pond from France, and opened up shop in the Big Apple. The eponymous Jacques Torres Chocolate offers everything from The Wicked Bar, made with ancho and chipotle chili, to the Big Daddy Bar, which contains more than two pounds of chocolate. The shop also features high-end creations like truffles made with Taittinger Champagne, and melt-in-your mouth chocolate chip cookies featuring dark chocolate chunks.
PLAN YOUR TRIP: Visit Fodor's New York City Guide
WHERE: Chicago
Taste flavors from around the world at Vosges Haut-Chocolat. Chocolatier Katrina Markoff set up shop after traveling and working abroad, and uses unique ingredients to craft her confections. Chocolate-lovers can sample exotic truffles in flavors like Naga, featuring spicy Indian curry powder and coconut, or Budapest, made with sweet Hungarian paprika and dark chocolate. Vegans can also partake in the sugary goodness: The shop offers super-dark chocolate bars and truffles made from coconut milk and agave.
PLAN YOUR TRIP: Visit Fodor's Chicago Guide
Courtesy of Xocolatti
WHERE: New York City
Globally inspired chocolates from Xocolatti are sure to please any palate. The shop mixes textures and flavors to make its handcrafted confections, and serves up chocolate with a unique spin: "Slates," the store's variation on chocolate bars, mix paprika, saffron, and rose petals with brittle-thin chocolate. Customers can also indulge in "clusters" or "crumbles," that mix sweet dried fruit with nuts and chocolate, but the shop's crowning jewels are its colorful truffles; popular flavors include rose cardamom and coffee nutmeg.
PLAN YOUR TRIP: Visit Fodor's New York City Guide
Courtesy of Cacao Atlanta Chocolate Company
WHERE: Atlanta, GA
Kristen Hard, founder of Cacao, takes her chocolate seriously: The shop partners with scientists and local growers to find the best ingredients, then makes its confections by hand to ensure flavor and consistency. Try 24 varieties of truffles, including Southern-inspired flavors like bourbon espresso and cayenne pepper passion fruit. The store's Epiphany chocolate bars combine bean-to-bar cacao with locally sourced ingredients such as ginger, dried peanuts, and cherries.
PLAN YOUR TRIP: Visit Fodor's Atlanta Guide
Courtesy of Theo Chocolate
WHERE: Seattle
"Responsible" and "chocolate" don't usually belong in the same sentence, but that's exactly what you'll get at Theo Chocolate. As the first organic and fair-trade bean-to-bar chocolate factory in North America, the company makes artisan confections without any additives or preservatives. Try the signature "classic bars" for pure, unadulterated goodness, or sample a box of sea-salt caramels—flavors include grey vanilla and ghost chile.
PLAN YOUR TRIP: Visit Fodor's Seattle Guide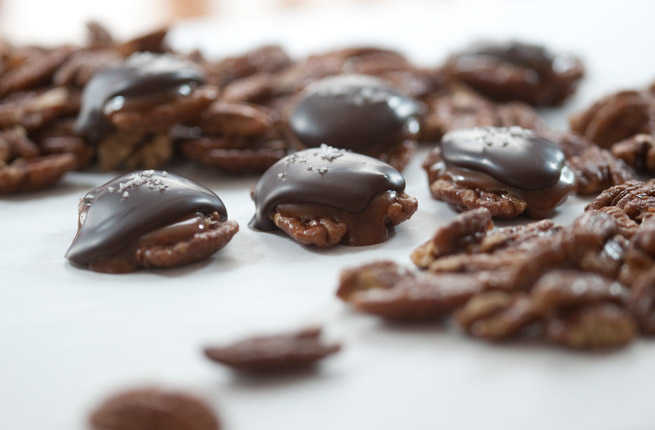 Jennifer Flescher Photography courtesy of EHChocolatier
WHERE: Somerville, MA
It was a match made in heaven for chocolatiers Elaine Hsieh and Catharine Sweeney. The two met while baking a wedding cake for the friend, and opened the doors of EHChocolatier nearly 10 years later. Visitors can sample handmade bonbons and confections made from natural ingredients, plus chocolates infused with everything from jasmine blossoms to lime-toasted coconut. Popular sellers include pecan bourbon clusters and ancho bars made with spiced nuts, caramel, and pretzels.
PLAN YOUR TRIP: Visit Fodor's Boston Guide
Courtesy of French Broad Chocolates
WHERE: Asheville, NC
At the helm of Asheville's French Broad Chocolates are Dan and Jael Rattigan, self-proclaimed "chocolate missionaries." Following an extended stay in Costa Rica, the couple moved north to open a bean-to-bar chocolate shop. Artisan bars are made with cacao from small farms, and flavors reference the chocolate's origins. Visitors can sample the Nicaragua 68% dark chocolate bar with brown sugar and black tea notes, or the Tumbes Cooperative 70% with juicy berry notes and citrus.
PLAN YOUR TRIP: Visit Fodor's North Carolina Mountains Guide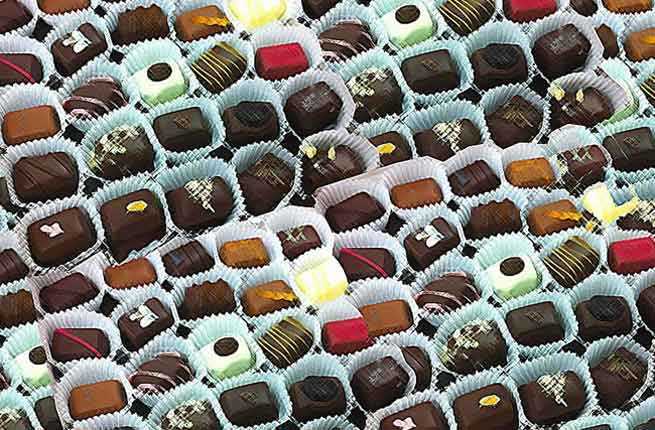 Courtesy of Kakao Chocolate
WHERE: St. Louis
Brian Pelletier, founder of Kakao Chocolate, spent 20 years in corporate marketing before moving on to sweeter ventures. The St. Louis shop uses all-natural ingredients to craft its confections, and hand-dips sweets in small batches to ensure quality and flavor. In addition to standard fare like truffles and caramels, the store also offers marshmallow pies with toasted pecans, and "dragees"—a mélange of toasted almonds, toffee and chocolate coating, and a light dusting of cocoa powder.
PLAN YOUR TRIP: Visit Fodor's St. Louis Guide
WHERE: Portland, OR
Don't let The Meadow's size fool you: The small Portland storefront carries more than 300 varieties of dark chocolate bars, and also offers a collection of milk and flavored chocolates. Try the Alma Almond Crunch Chocolate Bar with roasted almonds, hot caramel, and milk chocolate, or browse through the shop's sinfully delicious products, which include everything from 77% sipping chocolate to lavender caramel sauce.
PLAN YOUR TRIP: Visit Fodor's Portland Guide
Courtesy of L.A. Burdick Chocolate
L.A. Burdick Handmade Chocolates
WHERE: Walpole, NH
Larry Burdick based the idea for his chocolate business on the concept of terroir—the concept that geography and soil affect the taste of its agricultural products. The company sources its chocolate from some of the world's best cocoa-growing regions, and makes its bonbons, bars, and truffles by hand. Special blend bars combine white, milk, and dark chocolate with nuts, and L.A. Burdick Handmade Chocolates also offers whimsical creations like chocolate mice, which come with mocha, white chocolate, and cinnamon interiors.
PLAN YOUR TRIP: Visit Fodor's Monadnocks and Merrimack Valley Guide
Courtesy of TCHO
TCHO New American Chocolate
WHERE: San Francisco
You'll find that TCHO is not your average chocolate shop: The San Francisco-based company directly partners with cacao growers to produce better beans, and uses "flavor labs" to develop their products. Customers can use "flavor wheels" to discover their favorite variation of milk or dark chocolate, and sample truffles with different flavor combinations. Don't miss the company's signature pairings bars, which range from Strawberry Rhubarb Pie to TCHunky TCHOtella, made with roasted hazelnuts, milk chocolate, and sea salt.
PLAN YOUR TRIP: Visit Fodor's San Francisco Guide
Mast Brothers Chocolate
WHERE: Brooklyn, NY
Simplicity is the name of the game at Mast Brothers. Founders Rick and Michael Mast create small-batch, bean-to-bar chocolate in their small Brooklyn factory, and visitors can sample their wares while taking in the shop's addictive aromas. Flavors of chocolate bars sold here range from smoky to sweet and include ingredients like Serrano pepper and Maine sea salt.
PLAN YOUR TRIP: Visit Fodor's Brooklyn Guide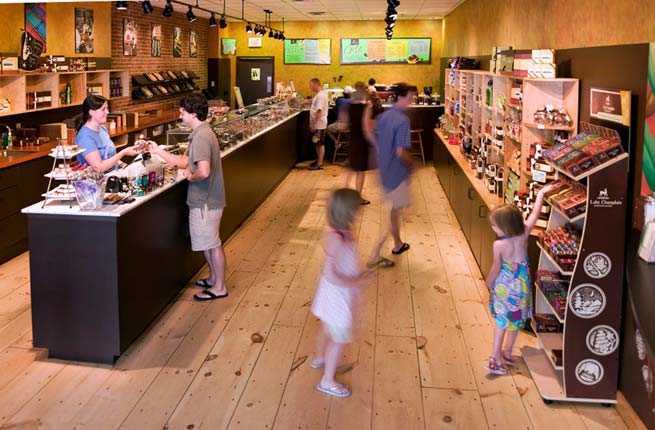 Courtesy of Lake Champlain Chocolates
Lake Champlain Chocolates
WHERE: Burlington, VT
Vermont-based Lake Champlain Chocolates takes the best the state has to offer, and mixes it up into chocolate form. The company uses pure maple syrup, local honey, and fresh cream in its truffles and caramels, and crafts its bean-to-bar chocolate from scratch. Try sweet, buttery truffles in flavors like vanilla malt and amaretto praline, or bite into one of the shop's slow-cooked sea salt caramels. Popular bars include raspberry truffle and dark chocolate bars made from single-origin cacao beans.
PLAN YOUR TRIP: Visit Fodor's Northern Vermont Guide
Courtesy of Norman Love Confections
WHERE: Fort Myers, FL
After an extensive career in pastry kitchens, Norman Love founded his eponymous chocolate shop in Fort Myers—and customers came knocking immediately. A variety of mouthwatering chocolates are offered at Norman Love Confections, ranging from single-origin dark chocolate truffles to colorful white and milk chocolate creations. Visitors can sample the "peanut butter banana" (creamy peanut butter and fresh banana), or the "key lime shell" made with fresh Key lime juice.
PLAN YOUR TRIP: Visit Fodor's Fort Myers Guide