Quidsi, Inc. or its Affiliates; Target Brands, Inc.; www.superdry.com; Gap Inc.; Subtle Luxury & Spun by Subtle Luxury; Gap Inc.
Jet-setting may sound like a breeze, but pulling it off with true globe-trotter panache is another matter. When you're talking about hours spent sitting in cramped cabins, where sneaking in a few hours of sleep is considered a success, style can often go out the window. Read: pajamas, track suits, and an over-abundance of terry cloth. And while we're not here to say you need to wear stilettos on every long-haul flight, there's a happy medium between comfort and style. So we broke down 10 savvy outfits that throw out the hoodie but keep the comfort levels high.
By Bee Shapiro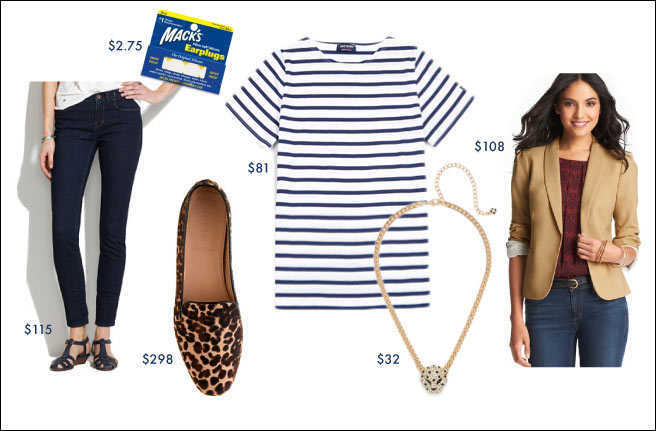 Madewell Inc.; Metro Swim Shop; J.CREW; Saint James; BaubleBar Inc.; www.loft.com.
Best clothes for long flights: Los Angeles to New York
One here-to-stay basic to invest in for flights is a good pair of skinny jeans. Make sure to get a pair with plenty of stretch, and choose a flattering wash and cut, like these dark blues that stop just above the ankle ($115).
A trim blazer, like this lightweight one in camel wool, is a smart trick for looking pulled together when you land, even if you didn't sleep a wink on the plane ($108).
It's tough to go wrong with navy and white Breton stripes. This tee by iconic French brand Saint James ($81) was a favorite of always-chic stars Marilyn Monroe and Brigitte Bardot.
Throw on a statement piece, like this gold jaguar necklace ($32) for added impact ($32).
To make terminal transfers easy on the feet and the eyes, snag this pair of camel pony loafers ($298).
Bonus: Don't forget your earplugs. These malleable silicone ones are particularly comfy ($2.75).
Quidsi, Inc. or its Affiliates; Target Brands, Inc.; www.superdry.com; Gap Inc.; Subtle Luxury & Spun by Subtle Luxury; Gap Inc.
Best clothes for long flights: Miami to Seattle
You don't have to stick with skinny jeans to rock denim, of course… A looser cut will give you more breathing room. Steer clear of sloppy with these slimmed down "boyfriend" jeans ($69.95).
The tomboy look oozes comfort with oversized pieces and cozy extras like these black and green camo flats ($89).
Add a little quilted leather jacket to keep the baggier bottoms in check ($400).
For layering, throw on this super soft long sleeve tee that has a lovely drape ($19.99).
Finish the look with a bohemian scarf, perhaps in a peacock print and with jaunty tassels ($58).
Bonus: Slip this clever travel toothbrush and sanitizer in one into your carry-on ($29.95).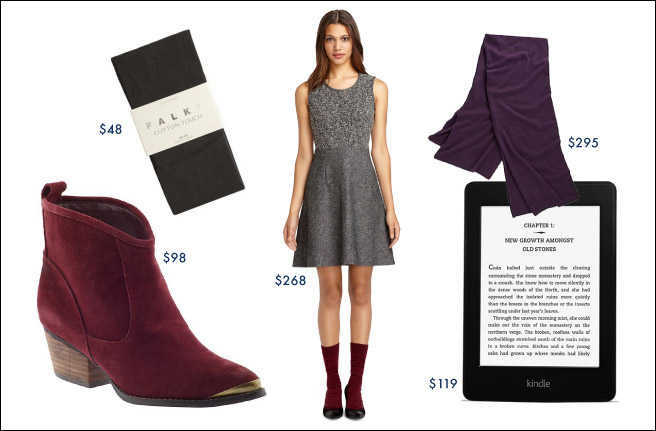 www.figleaves.com; Gap Inc.; BROOKS BROTHERS GROUP, INC; Saks Fifth Avenue; Amazon.com, Inc. or its affiliates
Best clothes for long flights: Boston to London
As the flights get longer, so too should your outfits get cozier. Let's start with footwear. It needs to be easy to slip on and off at security, but still cute enough to arrive looking great. These Bordeaux-colored suede booties fit the bill ($98).
If you're not into the jeans-on-a-plane thing, choose tights for in-flight. Our advice? Look for a pair with natural fibers blended in, like these in dark gray ($48).
On top, look effortlessly put together in this fully-lined sweater dress ($268).
And combat chilly air conditioning with this cashmere travel wrap ($295).
Bonus: You've got 7 hours, so catch up on your reading with our fave—the Kindle Paperwhite ($119).
LIMITED BRANDS, INC.; www.madewell.com; J.CREW; Nordstrom, Inc.; Belk, Inc. & Belk eCommerce LLC.
Best clothes for long flights: Washington, DC, to Paris
If you're not afraid of a little heel at the airport, go with a stable style like these saddle-colored leather short booties ($169).
Pair them with khaki pieces, like this leather-trimmed jacket for both breathability and versatility ($169).
Cozy up for the in-flight film in something flannel, like this cream plaid shirt ($80).
And on bottom, go for a denim look that hugs at the waist but is fuller through the leg, like this relaxed denim fit ($125).
Bonus: Keep your vitamins organized in this cheerful yellow pill box ($48).
BOP LLC.; Amazon.com, Inc. or its affiliates; Nordstrom, Inc.; Quidsi, Inc. or its Affiliates; BOP LLC.
Best clothes for long flights: Mexico City to Buenos Aires
Long flights are particularly prone to varying in-cabin temperatures. Natural fibers fare best like this comfy double-layer pima cotton racerback dress ($163).
Think layers, like this roomy cardigan sweater on top, which can then sub for a blanket ($380).
You'll thank us mid-flight when you pull these padded socks ($13.99) out of your bag.
Tuck them into short boots, like these cute ones in a Western style ($169.95).
Bonus: Bring your own hand sanitizer, like this one in relaxing lavender ($4.99).
www.anthropologie.com; Neiman Marcus; BOP LLC.; Express; Mary Green; www.anthropologie.com.
Best clothes for long flights: Dallas to Santiago
Cardigans offer all the room you need in-flight along with the style you want at the airport and beyond. We like this lightweight forest green design with a loose tie in back ($118).
Underneath, sport a V-neck tee. This one gets an upgrade with pretty chiffon trim ($58).
Once you go beyond 7 or 8 hours in-flight you'll want to forego the denim. Go for leggings with a clean line instead, like this ponte version in slimming black ($49.90).
A neutral-colored scarf is the ultimate multi-tasker. Buy an oversized one in wool or cashmere, which will help regulate body temps on the plane ($195).
Balance out this flowy look with sharp (and comfy) leopard print oxfords ($295).
Bonus: 10 hours means you've got to try and get some Z's. This reversible sleep mask will come in handy. Plus, it comes in a luxe silk ($27.50).
Club Monaco Corp.; Amazon.com, Inc. or its affiliates; www.matchesfashion.com; Nordstrom, Inc. Eddie Bauer LLC.
Best clothes for long flights: Bangkok to Rome
A few hours in on an 11 hour flight, floaty cashmere on top ($229) will seem downright heavenly.
Layer a ribbed cotton camisole underneath ($57) for maximum flexibility.
Utilitarian by design, cargo pants have gotten chicer as of late. Snag this pair crafted from ripstop material. ($59.95)
Meanwhile these gold loafers will lend an eye-catching glow to more basic pieces ($79.95).
Bonus: Headphones have come a long way since the Walkman days. They'll not only provide excellent sound for those in-flight movies, but these also make a statement ($260).
www.flight001.com; ZAPPOS.COM OR ITS AFFILIATES; CALYPSO ST. BARTH; Lord & Taylor; www.agjeans.com.
Best clothes for long flights: Frankfurt to Singapore
This navy cashmere cocoon cardigan functions practically like a baby's blanket ($295), which you'll yearn for when you see you've got 4 hours left.
Look for velvety bottoms with plenty of Lycra, like these dark charcoal corduroys ($172).
Be sure to add some stretch material on top as well like this milk white tank ($44), which will go the distance and still hold its shape even after the 12 hours are up.
Invest in a good pair of ballet flats. They are not only a breeze to slip on and off, but they'll also tuck neatly into your carry-on ($195).
Keep accessories minimal: wear a single long pendant necklace in rose gold ($75).
Bonus: Neck pillows can be a godsend on extended itineraries, but they're also cumbersome (and generally aren't very chic). This inflatable one solves the quandary ($30).
San Francisco to Hong Kong: www.jbrandjeans.com; drugstore.com, inc.; J.CREW; Patagonia, Inc.; mytheresa.com.
Best clothes for long flights: San Francisco to Hong Kong
Lately, outdoor brands have significantly upped their style quotient. This hoodie by Patagonia is high on looks and functionality ($149). (Yes, okay, we got a hoodie in here.)
If you tend to get cold on planes, bring this worn-in denim jacket ($150).
On bottom, twill cargo pants in vintage olive ($262) will stay comfy through the flight and you can toss your lip balm in there for easy access.
Let your feet walk on Cloud 9 in these insanely cozy shearling sneakers ($374).
Bonus: Any frequent flier will tell you hydration is key. Aside from guzzling water, a small H2O travel spray is a wise way to refresh mid-flight and when you land ($9).
BOP LLC.; MATCHESFASHION.COM; DICK'S Sporting Goods; BOP LLC.; Relax The Back; ZARA.
Best clothes for long flights: Vancouver BC to Sydney Australia
Fourteen hours is a long time in one place. You've got to go big on comfort for flights this long. Think a hooded gray wool coat with beige lining. It's fashion-forward and cozy ($139).
A long-sleeve cotton crew neck is a no-brainer. Opt for one that is lightly fitted and with a slightly wider neckline for a more womanly feel ($59).
Designers have crafted some fantastic loose trousers lately, like this slouchy black pant that manages to look tailored while offering the merciful ease of an elastic waistband ($168).
For accessories, this oversize wool scarf in a fun red plaid print adds an artful finish ($295).
And, especially if you're prone to retain water in-flight, compression socks can be downright wondrous ($54.95). Toss a pair in your purse.
Bonus: A 14-hour leg means sleep is crucial, so your eye mask should block out all light. This one by Tempur-Pedic ($29) does the job by conforming to any face shape.