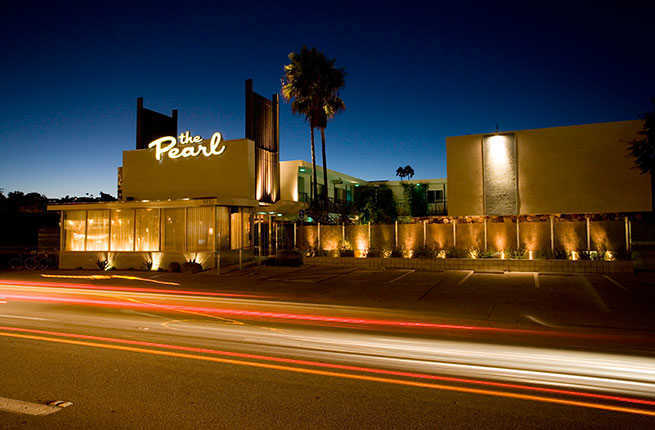 Who said you have to sacrifice style for savings? That's definitely not the case at these 10 awesome big-city hotels across the United States, each of which is small on price, but big on personality and appeal. We scoured the nation to find these affordable digs from under $150 per night, so you could snag steals on chic stays in notoriously expensive cities like New York, Miami, San Francisco, and beyond. Because we believe you don't have to be rich to travel in style.—Elissa Garay
Nick Simonite
WHERE: San Antonio, Texas
Rooms from: $135/night, year-round
This century-old Mediterranean-revival stunner with a Cuban design theme has fine touches that you'd expect at a luxe property well beyond this price point. Look out for 20-foot-high ceilings, handsome wood flooring, sun-soaked terraces, and round-the-clock staffing. The 27 hip guestrooms are outfitted with vintage furnishings, Turkish rugs, flatscreens TVs, and iPod docking stations, retro mini-fridges, and Cuban art pieces. The hotel's popular glass-enclosed Mexican/pan-Latin restaurant, Ocho, is set right along San Antonio's storied River Walk, while its clandestine candlelit cocktail den, Havana Bar, is tucked away just downstairs.
Insider Tip: Book one of Hotel Havana's two studios for the very best rates.
PLAN YOUR TRIP: Visit Fodor's San Antonio Guide
Citlali Chevaili
WHERE: San Francisco
Rooms from: $119/night in high season (April–October); $89/night in low/shoulder season (November–March)
There's a reason the historic San Remo Hotel has been around for 110 years. This refreshingly affordable gem in pricey San Francisco is full of Victorian charm, with a prime North Beach location near Fisherman's Wharf. The 64 recently updated European-style rooms come with turn-of-the-century furnishings (note there are no phones or TVs); bathroom facilities are shared, although many rooms have vintage sinks. Bonus: Refuel at the street-level Fior d'Italia restaurant for great Northern Italian fare; founded in 1886, it's billed as America's oldest Italian restaurant.
PLAN YOUR TRIP: Visit Fodor's San Francisco Guide
Courtesy of Hotel Deca
WHERE: Seattle
Rooms from: $139/night in low/shoulder season (September–May); note high summer season (June–August) rates run considerably higher than $150/night, starting at $259/night
Fresh from a recent million-dollar renovation, the Art Deco–inspired Hotel Deca offers a haven of affordability in Seattle's University District. Guests can linger in the fireplace-anchored lobby; resto-lounge The District (serving Pacific Northwest cuisine); or fitness center. The 158 elegant guestrooms, spread out across the hotel's 16 floors, tout an Art Deco-meets-mod aesthetic and tech trimmings like LCD flat-screens and iPod docking stations. Fun fact: the property was designed by the same architect behind the Old Faithful Lodge in Yellowstone National Park.
Insider's Tip: Request a room on a higher floor for sweeping city views.
PLAN YOUR TRIP: Visit Fodor's Seattle Guide
Clayton Hauck
WHERE: Chicago
Rooms from: $95/night, year-round
Review: Set just upstairs from Chicago's popular Longman & Eagle farm-to-table gastropub, in-the-know travelers can find affordable rates at the half-dozen guestrooms here. Casual yet comfortable, the individually appointed industrial-chic quarters come with functional furnishings and plenty of warm wood, brick, and tile finishes. The one caveat (or bonus, perhaps, if you're partaking)? The noise from the downstairs tavern, known for its robust whiskey menu, can be loud in the evenings.
PLAN YOUR TRIP: Visit Fodor's Chicago Guide
Walt Simpson/Bethere360
WHERE: Miami
It's no easy feat to slip in for a South Beach stay without breaking the bank, but the Villa Paradiso—a former Art Deco apartment building—has a prime Collins Avenue locale about a mile from the beach. Book one of the 17 light and airy rooms opening to lush courtyard views; each has wooden floors, French doors, bright yellow paint, and kitchenettes, as well as funky individual appointments like chaise longues, wrought-iron furnishings, and leopard-print throw pillows. Note: There's no pool here.
Rooms from: $150/night in high season (late December–April); $90/night in low season (May– late December)
PLAN YOUR TRIP: Visit Fodor's Miami Guide
McMenamins
WHERE: Portland, Oregon
Rooms from: $115/night in high season (May–August); $85/night in low/shoulder season (September–January)
Just across the street from Portland's famed century-old Crystal Ballroom music venue, the artsy rock-and-roll-themed Crystal Hotel offers 51 funky yet comfortable guestrooms, each inspired by past Crystal Ballroom performances (like the Grateful Dead, James Brown, and more). Guestrooms feature whimsical artwork like painted headboards, and rock star-ready touches like dark velvet drapes and animal print upholstery (note bathrooms are shared and there are no TVs). The hotel, part of the Portland-based McMenamins hotel-and-entertainment empire, is listed on the National Register of Historic Places. On site, there's also a saltwater soaking pool; live music venue Al's Den; and the ground-floor restaurant, Zeus Café, serving breakfast, lunch, and dinner.
PLAN YOUR TRIP: Visit Fodor's Portland Guide
Courtesy of Villa Convento
WHERE: New Orleans
In a quiet corner of the French Quarter, this cozy, family-owned guesthouse oozes charm, with personalized service overseen by the Campo family proprietors, seventh-generation New Orleanians. The building, close to the Old Ursuline Convent, dates back to the 1830s and boasts an interior courtyard. Book one of Hotel Villa Convento's 25 cozy rooms, outfitted with reproduction antiques; some offer brick walls and/or private, wrought-iron balconies. Fun fact: Not only is the hotel rumored to be the legendary "House of the Rising Sun," referenced in folk songs aplenty, but Jimmy Buffett once claimed tenancy here.
Rooms from: $115/night in high season (April and October, and holiday periods/special events); $69/night in low season (July–August, November–early December)
PLAN YOUR TRIP: Visit Fodor's New Orleans Guide
Darek Solarski
WHERE: New York City
Rooms from: $130/night, for a double room, in high season (mid-March–early January); $80/night in low season (mid-January–mid-March)
Touting a century of history as a guesthouse on Manhattan's East Side, the five-story, 52-room Carlton Arms Hotel offers a unique backstory and artsy aesthetic all its own. The property once hosted a Prohibition-era speakeasy in its lobby, and also served as a drag queen haven and a '60s-era flophouse. The colorful history continues today with dozens of artists who have left their mark via murals, paintings, and decorations throughout the building—no guestroom, bathroom, hallway, or stairwell spared (even Banksy has contributed murals here). Happily, over the years, the artsy hotel has maintained affordable rates for travelers in search of an eccentric, if rustic, stay in NYC.
Insider Tip: if you don't mind a shared bath, you'll save even more—solo travelers also get a break for single-occupancy digs.
PLAN YOUR TRIP: Visit Fodor's NYC Guide
Courtesy of The Pearl
WHERE: San Diego
Rooms from: $139/night in high season (April–October); $99/night in low season (November–March)
This lively modern boutique hotel, set a block from the harbor, doesn't skimp on style. The Pearl's 23 rooms come jam-packed with vintage-mod furnishings, platform beds, kitschy light fixtures, and bathrooms finished with chrome and tiling, plus tech trimmings like iHome systems and LCD TVs. Public spaces are well worth sticking around for, too, including EAT at The Pearl restaurant, serving California coastal cuisine, and the buzzing pool scene with semi-private cabanas, a poolside bar serving classic cocktails, and special events like Wednesday night "dive-in movies."
PLAN YOUR TRIP: Visit Fodor's San Diego Guide
WHERE: Las Vegas
Rooms from: $50/night, year-round
This affordable all-suite boutique hotel, set just off the Strip (across the street from the happening Hard Rock Hotel & Casino), features modern decor in the 150 guest suites. Many rooms come with private balconies or patios and deep-soaking tubs, which complement funky accents (think furry rugs and bold paintings of chandeliers). While there's no casino at Rumor, guests can check out the bar (it's open 24/7), chow down on tapas at the Addiction eatery, or plop down by the palm-fringed courtyard pool, lined by hammocks, chaises, private cabanas, and, sometimes, DJs spinning tunes.
PLAN YOUR TRIP: Visit Fodor's Las Vegas Guide