© Ross Brinkerhoff / Fodors Travel
When factories, power plants, and other old buildings become obsolete, art museums moving in can save them from destruction and revitalize the area by attracting new visitors. If you've ever been in one of these museums, you've probably been impressed by the vast spaces and the palpable history that they preserve—not to mention the art inside. From New York City to Istanbul, here are 10 factories, power plants, warehouses, train stations, breweries, and even a schoolhouse that have been transformed into impressive art museums.
by Laura Itzkowitz
WHERE: New York City
The Museum of Modern Art's younger, cooler sibling, MoMA PS1, exhibits some of the world's most envelope-pushing contemporary art in a former public school. A short trip from MoMA in Manhattan, the museum in Long Island City is much loved for cutting-edge art exhibits like the recent Mike Kelley retrospective and its "Warm Up" parties every summer. The building draws visitors as much as the art inside—PS1 still feels like an old New York City school both inside and out, with classroom-sized galleries, brick walls, wood floors, and a courtyard where kids once played during recess.
Insider Tip: Don't miss James Turrell's permanent exhibit, "Meeting," on the third floor. The small room is a meditative space with a hole in the ceiling that frames the sky.
PLAN YOUR TRIP: Visit Fodor's New York City Guide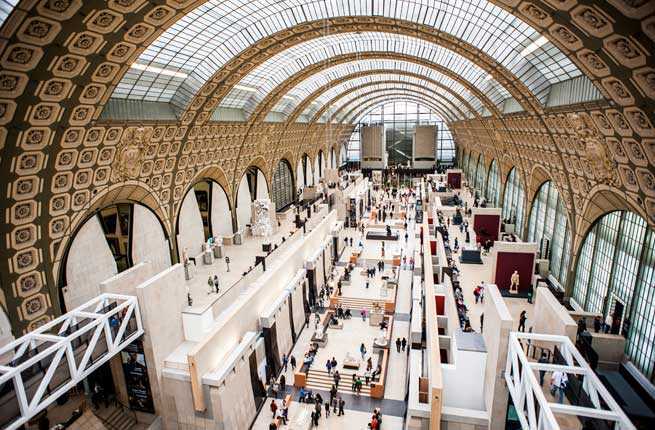 © Ross Brinkerhoff / Fodor's Travel
WHERE: Paris
The Musée d'Orsay's gorgeous architecture blows visitors away, even before they step inside to see the unparalleled collection of Impressionist and post-Impressionist art. The Gare d'Orsay, a beautiful Beaux-Arts train station built in 1900, was only used until 1939, when new electric trains made the too-short platforms unusable. Entering the museum, you can imagine what it must have looked like then, with the ornate gold clock hovering above the tracks. Admiring the paintings can transport you to that time—highlights include works by Manet, Courbet, Cézanne, Toulouse-Lautrec, Degas, and Renoir.
Insider Tip: Climb to the top floor to see one of the museum's amazing clocks up close, and peer through its face for a spectacular view of Paris.
PLAN YOUR TRIP: Visit Fodor's Paris Guide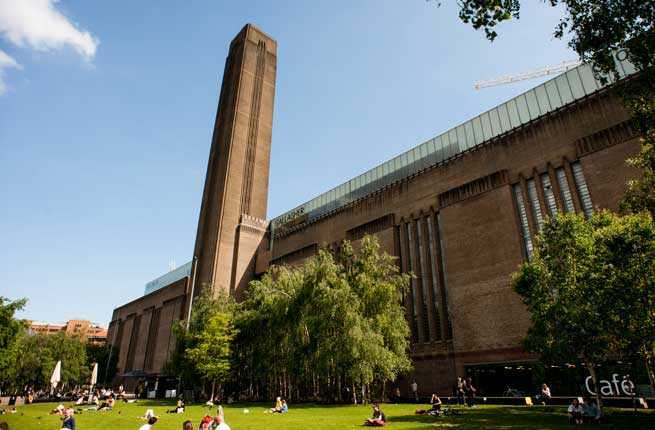 © Ross Brinkerhoff / Fodors Travel
WHERE: London
London's world-renowned Tate Modern showcases impressively vast spaces in addition to the superb collection of modern art. Swiss architecture firm Herzog & de Meuron artfully transformed the former Bankside Power Station into one of the UK's top tourist attractions, maintaining the building's architectural integrity. Stripped down to its steel and brick bones, the museum is comprised of an impressive turbine hall—now the main entrance—and the boiler house transformed into the galleries. Art by modern masters like Matisse, Picasso, Pollock, and Rothko are a major draw.
Insider Tip: The restaurant on level 6 and café on level 3 both offer excellent vistas of London. In the warmer months, take your coffee onto the terrace for the best views.
PLAN YOUR TRIP: Visit Fodor's London Guide
WHERE: Rome
Housed in a former Peroni brewery, MACRO (Museo d'Arte Contemporaneo di Roma) exhibits work by contemporary Italian artists. Along with MAXXI, the MACRO showcases the best of Rome's modern and contemporary art, proving there's more to the Eternal City than the centuries-old art that fills most of its museums. French architect Odile Decq (who also designed the modern restaurant inside Paris's Opéra Garnier) updated the building, whose most prominent feature is the giant red cuboid in the center. A rooftop terrace provides a gathering space, much like an Italian piazza.
Insider Tip: MACRO's sister site is housed in a repurposed building too. It was once a slaughterhouse in the working class neighborhood of Testaccio, now a nightlife hotspot.
PLAN YOUR TRIP: Visit Fodor's Rome Guide
WHERE: Madrid
Architects Aranguren & Gallegos transformed one of Madrid's first breweries into the stunningly modern Museo ABC. The façade—made of a mosaic of triangles—shimmers in the sunlight, and the interior spaces are bright and airy. Visitors enter through a courtyard decorated by glass triangles that filter light into the basement galleries, where drawings and prints are displayed. José López Salaberry, who was largely responsible for Madrid's early 20th century urban development, designed the original factory in 1900.
Insider Tip: A range of activities, events, and workshops keep this cultural center active and engaging.
PLAN YOUR TRIP: Visit Fodor's Madrid Guide
© Ross Brinkerhoff / Fodor's Travel
WHERE: Barcelona
CaixaForum has six centers around Spain (plus two more under construction), but the Barcelona location has the most unique building. Built in 1911 as a factory, the redbrick building is a fine example of Art Nouveau architecture. The restoration juxtaposes ultra-modern elements, like the steel and glass entryway by Japanese architect Arata Isozaki, with the historic design. A dynamic roster of temporary exhibits, concerts, lectures, and cultural events make the CaixaForum a key player in Barcelona's cultural scene.
Insider Tip: After a visit to the CaixaForum, check out the renowned Mies van der Rohe Pavilion across the Avenida de Rius i Taulet.
PLAN YOUR TRIP: Visit Fodor's Barcelona Guide
(c) Peanutroaster | Dreamstime.com
WHERE: North Adams, MA
Tucked away in the Berkshires, the sprawling campus of Mass MoCA (Massachusetts Museum of Contemporary Arts) is comprised of 27 buildings spread out over 13 acres. Here, the former Sprague Electrical Company is now home to America's largest contemporary visual and performing arts center. The sheer size of this enormous museum enables artists to install monumental pieces that might not fit anywhere else. Sol LeWitt's extensive wall drawings cover nearly an acre of specially-built interior walls and Joseph Beuys' symbolic sculpture "Lightning with Stag in Its Glare" occupies the second floor of Building 4. You could easily spend a whole day here, stopping for lunch at the café or bistro, browsing the shops, and visiting the Kidspace gallery and studio.
Insider Tip: If you have some time in the Berkshires, The Mount—Edith Wharton's estate in Lenox—is well worth a visit.
PLAN YOUR TRIP: Visit Fodor's Berkshires Guide
Mattress Factory Art Museum
WHERE: Pittsburgh
Established in 1977, the Mattress Factory Art Museum functions as a lab for contemporary artists in residence, who create room-sized installations and site-specific works. The museum grew out of the abandoned Stearns & Foster warehouse built at the turn of the century, and now occupies three repurposed old buildings. James Turrell created the first works in the museum's permanent collection, and Damien Hirst had his first U.S. museum show here. Now, 17 installations form the permanent collection, including work by Yayoi Kusama, Allan Wexler, Bill Woodrow, Winifred Lutz, and Greer Lankton.
Insider Tip: Be sure to see Yayoi Kusama's permanent installation featuring her signature polka dots.
PLAN YOUR TRIP: Visit Fodor's Pittsburgh Guide
WHERE: Beacon, NY
For modern and contemporary art lovers, a trip to Dia:Beacon is considered a pilgrimage. The contemporary art powerhouse, north of New York City in the Hudson Valley, is one of America's must-see art museums. A symbol of Beacon's past as a major industrial center, Dia:Beacon occupies the former Nabisco box printing factory built in 1929. The nearly 300,000-square-foot museum houses Dia's collection from the 1960s to the present, including monumental installations by Richard Serra, Donald Judd, Dan Flavin, Louise Bourgeois, Joseph Beuys, and Sol LeWitt.
Insider Tip: Dia also has several site-specific installations scattered around New York City and the U.S.
PLAN YOUR TRIP: Visit Fodor's Hudson Valley Guide
WHERE: Istanbul
Back in 1914, the Silahtarağa Power Plant was the Ottoman Empire's first urban-scale power plant, supplying Istanbul with energy until 1983. When Santralistanbul opened in 2007, it transformed the original turbine rooms into the Museum of Energy, Turkey's first archeological-industrial museum. The main gallery hosts art exhibits and cultural events. The meticulously preserved power plant offers visitors a glimpse into its industrial past, awing them with the old steel architecture and enormous turbines.
Insider Tip: When in Istanbul, be sure to visit Sirkeçi and Haydarpasa stations, two of the world's most beautiful train stations.
PLAN YOUR TRIP: Visit Fodor's Istanbul Guide