Washington, D.C. - Charlottesville Trip Report (4/13 -18/2019)
Join Date: Jul 2018
Posts: 19
Washington, D.C. - Charlottesville Trip Report (4/13 -18/2019)
---
My wife was sent by her work to attend a conference in Washington D.C. the week of April 13th -17th. I, being ever the travel opportunist, parlayed my wife's work commitment and that handsome per diem and free hotel into a vacation. We flew into Ronald Reagan International Airport on the evening of Saturday, April 13th and departed on Thursday, April 18th (via train to Philadelphia for two nights since we'd never been). The last time I was in D.C. was in 1998, so this was, in essence, like visiting for the first time.
We were booked at the
Renaissance Arlington Capital View Hotel
in (you'd never guess) Arlington, Virginia. I'm certain the "capital view" is marketing word filler for being able to see across the Potomac and not much more, even from our 9th story window facing due east. I'm not about to complain about free hotel, but this is definitely not where I would choose to stay on a future D.C. visit. As we learned, location in D.C. is everything, and getting anywhere outside of Arlington was quite inconvenient with 45 minutes to an hour on the Metro (not including the 15 minute walk or shuttle ride to the nearest Metro station at Crystal City) or paying $12-15 for an Uber just to cross the Potomac. And the labyrinth of corporate office buildings and sterile chain stores surrounding our hotel didn't constitute much in the way of interesting amenities.
FIRST NIGHT
Our internal clocks were still on Pacific time zone, so the night was still young when we headed out for some dinner in D.C. at almost 9 p.m. The wife was feeling Thai-like, so we Ubered up to 14th Street NW to a place called
Baan Thai
. Living on the west coast, I feel like our standards for great Thai cuisine are pretty high. Their emphasis on a menu favoring Northern Thai dishes over the standards like Pad Thai and Pad See Ew was a refreshing twist. It was the first Thai restaurant that I've seen that serves
Khao Soi Gai
, a chicken curry dish from Northern Thailand that I went wild for! You don't have to order it spicy. The spice will come to you. And it kept coming when the life of the party, the Green Mango Salad, arrived at our table. I'm not a salad guy, but this lit up our evening like a fireball in the night sky. Shall we not forget the Chicken Stuffed Tapioca Balls and the Coconut Milk Griddles? I'd never seen such a lively cast of palate-pleasers on my table altogether. The bartender (who we later found out was the owner) was charming and engaging, and gave us a short life history of how he went from Microsoft executive to bailing out of the rat race to live in the mountains of Northern Thailand with his wife that he now co-owns the restaurant with. A memorable meal at a fantastic restaurant that will not be soon forgotten.
After our fiery and fabulous feast, we were in perfect walking distance to head south to the
National Mall
for some evening site seeing of the monuments. We strolled past the
White House
and admired the
Eisenhower Executive Office Building
with its awesome architecture. And, holy crap, the National Mall at night is just glorious with the monuments aglow. We stopped by the stunning and grandiose
World War II Memorial
and its breath-taking fountains. Flanked on each side by the illuminated
Lincoln Memorial
and
Washington Monument
, it's the stuff of Instalikes and #hashtags. It was truly a monumental evening!
We walked along the reflecting pool to the
Lincoln Memorial
(almost getting plowed several times by careless kids riding the incredibly menacing glow-in-the-dark
e-scooters
that seem to be ubiquitous around the National Mall). Standing at the foot of the magnificent Lincoln Memorial has a potent and moving effect that resonates far more as an adult than it did when I last stood here as a 12 year-old in the autumn of 1989. The inscription above marble-clad Abe reads, "IN THIS TEMPLE AS IN THE HEARTS OF THE PEOPLE FOR WHOM THE SAVED THE UNION THE MEMORY OF ABRAHAM LINCOLN IS ENSHRINED FOREVER." Some kid standing next to me scoffed, "All of this just for one man." Yes! One man, whose contributions to his country and to humanity transcend the man himself. I imagine that centuries from now after America has gone the way of Ancient Greece and Rome, the Lincoln Memorial will stand as an enduring symbol of our greatness, much like the Parthenon stands in Athens and the Colosseum stands in Rome. And long after our history is forgotten, future people will nod and say, "That Abraham Lincoln must have been a great fellow."
After finding a long-sought after restroom in the basement of the Lincoln Memorial (all public restrooms around the national mall are locked at night!), we meandered to the
Korean War Veterans Memorial
, which is brilliantly haunting at night. The statues of the soldiers look ghostly in the evening glow, and the landscaping around the statues is impeccably manicured. This memorial seems over-shadowed by some of the other biggies around the mall, but it may have been my favorite. It carried a bit more sentimental weight, as my father-in-law is a Korean War veteran, yet it is another timeless reminder of an oft-forgotten era of American history.
By now midnight had passed, and with an ambitious schedule for the next day, it was time to hunt down an Uber and get back to the hotel. We wanted to see the
Jefferson Memorial
to cap a fantastic evening, but it would have to wait (and I'm still waiting since we never had a chance to make it back). However, I would make it to Charlottesville a few days later and get my fill of all things Jefferson, so not all was lost.
View from the WWII Memorial
The National Mall from the steps of the Lincoln Memorial
Korean War Memorial
Khao Soi Gai at Ubon Thai
2ND DAY
We acquainted ourselves with the
DC Metro
and headed up to the
DuPont Circle Farmer's Market
. It was bustling as we expected, and it definitely draws a cultured and affluent crowd compared to other markets I've visited. I always enjoy checking out a local farmers or weekend market of any city I visit, especially for the first time, to get some local flavor. DuPont didn't disappoint. It's expansive and fills several city blocks. I just love going around trying the cheeses, fruits, pickled and fermented veggies, sauces, jams, baked goods, chatting with vendors, and sniffing out the eccentricities.
The market highlight for me was sampling and picking up some locally crafted kimchi and baked snacks, and indulging in a beastly breakfast sandwich from
Hog Heaven Farms
. Violin man on the street corner provided the requisite ambiance. My wife stood in line for 20 minutes for some wood-fired bagels from
Call Your Mother,
and we had ample time to call our mothers while waiting in that ridiculous line (hence the name?). We sauntered around the neighborhood post-market for a bit, wandered into a few shops and paused for some coffee from
Filter Coffeehouse
. And on that note, it was time to move on. DuPont Circle is a lovely, vibrant place, and I thought it was a morning well-spent, even if my wife was not nearly as smitten as I was with the neighborhood.
On to the National Mall for some afternoon museum hopping. Or so we thought. Once we got off at
L'Enfant Plaza
, we realized what we were in for. The
National Air and Space Museum
was to be the first stop among others, and we knew it would be crazy busy. Walking down the sidewalk to get there, the group in front of us just stopped cold and it looked as if there was just a jam of people with bad sidewalk manners. We walked around the stationary mob on the shoulder of the street only to realize that the "mob" was where the line began to get into the museum two blocks away.
Just .... no.
We were not about to stand in line for two hours with a thousand grade-schoolers in front of us. We went around to the entrance from the mall side and found another long, but more manageable line.
Once inside, it was absolutely swarming with people. It was hard to enjoy or read anything because there were people crowded everywhere around every exhibit, and lines just to use the restrooms. And a third of the museum was closed off for renovation! This was less museum and more like Disney World on a long holiday weekend. We saw some of the space exhibits and checked out the Wright Brothers exhibit and decided we'd had enough. What a burning disappointment. All of the other museums had the same kind of line to get in based on ground reports from a friend we met up with. Rather than battle hoards of people all afternoon, we altered our plans. But not before taking a walk in the lovely
National Gallery of Art Sculpture Garden
, a fascinating collection of sculptures and a decent cafe to refresh with a quick coffee and snack. It was a refreshing reprieve from the crush of the masses. Our friend departed and headed over to the
National Archives
, which I wish we would have done (even though I've previously been).
We headed over to the highly touted
Eastern Market
and saw what was left of the Sunday flee market. There wasn't nearly as much to see here as DuPont Circle, and the Eastern Market itself a bit underwhelming, mostly meat purveyors and such, though it was worth the journey here just to check out the
Capitol Hill
'hood.
Pitango's Gelato
is a mandatory indulgence. The affogato with Sicilian Almond gelato may have been worth giving up an appendage for. I had designs on a dinner of seafood either at Hank's Oyster Bar or Montmartre nearby, but those aspirations were torpedoed by the wife, who had a hankering for pizza. So we stuffed ourselves with freshly tossed pie at
Seventh Hill
. By now, the powerful undercurrent of food coma and jet lag was pulling us under, and it was a struggle dragging ourselves back to the hotel to pass out.
One of the many delicious vendors at DuPont Circle Farmer's Market
Heavenly indulgence from Hog Heaven Farms
Wright Bros. exhibit at National Air & Space
Sculpture in the National Gallery Sculpture Garden
The bustle of the Dupont Circle Farmer's Market
3RD DAY
It was a chilly and blustery, yet sunny day, preceded by an overnight thunderstorm that knocked the power out at our hotel for several hours. And it was an ideal morning for wind-whipped, silent wanderings in
Arlington National Cemetery
before the crowds started trickling in. I began at
Women In Military Service For America Memorial
to try and look up a friend of mine that served. Sadly I found nothing. The memorial itself is quite impressive with courteous staff and a plethora of information about the history of women in the military. There's also a data base that's open to the public to search. After this, up the hill I went for the obligatory stop at the Kennedy grave sites to pay respects. 'Beautiful' is a strange way to describe a cemetery, but it really is - almost incomprehensible in its grandeur. I just strolled about for over an hour filled with admiration, gratitude and humility for all those that have served and given everything for their country.
I caught the Metro over to
Foggy Bottom
and walked from there to
Georgetown
. This might have been my favorite part of DC. I relished walking the historic streets of this landmark neighborhood, spellbound by gorgeous and quaint colonial and federal period homes. There's a fine line between being an admirer and a godawful tourist that can't put the camera down; I had clearly crossed that line given the annoyed looks I was garnering from some of the locals going about their daily business. I stopped by the
Kennedy residence on
N Street
where JFK and Jackie lived when he served as a U.S. Senator, and as stately and beautiful as the home is, each of the many streets I strolled down had homes just as impressive.
I encountered
Stachowski's Market
just in time to tickle my foodie fetish -- stacks of succulent fresh-carved smoked meat piled high. This is the type of place I long to find myself every day around lunchtime. I ordered the pastrami on rye, and this beastly thing called a sandwich must have weighed three pounds. Food fantasies fulfilled, I staggered out the door in a stupor (and with half a sandwich for later).
I had planned to see
Tudor Place
and
Dumbarton Oaks
. But there was a slight problem. They're both museums. It was Monday. Both places were closed. Woops. Obviously I didn't plan that out very well. What I should have done, in retrospect, was plan my Georgetown day for Sunday, and then used Monday to visit the
Smithsonian
museums of choice when the crowds would have been a bit thinner. But from poor planning is born opportunity. There was plenty of sites here to fill my plate, and a quick little stop at
Corridor Coffee
and a walk up the stairs to
Book Hill Park
with hot coffee in hand on a chilly day seemed to offer a small slice of quintessential Georgetown.
My wife came and met me a bit later and she was just as mesmerized as I by the quaintness of the neighborhood as we strolled the streets and alleys near
Pomander Walk
, then checked out the stunning
Georgetown University
campus with its towering spires of neo-gothic architecture. And then the next block over a sprint up the infamous
Exorcist Steps
, where the climactic scene from the movie "The Exorcist" was filmed, a cathartic, heart-pounding climb towards cardiac arrest. I was on my own for that one. The wife wanted to do some shopping on
M Street
, but first we walked by a line out the door of
Georgetown Cupcake
that extended down the block. My wife wanted to go, just as I was thinking out loud, "What cupcake could possibly be worth standing in this cold, miserable line for?" Roughly 45 minutes later, we were living our sweetest lives. I'm not sure what they're putting in these magic little confections, but I have not been able to shake the sugary spell that cherry cheesecake cupcakes has cast on me. Georgetown Cupcake now owns a special place in our hearts (so much so that we ordered two dozen and had them shipped overnight to us in Oregon to share with our colleagues at work). Now fueled by magic cupcakes, it was time for some clothes shopping before an enchanting sunset walk along the charming and fascinating
C&O Canal
, a marvel of industrial urban renewal, while biding time before an 8 PM dinner reservation.
Martin's Tavern
is a DC eating institution that breathes nostalgia, and a place where the quality meets the hype. It seems to be more a relic of a by-gone culinary era with its classic upscale Americana fare than an establishment that's on the avant-garde of the DC dining scene. However, this where U.S. presidents and DC elites have dined (and still do) since it's opening in 1933. The beautifully lit dark mahogany interior was the setting for JFK's proposal to Jackie many decades ago. Our attire was glaringly beneath house standards based on initial observation. Yet the service was top-notch and incredibly gracious. I doubt we were the first frumpy tourists to wander in that were clad in casual comfort and walking shoes from a day of site-seeing. The large-lump crab cakes and chowder were absolutely delicious, and the server gladly exchanged the decadent "
Hot Brown
," the house specialtyand a cannon ball in my stomach upon first bite - for a lighter entree. After engorging myself on cupcakes and a mad pile of pastrami earlier, attempting to scale this creamy heavy-hitting heap was sure to be an all-night digestive disaster of "hot and brown" if I indulged any further. Regardless of what you order, it's all about being part of the history here. I'm not sure we would ever return to Martin's if in the area, but it was lovely and unforgettable, and certainly a must at least once for nostalgia lovers.
Sacred ground at Arlington National Cemetery
Beautiful stately home in Georgetown
Meat madness at Stackowski's Market
The Kennedy residence on N Street
Exorcist Steps
Industrial chic near the B&O Canal
Magical confections at Georgetown Cupcake
Hot Brown at Martin's Tavern
The Cooridor at Cooridor Coffee
Martin's Tavern
4TH DAY
I was standing in a mile long line at 9:40 a.m. waiting to enter the visitor center at the
U.S. Capitol Building
. This couldn't possibly be where I was meant to be with our capitol tour departing in 20 minutes. I re-read the email sent from Congressman DeFazio's office and felt like such a fool when the instructions clearly stated to meet in his office on the second floor of the
Rayburn Federal Building.
Fortunately, the blunder was not fatal to my morning plans, as I sprinted several blocks and squeezed through security at the tightly-guarded building to meet the group right upon its departure.
The Capitol Building tour exceeded all expectations. I knew it would be fascinating, but it was like watching everything I learned in 7th grade civics and history on IMAX. Sitting in the
House and Senate chambers
was surreal, imagining all of the climactic moments of C-Span and the State of the Union Address all happening here right in this very space. And my jaw hit the floor as I stared up into the dome of the most spectacular
Capitol Rotunda
. It was also
Emancipation Proclamation Day
, so the Capitol had that electric feel of 1863 in the air. The place was super packed with people, but this was one time where I didn't mind the crowds and waiting in line. There's something about visiting the Capitol that unites people of different political stripes under one roof.
There's a not-so-secret underground walking tunnel to the
Library of Congress
from the Capitol, which was where I was off to next. The Library of Congress (the
Thomas Jefferson Building
to be more precise) is a marvel inside and out. The ornate Beaux-Arts style architecture, abundance of beautiful and colorful murals, incredible reading room, and massive collection of books and manuscripts romanticizes the memory of Jefferson with its excess. Jefferson's personal book collection that he sold to the U.S. government is housed here, which provides a glimpse into his incomprehensible scholarship (by today's standards).
After an edifying morning of history and scholarship, I segued into an edible afternoon at the
Fish Market at the DC Wharf
. My seafood fantasies were all coming to life. This fantastic 200 year-old market is where you want to be if you want to engorge yourself on fresh caught crab, fish, oysters, shrimp, crawfish, clams, pretty much anything seafood related you're hoping to find. The fishermen literally bring their catch here to market to sell. I chatted up a lifelong local that was in the know and picking up some oysters to celebrate his 35th wedding anniversary. He steered me towards the
Chincoteaque oysters
on the half. Per his recommendation, I loaded up on a dozen freshly shucked Chincoteaques, blue shell crab, and a cup of seafood stew. I found a secluded spot overlooking the sunny and delightful waterfront to devour and slurp down all that sea-salty goodness. As I went to work, I sensed a few envious hungry eyes stray towards my feast as they passed by.
With salt now flowing through my veins, I enjoyed the gorgeous
DC Wharf
waterfront, which is a revitalized area that has retained the character of the old Municipal Fish Market while new development has sprouted up around it in the form of glass condos, upscale chain restaurants, bars, and hotels. An afternoon caffeine boost of iced coffee at
Blue Bottle Coffee
was a refreshing post-feast digestif. After soaking up some sun and doing some people-watching on the glorious waterfront promenade for a couple of hours, I grabbed some oyster happy hour at
Rappahannock Oyster Bar
before trekking to
Nationals Park
(about 25 minutes on foot) to meet up with a colleague of my wife's that was in town for the same conference to see the
Nationals versus the Giants
.
The neighborhood surrounding Nationals Park is a complex of cranes and high-rise condos under construction, with a glass tower gentrified corporate feel. And like the neighborhood, I found the game-day spirit at the ballpark to be lifeless, more a place for yuppies in collared shirts to conduct after-hours business than enjoy an actual baseball game. Security getting into the park was no joke - I was asked to empty my day bag so they could see the bottom and received the obligatory pat-down. I suppose that's the standard these days. The stadium itself certainly does not possess the character and energy of Wrigley Field or Fenway Park and is quite generic-looking by design, but that may be an unfair comparison. I was glad I got a bite to eat before coming to the game because the concession offerings were meager at best. I got in line for a giant pretzel, which was on their menu board, only to be told that I'd have to go to a different concession stand that had those. Forget that.
Despite the disenchanting ballpark and anticlimactic game experience, it was an enjoyable evening with good company, and I'm glad I went. I was set to order an Uber to get us back to the hotel when a car pulled up and asked us if we were headed to Virginia. There were Lyft and Uber stickers in the rear window, but I was suspect. Uber app priced us at $15 to get back to our hotel, and I negotiated $12 for him to take us. We hopped in, and it was clear from the outset this character was bootlegging. There was no meter, the car was a disheveled mess, and there was no evidence in the vehicle that he was a licensed taxi, Uber or Lyft driver. He didn't even ask us where we were going until we had crossed the bridge into Virginia. Despite the sketchiness of the situation, we realized there was no evil intent and we weren't being taken to our impending deaths, so we just let him drive us to our hotel. It was a good lesson to be more mindful of potential scammers and of the shadowy unregulated underbelly of the ride services market.
Rotunda of the U.S. Capitol building
Ornate architecture of the Library of Congress
Library of Congress reading room
At the gates of oyster heaven
The revitalized DC Wharf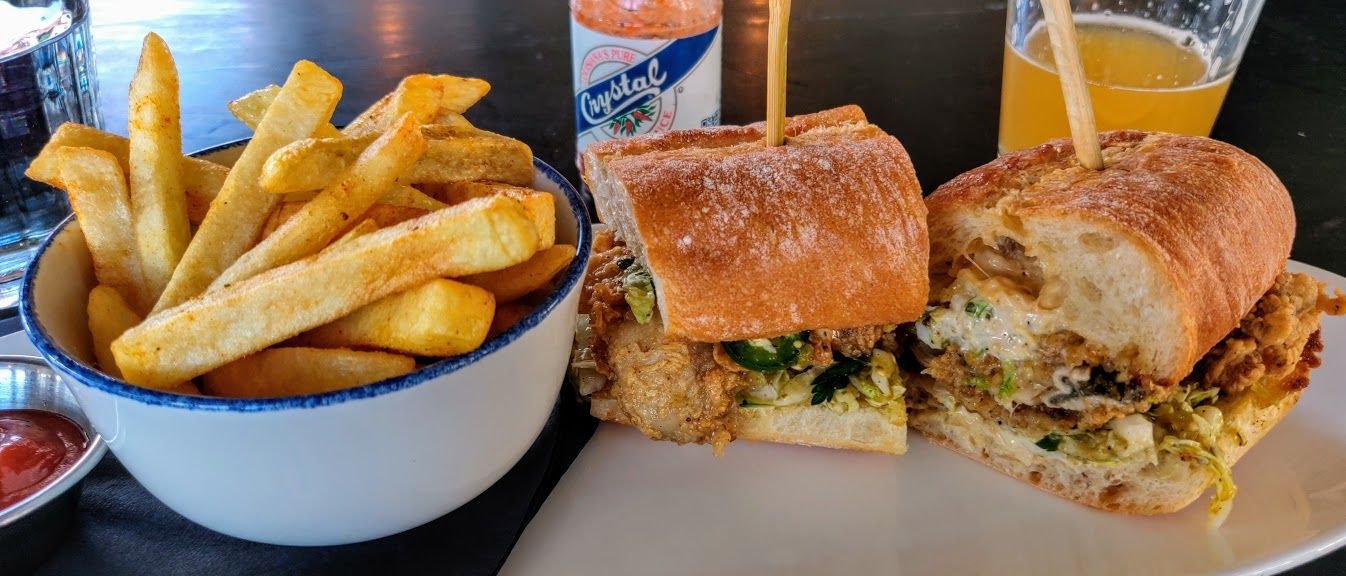 Happy hour noshing at Rappahannock Oyster Bar (oyster po'boy)
Game on at Nationals Park
5th Day (Charlottesville)
There aren't many things that invigorate me more than a road trip, especially to a place I've never been. I was accompanied by my friend (wife's colleague) again playing hooky from the conference he was supposed to be attending. Depending on what time allowed, the plan was to visit the
Manassas National Battlefield Park
, then on to James Madison's home in Montpelier. And if time allowed once we reached
Charlottesville
, a visit to the University of Virginia campus before our 4 PM
"Behind the Scenes Tour" at Monticello
.
We set out quite early and stuffed ourselves with a hearty country breakfast at the
Cracker Barrel
in Manassas. We made it to the park headquarters shortly after it opened at 8:30. We caught a short film about the history of the battle and then took a self-guided walk around the battle field that was the first battle of
Bull Run
in the
Civil War
. If there is a such thing as a natural setting for a battle, Bull Run would qualify. Perhaps this is why Union and Confederate forces converged at this point twice during the Civil War. Haunting and tragically beautiful would most aptly describe the experience of walking a field where thousands of men lost their lives, heroes rose and fell and were forever immortalized, and the course of American history was profoundly altered forever.
To do the entire loop trail and to really absorb and read all of the historical markers took two hours. And this was just for the first battle of Bull Run. The battlefield of the second battle of Bull Run is an 18 mile driving loop that was sure to consume an entire afternoon. It became apparent that we would not have time for this, and my planning for the day was overly ambitious. We made one last stop at the
Old Stone House
, and resigned ourselves to the fact that we would have to make a return trip someday to see the second battlefield. Manassas is an entire day if one wants to experience it fully.
After a brief stop at Dunkin Donuts for a coffee blast, we altered our plans. We'd skip the James Madison home and head straight for Charlottesville to the
University of Virginia
campus. I did want to see the architecture, including the
Rotunda
, on the campus, as well as make a stop at Campbell Hall, as I have entertained the idea of returning to school for a masters degree (and the University of Virginia has a fantastic urban planning program I'm interested in). We were also slowed down by incredible traffic congestion on VA-28, as we were stuck behind a very large funeral procession led by multiple highway patrol cars. We poked along at 45 mph all the way to the town of
Culpeper
, where it seemed everyone of the highway exited at once, and we were finally free to hit the afterburners.
The University of Virginia was alive and and beaming with pride for the 'Hoos, who'd just won the NCAA men's national basketball title a week earlier. Unfortunately, we had limited time here by, and we took a brief walking tour of the beautiful campus, visited the remarkable Rotunda that Thomas Jefferson himself designed, chatted with some students about their experience attending school there. Then on to Monticello to get a small snack before our tour. I really wish I had had time to climb the
Saunders-Monticello Trail
from the bottom of the mountain to enjoy the entire experience, but it will have to wait for a future visit.
My life-long interest in Thomas Jefferson was a forerunner to this day that I've long anticipated. I've always wanted to see
Monticello
, so this was as much a pilgrimage as it was an epic day trip. The 'Behind the Scences Tour' (cost $65) itself is absolutely worth the money, and getting a chance to tour the house and the grounds more intimately in a small group with a knowledgeable guide. I also thought we made the right decision doing the tour late in the afternoon, as the crowds start to taper off, and witnessing the western facing portico of the house and the colorful and verdant gardens abloom with tulips illuminated by the evening light was just spectacular!
The interior of the house was no less impressive. Each room is a testament to the brilliance, talents and tastes of Jefferson, and to the enlightenment and erudition of the times. I could only imagine the conversations that took place with his family and contemporaries within these walls, as well as other deviant behaviors with a certain slave mistress. Something I really appreciated about our guide was the openness with regard to Jefferson's complicated legacy of having no scruples as a slave-owning overlord, yet being widely regarded as one of the most influential and respected men in American history. If anything, I left Monticello with as many questions as answers about Jefferson as a man, and his moral legacy. As a Jefferson enthusiast, I will certainly make a return visit to Monticello if and when I'm back in the area. I was enraptured by it, and deeply appreciated the friendliness and passion of the guides on the estate.
We were unable to spend a lot of time in Charlottesville itself, aside from whizzing through town before burying our faces in a massive plate of succulent brisket and mac & cheese at
Mission BBQ
. But sometimes you can sense an aura about a place. I am infatuated with Charlottesville and look forward to returning again. It's not a wonder two U.S. presidents called this place home. Nestled at the base of the picturesque
Blue Ridge Mountains
, with warm and friendly people, and home to a prestigious university, there's a lot to love. Having grown up in a small university town in Montana of comparable size, there's a certain livability and appreciation for learning and culture here that resonates with me.
On a future trip to Washington, D.C., I'll be sure to set aside a couple of days to come back and explore the Charlottesville area, take some time to visit Shenandoah National Park, and visit the homes of Madison and Monroe. As often seems to be the case on my travels, there's always so much I want to see, but never enough time.
Looking across the battlefield
The Rotunda on the University of Virginia campus
Evening light touches the western facade of Monticello
Here lies Thomas Jefferson
Digging in at Mission BBQ
6TH DAY
On to Philadelphia ... (to be continued)
OBSERVATIONS, TIPS, ETC.
We mixed and matched using public transit (the Metro) with Uber and Lyft to get around DC, depending on the amount of time we had. We found Uber to be much more reliable and professional than Lyft in the DC area.
The National Mall at night is a nightmare for those that are in desperate need of a restroom. The only open one that can be found after hours is in the basement of the Lincoln Memorial.
This time of year (mid-April) seems to be an incredibly busy time of year for tourists. We saw thousands of kids on field trips or church youth group retreats, and families with kids. One of the guides at Monticello said this was their busiest weekend of the year. T'was the season, I suppose.
Booking the Capitol tour through your local congressman's office is definitely the way to go. You get more of a behind-the-scenes glimpse and an easier by-pass through security than doing one of the public tours offered by the Capitol Visitor Center.
On our next trip, I intend to return to see more of the Smithsonian museums on a non-weekend day. It just didn't work out this time, and we didn't anticipate how long the lines would be and how much time it would take to get into places.
It's amazing how many day trip options there are within a couple of hours of DC, especially for Civil War enthusiasts (Baltimore, Annapolis, Fredericksburg, Manassas, Gettysburg, Harper's Ferry, Charlottesville, Petersburg, Williamsburg, and more). I would love to keep coming back to DC and use it as a base to explore these places on future visits.
Flying into Ronald Reagan International Airport is definitely the most convenient option, especially if you're staying on the Virginia side. The signage there is confusing, but it's a nice airport with fascinating architecture. It was 10 minutes from our hotel.
---
Last edited by jeverett; Jul 28th, 2019 at

10:34 PM

.
Join Date: Jul 2018
Posts: 19
Join Date: Jul 2018
Posts: 19
Thanks for the recommendation! I'll be sure to put it on the list for my next visit. There was quite a bit there that I wanted to see but didn't have time for.
Join Date: Mar 2007
Posts: 15,925
<< It's amazing how many day trip options there are within a couple of hours of DC, especially for Civil War enthusiasts (Baltimore, Annapolis, Fredericksburg, Manassas, Gettysburg, Harper's Ferry, Charlottesville, Petersburg, Williamsburg, and more). I would love to keep coming back to DC and use it as a base to explore these places on future visits. >>
Our older son and his family live in Silver Spring MD and when we visit them we try to add on some extra time to explore outside the DC area. In the spring we enjoyed visiting Frederick MD and driving along the Blue Ridge Parkway including a stop at Poplar Forest.
A few weeks drove ago we spent time at Harpers Ferry, Antietam and parts of the C & O canal in western MD.
Garden Week in Virginia is a great time to visit if you can schedule a trip then.
https://www.vagardenweek.org/
Join Date: Jul 2018
Posts: 19
Join Date: Apr 2003
Posts: 11,120
Great trip report! Your food choices in DC look fantastic but then you went to chain restaurants in Charlottesville, one of the best foodie spots in the state. What's up with that? If you did the same in Philly, I might have to reach into Fodors and slap you.