Mineral Del Chico 41st anniversary trip
Dec 24th, 2022, 06:06 PM
Mineral Del Chico 41st anniversary trip
---
Other than a couple of overnights in Queretaro and SLP, this trip, while still brief, was our first of any consequence after getting vaccinated. Remember, Mexico was/is months behind the US in rolling out jabs. And even then, the delivery was pretty chaotic.
Anyway, given our anniversary fell in early June, we wanted someplace cooler than a beach or even here in San Miguel where, at the time of planning, temps were still in the mid to upper 80's. So we decided somewhere in the mountains would work. But not much more than a day's drive or so. We had been to Hidalgo state before, to Real Del Monte & Huasca De Ocampo, but missed Mineral Del Chico due to foggy driving conditions on unknown roads. So Chico it was for 3 nights, with 1 night in Cadeyreta. Actually, a cabin between Monte & Chico. But close enough to drive to either town.
So, first night on the way we stayed at Hacienda Tovares on the outskirts of Cadeyreta, Queretaro, a Pueblo Mágico. A town that'd had been on my radar for a while. Cadereyta is in the center of Queretaro's wine region, not far from Bernal or Tequisquiapan, 2 better known magic towns in the area. The hotel has large grounds, horseback riding, thermal spring, pool, and a restaurant. Our room was nice, maybe overpriced? The restaurant was, I must say, quite average given the price of lodging and other amenities. One quirk upon checking out was when we were leaving. The guard at the exit caseta (gated property) made us go back to reception and confirm we hadn't taken the key. We just left it on the dresser instead of taking it to reception. Like in most hotels. And he also made us turn in our wristbands, the ones like you get on a cruise ship tour. Nice enough place, a bit overpriced, and Cadeyreta itself was not so magical. Not feeling a need to ever go back. We did stop at the Freixnet winery on the way to Cadeyreta. Didn't do a tour; not enough time. Just visited the store and bought a bottle of their Prosecco. Which turned out to be really good. Tho I'm no wine expert.
We then took the scenic back roads to Mineral del Chico, via Tequisquiapan, defying the GPS's attempts to route us to the cuota and through Pachuca. A high point of the drive was going through Ixmiquilpan, which is kind of the jumping off point to visit the fantastic hot springs of Tolantongo. Which we skipped since we'd been there before. Not enough time this trip, and it was the weekend, which meant busy. It's a favorite spot of Chris Daniel, a recent addition to Fodor's. Anyway, we were stopped a a traffic light and this young man comes up to the window, hawking coffee. I'm a sucker for anyone selling, begging, or performing at a stoplight. Fire-eaters and jugglers are my favorites. So, I bought 2 1/4 kilo bags, it was all he had left. We didn't try it until after returning home. It was absolutely the best Mexican coffee I've had here. I tried to get them to send me 2 kilos via DHL but so far it's not worked out. They prefer it seems to deliver in person. They put me in their whatsapp chat; they were making lots of deliveries in Mexico City. They did say they'll be delivering to Celaya sometime soon or send via paquetería. I hope. OK, on to Mineral Del Chico. It was rainy upon our arrival, but not as foggy as on the previous visit to the area. So it was easy enough to find our air bnb cabin. You never know how an air bnb will compare to the pics. But the place was as advertised, and were happy to see the place stocked with firewood, as it was only in the mid 50's F. And it didn't have much sun exposure due to the trees. So we burned the entire rather smallish stack of wood the first night. But were able to buy more. Since it was rainy, we didn't spend much time exploring the town the first night. Just a pizza to go. We did spy out a trout restaurant that we really wanted to try on our last night, but they only took cash and the only ATM in town was out of money, and I wanted to save our cash for tolls in or around Pachuca, since I didn't know how many toll booths we'd hit before I found a bank.
Next day we went to Real Del Monte, where we'd been before, and included in another report, so I won't spend a lot of time on it. We did have a lunch of Tlacoyos which are kind of like gorditas. Never had them before. Dinner was at the restaurant 'La Cuspide' overlooking the valley towards Pachuca which I found on Google Maps. On a clearer day I'm sure the view would be more impressive. Of course, "pastes" (short 'a') are the local specialty, much like an empanada except the filling for pastes are cooked along with the dough instead of beforehand as with empanadas. Miners would take them for their lunches inside the mines and supposedly they'd stay warm if they were prepared that morning. The braided crust edge actually serves as a handle and is not eaten. That way the pastes don't get contaminated with heavy metals or other toxins that might be on the miner's hands. Unlike in the Zacatecas mines, where miners often got sick eating tacos with their bare hands. People thought it was from some spoiled fillings and to this day 'tacos venenosos' (poison tacos) are popular there. Without the poison, lol. Another local item in Chico are Tachuelas, which is Spanish for tack. As in a small nail. It's a brandy based cocktail served in a large-ish shot glass. Each bar apparently has their own secret recipe, typically made with a combination of various liqueurs, herbs & spices I'm told. Served with a Maria's cookie on top of the glass. I guess with the cookie on top it's supposed to look like a tack. It's said that your first one is an aperitif, the 2nd a digestivo, and the 3rd an aphrodisiac. We stopped after 1. I would've preferred a margarita.
Chico as a town is quaint & very small, with few hotels or restaurants. Lots of cabins and weekend homes. The big attractions are outdoor activities in Chico national park, which if memory serves, was the first one in Mexico. Camping, hiking, fishing, tours of mines, etc. Since we're seasoned citizens, we opted for a 4-wheeler tour in a RZR up the mountain to the Foco Tonal. Supposedly such places are "energy vortexes." Not sure about that. We just went for the view.
In all, it was a beautiful area easily visited from CDMX. It only took me 6 months to write this report.
Cadereyta. Typical colonial center.
Tlacoyos
View from La Cuspide
Covid protocol
Cabin in Chico
Centro in Chico
Tachuela
Pastes. Note the 'handles.'
Trout menu
Foco Tonal
View from Foco
Another view from Foco
Visitor at Foco
Didn't realize tarantulas were found at 9,000 feet
Anyone want a Coke?
Cafe El Paraiso
​​​​​​
Jan 28th, 2023, 05:23 PM
Coffee finally arrived! By paquetería. Ordered 3 kilos. 2 for ourselves, the 3rd to divide and share with friends. I like supporting a small grower like this and helping them grow their fledgling enterprise. How can you not appreciate the hard work of selling at various city intersections and delivering by bicycle in Mexico City? Plus the coffee is really good. Turns out they're located in Huitzilan de Serdán, in Chris Daniel's stomping grounds.
Some pics from their whatsapp. Plus my delivery.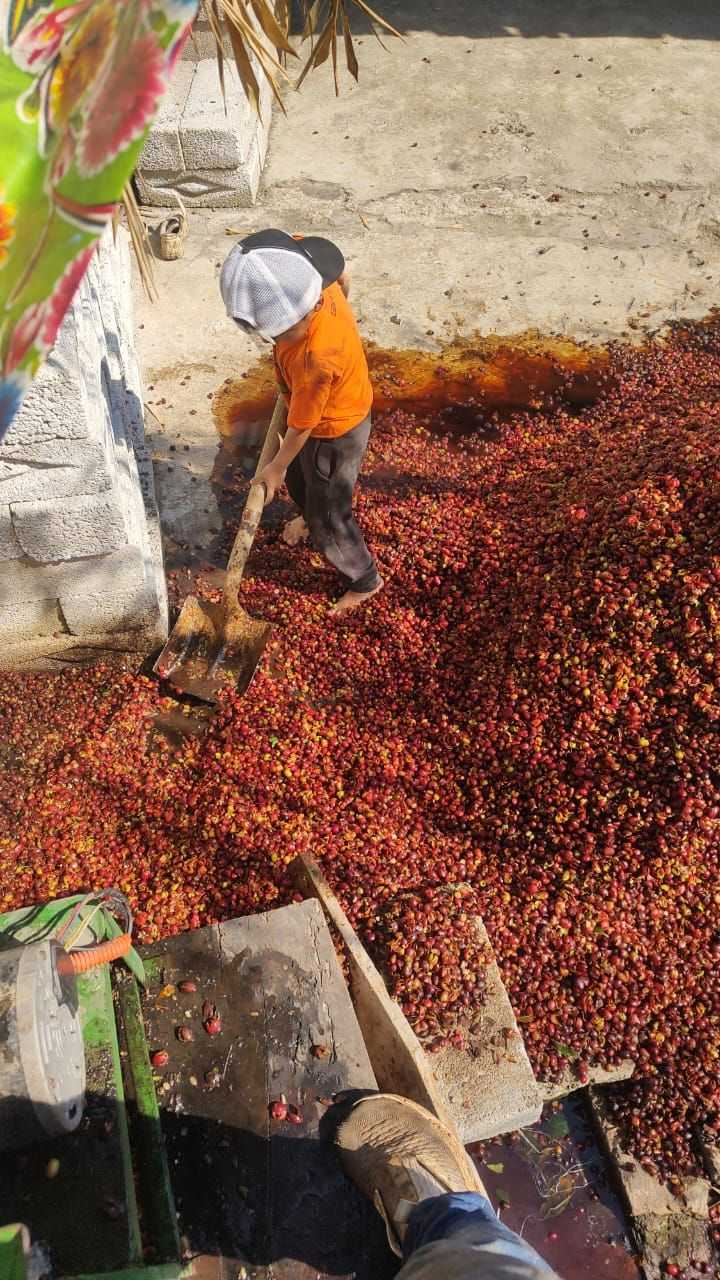 Truly a family business
Jan 29th, 2023, 10:52 AM
Join Date: Oct 2022
Posts: 28
Likes: 0
Received 0 Likes on 0 Posts
More about Huitzilan de Serda

"Plus the coffee is really good. Turns out they're located in Huitzilan de Serdán, in Chris Daniel's stomping grounds"

After not being able to make any international trips for ten years, I anticipate spending next winter in Mexico. During late November and early December, 2023 I plan to do a multi-week town-to-town trek, walking eastward through the mountains from Zacatlan to Jonotla, where a pilgrimage shrine is located. Walking thru Huitzilan would very conveniently fit into my route, but I plan to instead detour around that municipio (small county). It's the only community in Puebla's Sierra Norte that residents of other towns have cautioned me to stay away from. I take such warnings seriously.

Between 1977 and 1984, 200 to 300 people were killed during an agrarian revolt that occurred in Huitzilan. Land invasions took place and conflicts erupted between Nahua and Non-Nahua (mestizo) people. Historian James M Taggart later conducted field research in Huitzilan, publishing in 2007 "Remembering Victoria; a Tragic Nahuat Love Story". I've read that book about Huitzilan and plan to soon read his more analytical 2020 book about the conflict. Published by the University of Colorado Press, "The Rain Gods' Rebellion: the Cultural Basis of a Nahua Insurgency" can be downloaded from the Internet without cost.

Since 1984 banditry has sometimes occurred on isolated rural roads near Huitzilan, as tension between opposing factions persists within that community. In 2004 several politically related murders took place there. And during municipal elections held in Huitzilan in mid-2021 the ruling Antorcha Campesina (Farmers' Torch, aligned with PRI) reportedly engaged in both fraud and threats of violence against people who opposed them.

Fortunately, various other towns within that region have not, at least within living memory,experienced similar conflicts. Huitzilan is not the only Sierra Norte town that produces good coffee. It can also be obtained by visiting other places such as Cuetzalan, Xochitlan de Vicente Suarez, and Zapotitlan de Mendez.
---
Last edited by chrisdaniel0933; Jan 29th, 2023 at

11:08 AM

.
Jan 29th, 2023, 06:31 PM
This is why Chris D is such a valuable addition to the Fodor's family. I downloaded the free book and am already a couple of chapters into it. At first glance, it reminds me of the land grabs in Guatemala that resulted in a long civil war. But I'm barely into the book. I had wondered if on my next trip to the area if I'd stop by their finca and buy in person. Thought it might be interesting. I'll reach out to my contatct, Marco, to see if that's advisable if and when I get back that way. Otherwise, I'll just let him deliver, lol. I have purchased other Puebla sourced coffees over the years but this batch stood out. But not unlike grapes, the crop can vary from harvest to harvest.
Chris, I hope you're able to resume your travels and that the care of your wife turned out well.
Jan 29th, 2023, 08:07 PM
Join Date: Oct 2022
Posts: 28
Likes: 0
Received 0 Likes on 0 Posts
Thank you baldone for inquiring about my wife's health. Unfortunately, her condition deteriorated greatly in recent years, leading to her death earlier this month from simultaneous lung and kidney failure. So, instead of caring for her, I'm now instead devoting increased attention to maintaining my own physical and mental well being while adjusting to life's inevitable changes.

Feb 1st, 2023, 02:40 PM
Join Date: Oct 2022
Posts: 28
Likes: 0
Received 0 Likes on 0 Posts
War of Witches--A Good Read about Puebla's Sierra Norte
---
Baldone—In this post, and perhaps one or two more, I'll provide links to additional information about Indigenous life in Puebla's Sierra Norte.
A War of Witches; A Journey into the Underworld of Contemporary Aztecs,
published in English by Westview Press, is a gripping read as an adventure story and also a fascinating introduction to Mesoamerican cosmology. After learning quite a bit of Nahuat studying in Mexico City, in 1974 American linguistics scholar Timothy J. Knab began conducting field studies in Cuetzalan and the nearby smaller town of Zinacapan. While doing so he was adopted as an apprentice shaman by two elderly curanderos.
Many people had died in Zinacapan earlier, during the 1920s and early 1930s, during a "war of witches". In addition to learning that history, Knab also inadvertently obtained information about skullduggery that was still taking place during his own studies in the Sierra Norte. Two decades later, after his original informants were no longer living, Knapp published
A War of Witches…
Serious scholars classify some adventurous accounts of traditional Mexican practices, such as those written by Carlos Casteneda, as imaginative fiction. Knab's book, even though it reads like good fiction, seems to me to be credible, however, "the real deal". Parts of Knab's tale can be sampled here:
https://www.google.com/books/edition...sec=frontcover
Feb 1st, 2023, 04:49 PM
Join Date: Oct 2022
Posts: 28
Likes: 0
Received 0 Likes on 0 Posts
Santo Luzbel -- Cuetzalan Nahuatl Film
The 1997 fictional film
Santo Luzbel
(Saint Lucifer) was filmed in Puebla's Sierra Norte in Cuetzalan and nearby at Yohualichan's church and adjoining archeological site. Those are special places that many travelers, including me, have visited.
Prior to the filming of
Santo Luzbel
no one had ever made a full length feature film in which almost all of the dialogue takes place in Nahuatl. Mexican film star and folklorist Ignacio Lopez Tarso portrays an elderly priest who speaks only Spanish and both dislikes and disrespects his Native-American parishioners. His foil is a younger subordinate priest who, being very open minded, is learning to speak Nahuatl and comprehend the local world view. The film's cast also includes members of a Mexico City-based Nahuatl speaking theater group.
Some violence occurs as the film approaches its climax, with more imminent. But, I believe the movie's plot is entirely fictional, at least concerning the actual situation in Cuetzalan and Yohualichan these days. In July of 2001 I went to Yohualichan for the patron saint fiesta that takes place annually there. I did not detect any tension between clergy and local Native-Americans during my two days there. In fact, the fiesta mass, including the homily/sermon, was conducted almost entirely in Nahuatl, with only brief use of Spanish. That was also true the next day when priests at Cuetzalan's San Francisco church conducted mass for a neighborhood patron saint. So, to me
Santo Luzbel
's plot is metaphorical, drawing attention to dilemmas that some Indigenous people still confront today and also past centuries of oppression.
Most of
Santa Luzbel
's dialogue is in Nahuatl, with subtitles presented in Spanish. It is all presented on Youtube here:
I especially like the scene from 31:30 to 33:14, showing clueless American tourists interacting with local women at Yohualichan.
The
Santa Luzbel
DVD that I purchased via the Internet (through Amazon probably) has a settings button for activating English language subtitles.
Feb 5th, 2023, 08:55 AM
Join Date: Jan 2003
Posts: 5,972
Received 0 Likes on 0 Posts
baldone, thanks so much for your lovely trip report! I love the sense of place your writing gives. And a belated happy anniversary!

chrisdaniel, wow! Your in-depth knowledge is impressive! I appreciate reading your history and other descriptions of the various regions!