Skasiansin | Dreamstime.com
Tourists flock to D.C. to see the monuments and historic landmarks, but there are plenty of things to do and see beyond the Lincoln Memorial. From local markets to historic estates, here are 10 under-the-radar places to visit in Washington, D.C.
Barrett Doherty, courtesy The Cultural Landscape Foundation
Named for the Spanish Steps in Rome, D.C.'s Spanish Steps aren't quite as grand as their European counterpart, but they do provide a tranquil reprieve from the hustle and bustle of the city. Located next to Embassy Row, the steps offer a view of D.C.'s Dupont neighborhood. A lion-head fountain at the top is a good place to relax with a book or make a wish in the fountain with pennies.
PLAN YOUR TRIP: Visit Fodor's D.C. Guide
Take a step back in time at the President Woodrow Wilson House. Located near Embassy Row, the sprawling estate was home to President Wilson and his wife after they left the White House in 1921. Walk up the grand staircase to browse stately rooms, including a parlor with the Wilsons' century-old Steinway piano. Visitors can also stroll through the gardens and take in views of neighboring mansions.
PLAN YOUR TRIP: Visit Fodor's D.C. Guide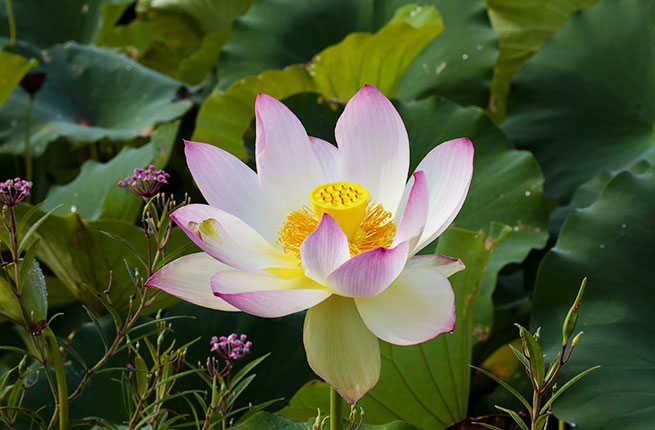 Howiewu | Dreamstime.com
Kenilworth Aquatic Gardens
Breathtaking water lilies and lotus flowers abound at Kenilworth Aquatic Gardens. Spring and summer are the best time to visit, when the flowers and trees are in bloom. But fall at the park also has its charm, with leaves changing on cypress trees, calm waters, and lower temperatures. Stop by the gardens in early July for the annual Lotus and Water Lily Festival, which includes traditional Asian and African dance performances, a lotus tea tasting, and gardening workshops.
PLAN YOUR TRIP: Visit Fodor's D.C. Guide
Union Market
Food lovers will rejoice at Union Market. The indoor space features a variety of food stations and pop-ups that serve everything from Indian pancakes to Korean tacos. Stop by DC Dosa for South Indian dosa and chutney, or head to Takorean for BBQ chicken tacos with Mexican-inspired toppings. For dessert, nothing beats Toli Moli. The Burmese dessert stand serves a layered shake, falooda, that comes with pomegranate-flavored jellies, vanilla ice cream, and rice noodle pudding. The market also allows visitors to satisfy their shopping cravings; Salt & Sundry sells artisanal and local wares and gourmet food including sweets, syrups, and jams.
PLAN YOUR TRIP: Visit Fodor's D.C. Guide
Hillwood Museum and Gardens
Lush gardens and extensive art collections are the main draws at Hillwood Museums & Gardens. Once the home of a D.C. socialite, Hillwood now holds collections of Russian imperial and French decorative art. Visitors can browse the Georgian-style mansion or roam neighboring gardens. A Japanese-style garden includes trickling streams and stone paths, while a French-themed space includes small statues and ivy-covered walls.
PLAN YOUR TRIP: Visit Fodor's D.C. Guide
Dumbarton Oaks
If art, culture, and picturesque gardens speak to you, don't miss Dumbarton Oaks in D.C.'s Georgetown neighborhood. The estate is home to terraced gardens with spiraling stone staircases and tree-lined paths. Visitors can also stop by a museum that houses collections of Byzantine and pre-Columbian art. A neighboring music room displays European art.
PLAN YOUR TRIP:Visit Fodor's D.C. Guide
Running 11 miles from Georgetown to Bethesda, Md., the Capital Crescent Trail is a walker and biker's dream. Visitors can travel down the path and take in beautiful views of the Potomac River. The trail also includes four historic bridges and two tunnels worth passing through. To take a breather from the trail, stop by Fletcher's Cove. The trail enclave offers boat rentals so visitors can explore the nearby Potomac River.
PLAN YOUR TRIP: Visit Fodor's D.C. Guide
Skasiansin | Dreamstime.com
Often overlooked among the museums and monuments on the National Mall, the United States Botanic Garden is a hidden gem. The garden, which is one of the oldest botanic gardens in the U.S., is home to a variety of rare and endangered plants. Visitors can walk through rainforest-like rooms or look at flowers from local regions. Don't miss Bartholdi Park; located across the street from the main conservatory, the park features colorful plants, flowers, and a photogenic fountain in the middle.
PLAN YOUR TRIP: Visit Fodor's D.C. Guide
Freer|Sackler Gallery; Smithsonian Institution
Few museum rooms stand out as much as the Peacock Room at the Freer Gallery. Painted by an American expatriate artist, the room's blue and gold hued-walls immediately catch visitors' eyes. Take a walk around the room to browse an extensive collection of Middle Eastern and Asian pottery. The blinds are drawn most of the year to preserve the painted walls, but visitors can see the room lit up on the third Thursday of every month during the afternoon.
PLAN YOUR TRIP: Visit Fodor's D.C. Guide
NPS
Mary McCloud Bethune Council House
Stop by the Mary McLeod Bethune Council House in Logan Circle to learn more about D.C.'s Civil Rights history. The house was famous civil rights activist's Mary McLeod Bethune's last home in D.C., and it was also the first headquarters for the National Council of Negro Women (NCNW). Visitors can browse artifacts, clothing, art, and other items documenting the history of Black women and the Black community in D.C.
PLAN YOUR TRIP: Visit Fodor's D.C. Guide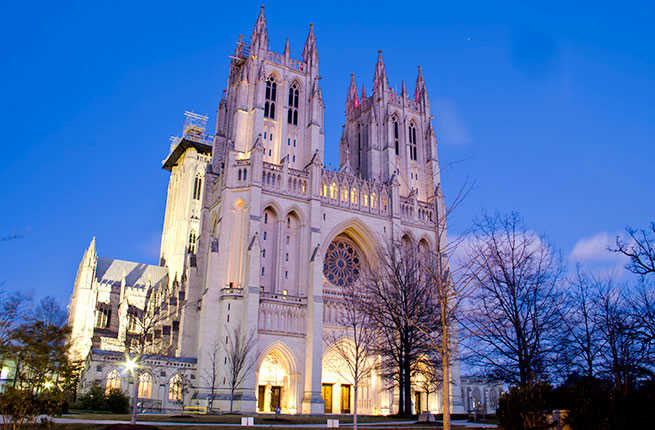 Mesutdogan | Dreamstime.com
Washington National Cathedral
Stop by the Washington National Cathedral to take in Gothic architecture, stained-glass windows, and gargoyles. Located in northwest D.C. close to American University, the cathedral boasts the highest point in the city. Visitors can book a ticket in advance to climb the 30-story central tower, or roam the grounds and the inside of the church for free. A crypt level inside the cathedral holds the graves of President Woodrow Wilson and Helen Keller. Look out for Darth Vader and hippie gargoyles on the church's exterior.
PLAN YOUR TRIP: Visit Fodor's D.C. Guide
For a spookier D.C. destination, check out the Exorcist Steps in Georgetown. The staircase, which was featured in the 1973 horror film The Exorcist, became an official D.C. landmark and tourist attraction in 2015. Visitors can walk the steep stone staircase from top to bottom for free. Make sure to avoid weekend mornings; the steps are a popular workout spot for locals.
PLAN YOUR TRIP: Visit Fodor's D.C. Guide
Eastern Market
Food, crafts, and drinks are the main draws of Eastern Market. Located near D.C.'s historic Barracks Row neighborhood, the space transforms on Sundays into a giant outdoor flea market. Visitors can browse booths with handmade wares or walk through the indoor market to take in the food options. Fresh baked goods, gourmet cheese, and local seafood are a few of the things you'll find.
PLAN YOUR TRIP: Visit Fodor's D.C. Guide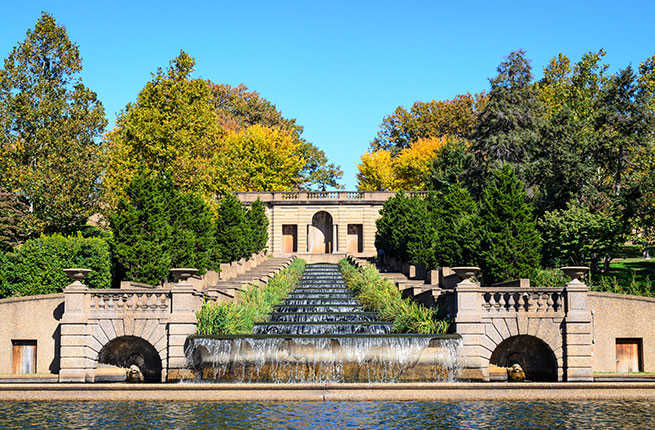 Zrfphoto | Dreamstime.com
Located in D.C.'s Columbia Heights neighborhood, Meridian Hill Park is a good place to stop for a picnic or midafternoon stroll. Designed as an Italian garden, the park has cascading water fountains, winding stone staircases, and plenty of green spaces with trees for shade. Visitors can catch a glimpse of the National Monument at the top of the main staircases.
PLAN YOUR TRIP: Visit Fodor's D.C. Guide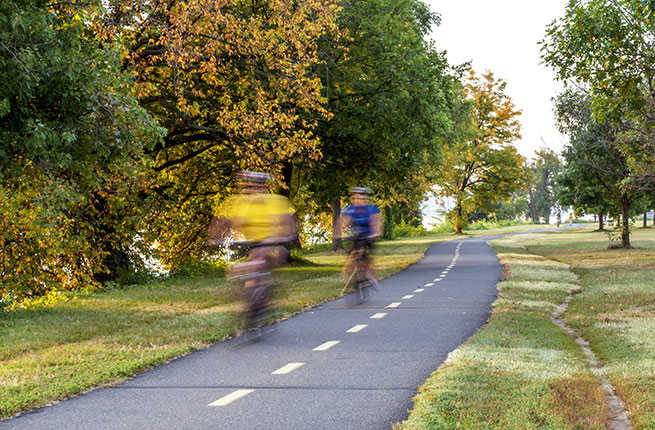 Czuber | Dreamstime.com
For plane spotting at its finest, look no further than Gravelly Point. Located across the Potomac River in the George Washington Memorial Parkway, the park is a few hundred feet away from the landing strip at Reagan National Airport, where aviation enthusiasts can watch planes land. Visitors can also walk or bike on a path along the river and take in panoramic views of D.C.
PLAN YOUR TRIP: Visit Fodor's D.C. Guide
For a nontraditional art experience, stop by The Fridge in D.C.'s Eastern Market neighborhood. The space operates as an art gallery, performance and music venue, and classroom with a focus on street art. A variety of artists convene at the space, including magicians, slam poets, and dancers. A big draw of the space is the exterior; visitors can walk along the walls of the building to see colorful murals.
PLAN YOUR TRIP: Visit Fodor's D.C. Guide
For Civil War history without the crowded museums, don't miss President Lincoln's Cottage. Lincoln and his family lived at the cottage during the war, and it's since become a museum and cultural center. Visitors can take self-guided tours through permanent exhibits that detail Civil War history and the Lincoln family's history. Special exhibits offer in-depth looks at laws enacted during the Lincoln administration and mementos from his time at the cottage. Past installments include a signed copy of the Emancipation Proclamation and panoramic prints of Washington, D.C. during the Civil War.
PLAN YOUR TRIP: Visit Fodor's D.C. Guide
Most visitors flock to the National Mall for art museums, but Dupont Circle's Phillips Collection offers a nice change of pace. Tucked away on a quiet residential street, the museum features modern and contemporary American and European art. Museum visitors can browse more than 4,000 works, including French Impressionist paintings and American prints. Don't miss the Laib Wax Room, which is covered in beeswax and lit by a single bare light bulb.
PLAN YOUR TRIP: Visit Fodor's D.C. Guide
Cvandyke | Dreamstime.com
Visitors have to cross Key Bridge to get to Roosevelt Island, an 88-acre oasis in the middle of the Potomac River. Lush woods and miles of hiking trails cover the space. Island-goers can also walk down to the river for views of Georgetown and the harbor. Make sure to follow signs to the Theodore Roosevelt Memorial, which includes a life-size statue of the former president.
PLAN YOUR TRIP: Visit Fodor's D.C. Guide
Run by the oldest private patriotic organization in the U.S., the Anderson House is a must-see D.C. spot. This mansion on Embassy Row features stunning interiors full of historic artifacts and paintings. Visitors can see the first and second floors of the house on guided tours, which last about an hour. Museum docents talk about the home's history and its role in the Society of the Cincinnati, which was founded at the end of the Revolutionary War.
PLAN YOUR TRIP: Visit Fodor's D.C. Guide