Philadelphia isn't short on historic sites; anyone who's passed through the city on a weekend or class trip has seen the main ones: Indepdendence Hall, Liberty Bell, and the Rocky steps at the Art Museum. On your next visit to the City of Brotherly Love, check out some of these newer or lesser-known parks, museums, and haunted forts you may not have heard about yet.—Adam Erace
Franklin Delano Roosevelt Park
Frederick Law Olmsted is best known as the designer of New York City's Central Park. His sons, Frederick Jr. and John Charles followed in their father's landscape architecture footsteps by founding the Olmsted Brothers firm, which created the high-profile Franklin Delano Roosevelt Park in South Philly. Originally called League Island Park when it was designed in the decade leading up to the 1926 Sesquicentennial Exposition, it's now colloquially known as "The Lakes" for its network of channels and lagoons. The park contains numerous historical structures, including a soaring granite gazebo ringed in Doric columns, the dramatically arched Boat House, and the castle-like American Swedish Historical Museum.
PLAN YOUR TRIP: Visit Fodor's Philadelphia Guide
While not without controversy or immunity to changing tastes, the Mummers are one of Philly's most recognizable traditions, one dating back to the city's earliest settlers, the Swedes. The Mummers are men and women from clubhouses around the city and suburbs—most are concentrated in the historically Irish-American neighborhood of Pennsport—who march in Philly's annual New Year's Day Parade. Each group puts on themed performances at designated stops along the parade route or at the Convention Center that night, vying to outdo one another's lavish costumes and choreography. It's a fascinating, deeply entrenched thing, which you can learn all about at the Mummers Museum in Pennsport.
PLAN YOUR TRIP: Visit Fodor's Philadelphia Guide
One of Philly's unsung treasures, the University of Pennsylvania Museum of Archaeology & Anthropology sits behind a high brick wall on the eastern fringe of Penn's campus, just across the South Street bridge from Center City proper. It's a massive but elegant compound with terracotta roofs, manicured hedgerows, a reflecting pool, and a 15-ton red granite sphinx. The centerpiece of the museum's Egyptian gallery, the sphinx is from Egypt's 19th dynasty (circa 1293 to 1185 BC) and absolutely commands the room. Join one of the museum's free docent-led tours for an in-depth education on the sphinx and ancient Egyptian history.
PLAN YOUR TRIP: Visit Fodor's Philadelphia Guide
Strategically positioned near the confluence of the Delaware and Schuylkill Rivers, Fort Mifflin played a key role in the Revolutionary War, its garrison charged with making trouble for the British Navy in order to buy time for Washington and his men to arrive safely at Valley Forge. The fort also played parts in the Civil and World Wars, which you can learn all about at the interactive exhibits and historical reenactments. Fort Mifflin is also regarded as one of the most haunted sites in the country and offers a pretty robust roster of paranormal programming.
PLAN YOUR TRIP: Visit Fodor's Philadelphia Guide
While The Raven author is most closely associated with Baltimore, Edgar Allan Poe lived in Philly for about six years. While he lived in several homes in the city, only one remains: a redbrick structure with white shutters and a white picket fence on North 7th Street. This was the final home Poe and his wife and mother-in-law inhabited before moving to New York in 1844. Today, it's a National Historic Site you can visit. Tour the home, learn about Poe, or even curl up with a creepy story in the reading room.
PLAN YOUR TRIP: Visit Fodor's Philadelphia Guide
In the early 18th century, royal botanist John Bartram greened the gardens of England's King George III with exotic flora from the East Coast of the soon-to-be United States. Today, Bartram's Garden in West Philly survives as the oldest botanical garden in the country. Comprising 45 acres along the banks of the Schuylkill River, this National Historic Landmark is a great, lesser-known site to visit in the city; it's open year-round and admission is free. You can tour the restored houses and barn, learn about native medicinal plants and idle under North America's oldest ginkgo tree.
PLAN YOUR TRIP: Visit Fodor's Philadelphia Guide
Independence Mall is the nucleus of historic Philadelphia; the Liberty Bell and Independence Hall are both here, but the more intriguing (and recent) addition is the President's House. This open-air site exposes the footprint of the early presidential residence—Washington and Adams lived here during their terms—while also exposing an ugly reality concerning slavery. When Washington relocated to Philly from Mount Vernon, he brought with him at least nine slaves who lived in the mansion: Austin, Paris, Joe, Moll, Oney Judge, Giles, Richmond, Hercules and Christopher Sheels. Their names are inscribed on the walls of this archaeological site, which explores the tense intersection of slavery and power in early America while also offering a glimpse into the country's original White House.
PLAN YOUR TRIP: Visit Fodor's Philadelphia Guide
Faelai | Dreamstime.com
John Heinz Wildlife Refuge
Nobody would describe the view into and out of Philadelphia International Airport as gorgeous, but just opposite the terminals and I-95 hides one of the city's more picturesque outdoor areas, the John Heinz National Wildlife Refuge. America's first designated urban refuge, this sanctuary encompasses Tinicum Marsh, the largest remaining freshwater tidal wetland in southeastern Pennsylvania, and is home to painted turtles, red foxes, bullfrogs, herons, minks, water snakes, cottontail rabbits, coyotes, white-tailed deer, bald eagles, and many more species. The refuge is a popular (but hardly overrun) site for canoeing, fishing, hiking, and running, and naturalists lead weekly walks centered around photography, butterflies, birds, and plants.
PLAN YOUR TRIP: Visit Fodor's Philadelphia Guide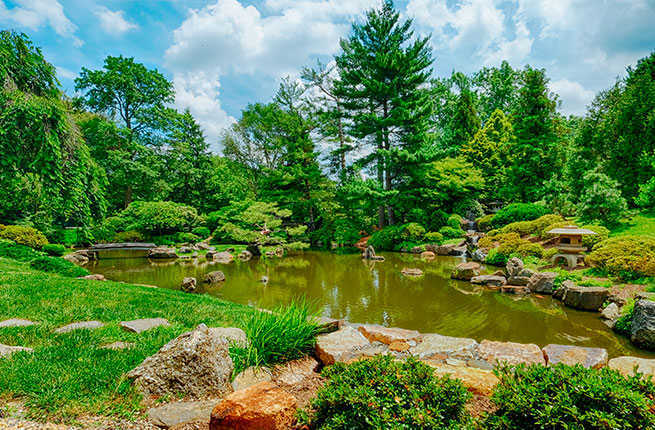 Jlmphotos | Dreamstime.com
Since the 1876 Centennial, essentially America's first World's Fair, there has been a Japanese presence in West Fairmount Park. What started as the first Japanese garden in the North America has evolved to include a beautiful, traditional, hinoki bark-roofed house. It was designed by architect Junzo Yoshimura in 1953 for New York's Museum of Modern Art, built in Nagoya, Japan, and relocated to Philly in 1957. The house is the centerpiece of Shofuso, but equally compelling is the serene landscape, which features a koi pond and island, tea garden, courtyard, and 14th-century Japanese Buddhist pagoda. Open April through October, Shofuso runs all kinds of programming, from tea ceremonies to taiko drum classes to summer camp for kids.
PLAN YOUR TRIP: Visit Fodor's Philadelphia Guide
Garcef | Dreamstime.com
Most born-and-bred Philadelphians have fond childhood memories of going to see the Christmas Light Show at the Wanamaker Building in Center City. A National Historic Landmark whose Grand Court features a hulking pipe organ from the St. Louis World's Fair, this structure has housed a department store (currently Macy's) for more than a century and hearkens back to a pre-mall era when builders invested in grand spaces and going shopping was an event in itself. While the Christmas carol–belting organ and syncopated holiday lights still dazzle kids and their parents, the stunning architecture and historical significance makes it worth a visit year-round.
PLAN YOUR TRIP: Visit Fodor's Philadelphia Guide