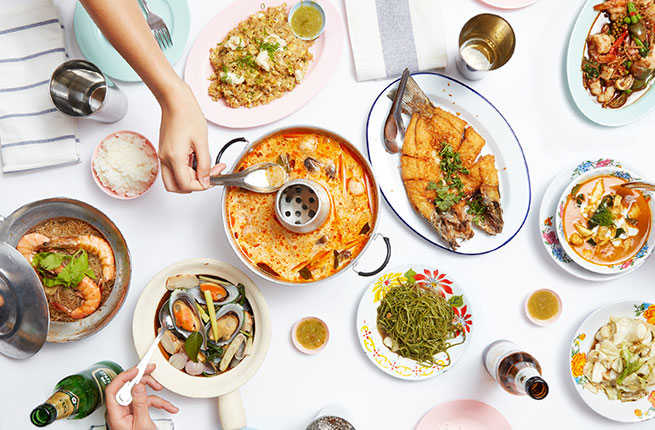 Pierce Harrison
Some of the city's biggest names in food (Keith McNally, Andrew Carmellini) opened new establishments, while old favorites have been resurrected (Chumley's, Rouge Tomate), and a Nordic invasion of Grand Central Terminal (Great Northern Food Hall) has brought style back to dining on the go. Here are the best newcomers to watch out for.—Jessica Colley Clarke
Evan Sung
Formerly of the Upper East Side, Rouge Tomate is now calling Chelsea home with a new restaurant focused on old principles: healthy ingredients and sustainable dining. Vegetables are the star of colorful dishes like carrot soup with horseradish, snapper with rutabaga and turnip, and venison with king trumpet mushrooms and butternut squash. A former carriage house is the charming setting for this inviting restaurant.
PLAN YOUR TRIP: Fodor's New York City Guide
Eataly
Eataly, the beloved Italian market next to Madison Square Park, has opened a space downtown in the Financial District. The all-day market opens early (7 am) and stays open late-ish (11 pm), making it ideal for a snack or meal at any time of day. The focus here is bread, with an incredible range baked on site. The market is full of impressive displays of cheese, charcuterie, and produce, but counters serving pizza, gelato, and Italian plates are particularly popular. There's also a full sit-down restaurant, Osteria Della Pace.
PLAN YOUR TRIP: Fodor's New York City Guide
Pierce Harrison
Chef-brothers Chat Suansilphong and Ohm Suansilphong are behind Fish Cheeks, a new family-style Thai seafood restaurant. The colorful space in NoHo is an ideal spot for group gatherings and to feast on coconut crab curry, whole crispy garlic branzino with fish sauce, and crab fried rice. There are a couple of options for vegetarians (vegetable green curry) and meat lovers (namtok pork), but seafood dominates the menu.
PLAN YOUR TRIP: Fodor's New York City Guide
Glen Allsop
The team behind downtown favorites Estela and Café Altro Paradiso has ventured uptown with Flora Bar, a restaurant at The Met Breuer. Whether or not you visit the museum (set in the former space of the Whitney Museum of American Art), this seafood-centric restaurant is worth the trip to the Upper East Side. Menu highlights include a seafood raw bar and ravioli stuffed with lobster and crab. There's also a coffee shop, Flora Coffee, next door.
PLAN YOUR TRIP: Fodor's New York City Guide
Lauren Volo
Chef Floyd Cardoz, renowned for his boundary-pushing food at the lamented Tabla, has returned to Indian cooking with his new restaurant Paowalla. With two tandoor ovens, this restaurant has a focus on breads including sourdough naan and whole-wheat roti. The modern Indian menu is a mix of small plates (black pepper shrimp, tandoori quail) and entrees (pork ribs vindaloo, rice flaked halibut with watermelon curry). Complete the experience with a tamarind margarita.
PLAN YOUR TRIP: Fodor's New York City Guide
Chumley's
One of the West Village's most famous (and notoriously difficult to find) speakeasies, Chumley's, closed its doors in 2007. Now, almost 10 years later, it's been resurrected—and it still doesn't have a sign. Chumley's is now more restaurant than bar, with a menu from Victoria Blamey, formerly of Atera. The menu includes oysters, Hamachi crudo, a burger with bone marrow and crispy shallots, and a steak for two with Madeira jus.
PLAN YOUR TRIP: Fodor's New York City Guide
TK
New York City's most exciting new food hall has a special location beneath the soaring ceilings of Vanderbilt Hall in Grand Central Terminal. Danish chef and food entrepreneur Claus Meyer, the co-founder of Copenhagen's Noma, is behind the entire food hall and its several kiosks. Every bite from the bakery is divine, but those who have a few minutes to sit and eat should explore the Grain Bar with its risotto-style dishes of whole grains with Nordic flourishes.
PLAN YOUR TRIP: Fodor's New York City Guide
Ron Haviv
Located within the new downtown boutique hotel The Beekman, Augustine is a French restaurant from Keith McNally. It shares certain welcoming traits with McNally's greatest hits from the Odeon to Balthazar, including big banquette seating, massive mirrors, and soft lighting. The French fare includes appetizers like steak tartare and foie gras, while entrees include roasted chicken and a burger topped with onions sautéed in whiskey.
PLAN YOUR TRIP: Fodor's New York City Guide
Paul Wagtouicz
For a taste of the Caribbean in Brooklyn, mosey over to Bushwick for a meal at Sally Roots. This new spot from the team behind the restaurant Sweet Science has a cozy outdoor patio with twinkle lights and a small bar serving tropical-inspired cocktails. Try the Cool Runnings, a highball of pineapple, lime, ginger, and rum to go with your jerk chicken and candied yams, or braised oxtail with rice and peas.
PLAN YOUR TRIP: Fodor's New York City Guide
Nick Solares
After serious success in Manhattan with his restaurants Locanda Verde, The Dutch, and Lafayette, to name a few, Chef Andrew Carmellini is now bringing his talent across the river to Brooklyn. Set in the William Vale Hotel in Williamsburg, Leuca is focused on cuisine from southern Italy. Bring your appetite and try wood-fired pizza (one has pepperoni and nduja), pastas like burrata agnolotti and spicy sea urchin spaghetti, and meats straight from the wood-fired grill.
PLAN YOUR TRIP: Fodor's New York City Guide