Ericsch | Dreamstime.com
Among U.S. cities, New Orleans stands out as a wonderfully unique destination. The sights, the sounds, and most notably, the food, all reflect and encapsulate the city's multicultural influences, including Cajun and Creole, as well as it's singular history. But with more than nine million visitors a year, New Orleans has swelled with tourist traps designed to trick you out of a truly authentic experience. With practical tips and guidance on how to efficiently plan your time, this expert advice will give you the proverbial keys to the city and make it simple to conquer the Big Easy.
By Zachary Laks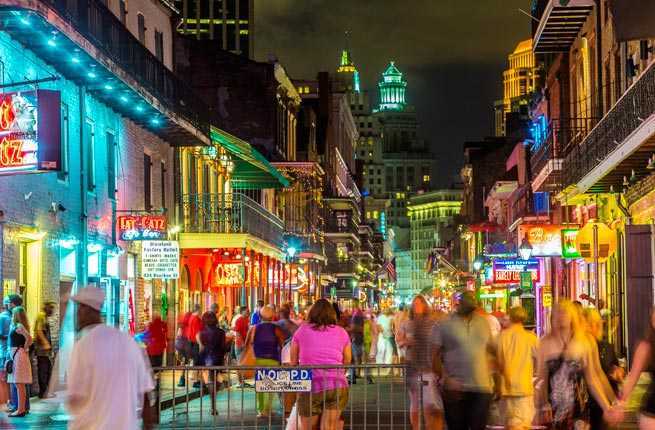 Meinzahn | Dreamstime.com
Don't overindulge on your first night
Any trip to New Orleans should be seen as a marathon, not a sprint. The city thrives on decadence and debauchery, and the urge to party the night away here is strong. It's easy to get caught up in the nonstop nightlife of the French Quarter, where larger-than-life containers overflow with beer for less than the cost of a burger, festive liquor shots are carted around bars by fun hosts, and open-liquor laws make bar-hopping a sport. But heed good conscience and stay hydrated, as one night of overindulgence can force you to miss a precious day of enjoying the city's extensive cultural offerings.
PLAN YOUR TRIP: Visit Fodor's New Orleans Travel Guide
Walleyelj | Dreamstime.com
Don't limit yourself to French Quarter hotels
Although it might be tempting to stay in the heart of the action, it's best to avoid booking a stay on Bourbon Street. These hotels feature round-the-clock noise from the never-ending street party, charge a premium for their location, and are never as luxurious as advertised. Look outside of the French Quarter for greater value and more luxurious accommodations, particularly at The Roosevelt Hotel in the Central Business District, Loews Hotel in the Warehouse District, and the Renaissance New Orleans Pere Marquette Hotel in the Central Business District.
PLAN YOUR TRIP: Visit Fodor's New Orleans Travel Guide
Redwood8 | Dreamstime.com
Don't only visit on weekends
When it comes to live events, music, and entertainment, there's often more to do on a weeknight in New Orleans than cities with ten times the population. Hot spots like Little Gem Saloon, in the Central Business District, and Maple Leaf Bar, in the Carrollton neighborhood, host live music nightly. Check out New Orleans' official online guide for a list of the many daily events. And, of course, you're likely to find better hotel rates on weekdays, allowing you to stretch your budget for dining and entertainment.
PLAN YOUR TRIP: Visit Fodor's New Orleans Travel Guide
Atomazul | Dreamstime.com
Don't rent a car
With miles upon miles of custom-crafted Creole townhouses, Creole cottages, and shotgun houses, you're going to want to slow down and admire New Orleans' great architectural diversity. There's really no need to rent a car when visiting, as the city's neighborhoods are accessible and enjoyable on foot or bicycle. If you find you need a rest, hop on one of the three streetcar lines that offer a $1.25 ride on the oldest continuously operating streetcar in the world. Old-world charm pervades, from the mahogany seats to the exposed ceiling lights to the clang of the bell.
PLAN YOUR TRIP: Visit Fodor's New Orleans Travel Guide
Ericsch | Dreamstime.com
Don't eat at tourist-trap restaurants
In a city world-renowned for its Cajun and Creole food, every meal has the potential to set taste buds abuzz with flavor. When it comes to Bourbon Street and other tourist areas, note that quality is secondary to cheap, fast, and primed-for-mass-consumption food. If there's a sign touting anything as "The Best of New Orleans," let that sign be a warning that you are being duped for authenticity. When it comes to late-night cravings, avoid Lucky Dogs in the French Quarter and opt for the 24/7 Verti Marte (1201 Royal St.; 504-525-4767), a tiny, unassuming grocery store that delivers a genuine grilled shrimp po' boy.
PLAN YOUR TRIP: Visit Fodor's New Orleans Travel Guide
Don't forget to prepare for the weather
Situated below sea level in a Southern region known for its bayous, lakes, and swamps, New Orleans can be a hot, sticky city. For optimal weather conditions, visit New Orleans from February (Mardi Gras 2016 is February 9) to May, when temperatures hover in the 70s and the humidity can be bearable. Only the brave travel to New Orleans in July and August, when 100-degree temperatures and nearly 100% humidity can make lifting a mint julep to your mouth feel like hard work. Prepare wisely with plenty of sunscreen, water, and even an umbrella to help ward off the sun.
PLAN YOUR TRIP: Visit Fodor's New Orleans Travel Guide
Rolf52 | Dreamstime.com
Don't spend all your time on Bourbon Street
Extending almost a mile and spanning thirteen blocks from Canal Street to Esplanade Avenue, Bourbon Street is a must (but also a vortex of debauchery) for any first-time NOLA visitor. Souvenir margarita containers and plus-sized beers are the stock and trade of this party avenue, where bars overflow with folks from around the world fist-pumping to the loud vibrations of a cover band's take on "Sweet Child O' Mine." After you've managed to check the obligatory visit off the list, head straight to Frenchmen Street—the local hangout steps away from the French Quarter, in the Faubourg Marigny neighborhood—and weave through the bars featuring impressive nightly set lists from local jazz, blues, and reggae legends.
PLAN YOUR TRIP: Visit Fodor's New Orleans Travel Guide
Courtesy of La Petite Grocery
Don't skip Magazine Street
Don't miss the opportunity to stroll along Magazine Street, stretching six miles through downtown New Orleans and connecting the Garden District to Uptown. Antique shops, local-made jewelry stores, and plenty of independent boutiques feature one-of-a-kind finds. The streets are lined with pronounced Greek Revival-style buildings as well as Victorian cottages that invite passersby to stop in and browse the local fare. When hunger strikes, make your way to La Petite Grocery, where the shellfish stew and Gulf shrimp and grits are second to none.
PLAN YOUR TRIP: Visit Fodor's New Orleans Travel Guide
Tose | Dreamstime.com
Don't miss the view of the Mississippi
For great views of the Mississippi River, head to Bywater, where the newly constructed Crescent Park offers the best views of the skyline and the river. The park is the product of a city initiative to transform two former industrial wharves that have been beautifully repurposed, spanning an impressive 1.4 miles. Primed with bike paths, running paths, picnic areas, and a dog run, the park has quickly become a local favorite.
PLAN YOUR TRIP: Visit Fodor's New Orleans Travel Guide
Rhardholt | Dreamstime.com
Don't forget about beautiful wildlife
After you've been stuffed with the rich local fare, take a breather by enjoying Louisiana's natural wonders. Explore the swamps and moss-draped bayous surrounding New Orleans, where ten-foot alligators roam wild. The swamps are rich with wildlife, and a boat tour through the murky waters is almost certain to cross lumbering nutria, raccoons, swamp deer, and even the occasional poisonous snake. For a more active way to enjoy nature, kayak on Bayou Saint John, a popular recreational inlet where locals gather to enjoy the calm waters on barges, kayaks, and custom-built watercrafts.
PLAN YOUR TRIP: Visit Fodor's New Orleans Travel Guide
Don't bring glass on the street
The party continues onto the street in New Orleans, as the local laws allow for open containers of alcohol to be enjoyed in public. But the law prohibits the consumption of alcohol on the street in any glass bottle or container. Restaurants such as Broussard's, Sylvain, and Salú go the extra mile by topping off your unlimited boozy brunch with a send-off drink in a plastic cup. Should you find yourself angling to roam with a bottle of wine or a glass bottle of Corona, just be sure you make the transfer into a plastic container.
PLAN YOUR TRIP: Visit Fodor's New Orleans Travel Guide
Don't eat red beans and rice if it's not Monday
Monday is the official day of the week to enjoy red beans and rice in New Orleans, a longstanding tradition that dates back to the days when housewives would spend their Mondays washing the household's clothes, leaving little time to make a full meal. Heating up a pan of low-maintenance beans and serving the previous Sunday's rice became a meal of convenience for the hectic Mondays. These days, restaurants such as Café Reconcile in Central City and Felix's in the French Quarter continue the quirky tradition, adding fun flourishes such as Andouille sausage and cornbread.
PLAN YOUR TRIP: Visit Fodor's New Orleans Travel Guide