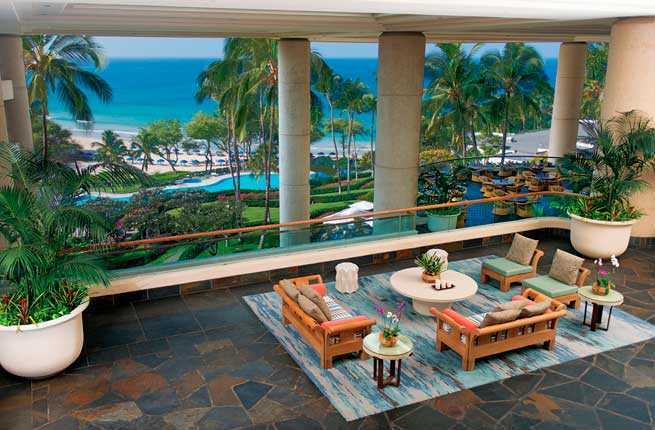 Photo Courtesy of Hapuna Beach Prince Hotel
While the mainland is still shaking off the last grips of winter, summertime fun is in full swing in Hawaii, where Mai Tais are being shaken and Pacific breezes are stirring up palm fronds. Traveling to the farthest-flung state isn't cheap, but we've tracked down properties that are luxurious beyond their under-$250-a-night price tag. The Big Island has low prices and great hotels can be found in a decent price range on Oahu, but stick to Honolulu and Waikiki Beach for the best bargains. Start planning your island getaway to one of these 10 affordable hotels today.
by Christine Ciarmello
A San Francisco-based freelancer and fog aficionado, Christine Ciarmello was editor-in-chief of Islands, then deputy editor at Sunset. She left her hometown of New Orleans after a near-lifetime stint, three hurricane evacuations, and too much seafood gumbo. She covers the sports of traveling, eating, and drinking. Out-of-the-way places that require a ferry or switchback road to get there, plus modern-vintage hotels are her weaknesses, which she covers on her site, too.
Courtesy of Waianuhea
WHERE: Big Island
The Big Island has plenty of bang-for-your-buck finds, but also its fair share of cheap spots that have seen better days. The eco-forest retreat of Waianuhea (from $225 a night) on the slopes of Mauna Kea is one of the former. The cute and colorful queen-bedded A'Ala room has its own private entrance and views of the distant ocean. The second room, Olu'olu, also has spectacular views and on a clear morning, you can spot the top of Mauna Kea. In Waianuhea's Great Room, take in superb views next to the lava rock fireplace.
Inside Tip: You could see this B&B as remote, or you could simply enjoy rural Hawaii life, with Waipio waterfall, Waimea Parker Ranch, and black-sand beaches all within easy reach. After a long day (with advanced notice), the B&B owners can arrange for a three-course private dinner at the hotel.
PLAN YOUR TRIP: Visit Fodor's Big Island Guide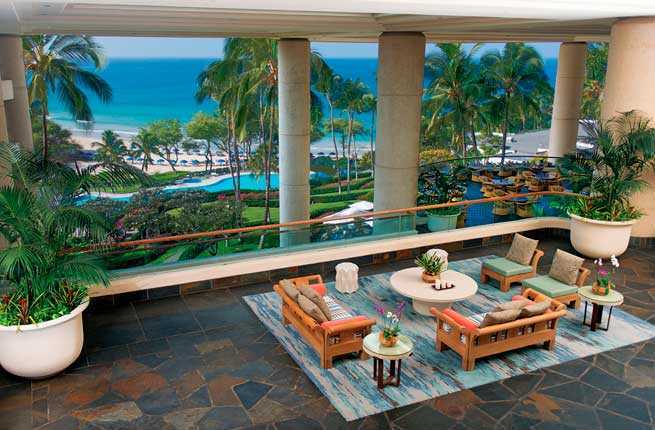 Photo Courtesy of Hapuna Beach Prince Hotel
WHERE: Big Island
You can splash in the same waters and bound along on the same white sands as guests at the legendary Mauna Kea Beach Hotel yet pay half the price at Hapuna Beach Prince Resort (from $235 a night). The recently remodeled 350 rooms are the largest on the Kohala Coast, averaging about 600 square feet. At dinner time, a van shuttles guests between the Mauna Kea and Hapuna to expand dining options. The hotel features an 18-hole golf course and snorkeling, as well as a high-powered telescope with a professional astronomer as a guide.
Insider Tip: Snorkel at the north end of Hapuna Beach at the aptly named Turtle Cove. Honu (green sea turtles) often swim here.
PLAN YOUR TRIP: Visit Fodor's Big Island Guide
Courtesy of Volcano Rainforest Retreat
Volcano Rainforest Retreat
WHERE: Big Island
At an altitude of 3,800 feet, the four cottages of Volcano Rainforest Retreat (from $180 a night) are hidden within the mossy green forest near Volcano Village. The fresh mountain air packs enough chill to require the use of in-room fireplaces. If that doesn't do the trick, try the private o'furo (soaking tub) in the Japanese-inspired Sanctuary cottage. Volcano-seekers are ideally located close to the Hawaii Volcanoes National Park and the most active volcano on Earth, Kilauea Volcano.
Insider Tip: Two nights here is ideal, as you'll likely want to move to the sunnier coasts for a beach vacation. This area gets 100 inches of rain per year.
PLAN YOUR TRIP: Visit Fodor's Big Island Guide
© Angelina Hills
WHERE: Maui
The hippest corner of Maui is Paia, a north-shore, high-rise-free beach haven with streets lined with indie boutiques and cafés. Opened in 2008 with only five rooms, the Paia Inn Hotel (from $199 a night), thanks to its popularity, now has 14 rooms, including suites and a beach house. Both rooms under $250 face the street, but make up for the lack of view with eclectic furnishings, fantastic art, travertine-and-bamboo flooring, and a cup of dark-roast coffee in the morning. Access to a private beach and a second-floor hangout room is included.
Insider Tip: Paia used to be the undiscovered Maui town, but not so anymore. If you really want to retreat, mosey around the cute and mostly untrodden cowboy towns of Makawao and Haiku, about 30 minutes away.
PLAN YOUR TRIP: Visit Fodor's Maui Guide
Courtesy of Pineapple Inn Maui
WHERE: Maui
The beaches on the west coast of Maui are top-notch, hence the multitude of five-star hotels and condos. Unwind for a bargain price at the low-key Pineapple Inn Maui (from $139 a night), tucked in a residential neighborhood 10 minutes from Wailea's Makena Beach and the Kihei tide pools. Each room has its own private entrance and lanai. Your hosts have been in the hospitality business for years, so the service exceeds the affordable price.
Insider Tip: The upper rooms have ocean views, while the lower rooms have views of the tropical gardens (and partial ocean visibility).
PLAN YOUR TRIP: Visit Fodor's Maui Guide
Joie de Vivre Hotels
WHERE: Oahu
The 135-room Shoreline Hotel (from $168 a night) sits conveniently atop fantastic restaurants (both cheap and expensive), upscale shops, and the bunny waves of Waikiki. Designed by Anthony Laurino, the hotel is sunny and cheery, and takes its design cues from the 1970s. Rooms have city or Ko'olau Mountain views and most have private lanais, albeit some small. A multi-million dollar renovation was completed in spring 2013.
Insider Tip: Shoreline Hotel is blocks from the heart of Waikiki Beach and Kalakaua Avenue. Don't miss local specialty Malie Boutique (Hawaiian-made beauty products) and the venerable Royal Hawaiian Center mall.
PLAN YOUR TRIP: Visit Fodor's Oahu Guide
Courtesy of Peter Medilek/Vive Hotel
WHERE: Oahu
The Honolulu-bound now have another boutique budget option, the recently-opened Vive Hotel Waikiki (from $189 a night). The 125 rooms are smartly appointed with Polynesian textiles and start on the seventh floor to maximize views of the Ko'olau Mountains and the ocean. A glass of hibiscus tea will welcome you upon arrival. However, the cheapest rooms are a bit cramped at 210 square feet, and there is no pool. But a two-block walk to Waikiki's famous shoreline makes up for it.
Insider Tip: There's a surf school in-house and the surf packages are often a better deal and include two hours of surf lessons for two people, plus a discounted room rate.
PLAN YOUR TRIP: Visit Fodor's Oahu Guide
Photo courtesy to Aston Hotels & Resorts
Aston Waimea Plantation Cottages
WHERE: Kauai
It can be difficult to find historic Hawaii among all the late-1970s condos that litter the coasts. A former sugar plantation, Waimea Plantation Cottages (from $189 a night) is one relic on Kauai's west coast that stands out from the modern metropolis. Tiki torches light the hotel's entrance, and the 56 cottages that once housed workers are now available for vacationers. The bungalows come equipped with full kitchens and the smallest are still almost 600 square feet. Scattered around the palm-tree-studded and plumeria-draped grounds are a restaurant, pool, and the Great House, with a giant back porch and rocking chairs that look out onto the sea.
Insider Tip: Do not miss Waimea Canyon. It's a spectacular canyon, with greens, blacks, and bands of reds in the ancient rocks. Start the day with a yoga class beachside, then head to the canyon.
PLAN YOUR TRIP: Visit Fodor's Kauai Guide
Courtesy of Aqua Hotel Lanai
WHERE: Lana'i
For travelers hoping to explore Lanai using a four-wheeler, the clapboard country-style Aqua Hotel Lanai (from $145 a night) is the ideal spot. The 11-room hotel sits at the edge of a pine forest where James Dole executives once spent the night. Today, though, with prices starting under $150, you don't have to be a CEO to stay here. Hawaiian quilts and wood floors add to the cozy country feel.
Insider Tip: Book dinner at the hotel's Lanai City Grille. One of the pioneers of Hawaiian regional cuisine and owner of Hali'imaile General Store on Maui, Beverly Gannon created the menu. The Friday Under the Stars event features live music as well.
PLAN YOUR TRIP: Visit Fodor's Lana'i Guide
Courtesy of Hotel Moloka'i
WHERE: Moloka'i
The Aqua Hotel Moloka'i (from $169 a night) tends more toward South Seas kitsch than super chic, but the welcoming hospitality makes this a great stay nonetheless. The hotel is outfitted with wooden bungalows shaped like Papuan longhouses that feature 54 trade-wind-cooled rooms, complete with woven headboards and lanais. There's also a pool overlooking the Pacific on the property. The Hawaiian culture is alive on Moloka'i, with substantially fewer visitors than other islands. Expect to see many ukulele players.
Insider Tip: Moloka'i has gamely earned its reputation as a place to eat bread. The Moloka'i-only tradition is to go to Kanemitsu Bakery and pick up some French bread when it's hot, at around 10 pm. The bread comes with a choice of toppings—cream cheese, strawberry jam, blueberry jam, cinnamon and sugar, or butter.
PLAN YOUR TRIP: Visit Fodor's Moloka'i Guide