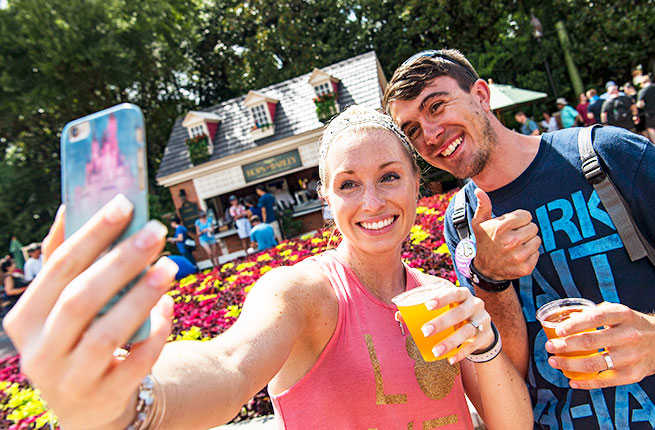 Courtesy of Disney
Disney World isn't just for the kids anymore. With a whole host of new restaurants, cuisines, and celebrity chefs, Disney is a foodie paradise. There are plenty of great dining options for picky eaters and adults alike. Read on for our favorite things and places to eat across the Disney World parks.
Insider Tip: Don't miss out on Disney's Food and Wine Festival, a celebration of culinary expertise from around the world. The Festival transforms Epcot's World Showcase with booths showcasing cuisines from Argentina to China to Poland and everywhere in between, as well as special events like the Wine and Dine runDisney weekend and late-night parties like Eat to the Beat. —Kayla Lewkowicz
WHERE: Magic Kingdom
The Crystal Palace, located in Magic Kingdom on the corner of Main Street USA and Adventureland, lets guests dine with none other than Winnie the Pooh and friends. Characters come around at regular intervals for hugs, autographs, and pictures; each buffet seating also involves a celebratory parade around the restaurant for little ones (hip-hip-hooray!).
Insider Tip:Reservations fill up fast. Make sure you plan accordingly for any sit-down restaurants as there's little chance of being able to eat there if you arrive day of. You can make reservations up to 180 days in advance if staying on-property. Your taste buds will thank you!
PLAN YOUR TRIP: Visit Fodor's Walt Disney World Guide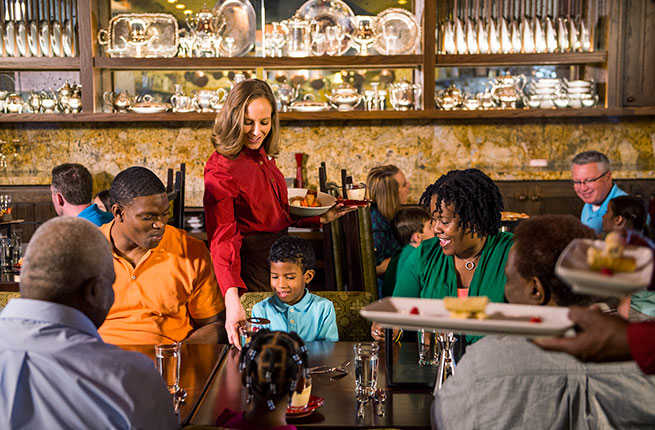 Courtesy of Disney
Whether you choose to stay at the Boardwalk or simply enjoy it for an evening, the Boardwalk offers a selection of restaurants, activities, and entertainment for all ages.
Here's your rundown of sit-down restaurants:
Abracadabar: this new addition to the Boardwalk gives you a taste of street magic and illusion.
Big River Grille: a down-home brewery with casual dining.
ESPN Club: Step into Monday night football any day of the week with this casual sports bar.
Flying Fish: Dress to the nines at the flying fish café, the ritziest spot on the Boardwalk.
Trattoria al Forno: Enjoy some classic Italian with a twist.
There are plenty of other options too, from hot dogs to margaritas to delicious ice cream at Ample Creamery to munch on in between the various comedians, mimes, and singers that make the Boardwalk a festive evening for all.
PLAN YOUR TRIP: Visit Fodor's Walt Disney World Guide
Courtesy of Disney
WHERE: France, Epcot
A true French experience must include food, and Les Halles (the same name as the restaurant down the street) is no exception. Enjoy the smell of fresh baguettes, croissants, and other treats wafting out of the bakery and imagine yourself, for a moment, in the streets of Paris.
Tucked away at the very back, you'll find croissants, quiches, and mouthwatering sandwich choices like brie aux pommes (brie cheese and apples). Stop in for lunch or just a snack; the desserts here showcase the best that France has to offer: macaroons, mousse, crème brulee!
Be prepared to double dip though: the best ice cream at Epcot is right around the corner at L'Artisan des Glaces. The lines can get long, but they're so worth it. Nutella ice cream, anyone?
PLAN YOUR TRIP: Visit Fodor's Walt Disney World Guide
Courtesy of Disney
WHERE: Hollywood Studios
Travel back to 1955 at the Sci-Fi Dine In Theater. Waitresses on roller skates escort guests to their "car," where you can enjoy classic American burgers and shakes while watching vintage sci-fi B-movies, from The Thing to World's Tallest Woman. For those looking to escape the heat, it's a great pit stop in the middle of the day. However, this isn't the type of place for chit-chat or little ones that don't like loud noises; you are in a theater after all!
Insider Tip: Don't forget to honk during intermission!
PLAN YOUR TRIP: Visit Fodor's Walt Disney World Guide
WHERE: Animal Kingdom
Meet Mickey, Donald, Goofy and friends at the Tusker House located in Harambe. This buffet lunch isn't for picky eaters! Enjoy a village marketplace feel with delicious buffet options from samosas to couscous salad and a to-die-for selection of Moroccan bread. You'll find food choices you won't see anywhere else in Disney—show your taste buds something a bit more exotic.
Insider Tip: Stop for lunch before heading over to the 1:00 Lion King show next door. Be sure to double check showtimes before sitting down at lunch, as they're subject to change.
PLAN YOUR TRIP: Visit Fodor's Walt Disney World Guide
Courtesy of Disney
WHERE: Animal Kingdom Lodge
Yee-haw, cowboy! Whispering Canyon gives every guest a chance to live the life of the wild west. It's the best place if you're craving a little BBQ and a lot of fun. The atmosphere is rambunctious family or buffet style depending on the meal. For little ones who have trouble sitting still, this is a fantastic option: at each seating, little cowboys and girls have a horse race around the restaurant!
Insider Tip: Even if you're not staying at a particular Disney resort, you can still make a reservation here. It's a great way to enjoy some Disney dining without having to pay for park admission—or if you want to continue the magic a little longer while staying off-property.
PLAN YOUR TRIP: Visit Fodor's Walt Disney World Guide
WHERE: Mexico, Epcot
Step into a fiesta at twilight at the San Angel Inn. Located in Mexico at Epcot, the restaurant recreates outdoor terrace dining—complete with exploding volcano—and offers a variety of authentic Mexican cuisine. Enjoy the arrachera con chilaquiles or delicious enchiladas verdes and brush up on your Spanish.
Afterward, explore the marketplace or follow along with The Three Caballeros on a boat cruise adventure through Mexico on the Gran Fiesta Tour.
PLAN YOUR TRIP: Visit Fodor's Walt Disney World Guide
WHERE: The Land at Epcot
EPCOT stands for Experimental Prototype Community of Tomorrow, and this informs much of Epcot's design aesthetic. The Land at Epcot focuses on the future of environmentally sustainable food through experiences like a boat tour of Epcot's gardens and a documentary movie about climate change narrated by none other than Simba himself.
At The Land, you have a few dining options; a favorite is The Garden Grill. The restaurant serves home-grown food family style and rotates slowly through farming scenes throughout your dining experience. You also get a chance to meet Chip, Dale, and some other Disney pals along the way.
Insider Tip: You can also grab a quick bite at Sunshine Seasons Food Pavilion before continuing on to Soarin' or Nemo.
PLAN YOUR TRIP: Visit Fodor's Walt Disney World Guide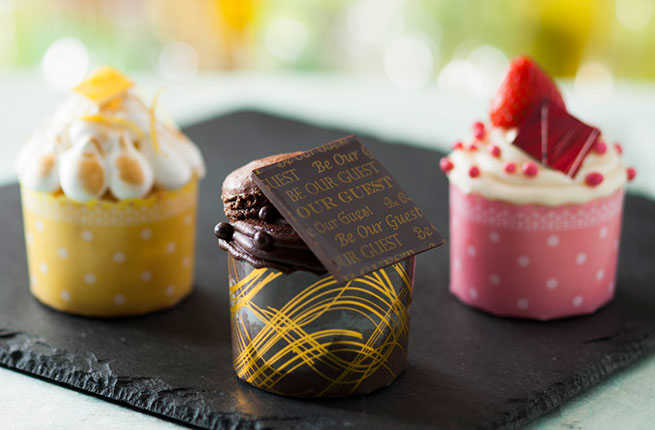 Courtesy of Disney
WHERE: Magic Kingdom
Step into Belle's castle to dine Beauty and the Beast style. At lunch, this restaurant combines the best of both quick service and table dining by allowing you to order at a kiosk ahead of time (while you wait to be seated) and then have your food brought right to your table. Enjoy French cuisine like croque monsieur or coq au vin all while humming along to "Be Our Guest." Try the gray stuff, it's delicious!
Insider Tip:For a similar vibe without the reservation, try Gaston's Tavern nearby for hearty soups and stews. Because no one eats like Gaston!
PLAN YOUR TRIP: Visit Fodor's Walt Disney World Guide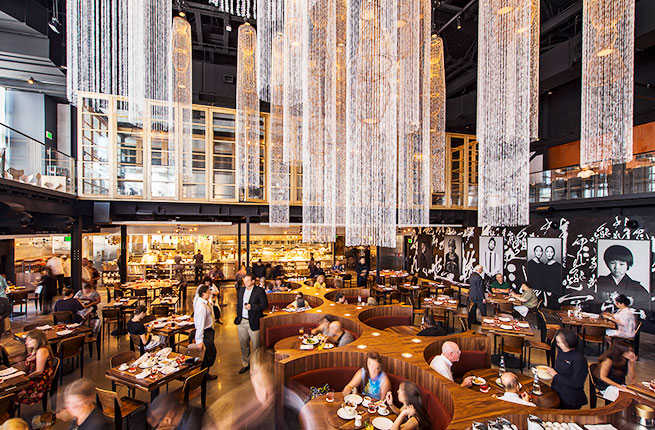 Courtesy of Disney
Disney Springs, formerly known as Downtown Disney, recently undertook an ambitious renovation that has transformed the entire area. Though free to enter, you may come home laden with souvenirs! There are too many dining options to name at Disney Springs, but you're guaranteed to find something for everyone, whether that's enjoying Wolfgang Pucks', Rainforest Café, or hanging out at Indiana Jones' Hangar Bar.
This is a great date night option for those looking to ditch the kids for a bit, too, with nightclubs, dancing, bowling, and more.
PLAN YOUR TRIP: Visit Fodor's Walt Disney World Guide
Courtesy of Disney
WHERE: Italy, Epcot
As the saying goes, "You can't please everyone, because you're not pizza." This is pizza that will please everyone. Steaming hot pies come in plenty of varieties, or choose a classic Neapolitan pasta. You can make your own pizza, or try the Affumicata (white pizza with smoked salmon) or Carciofi (white pizza with artichokes and truffle oil) and you'll be saying "Mama mia!" in no time.
Just make sure to save room for desert: the zeppole (little donuts) and torta di Mamma Rosaria (apple almond cake) are to die for. Or head to the Gelato stand located right outside of the country pavilion for gelato or a cannoli cupcake to polish off your meal.
PLAN YOUR TRIP: Visit Fodor's Walt Disney World Guide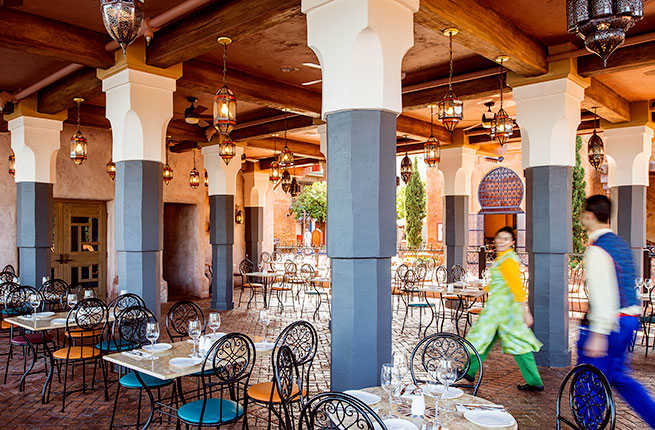 Courtesy of Disney
WHERE: Morocco, Epcot
This Epcot gem is not as crowded as many other restaurants, but we have no idea why. It is hands down one of the best places to eat if you're a little bit adventurous—and really hungry. If you've never tried Moroccan cuisine, Spice Road offers tapas-style choices for their appetizers or full steaming plates andeverything is delicious. Hummus fries, lamb sausage, and harissa chicken transport you into a culinary oasis.
Insider Tip: Ask for seating outside for a late dinner, and you can stick around for Epcot's fireworks show, Illuminations, which starts at 9 p.m. The pavilion is one of the best places to see the show anywhere in the World Showcase.
PLAN YOUR TRIP: Visit Fodor's Walt Disney World Guide
WHERE: Magic Kingdom
For a truly magical experience, dining at Cinderella's Royal Table is imperative. You'll feel like royalty after dining with Disney princesses high atop Cinderella's Castle. Though a bit pricey, it's a real fine dining experience, with high-quality food to match. To reach the restaurant, ascend a spiral staircase and enter the large banquet hall as a member of Cinderella's royal court.
Insider Tip: You can even have your little ones made-over into royalty at theBibbidi Bobbidi Boutique downstairs before high tea.
PLAN YOUR TRIP: Visit Fodor's Walt Disney World Guide