Denise Chambers
Facing the Front Range, surrounded by expansive, wildflower-dotted fields, Boulder is often called a city within a park, enticing locals and visitors alike to rejoice and relax in the glory of the outdoors. This laid-back state of mind has infiltrated nearly every element of life in this vibrant town. Take, for a prime example, the Tree X office, an outdoor office space that has been built around a linden tree in downtown's Central Park, including table and chairs (and Wi-Fi!); anyone can reserve it for a meeting beneath the leaves. Here are nine more reasons why Boulder is one of the coolest cities in the United States.—Barbara Noe Kennedy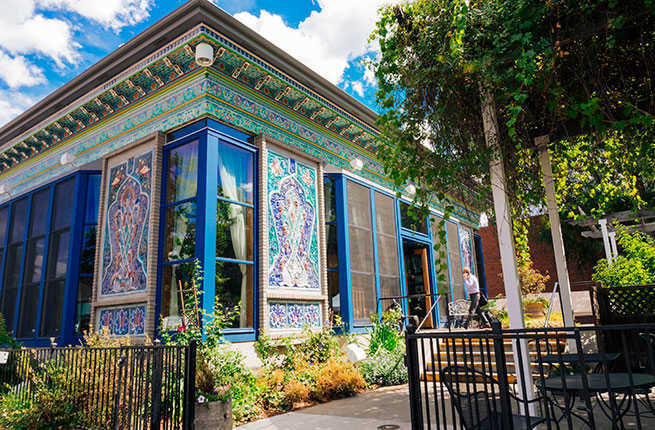 Denise Chambers
Shipped piece by piece from Boulder's sister city of Dushanbe in Tajikistan, this Persian teahouse is the only one of its kind in the Western Hemisphere. Centered around a goldfish-filled fountain with intricately painted ceiling and walls in vibrant blues, greens, and pinks, this is a peaceful place. You can also sit on the patio—delightful even in winter, with the snow-swollen creek burbling past. Traditional afternoon tea features more than 80 premium teas—including White Jasmine Moon, Fairytale Dreams, and Pomegranate Quince. Or enjoy the breakfast, lunch, or dinner global menu, where you'll find everything from Persian orange koresh to Mexican tinga poblano to Korean bibimbap.
The teahouse was a gift to the citizens of Boulder, and you don't need to dine or sip to take a peek. Everyone is invited to come in and look around. Chances are, however, you'll be seduced by the unique opportunity to sample amazing teas in this most exotic of settings, and you'll sit down and stay awhile.
PLAN YOUR TRIP: Visit Fodor's Boulder Guide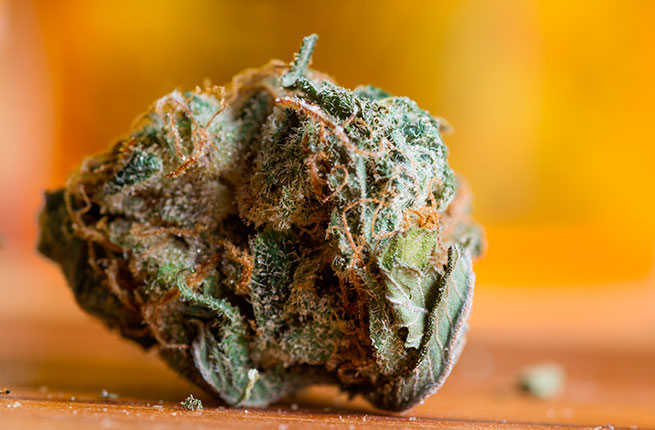 Wollertz | Dreamstime.com
In 2014 Colorado became the first state to legalize marijuana. And along with that, you have more than a dozen dispensaries around town, including Terrapin Care Station and Native Roots, that sell recreational pot in a variety of forms: bud, drinks, edibles. Anyone over 21 can enter the stores, show their ID, and meet with the budtender to purchase. Medical marijuana is also available at specially designated shops, though you need to have a doctor-issued medical card to even enter. Keep in mind, it's illegal to consume marijuana anywhere but a private home (some hotels are said to allow consumption in designated areas).
Insider Tip: The Peppercorn on Pearl Street sells marijuana cookbooks—a unique souvenir to bring home (and you don't have to use marijuana in many of the recipes).
PLAN YOUR TRIP: Visit Fodor's Boulder Guide
Trackzipp | Dreamstime.com
Boasting more than 45,000 acres of public lands (set aside by the citizens of Boulder in a 1969 initiative), the city allows you to dive deep into the wilderness within minutes. One of the most popular hikes is the Chautauqua Trail, a short path that entertains more people each year than the entire Rocky Mountain National Park (don't worry—once you get past the first knoll, the crowds disperse onto various other trails). And a Boulder rite of passage is the nearby Mount Sanitas Trail, scrambling up a rocky pinnacle and offering fabulous Front Range views. With a list that goes on and on, it's easy to see why Boulderites are in such great shape (Boulder has, after all, been called America's skinniest city).
PLAN YOUR TRIP: Visit Fodor's Boulder Guide
Denise Chambers
Maybe it's the constant outdoor activity, or the 300-plus days of sunshine a year. Or the fact that there're so many craft breweries in town (meaning they produce six million barrels or less a year). But beer tastes exceptionally good in Boulder. Indeed, in this beer-loving town and nearby, you have more than 20 local breweries and brewpubs—which is considerable, given the town's relatively small size (103,000 pop.).
The original craft brewery, Boulder Beer Company, established itself in 1979 on a farm just north of town (in a goat shed). Other faves include Avery Brewing Company, today's largest city brewery in a beautiful new building in east Boulder; Oskar Blues, a pioneer in all-canned craft brews; and Asher Brewing, featuring all organic beers. And if you're looking for food with your beer, Mountain Sun is a popular brewpub with an innovative tap line.
Insider Tip: Almost all breweries offer extremely informative tours, complete with free sampling.
PLAN YOUR TRIP: Visit Fodor's Boulder Guide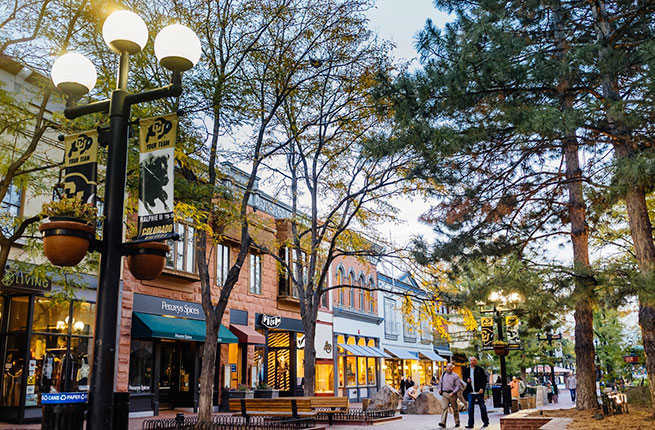 Denise Chambers
Indie shops, art cooperatives, independent restaurants, and stylish cafés abound on four pedestrianized blocks of Pearl Street nicknamed "The Bricks." Favorite local shops include the independent Boulder Bookstore, a warren of rooms filled with books and often hosting author talks; the Boulder Arts and Crafts Gallery, an artist-owned cooperative filled with stained-glass windows, pottery, and paintings; and Newton Running Company, a Boulder company purveying new technology in running shoes, catering to the area's abundance of runners. But the best thing about Pearl Street is you never know what kind of entertainment you'll encounter, whether it's a fire-throwing entertainer walking on broken glass, a parade of topless women fighting to "free the nipple," or the next Jewel strumming a guitar.
PLAN YOUR TRIP: Visit Fodor's Boulder Guide
Striking-photography | Dreamstime.com
Rising on the western horizon, the towering rock wall fronting the Front Range is called the Flatirons for obvious reasons—they look like a row of giant rock irons. But there's nothing ordinary about them as they change in intensity with each moment's lighting and weather. Even into summer, snow dusts the highest peaks. And Boulderites get to look at this dramatic nature show every time they're outdoors! Indeed, the Flatirons are a constant reminder that you are at the heart of one of the world's most beautiful natural settings—that you need to get out there and enjoy: hiking, climbing, and canyoneering in summer, skiing, snowshoeing, and snowboarding in winter. Now that's cool.
PLAN YOUR TRIP: Visit Fodor's Boulder Guide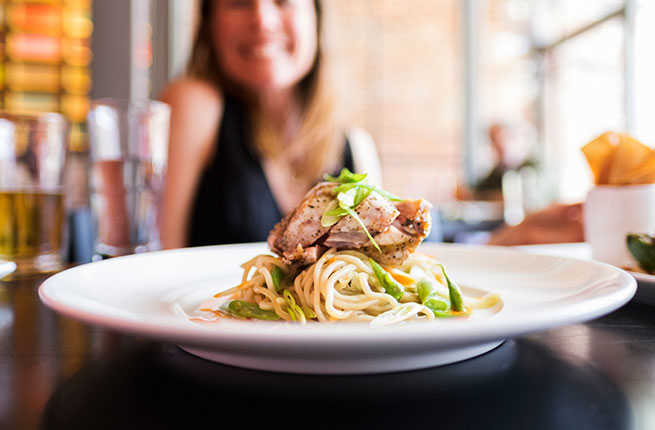 Denise Chambers
Farm-to-table has been a way of life in Boulder since the 1960s, a fact that has long attracted world-class chefs, all of whom shop local markets; know local farmers, fishmongers, and ranchers; and some of whom even run their own farms. Fresh, creative takes on food is amazing everywhere you look, but if you have to choose, the crème-de-la-crème in dining experiences include Bobby Stucky's Frasca Food and Wine, innovative northern Italian cuisine and a world-class wine list (said to be Colorado's best restaurant); elegant Black Cat Farm to Table Bistro, a New American bistro (splurge for the tasting menu and wine pairings); Blackbelly, Top Chef winner Hosea Rosenberg's brainchild; and the understated Cafe Aion, serving Spanish tapas (chef Dakota Soifer won Food Network's Cutthroat Kitchen).
But you don't need a fancy venue for the food to be wow-worthy. Food carts on Pearl Street purvey inexpensive but delectable dishes including McDevitt Taco Supply, which always has innovative takes on tacos; and Boulder Bowls, rice and beans served with global toppings. At the Saturday farmer's market at downtown's Central Park, you'll find all kinds of seasonal, local produce: meats, eggs, cheeses, flowers, and wines. An additional market here on Wednesday evenings includes food stands, music, and beer (Boulder's own, of course).
PLAN YOUR TRIP: Visit Fodor's Boulder Guide
When it comes to culture, Boulder has big-city tastes. With hundreds of artists in town, galleries abound. Start at 11th and Pearl and make your way east past some of the best: SmithKlein Art Gallery, 15th Street Studio, and Mary Williams Fine Art among them. Nearby, the Boulder Museum of Contemporary Art (BMoCA) presents dynamic local and regional art—an upside-down, paint-splashed statue of Bacchus and vertical hanging gardens cascading down the museum's façade were recently exhibited.
Meanwhile, Boulder's live music scene began in the 1970s, when Caribou Ranch rocked the nation as a rustic recording studio—Elton John, John Lennon, Michael Jackson, and Joe Walsh are only some of the stars who came here to focus on their music away from the glitz and glam. The barn burned down in 1985, but Boulder's musical repute had come to stay. The historic Boulder Theater, dating from 1906, is a wonderful Art Deco venue for big-name acts: Sheryl Crow, Shawn Colvin, Bonnie Raitt. The Fox Theatre on the Hill is nothing special to look at, but the acoustics in this standing-room-only venue have earned it national attention. And if you're here in summer, the Chautauqua Summer Music Series hosts big names at the historic Chautauqua Auditorium, while the Bands on the Bricks takes place on Pearl Street, when thousands of people dance, picnic, and celebrate summer à la Boulder. That said, wherever you go—pubs, coffeehouses, street corners—you're bound to enjoy some of Boulder's finest sounds.
PLAN YOUR TRIP: Visit Fodor's Boulder Guide
Adeliepenguin | Dreamstime.com
Rocky Mountain National Park
Within an hour and change, you're entering the glory of Rocky Mountain National Park, home to 72 named peaks higher than 12,000 feet. The absolute must-do here is the drive along 48-mile Trail Ridge Road, the nation's highest paved road. Snaking up through lodgepole pine and fir forests of the wind-lashed tundra, you'll eventually teeter along a ridge at heights above 11,500 feet—seemingly, the top of the world. Driving is fine, but to truly appreciate this park, you need to get out on some of its 355 miles of trails, whether it's an afternoon lakeside stroll or the difficult trek up inestimable Longs Peak—14,259 feet at its summit. Guaranteed, you won't be able to get the strains of John Denver's "Rocky Mountain High" out of your head: "He climbed cathedral mountains, he saw silver clouds below. He saw everything as far as you can see."
PLAN YOUR TRIP: Visit Fodor's Boulder Guide