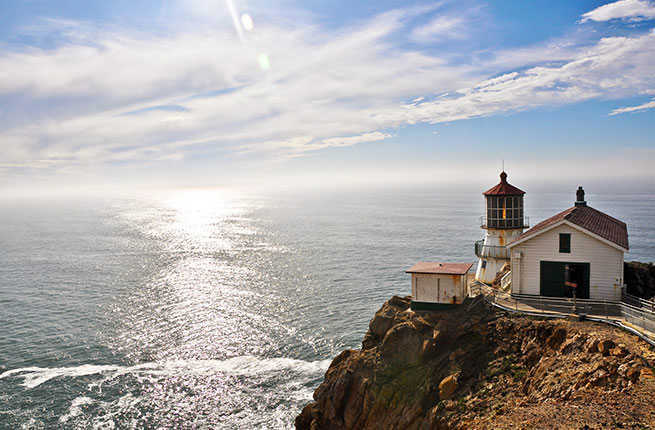 © Nightbox | Dreamstime.com
Just because you're making a trip to wine country doesn't mean you have to spend all your time in tasting rooms. Aside from its award-winning wineries, Sonoma County boasts enough diversions to keep the sybarite, chef, explorer, and athlete inside you busy for days. Consider spending your next vacation breaking in your hiking shoes, taking a scenic drive to a lighthouse, and learning to shuck oysters and smoke local salmon—all while still drinking plenty of wine. Here at 10 things to do in Sonoma County when you're not sipping some of the country's finest varietals.
By Lauren Mowery
Lauren Mowery
Kayak with Getaway Adventures
Randy Johnson and his team at Getaway Adventures navigate the county's prettiest waterways in a fleet of yellow kayaks. He offers two-person or small group excursions down the Russian River and along its coastal mouth in Jenner, where the local seal population frolic and nap near Goat's Rock Beach. Sun seekers should opt to ply a river stretch; the coast, especially during summer, is enveloped in fog much of the day. Bring sturdy water shoes and expect to get splashed. Getaway also offers biking adventures through the vineyards.
PLAN YOUR TRIP: Visit Fodor's Napa and Sonoma Travel Guide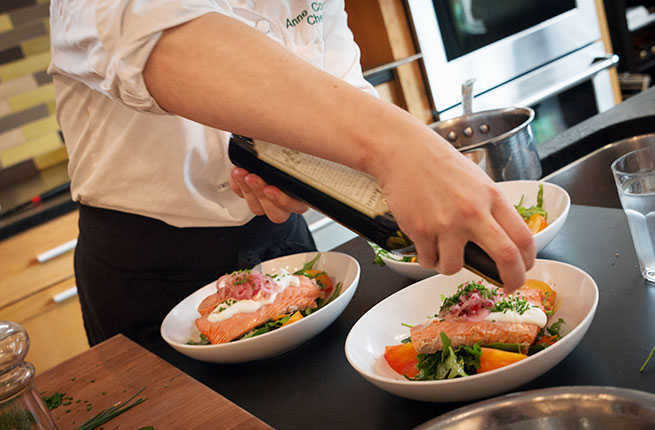 Lauren Mowery
Cook with Relish Culinary Adventures
Donna del Rey set out to utilize Sonoma's long growing seasons and abundant bounty to instruct clients how to shop for and cook easy, flavorful food. At Relish Culinary Adventures, private cooking parties start at $1300; likeminded friends should coordinate to share the cost. On a recent excursion, Donna brought students to Dry Creek Peach Farm (supplier to Chez Panisse, A16) and local Italian olive oil producer DaVero, before returning to her culinary center in Healdsburg to applewood smoke salmon, quick pickle shallots, and grill peaches picked that morning. For cheaper access to her wisdom, check her online calendar for classes on topics like canning and mozzarella making.
PLAN YOUR TRIP: Visit Fodor's Napa and Sonoma Travel Guide
Emily Blake
Zip-line Through Coastal Redwoods
Gain a flying squirrel's eye view of the towering redwoods in this 7-line course near Occidental, run by Sonoma Canopy Tours. The only outfit in the region, you'll fly at heights of nearly 200 feet above ground, streak between trees up to 35 miles per hour, and traverse its longest line at approximately 850 feet, although expect a "much, much longer" line to be added next spring. Video cams for helmets can be rented to log your flight. Children over 11 and 70 lbs are welcome.
PLAN YOUR TRIP: Visit Fodor's Napa and Sonoma Travel Guide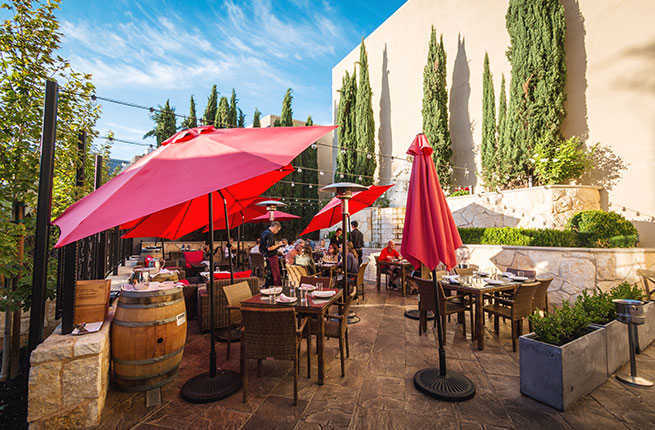 Lauren Mowery
Patio Hop Around Healdsburg
This happening town heats up in the afternoon, both literally and figuratively: morning fog burns off and the locals flock to outside venues for cocktails and small bites. Start your bar hop with a seasonal margarita or perennially good La Paloma at upscale Mexican restaurant Mateo's. Head over to Campo Fina for a game of bocce and brick oven salsiccia pizza, followed by tapas and sherry on the back patio of Bravas Bar. The old Cyrus space is now Chalkboard and the former pool of the Hotel Les Mars has been filled in for an outdoor lounge. Snag a table or couch and nosh on pork belly biscuits with a glass of Sonoma Chenin Blanc.
PLAN YOUR TRIP: Visit Fodor's Napa and Sonoma Travel Guide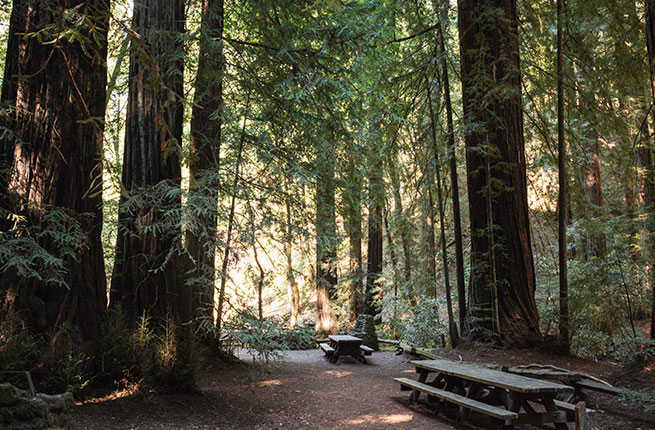 Lauren Mowery
Hike Armstrong Redwoods Reserve
The beauty of Armstrong Redwoods Reserve is that visitors can dip in for as much or little natural rejuvenation as they like. The park has short, flat loops that meander through the towering trees that moms pushing strollers can enjoy. The ambitious can tackle uphill ridges or hike three miles to camp sites on the adjacent Austin Creek State Recreation Area (although drive-in camping is also available). For an afternoon repast, families gather at picnic tables and grills scattered beneath the quiet forest canopy.
PLAN YOUR TRIP: Visit Fodor's Napa and Sonoma Travel Guide
Lauren Mowery
Jordan Winery Estate Tour and Tasting
If you've been to wine country before, you've probably grown weary of the assembly line experience – or alternatively, the chaos of securing your next pour. The antidote: Jordan Winery's Estate Tour and Tasting treats guests like VIPs as they guide a maximum of twelve around the picturesque Alexander Valley property. The 3-hour interactive and outdoor tour (guests are driven from point to point in a Mercedes van) includes walks in the chef garden and vineyards, with comparative vintage tastings of their Chardonnay and Cabernet set up at scenic spots. Seasonal food pairings from Chef Todd Knoll, using ingredients sourced from the house garden and local butchers, complement the wines.
PLAN YOUR TRIP: Visit Fodor's Napa and Sonoma Travel Guide
Lauren Mowery
Hog Island Oysters on Tomales Bay
Local restaurant and wine industry folks who work weekends, reserve a table and grill and flock to Hog Island Oysters mid-week to take advantage of the relaxed atmosphere and self-shuck oyster deals. The company provides the tools: a glove, shucking knife, and a tray with ice for $5 plus retail cost of oysters. By noon on weekends, however, locals and in-the-know tourists pack the picnic zone (both reserved and unreserved available) when the staff does all the grilling and shucking.
PLAN YOUR TRIP: Visit Fodor's Napa and Sonoma Travel Guide
Lauren Mowery
The little country town of Sebastopol, once known for its aging hippy community, now boasts claim to the hippest new food and wine destination in Sonoma: The Barlow. A smattering of stores and art galleries lend a well-rounded approach to the 220,000-square-foot concept, but the real draw are the artisan wine, beer, coffee, and food operations. Wine tasting rooms include Wind Gap, known for Syrah, and MacPhail, loved for its Pinot Noirs. Taylor Maid Farms roasts and sells coffee on-site. Breweries have sprung up, as has a distillery — Spirit Works. Pizza lovers can tuck into crisp Neopolitan style pies from Vignette, and on-premise butchering and curing of charcuterie is one of many culinary challenges the hands-on husband and wife team at zazu kitchen + farm, master successfully.
PLAN YOUR TRIP: Visit Fodor's Napa and Sonoma Travel Guide
Tasting Menu at J Vineyards
J Vineyards struck gastronomic gold when they hired Erik Johnson to create a six course menu to pair with its line-up of sparkling and still wines. Served in the elegant bubble room at intervals that keep proceedings relaxed, couples can cozy up on pea-green couches while larger groups gather at tables. Johnson's culinary intuition and deft handling of ingredients allows him to tweak the menu seasonally, highlighting fruits and vegetables at their sublime peak, like the August menu which focused on heirloom tomatoes in both savory and sweet dishes.
PLAN YOUR TRIP: Visit Fodor's Napa and Sonoma Travel Guide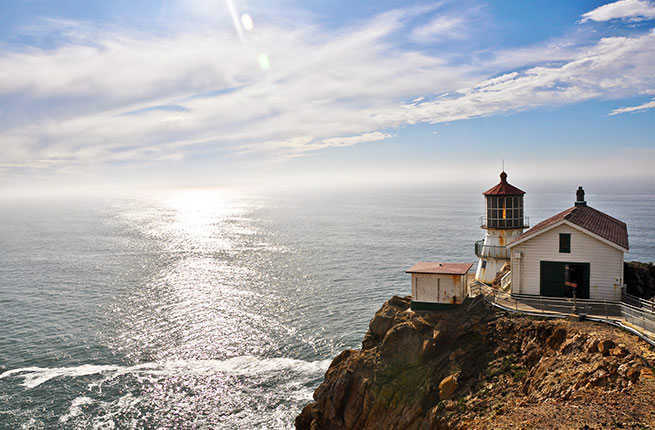 © Nightbox | Dreamstime.com
Point Reyes Lighthouse and Cowgirl Creamery
Technically in Marin County, both destinations warrant the half day's drive through spectacular country and coastal California scenery. Located on the windiest point of the Pacific Coast (and second foggiest), the circa-1870 Point Reyes Lighthouse, now decommissioned, warned sailors of impending collision with fog-enshrouded shores. Lighthouse-bound visitors must first pass through the offbeat village of Point Reyes, so stop to sample critically acclaimed Cowgirl Creamery's cheeses. Be forewarned – the drive to the lighthouse takes a deceptively long time, is closed Tuesday and Wednesday, and the stairs down to the small beacon lock at 4:30 p.m. However, the journey, in this case, counts more than the destination.
PLAN YOUR TRIP: Visit Fodor's Napa and Sonoma Travel Guide