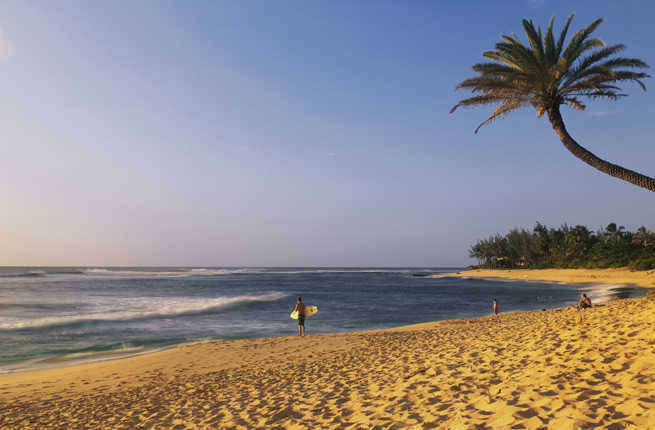 Spirit of america/Shutterstock
Surf's up, America! The season for breaking out your waxed boards is upon us. Surfing, an iconic American pastime, boasts a like-minded community in coastal towns across the country. Thanks to the fact surfing can't be enjoyed just anywhere (it all depends on dynamic surf spots), certain towns are known better than others for fostering the lifestyle, so you can expect ubiquitous surf gear, beach bonfires, and a hang-loose hand gesture or two. We rounded up our favorite surf towns in America—from East to West—that offer cool eats, laid-back vibes, and unforgettable waves.
By Jimmy Im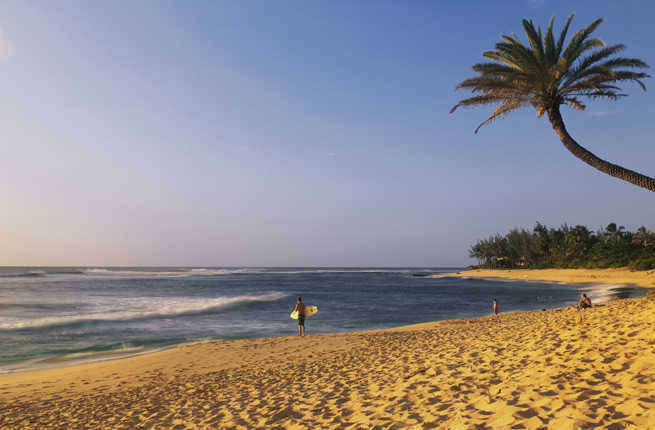 Spirit of america/Shutterstock
There's no better surfing in Hawaii than the North"> on the island of Oahu. Just 45 minutes from the popular Waikiki Beach, the North Shore is home to world-renowned surfing competitions, and all the world-champ surfers have ridden waves here. Most head to Haleiwa, known as the gateway to the seven miles of the area. There are perfectly formed reefs and sandbars that create great warm-water breaks for amazing swells. North Shore is such an idyllic town for surf culture that the recreation is a large part of the shore's image. Grab a drink at Surfer,">, where (as you would imagine) surfers come to congregate for post-ocean booze.
Stay: Check into the chic Turtle"> that sprawls 880 acres and is home to Surfer, the Bar.
Galinafedulova/Dreamstime.com
Kill Devil Hills, North Carolina
There's a whole history to this town's name (think rum, shipwrecks, and Colonial times) in North Carolina's Outer"> but recent history proves it's all about the surf. Thanks to the town's Southern sensibility, there's a slow-paced, come-as-you-are scene. Throw in some great country cooking, true Southern charm, and some magical swells, and you have one of the best surfing towns around. It's brimming with the type of surfer guys and girls who come year after year. Stop by the Pit">, where most surfers buy their gear and Tuesday Taco Nights serve up some delicious Mexican for tired-out wave riders.
Stay: Surf"> right on the beach offers oceanfront rooms, free Continental breakfast, and an indoor/outdoor pool with hot tub.
Adeliepenguin/Dreamstime.com
The beauty of Encinitas, California, is that surfing is not seasonal here. Every day brings good weather, good surf, and good times. The town is just half an hour from San Diego and is known as the "it" spot for surfing in the area. Everyone, from beginners to pros and locals to out-of-towners, has adapted to the surf culture, made famous for Swamis, an internationally known wave spot. Visitors won't find a lack of surf schools or camps in this town. And Mexican food is the real deal in Encinitas. Head to Raul's"> where locals go for craft beer, cocktails, and, of course, great tacos.
Stay: The five-star Rancho"> resort is just twenty minutes from the beach. Surf lessons are offered and the chef, a surfer himself, lives nearby in Encinitas.
Sylvana Rega/Shutterstock
Montauk in the east end of the Hamptons, New York, woos fashionistas, trust-fund babies, and a whole lotta bling, but the small fishing town has also long been the stomping grounds for laid-back surfers. City dwellers and board-happy suburbanites make a beeline to this sleepy little town that comes alive during the summer months. Surfers even stay all season long, nabbing bar, lifeguard, and waiter jobs to live and breathe surf here, considering the rarity of great waves on the East Coast. At night, expect lively beach bonfires and packed bars and restaurants. All the surfers head to Ruschmeyer's for a night cap, dancing, and debauchery.
Stay: Shack up at the Surf">, a hip boutique hotel that hosts outdoor concerts and surf events.
JingleBeeZ Photography/Shutterstock
Given its history as being a mecca for surf culture, Malibu is undeniably one of the most iconic surf towns in the USA. Less than an hour's drive from Los Angeles, Malibu was made famous by regular cameos in many a Hollywood movie, which displayed its undying surf culture to the world. Celebrities still continue to flock to this sunny, glam little beach city for it's great waves, hot nightlife, and even some beach blanket bingo. Ride some waves then grab a bite at Nobu"> where you're likely to bump shoulders with a celebrity or two.
Stay: Malibu">, on "Billionaire's Beach" with 47 breathtaking, ocean-view guest rooms.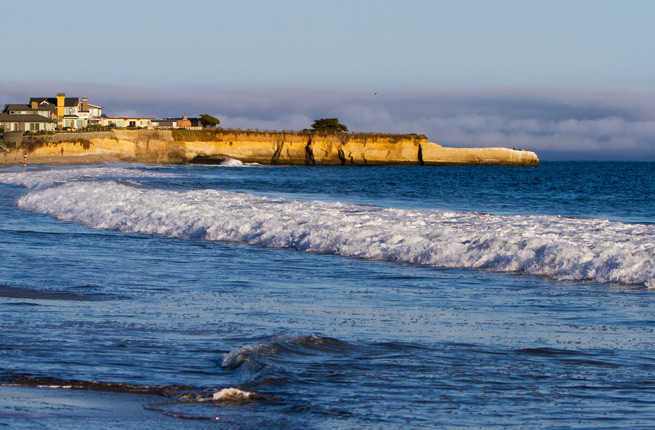 Pal Teravagimov/Shutterstock
It would be a crime to not mention Santa Cruz as a top surf town in the United States. After all, it's Santa Cruz where surfing was first put on the map in our country. History shows that the first documented waves surfed in the continental United States was here in 1885. It's oh-so-California with surfer crews, competitions, and boards protruding from SUVs. There's a wild mix of students (it's also a college town) to highbrow epicureans (Santa Cruz is home to great vineyards, too). Have a bite at the Crow's">, a beachside institution that's been serving up great lobster and iconic views for more than 40 years. Vintage surfboards and surf memorabilia line the walls.
Stay: California-based Joie de Vivre's Dream"> is a terrific, 163-room boutique right on the beach.