Courtesy of Cheryl Casey/Shutterstock
Beaches are beautiful by nature, and America has plenty—so it takes a special shore to be considered one of the country's finest. From Hawaii's fabled coves to the fairytale fishing towns of New England, breathtaking beaches carpet America's coasts. These swaths of sand never bore, whether it's Florida's year-round raucous shores or the constantly changing landscape of the mid-Atlantic capes. Need help picking your paradise? This list of the 20 best should help.
By Maggie Gorman
Courtesy of Cheryl Casey/Shutterstock
Pensacola Beach, Florida
The beauty is in the versatility at Pensacola">: with both a calm "sound" side and a surf-ridden gulf-front side, this barrier island (one of the world's longest) is like two seaside experiences in one. Families love its relaxed feel, while anglers flock to the fishy shores. Check out Langdon"> for a prime example of the panhandle's pristine, snow-white beaches. It's the perfect spot to enjoy sunsets, snorkeling, solitude, and soaring shorebirds.
Insider Tip: Enjoy live entertainment under the pavilion at Casino"> during the summer.
Courtesy of spirit of america/Shutterstock
North Shore Oahu, Honolulu, Hawaii
Huge waves curl elegantly and crash with an almost choreographed smoothness on the beaches of Oahu's">. It's a surfer's paradise, complete with rolling tubes and puka shells dotting the shoreline. The beaches stretch so far in all directions, it's easy to find seclusion. At Mokuleia">, the bright blue ocean teems with marine life, while hibiscus and Pua 'ilima speckle the inlands—no wonder the producers of Lost chose this as the show's location!
Insider Tip: A winter Hawaiian escape is tempting, but if you want to swim, make it a summer vacation—in winter, the waves are too big to be safe.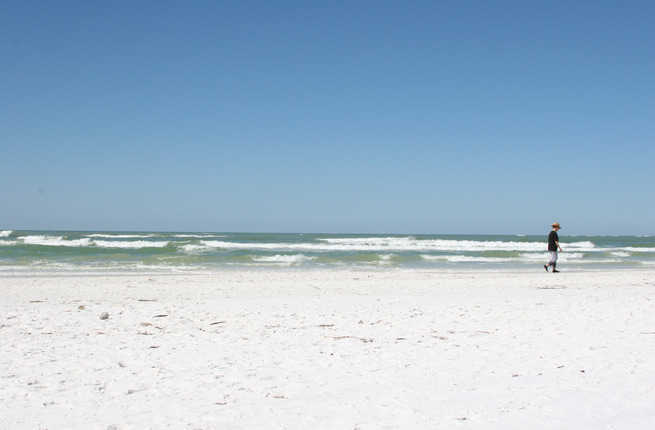 Courtesy of Dawn M Whalen/Shutterstock
Siesta Key Beach, Florida
Rated "Number 1 Beach in the U.S." by Dr. Beach, Siesta"> near Sarasota, FL earns its lofty title with its swathes of quartz crystal sand that looks and feels like sparkly powdered sugar (just resist the urge to taste). Kids can amble down welcoming sand bars that slope gently into the forgiving waves of the Gulf, while parents enjoy miles of unobstructed views and scenic paths. The nearly translucent cerulean water is perfect for snorkeling, with plenty of pretty coral and rocks beneath.
Insider Tip: Enjoy dinner with a waterfront sunset view in one of Ophelia's">'s glass dining rooms.
Courtesy of Jose Gil/Shutterstock
Na Pali Coast, Kauai, Hawaii
No roads cross these rugged, folding-fan cliffs. In their place are waterfalls, swift streams, and lapping waves that stretch endlessly in alternating shades of blue. You haven't fully experienced the Na">'s fabled beauty until you've explored by air, water, and foot, but a day (or two) spent lying on gorgeous Kee"> is advisable, too. Reef protection creates a small sandy-bottom lagoon perfect for snorkeling, while the emerald green pinnacle of Makana looms artfully in the background.
Insider Tip: Those strapped for time should opt for the helicopter tour, frugal travelers will prefer to hike, and families will get the most out of a boat tour.
Courtesy of idreamphoto/Shutterstock
Makena Beach State Park, Hawaii
Sunset weddings are extremely popular at Makena Cove (also known, ironically, as the "Secret Beach"), a gem of softly sloping sands surrounded by lava rocks that's actually hidden behind a stonewall in a residential neighborhood near Makena">. Tidal pools idle in rocky outcroppings, onto which you can wander to view surfing sea turtles in the turquoise waves.
Insider Tip: If you're taken aback after witnessing beachgoers in the buff en route to Makena Cove, keep going—you've stumbled onto the other secret beach nearby, which is clothing optional.
Courtesy of zschnepf/Shutterstock
Cannon Beach, Oregon
The forest meets the ocean at Cannon">—smooth sands turned glassy by the tide reflect silhouettes of brooding rocky mounds. It's like a surrealist painting of a Pacific Northwest beach postcard, framed by breezy coastal grasses and breathtaking sunsets by night. Deciduous forests stand stately behind the shore, which is usually layered by lazy waves leading out to the Pacific.
Insider Tip: While vineyards are at least an hour inland, the coastal breeze still pairs best with wine—head to Laurel's Wine Shop in the trendy town area for a good selection.
Courtesy of Lowe R. Llaguno/Shutterstock
Carmel-by-the-Sea, California
This quirky coastal California town is as beautiful as the celebrities that frequent it. Artists founded Carmel-by-the-Sea, and vestiges of their mindset are everywhere in the storybook feel of the area. Pine and cypress forests and countless inlets dot the rugged coastline, which features sparkling white sands where feisty, free-roaming dogs romp. Carmel River State Beach is great for kayaking and snorkeling, while Point Lobos State Beach is unrivaled for wildlife enthusiasts.
Insider Tip: Get your hands on a Carmel"> for a wine-tasting amble through seven Carmel tasting rooms.
Courtesy of Angelo Ferraris/Shutterstock
Stinson Beach, California
It's all dreamy fog and clothing-optional coves at Stinson">, whose mellow mystique is also accented by a muscular undertow and the occasional shark sighting. A magnificent ridge rises above the shore, and sand dollars tumble in the breakers below. It's probably the northernmost California beach with a SoCal vibe, offering powdery white sand rather than chilly, rocky grayness.
Insider Tip: Prepare for quite the drive on your way here, as roads are steep and winding. The growing popularity of the beach means an early start is needed to beat the crowds, too.
Courtesy of Denise Kappa/Shutterstock
Hilton Head Island, South Carolina
The beaches of Hilton"> are famous for their beautiful and vacation-friendly shores, where colorful kites and parasails trail the skies and rolling dunes give way to the flat sand banks of the Atlantic. The sands are usually spotless despite the ceaseless crowds, who especially descend on Coligny">—it has choreographed fountains for kids to play in, Wi-Fi, bench swings, and more.
Insider Tip: Here's how to find the free parking lot near Coligny Beach—opt for the toll bridge off Bluffton Parkway and turn right at the flashing yellow light just before the last traffic circle. To actually get a spot—go early.
Courtesy of S.Borisov/Shutterstock
South Beach, Miami, Florida
The bodies of South"> are known to be as easy on the eyes as the beaches themselves—under towering palms, bronzed bikers zoom while eye-candy of all sorts poses on the powdery white sand. The neon cityscape that forms in the beach's wild nightlife is even a beauty to behold. Still, the baby blue waters and alabaster shores steal the show.
Insider Tip: Families should head away from the scantily clad sunbathing hordes, and pick a spot toward the tamer sections of Mid- and North Beach.
Courtesy of Dr. Alan Lipkin/Shutterstock
Montauk, New York
This windswept coast is a picturesque retreat, favored by surfers, hikers, and fishers alike. At Land's End, the Montauk"> perches on a rocky bluff above the tumbling surf and rustic coastline of Montauk Point State Park. Gin">'s calm waters and sparkling clean sand are perfect for families, while Ditch Plains Beach boasts majestic cliffs and rock formations at its western end.
Insider Tip: For spectacular views of the Atlantic Ocean and Block Island (and a workout!) climb the 137 iron steps to the top of the lighthouse.
Courtesy of Rrxxuu/Dreamstime.com
Wai'anapanapa State Park, Hawaii
This secluded beach is an exercise in contrast, with ivory strands of foam rushing up to meet the black volcanic-pebble shores, crisscrossed by emerald vines and palms. As you gaze up at seabirds swooping above Wai'anapanapa's black, serrated sea arch, the robust current draws your attention back down, to stairs which lead through a tunnel of interlocking Polynesian hau branches to an icy cave pool. Legend has it that a doomed Hawaiian princess called this pool her hiding spot, as the sign by the parking lot informs you.
Insider Tip: Bring your bug spray—mosquitoes plague the princess's pool!
Courtesy of col/Shutterstock
Cape Cod, Massachusetts
An inland layer-cake of marshlands, freshwater ponds, crimson cranberry bogs, and pastel forests leads up to Cape">'s crowning glory—its 30 miles of windswept, sandy beaches. From these ocean current-sculpted shores you can watch for whales, guide yourself down biking, horse, and nature trails, or fish for striped bass and bluefish. Rolling dunes and pitch-pine and scrub-oak forests bring vitality to the landscape.
Insider Tip: The Salt Pond Visitor Center, a part of the Cape">, offers guided walks, boat tours, lectures, evening beach walks, campfire talks, and more.
Courtesy of spirit of america/Shutterstock
Cape Hatteras, North Carolina
Nowhere can you feel more closely connected to the power of nature than in Cape">' diverse and continually changing seashores. The powdery white sands are continuously being shaped by the powerful Atlantic waves on the "surf" side, while the sound side's vast salt marshes expand epically into the horizon, inviting kayakers, paddle-boarders, and casual swimmers. Water-sport and wildlife enthusiasts alike will love Hatteras, with its soaring blue herons and five species of sea turtles, temperate weather, and varied landscape.
Insider Tip: Check out Cape Hatteras National Seashore at night, where the shores sparkle if you kick the sand—tiny "seasparkle" dinoflagellates glow with blue-green light due to a chemical reaction.
Courtesy of David Kay/Shutterstock
Chincoteague National Wildlife Refuge, Virginia
Over 14,000 acres of dunes, marsh, maritime forest, and uniquely non-commercial beaches comprise Chincoteague">. Most astonishing is the nearly infinite collection of fauna, and particularly the famed Chincoteague wild ponies, whose presence makes for a uniquely magical landscape. The Refuge flaunts reliably stunning sunsets, best enjoyed from a chartered boat or the top of historic Assateague Lighthouse.
Tip: Be sure to buy the weekly pass for $15 instead of the one-day pass for $8 if you will be there for more than one day.
Courtesy of Alan Falcony/Shutterstock
Clearwater, Florida
Quiet in the winter yet buzzing when it's warm, Clearwater's beaches host not only nightly sunset celebrations complete with local musicians and artists, but also pristine sands and the eponymous clear gulf waters. Festive Pier 61 stretches into the horizon while gentle waves, which are great for swimming in, lap below. Located off the north end, Caladesi Island was recognized as the nation's best by Dr. Beach (2008).
Insider Tip: Come prepared to pay a pretty penny for parking—it can reach up to $2 per hour in some spots.
Courtesy of Melody Mulligan/Shutterstock
Crane Beach, Massachusetts
Carefully guarded wildlife and coastal dunes, mesmerizing views, crisp and clean water, and endless shores make Crane Beach one of the East Coast's finest beaches. Shorebirds like piping plovers nest in the pristine sands, while the North Shore's largest pitch pine forest makes its home on Castle Neck. The waves are extremely tranquil, making it a kids and swimmers' paradise.
Insider Tip: The only time Crane Beach isn't utterly inviting is during Greenhead season, when you'll want to stay far away—these hungry, biting flies like to feed on unsuspecting beachgoers who plop down far from the water.
Courtesy of Sebastien Burel/Shutterstock
La Jolla Beach, California
The incandescent inlet La"> features a row of soaring palms flanked by jarring cliffs, with inviting tidal pools and caves to be explored below. It's one of many coves carved into La">'s curling coastline, backed by lush hillsides (which are speckled with some equally stunning real estate.) Sunsets attract all kinds to Black's">, whose cliffs change colors with the sun's angle; meanwhile, La"> offers incredible views of the La Jolla peninsula.
Insider Tip: The San Diego-La Jolla Underwater Park Ecological Reserve is full of delights for divers, snorkelers, and kayakers.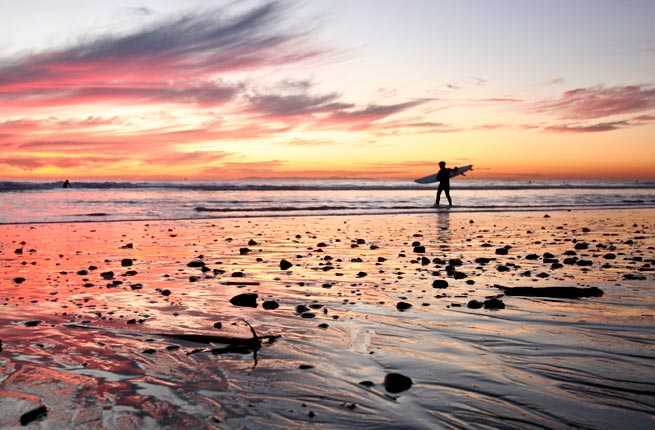 Courtesy of Kate Fredriksen/Shutterstock
Laguna Beach, California
A gorgeous untouched coastal canyon ushers you to Laguna">'s glistening wedge of ocean. It continues on the picturesque Pacific coast for 20 miles with some of California's most pristine beaches and coves. Wood's"> features looming rock formations where crabs lurk, while 1,000">—nestled away from the crowds in a neighborhood—is a local's favorite with its perfectly formed waves and hard-packed white sand.
Insider Tip: Parking is an unavoidable and often costly challenge during peak season, when the beach gets very crowded. Head inland for cheaper, less frenzied parking in residential areas.
Courtesy of TanArt/Shutterstock
Hanauma Bay, Oahu, Hawaii
Once a vast volcanic crater, Hanauma Bay's beautiful cove was flooded by wave erosion to become Oahu's most popular snorkeling destination. Soft, verdant hillsides cradle prismatic blue waters, where lively reefs teem with a rainbow of fish. Swaying palm trees are planted firmly in the soft white sands, where you can relax as your kids splash in the surreally tranquil waters.
Insider Tip: Arrive as soon as the preserve opens: parking is limited and the lot closes when full, to prevent overcrowding and protect the wildlife.