Courtesy of Black Rose
There are as many ways to celebrate St. Patrick's Day as there are shades of green, but perhaps the most classic way is to stop by an Irish pub for a proper pint. But some pubs are better than others. This year, go the traditional route and celebrate Ireland's foremost patron saint at one of America's most authentic Irish pubs, where you'll hear Irish brogues and traditional folk music from the Emerald Isle. Get ready to put on your finest green attire and feast on corned beef and cabbage with—what else?—a pint of Guinness at these beloved establishments. Sláinte! —Zachary Laks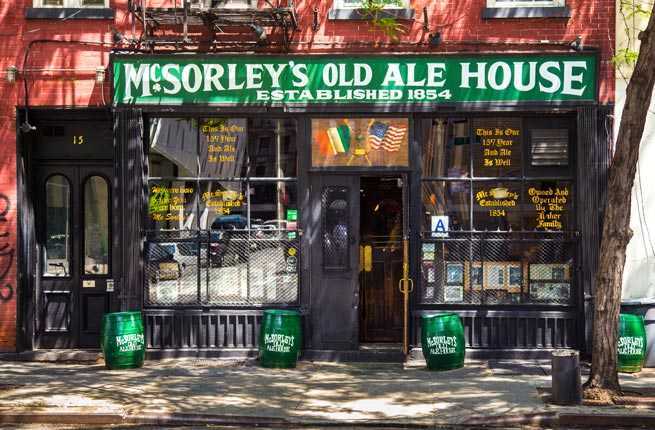 Littleny | Dreamstime.com
WHERE: New York, New York
The phrase "New York institution" is rarely as deserved as at McSorley's Old Ale House in New York City's East Village, one of the city's oldest bars that dates back to 1854. A place as simple as it is steeped in Irish authenticity, there are only two kinds of house-brewed ale on tap—"light" and "dark"—served in two half-filled mugs per order, cash only. A bargain by New York standards, the two frothy beer mugs come in at $5.50 with no additional charge for the compact bar's wall-to-wall charm.
PLAN YOUR TRIP: Visit Fodor's New York City Travel Guide
Courtesy of Fado Irish Pub
WHERE: Chicago, Illinois
A staple of quality Irish fare and a perfect pour of Guinness, Fado Irish Pub in Chicago's River North stands out for its contemporary spin on the traditional Irish pub. The atmosphere lends itself well to a festive St. Patrick's celebration with impeccably themed walls and ceilings that match the old-timey feel of an Irish pub. Switching things up behind the bar, bartenders have created nine beer concoctions, mixing Guinness with ciders, lagers, and even sweet blackcurrant. And as for the draught list, expect Ireland's best draughts including Harp, Smithwick's, and McGargles Cousin Rosie's Pale Ale.
PLAN YOUR TRIP: Visit Fodor's Chicago Travel Guide
Courtesy of Black Rose
WHERE: Boston, Massachusetts
Live Irish music fills the jovial halls of Black Rose, a local favorite and tourist draw, steps from Faneuil Hall. Age-old Irish coats of arms line the room, while fiddles scrape and revelers indulge in the gastropub's Irish staples like shepherd's pie, fish and chips, and bangers and mash. A party every night of the week, Black Rose brings out their best this St. Patrick's Day as the hall maxes out its capacity with Boston's liveliest Irish descendants and their admirers. Expect two floors of live Irish music, a seemingly endless flow of Guinness, and a playful spin on Irish classic fare including their corned beef and cabbage spring rolls.
PLAN YOUR TRIP: Visit Fodor's Boston Travel Guide
WHERE: Los Angeles, California
Character comes effortlessly at Tom Bergin's Tavern, a tiny neighborhood pub in Los Angeles that has been pulling pints since 1936. Evading the evolved cosmopolitan scene in the city, the tavern's easygoing atmosphere and quality Irish food are signifiers of its longevity. If you're looking to achieve everlasting glory on the walls of pub via the pub's famous cardboard shamrocks, persistence will pay off, as repeat customers who've shown sustained loyalty to the bar have a shot. Even then, it's up to the bartenders to decide whether your name will rise among the other greats who have staked their claim, including Kiefer Sutherland and Cary Grant.
PLAN YOUR TRIP: Visit Fodor's Los Angeles Travel Guide
Thomas Robert Clarke Photography
McGillin's Olde Ale House
WHERE: Philadelphia, Pennsylvania
Dating back to the Lincoln era, McGillin's Olde Ale House has kept its Irish spirits flowing since 1860, steps away from Philadelphia's City Hall in Midtown Village. Officially the city's oldest continuously operating tavern, a trip to the storied saloon reveals walls covered with bygone treasures like old tiled subway signs, every liquor license the establishment has held since 1871, and even the original "Bell in Hand" (the tavern's original name) carved wood sign. Thirty beers on tap include three brews that are McGillin's exclusives (go for the McGillin's 1860 IPA) with an extensive food menu offering pub standards (think nachos and meatloaf.)
PLAN YOUR TRIP: Visit Fodor's Philadelphia Travel Guide
Courtesy of Molly's Shebeen
WHERE: New York, New York
A New York Irish fixture since 1895, Molly's Shebeen stands as a unique bar in the city with its casual and winning Irish vibe, stellar 10-ounce burgers, and a cozy wood-burning fireplace. Sawdust-strewn floors and low ceilings set the scene as regulars and tourists mix, appreciating the fine Irish whiskeys and beers on tap. As for the traditional Irish fare, the chicken pot pie is hearty and flavorful, while the Irish lamb stew hits the spot on a brisk winter's eve.
PLAN YOUR TRIP: Visit Fodor's New York City Travel Guide
WHERE: Washington, D.C.
Far from your average Irish pub experience when the President of the United States enters for a St. Patrick's Day toast, The Dubliner has been a Capitol Hill favorite for over four decades. Located within the Phoenix Park, the pub is the country's largest purveyor of Guinness stout, and the only place you can find its signature Auld Dubliner Amber Ale and Dubliner Irish Lager made from hops imported from Kilkenny, Ireland. The crowds flow in early in the day as the fine food service begins with classics from Irish smoked salmon platter to Irish toast, and a lunch that features a Guinness-infused burger and Harp beer-battered fish and chips.
PLAN YOUR TRIP: Visit Fodor's Washington Travel Guide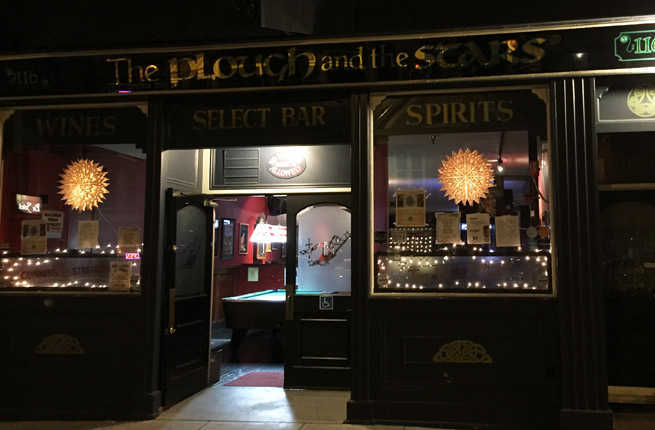 Eoin Hobden
WHERE: San Francisco, CA
Grab a pint and plan to stay for a while at The Plough and the Stars, the self-proclaimed home of traditional Irish music in the Bay Area and a treasured Irish pub in the Inner Richmond neighborhood. Celtic music rings through the rafters of the old-school dive nightly, with open-mic nights bringing out the best local talent on Tuesdays and Sundays. And though there's no food and no Wi-Fi, there is Jameson on tap—a coveted amenity that keeps spirits high.
PLAN YOUR TRIP: Visit Fodor's San Francisco Travel Guide