Yves Tessier
This French-styled, 17th-century city blanketed by snow and ice throughout the year's darkest months does not grumble about the blustery cold. Instead, the Québécois embrace winter with flair, making it an alluring time to visit. Old Québec's ancient lanes are bedecked with fairy lights, holiday markets, and seasonal decor. Roaring fires beckon from inside cozy restaurants and bars. Numerous celebrations, including the world-famous Winter Carnival, keep you entertained. And Bonhomme, the winter's chubby, convivial mascot/ambassador, sets up shop at his ice palace across from the Parliament, where nightly dance parties unfurl. Here's a primer on how to best experience this exuberant, winter-loving city.—Barbara Noe Kennedy
Carnaval de Quebec
As snowflakes dance on the city, Old Québec morphs into a winter wonderland with the world's largest annual winter carnival. Don a red hat and fill a plastic red trumpet with caribou (a seasonal concoction of brandy vodka, sherry, and port guaranteed to ward off the cold) and join in on festivities like an international ice-carving competition, dogsled rides, ski races, canoe races on the ice-clogged St. Lawrence River, singing, dancing, a parade, and an Ice Princess competition, just to name a few. Bonhomme, the cheery Michelin-man-like mascot/ambassador, roams the festival, making sure everyone has a good time. This year's dates are January 27 to February 12, 2017.
Jaime Walker via Wikimedia Commons, [CC BY 2.0]
Over the centuries the Québécois have derived edible ways to ward off the chill. You may have tried icewine, a dessert wine made from grapes frozen on the vine; but ice cider (cidre de glace) is a whole new take on the classic, created thanks to Québec province's many apple trees. The Québécois also love tire d'érable sur la neige, DIY maple taffy pulls made by dripping hot maple syrup over snow and twirling it with a wooden Popsicle stick to make a sort of maple lollipop; you can try them at the nearest cabane à sucre (sugar shack). And poutine, a goopy concoction of hand-cut potatoes, gravy sauce, and curd cheese, will stick to your ribs; the local chain Chez Ashton is the best place to try the local favorite dish (and popular hangover remedy).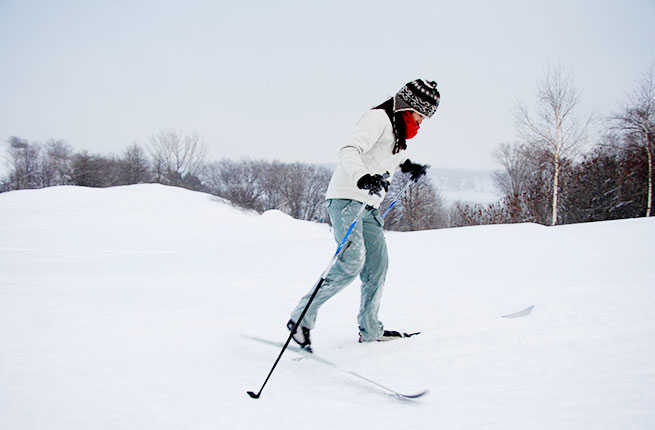 Martinmark | Dreamstime.com
Slide into a toboggan, grip the sides, and try not to scream as you zoom down the Glissade de la Terrasse, a historic, 820-foot-long, triple-chute toboggan run overlooking the ice-clogged St. Lawrence River, right next to the famous Fairmount Le Château Frontenac hotel. There's also cross-country skiing in the historic Plains of Abraham (and an ice-skating rink there as well). Plus ice skating at a petite rink in Place D'Youville, where you can snuggle up against the ancient city walls at what's got to be the world's most charming ice rink. And if it's downhill thrills you're after, you have four nearby ski resorts to choose from: Mont-Sainte-Anne, Le Massif de Charlevoix, Stoneham Mountain Resort, and Le Relais Centre.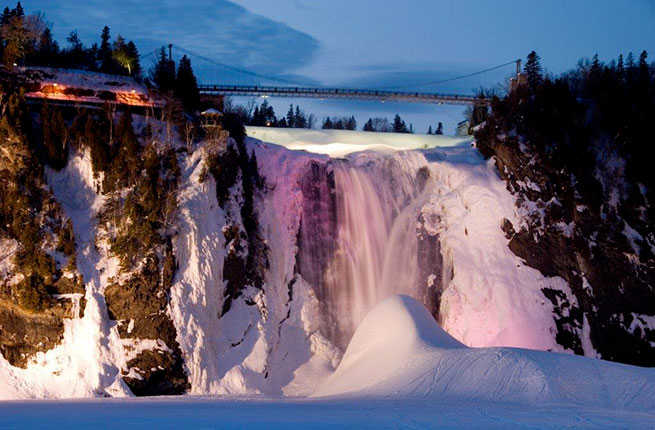 Yves Tessier
Montmorency Falls just outside town is beautiful any time of year, but in winter the freezing spray builds a mountain of white ice at the falls' base, nicknamed pain de sucre (sugarloaf), growing as high as 98 feet. Ice climbers love it, though you can simply observe them from afar if you prefer. Walk along footbridges and pathways dotted with viewing platforms, then have brunch at the Manoir Montmorency at the top, with fabulous views overlooking the ice-choked St. Lawrence River.
Insider Tip: Trails lace the park surrounding the falls, ideal for winter hiking or snowshoeing—and viewing the falls from different perspectives.
A team of artisans spends weeks crafting America's only ice hotel, in which every single thing is ice—the rooms, the beds, the bar, the sculptures, the glasses from which you drink specially crafted cocktails, and the frost-covered chapel where couples get married. Some of the suites even have working fireplaces made of ice. You can simply visit, or dare to spend the night. Only the most courageous will decline the two-hotel-room option (a room in the ice hotel plus in a nearby standard hotel, giving you a Plan B in the middle of the freezing night). The trick to staying all night is to stay cocooned inside your arctic sleeping bag and keep trips to the restroom (located in an adjacent building) to a minimum.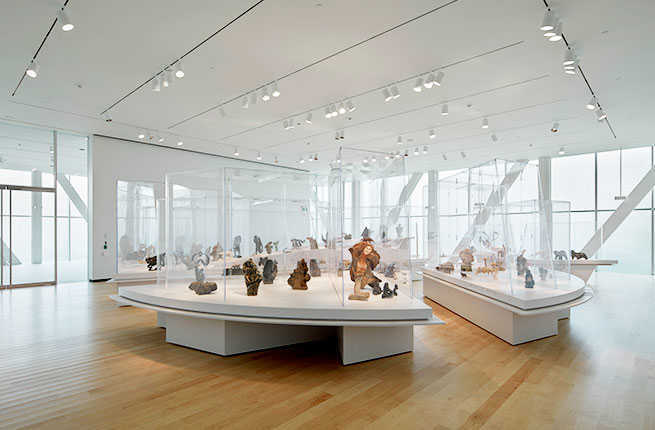 Bruce Damonte
Musee National des Beaux Arts du Quebec
It's okay to seek warmth inside Québec's buildings, and there's no better place to do so than the Musée National des Beaux-Arts du Québec. Built around the city's old prison, this top-notch art museum on the Plains of Abraham is devoted to Québécois artists, ranging from early French colonists to today's avant-garde. Check out the museum's new wing—the revolutionary, ultra-modern design in the Pierre Lassonde Pavilion features stacked glazed blocks in various sizes, complete with a protruding diagonal cuboid staircase connecting the upper two galleries. It's being said that this addition, displaying the museum's contemporary art collection, will do for Québec what the Guggenheim did for Bilbao.
Insider Tip: If you still want to warm up, seek out the Musée de l'Amérique Francophone, in the heart of Old Québec, with interesting exhibits detailing the city's story from fur-trappers and missionaries to the present-day.
Sibéria Station Spa
At this Scandinavian-style, pine-shaded spa just outside Quebec City, you alternately immerse yourself in cold and hot environments in a Nordic hillside setting above a burbling stream: an infrared sauna, a thermal waterfall, a eucalyptus steam bath, and the icy river itself. In between, rest in a Mongolian-style yurt, a log cabin, or in front of an outdoor fireplace.