Courtesy of Vin Papillon
That Montreal's food scene is impressive is hardly news, but a spate of new restaurants embracing the locavore ethos means there are more reasons than ever to visit this island city. The Mile End district continues to lead the hipster foodie boom, while well-trodden, developed, and still-undergoing-gentrification neighborhoods all boast worthy new additions. And while the city may be known for its local bistros, international cuisines are staking a claim alongside French-Canadian classics. Prepare to eat your way through our line-up of amazing new restaurants in Montreal.
by Lawrence Ferber
Julie Perreault
Helping bring the "Italy" back to Montreal's Little Italy, chef Michele Forgione and cookbook author/TV cooking show host Stefano Faita opened this cheery and bright, open kitchen pasta venue in December 2013, serving up a tightly edited menu of antipasti and housemade charcuterie. Entrees like Nonna's Porchetta Roast and, of course, housemade pasta round out the authentic offerings. The music playlist is sweet and modern, as are the desserts, but we suggest you head across the street instead for a takeaway soft-serve iced custard cone (made with local dairy and a prudent measure of sugar) at Faira and Forgione's even newer venture, Pizzeria GEMA (6827 Saint Dominique St.), which opened just last month.
What to Order: Casarecce alla trapanese, chewy tube-like pasta with basil pesto, salty sheep milk cheese, almonds, and cherry tomato. Brightly flavored, textured, vegetarian-friendly pasta perfection.
Ariel Tarr
While downtown's bustling Saint-Catherine West is jammed with chains, tucked just behind its St. James United Church is a local indie secret. Opened in January 2014, the younger sibling of next door neighbor wine bar Furco draws a huge lunch hour crowd for fresh juice of the day (a strawberry, cucumber, watermelon blend during our visit) and chef Éric Bélanger's seasonal salads, light entrees, and pizzas—Roman style at lunch, Neapolitan at dinner and on weekends. Co-owner/designer Zébulon Perron, inspired by Brooklyn's hipster pizza joint, Roberta's, dangles foliage from ceiling planters, while purposely exposed walls add industrial chic. Early riser? Weekday mornings now see breakfast items and excellent coffee from Montreal roaster Kittel.
What to Order: The spicy hummus board with caprese salad.
Samuel Joubert
Officially launched in July 2014, Old Montreal's Tapas 24 is the first of Michelin-starred, ex-El Bulli chef Carles Abellan's tapas spots to be located outside Barcelona. Sommelier and fellow erstwhile El Bulli consultant François Chartier curated the wine list, while Lawrence Picard of Montreal's Nectar & Mixologie firm whips up the cocktails. The two-level space is heavy on clean lines and patterned lumber, while the extensive tapas menu, with traditional favorites and Abellan originals, is decadently mouth-watering, from astounding old-school paella to refreshing sangria-infused watermelon cubes.
What to Order: A little local flavor informs the Berenjena con Maple y Lima: eggplant with maple and lime.
James Brittain
Opened in January 2014, Le Serpent takes its name from the building's snaking overhead pipes (the building is a former bell foundry). The latest venture from Claude Pelletier and Hubert Marsolais, of Montreal's acclaimed Le Club Chasse et Pêche and Le Filet, serves up chef Michele Mercuri's modern, yet earthy brasserie fare, which welds Asian, Italian, and Quebecois flavors and influences in dishes like lobster risotto with mascarpone and yellow beets; foie gras parfait; rabbit tart; and a succulent, tender rotisserie item of the day.
What to Order: The delicious, creative crudi, served in threes, which could entail mackerel with yuzu gel, almonds, and dried olives, and a red-onion marinated fluke with daikon and orange powder.
Courtesy of Vin Papillion
Montreal's Little Burgundy district, by no means trendy as yet, has earned a spot on the foodie map thanks to chefs David McMillan and Frederic Morin's hugely successful Joe Beef, younger sibling Liverpool House, and the latest opening, Vin Papillon. Opened in 2013, this narrow, 25-seat wine bar (with outdoor terrace in warmer months) features white-painted brick walls, oversized mirrors, and chalkboards that display sommelier Vanya Filipovic's incredibly unique international finds and chef Marc-Olivier Frappier's vegetable-centric, rustic shareable plates.
What to Order: Padrones bravas—fried potatoes with Padrón peppers, romesco sauce, and garlic aoli—and the daily cheese selections (pick three for $15).
Le 5 Services
Opened in 2010, one of Old Montreal's best restaurants received a dose of fresh kitchen blood in December 2013 when 29-year-old chef Guillaume Cantin, winner of Canuck cooking show Les Chefs!, and pastry guru Brian Verstraten took over the kitchen. Sourcing produce and meat from local farms, their creations are modern, technique-driven, and artful, blending textures, temperatures, and flavors to stunning effect. Take, for example, the white onion soup with smoked sturgeon, elderberry and sorel, and a caramel cream dessert with peach sorbet, toasted chiffon cake, and sea buckthorn puree. The venue's ceilings, meanwhile, remain as gloriously high as ever.
What to Order: The housemade ravioli with atypical stuffing like arctic char, and any soup Cantin has served up that day.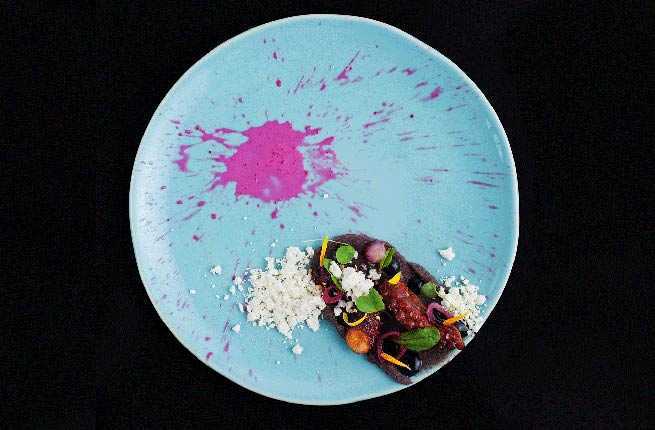 Jean-François Hétu
Peruvian chef Mario Navarrete Jr., formerly of Manhattan's Daniel and Café Boulud, takes a contemporary approach to his homeland's brightly flavored cuisine, frequently accompanied by sauces and emulsions, at this June 2014 newcomer. Warm and home-like, with an open kitchen in the rear and adjacent long table, Callao serves up gorgeously plated dishes including a ceviche of the day, papas a la huancaina made with Quebec potatoes, a seco sauce-seared salmon, and quinoa pudding. Alas, no Peruvian wines are listed as yet, but the pisco sour cocktail is spot-on, and $29 buys you a three-course dinner on Mondays and Tuesdays.
What to Order: Papa Rellena, a beef-stuffed potato with salsa criolla, liquid avocado, and squid ink aioli.
Alexis Grison
Housed in an abandoned old-time Jewish deli, designer Thomas Csano's cozy 65-seat interior can be described as retro-deli (the original Delli-Cité sign remains outside) meets plywood hunter lodge, while the largely bearded staff serve up excellent craft cocktails. Chef Charles-Antoine Crête's cheeky comfort Francophone fare, like cream of smoked mackerel soup, comes served in a Dixie cup, and can be found alongside just-caught oysters and seasonal shellfish, salmon with popcorn salad, and escargot.
What to Order: The milk-fed pork 12-inch hot dog for two, served on a buttery Hof Kelsten bakery bun with fried leeks, apple, and red cabbage.
Courtesy of Shinji
Percolating with still-under-construction condos, the up-and-coming Griffintown district proved an ideal location for restaurateur/Simple Plan band member Jeff Stinco and chef Shinji Nagai to open a slick, modern Japanese venue in February 2014. The slightly futuristic Bruno Braën-designed brick-and-stone interior features a lengthy communal table that weaves and curves, forming an avant-garde U-shape, with colorful rectangular separators that can be pulled down for smaller-party privacy. Nagai's take on washoku (traditional Japanese) cuisine and sushi is delicious and inspired, with top-notch fish shipped from around the globe.
What to Order: Go omakase with a chef's selection of new Tokyo style sushi, akadashi (red miso soup), and sashimi salad for a very reasonable $50. Feeling carnivorous? Try the Quebec Wagyu beef gyoza.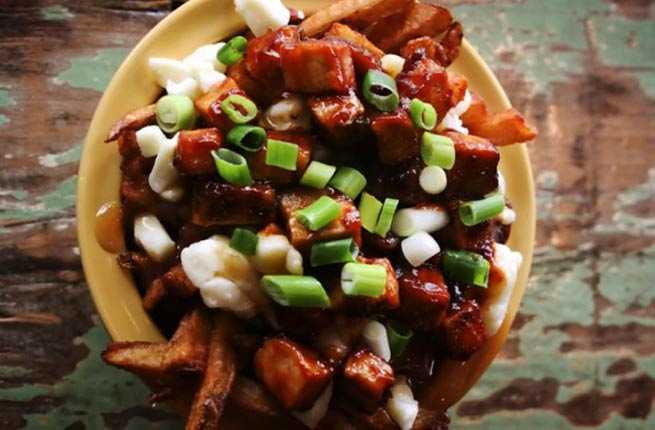 Courtesy of Poutine Centrale
It would be remiss, even criminal, not to include a venue specializing in the Quebecois guilty pleasure, late-night food found in a dizzying array of varieties. Opened in September 2013, this Little Italy venue truly embodies the cultural fusion with concoctions like General Mao Chicken, Sichuan beef, Butter Chicken, Sloppy Joe, and, a nod to the neighborhood, Little Italy (with Bolognese sauce).
What to Order: Combine two quintessential Montreal eats with the Smoked Meat variation, piled with tasty cured and chopped brisket, deli mustard, and sliced pickle.
Dominic Goyet
One of the game-changing spots that helped establish Mile End as a new foodie mecca, Hotel Herman has actually been around since 2012, yet it's still as fresh, excellent, and noteworthy as the day it arrived. Chef/co-owner Marc-Alexandre Mercier keeps his deconstructed plates seasonal and blazingly original, and is particularly talented at coaxing unexpected textures and flavors from vegetables and meat. The venue's name comes from the owners' original plan to open a hotel but, having fallen in love with the Saint-Laurent space, lacked the necessary room upstairs to do so.
What to Order: The soup, a guaranteed palate revelation, which is sometimes poured tableside for a touch of theatre.