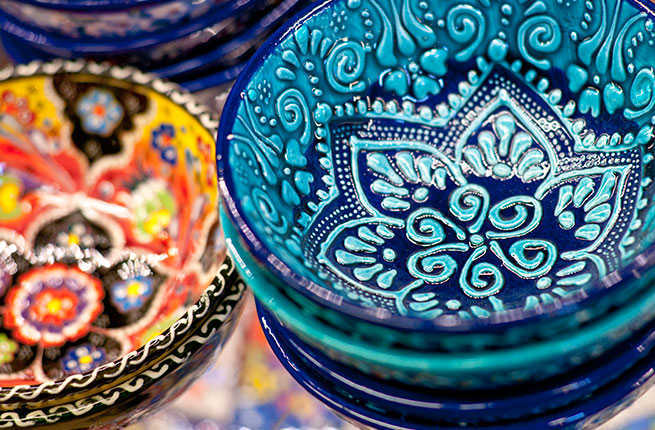 Hypnocreative | Dreamstime.com
At the crossroads of Europe and Asia, Istanbul has long been an important trading hub, and a world-renowned handicraft tradition grew up in the area thanks to Ottoman patronage and an eye for luxury that drew on influences from across the globe. Today, shopping in Istanbul is as much a cultural experience as it is about acquiring one-of-a-kind souvenirs. For most things, the Grand Bazaar is the place to go. The covered market is more than 550 years old and is rumored to have as many as 4,000 shops along its dozens of crowded streets. Whether you're window-shopping and comparing prices or just soaking in the atmosphere and enjoying a traditional Turkish tea, the bazaar is one of Istanbul's sightseeing highlights and a fascinating convergence of the modern and the ancient city. From handwoven rugs and hand-carved pipes to exotic spices and Iznik pottery, here are 10 of Istanbul's best offerings. —Abbey Chase
Kingstars11 | Dreamstime.com
Known for their unique patterns and vibrant colors, Turkish carpets are some of the most sought-after in the world; Marco Polo remarked on the quality of Turkish carpets when he traveled there in the 14th century. The intricate, meticulously hand-knotted pile rugs are often made with luxurious silk thread, and Turkey is known for its Holbein carpet design, a unique pattern developed under the Ottomans that was frequently depicted in Renaissance paintings. Kilim rugs, produced using a flat weaving technique in Turkey's rural areas, employ simpler, equally eye-popping geometric designs and tend to be cheaper, although antique kilims make excellent investment pieces.
Where to Buy: Antique shops in and around the Grand Bazaar will have lots of antique and pile rugs. Punto of Istnabul, just outside the bazaar, has both new and antique designs. Also try Adnan & Hasan and Dhoku in the Grand Bazaar.
PLAN YOUR TRIP: Visit Fodor's Istanbul Travel Guide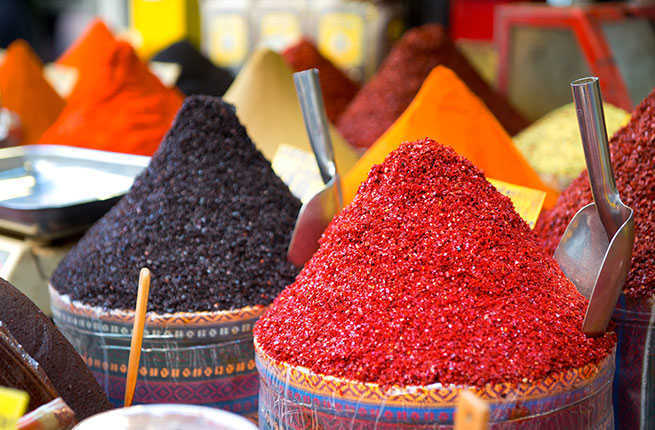 Pinkbadger | Dreamstime.com
You can't leave Istanbul without picking up some Turkish delight, otherwise known as lokum. The gum-drop-like honey and molasses sweet can be found everywhere in Istanbul and is easily transported home. Spices from all over the region and dried fruits and nuts are other Turkish staples, as well as freshly ground coffee and special teas. The baklava in Istanbul is delicious and a slight variant on the well-known Greek favorite, but a snack probably best enjoyed before leaving the city. For something with a kick, look for raki, a popular anise liqueur.
Where to Buy: Adjacent to the Grand Bazaar is the Spice Bazaar, a visual and olfactory delight with brightly colored mountains of spices stacked high in silver bowls. Don't be fooled, though; some of the best spice vendors are tiny, blink-and-you'll-miss-it shops without colorful displays. Snap photos in the main aisles and watch which shops the locals head into. Ucuzcular Baharat is a reliable long-time vendor in the Spice Bazaar, as is coffee producer Kurukahveci Mehmet Efendi. For Turkish delight, try Hacı Bekir, in operation since the 18th century.
PLAN YOUR TRIP: Visit Fodor's Istanbul Travel Guide
Technically a hydrated magnesium silicate, meerschaum is more elegantly known as "sea foam," a literal translation of the German word for the white, ivory-like substance found in the Black Sea region. Meerschaum is most often used to make pipes with carved designs on the pipe bowl, and because raw meerschaum exportation is banned in Turkey, this is one of the few places in the world you can still find the real thing. If you plan to use the pipe, be aware that the color changes and darkens with use; even touching the pipe bowl with your bare hands can taint the surface. You can also find jewelry and other accessories made of meerschaum.
Where to Buy: You can find hand-carved pipes all over the bazaar and in many antique shops. Bilal Donmez has an extensive collection of pipes at his shop in the Arasta Bazaar.
PLAN YOUR TRIP: Visit Fodor's Istanbul Travel Guide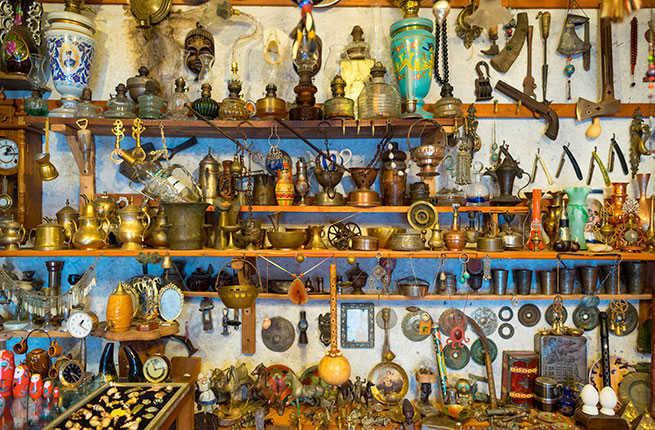 Shanliangdigital | Dreamstime.com
With one foot in two different continents, Istanbul is one of the best places to find antiques. Trade routes from the Far East and West have passed through Istanbul for hundreds of years, leaving a fascinating stockpile of goods from all over the world in the city. Some of the most valuable and interesting pieces are from far-flung lands, but for something local, look for pieces of Ottoman metalwork.
Where to Buy: Just outside the Grand Bazaar, Sofa has a high-end collection of sundries of every kind, with a large selection of metal tableware and calligraphy. Alaturca and Ziya Aykac Antikaci are two other reliable collectors with shops filled to the brim with various curiosities. In the Grand Bazaar, Murat Bilir's tiny shop is barely big enough to turn around in and has almost exclusively metalwork, including several interesting Ottoman pieces (think 19th-century lunchboxes and portable calligraphy sets).
PLAN YOUR TRIP: Visit Fodor's Istanbul Travel Guide
Kozyreva | Dreamstime.com
Few wardrobe items are more indulgent and luxurious than a high-quality, handwoven scarf. Embroidery, gold silk thread, and hand painting (known as yazma) are all prominent design features in Turkish textiles that can be bought as is or made into beautiful scarves, dresses, and pillows and other home wares. Cotton and silk products tend to be the highest quality, although you can also find excellent wool, brocade, and catma, similar to velvet.
Where to Buy: The Grand Bazaar's Old Textiles & Kaftan (Yaglikcilar Cd., Cebeci Han Girisi No. 1) is a great place for traditional fabric by the yard and handmade pillowcases. Cocoon has a wide selection of textiles from all over Anatolia. Gonul Paksoy and Tulu both carry more contemporary designs inspired by traditional Ottoman patterns.
PLAN YOUR TRIP: Visit Fodor's Istanbul Travel Guide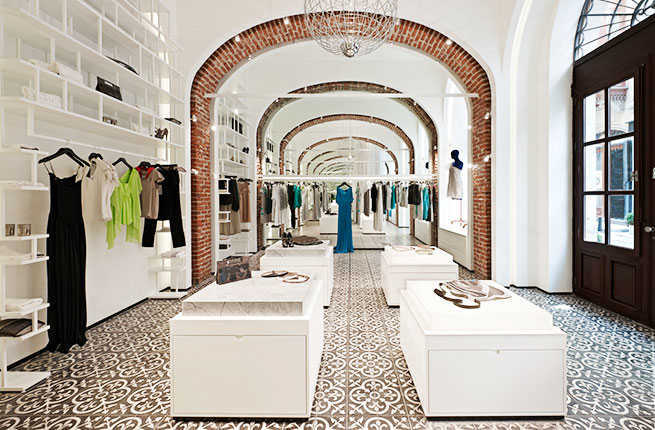 Ali Bekman
Istanbul is known for its traditional handicrafts, but the city is also bursting with small boutiques selling more contemporary handmade goods. Karakoy, also known as Galata, the historic Jewish quarter, is the area to peruse interesting shops and explore the tiny alleyways of one of the city's oldest neighborhoods. The nearby Nisantasi neighborhood showcases international and Turkish designers.
Where to Buy: Magnolia Culture has an eclectic mix of visually stunning coffeetable books, while contemporary Turkish-designed clothing can be found at Bahar Korcan, Arzu Kaprol, Atelier 55, and La Mariquita (Galata Kulesi Sok. No:3/B). Head to Archive for funky home décor and to Aida Pekin for simple, affordable Istanbul-inspired jewelry.
PLAN YOUR TRIP: Visit Fodor's Istanbul Travel Guide
Hypnocreative | Dreamstime.com
Intricately painted earthenware is produced all over Turkey, but the ceramics made in Iznik, a town in northwestern Turkey, are the most famous. Iznik tiles adorn the walls of mosques and palaces all over Istanbul with their signature cobalt blue designs that draw heavily on Chinese motifs, a visual embodiment of Istanbul's cultural diffusion. You can find pieces with a more traditional Ottoman aesthetic as well as designs created by individual artisans' families, passed down for generations.
Where to Buy: There's no shortage of high-quality pottery in Istanbul, and as with everything else, it can be found in the Grand Bazaar. Browse for a while to look for the best quality and prices. In Galata, head to Sir Cini for traditional and contemporary designs.
PLAN YOUR TRIP: Visit Fodor's Istanbul Travel Guide
Aluha | Dreamstime.com
Jewelry design has long been an important and well-regarded trade in Turkey, dating back to the Ottoman era, when the royal family employed dozens of artisans. Today it is still one of Turkey's leading handicrafts, and many stone inlaying techniques were originally conceived in the Ottoman court nearly 500 years ago. Jewelry shopping in Istanbul can be tricky, as the Grand Bazaar is overflowing with knock-offs and cheap costume jewelry, but unique designs and precious stones are abundant as well.
Where to Buy: There are several high-end, well-regarded Turkish jewelers with independent shops near and in the Grand Bazaar: Sevan Bicakci, Boybeyi, Gilan, and Tina are some of the more famous ones, so be prepared to pay top dollar for their original pieces. Serhat Geridonmez (Şerifağa Sokak 69, Old Bazaar) is a good choice in the Bazaar for elegant, simple gold pieces. Classically inspired Urart has four locations around the city.
PLAN YOUR TRIP: Visit Fodor's Istanbul Travel Guide
Fotoianniello | Dreamstime.com
If you're looking for big, fluffy towels, Istanbul is not the place to go. Turkish towels, also known as peshtemal, are used in Turkish hammam baths and are handwoven with 100 percent Turkish cotton, a particularly sturdy and high-quality fiber. Though they are much thinner than terry cloth towels, the fabric is highly absorbent and dries quickly, making them perfect for warmer months. Peshtemal towels are very compact, easy to tuck into your carry-on, and come in shades of white with simple designs.
Where to Buy: The Grand Bazaar. Look for Dervis and Abdulla.
PLAN YOUR TRIP: Visit Fodor's Istanbul Travel Guide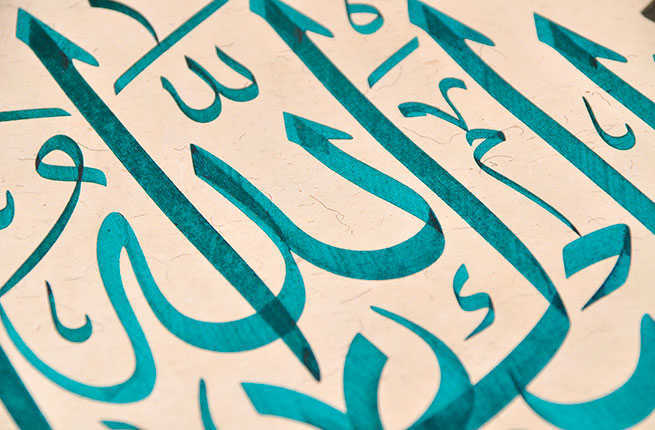 Zehrabasak | Dreamstime.com
Some of the most beautiful decorations in Istanbul's mosques and palaces are the elaborate calligraphy writings etched into the wall, many of which are quotes from the Quran or the impossibly intricate signatures of the sultans. Under the Ottomans, new styles of Arabic calligraphy were developed and have since become an important part of Turkey's handicraft tradition, although the Arabic alphabet is no longer officially used in Turkey.
Where to Buy: Most antique shops—particularly Alaturca and Sofa—also offer a wide selection of Turkish calligraphy prints, some old and some done by apprentices in Istanbul today. Also try Nick's Calligraphy Corner in the Bazaar. Artrium and Levant Koleksiyon on the opposite side of the Golden Horn are two other options.
PLAN YOUR TRIP: Visit Fodor's Istanbul Travel Guide