César Lucas Abreu
There's never a dull moment in Madrid, whether you're feasting on jamón at a tapas bar, marveling at a Goya in the Prado, or cheering on Real Madrid at Bernabéu Stadium. But to get a local feel for the Spanish capital, you have to look beyond the playbook of essential sights. From tucked-away restaurants to hidden-gem museums to secret speakeasies, get off the beaten track with these 16 unsung attractions.—Benjamin Kemper
Courtesy of The Westin Palace, Madrid
While a Chinatown district may not exist in the Spanish capital, the good news is that there are noodles to slurp and dumplings to dunk all around town. To stave off the chills, nothing beats a hand-pulled noodle soup bowl at Restaurante Zhou Yulong, an underground restaurant located in the depths of Plaza de España's parking lot. Across the street at Jin Jin, dumpling lovers can enjoy plump crescent moons of pork and chive that get stuffed and crimped by hand throughout the day. But Madrid's Chinese dining scene isn't all casual; impressive knife skills, quality ingredients, and dramatic plating set haute cuisine restaurants like El Bund and Asia Gallery a tier above the competition.
PLAN YOUR TRIP: Visit Fodor's Guide to Madrid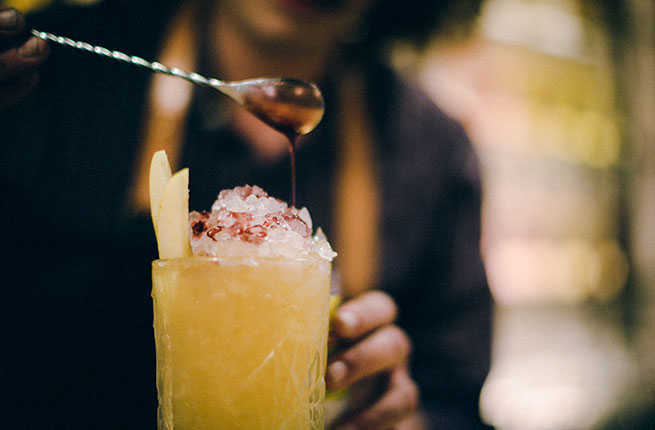 Render Emotion
With a cocktail revolution well underway in the Spanish capital, the days of over-garnished gin and tonics are thankfully numbered. A new wave of mixologists has changed the cocktail landscape. Take Macera, for example, a bar that foregoes brand-name liquor in favor of house-macerated spirits flavored with fruits, aromatics, and herbs. You might, for instance, opt for a Manhattan made with almond- and cherry-infused whiskey or a margarita shaken with cilantro-scented tequila. There is now something for every type of cocktail drinker in Madrid, whether you're in the mood for a pisco sour, a Prohibition-era throwback, or a boozy slushie.
PLAN YOUR TRIP: Visit Fodor's Guide to Madrid
Rebeca Rodríguez
Spain has emerged as one of Europe's most promising new beer destinations. The past few years have seen the opening of boutique brewpubs like Fábrica Maravillas, where you can taste beers that were fermented in their "beer lab" just feet from your barstool. Locals are now embarking on beer crawls through Malasaña, the center of Madrid's craft beer revolution, stopping at La Tape for rare Belgian gueuzes and at Beer Garden for English sour ales. Iif the numbers are any indication (Spain's craft beer industry grew by 1,600% from 2008 to 2015), this craze is just getting started.
PLAN YOUR TRIP: Visit Fodor's Guide to Madrid
Courtesy of Matadero Madrid
Once an industrial slaughterhouse complex, El Matadero reopened in 2007 as Madrid's most avant-garde creative arts and exhibition center. Its diverse roster of day and evening events include plays, concerts, poetry readings, movie screenings, and more. Recent installations have run the gamut from Frinje16, a performing arts festival in its sixth year, to Producto Fresco, a showcase of novel product design concepts. While many events are free, the popular ones sell out quickly,so be sure to check the online agenda.
PLAN YOUR TRIP: Visit Fodor's Guide to Madrid
Most sports fans are familiar with Spain's powerhouse soccer team Real Madrid, but to enjoy a spirited match without the long lines and inflated price tag, step up to Rayo Vallecano's box office. The team's second-tier status doesn't make the games any less thrilling (think college ball vs. NBA), especially when you catch them on their home turf in Vallecas. You can feel good about your ticket purchase, too, since Rayo is known for its community activism. The team was in the press recently for saving an 85-year-old woman from eviction by offering to pay her rent for the rest of her life.
PLAN YOUR TRIP: Visit Fodor's Guide to Madrid
Manolo Yllera
Every Madrileño has his or her favorite plaza—and it's seldom the Plaza Mayor. Sure, the city's main square,with its majestic spires and rich historyis a must-see for any visitor, but if a leisurely meal or drink al aire libre is what you're after, seek out a less congested corner of town. Known for its circular layout, tree-shaded patios, and pleasant gardens, Plaza de Olavide is the quintessential neighborhood square—a place where you can stroll, dine, and people-watch without large crowds or long waits to snag a table. If lunch or dinner is in the cards, don't miss out on one of the city's finest "locavore" restaurants, Mama Campo, whose seasonal menus revolve around organic meats and produce.
PLAN YOUR TRIP: Visit Fodor's Guide to Madrid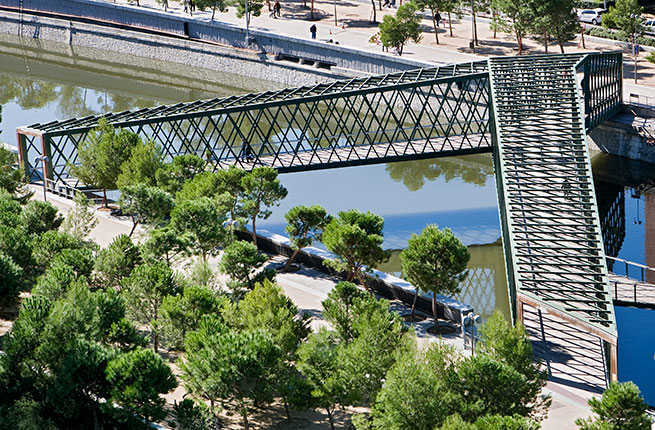 Jose Barea
It's hard to complain about the Parque del Buen Retiro, Madrid's most picturesque park, but for bikers and runners, its narrow trails can get a little cramped. Enter Madrid Río, the city's most ambitious urban planning initiative in recent history, which has solved the space conundrum by laying nearly 20 miles of green space and bike-friendly paths along the Manzanares River. But there's no need to break a sweat to make the most of Madrid Río: outdoor concerts (check out the Veranos de la Villa series) and riverside dining round out the park's offerings.
PLAN YOUR TRIP: Visit Fodor's Guide to Madrid
César Lucas Abreu
Madrileños don't hold back when it comes to nicknaming their city's landmarks. A case in point: ask a local for directions to Cerro del Tío Pío, and you'll be met with a blank stare; inquire about the "Parque de las siete tetas" (Park of the Seven Breasts), on the other hand, and you're guaranteed success—and probably a laugh. The park's moniker was inspired by its seven grassy peaks, which offer unparalleled views of the city skyline and—on a clear day—the Sierra Guadarrama mountain range. Aim to arrive in the evening so that you can enjoy a bottle or two of Mahou at the Terraza El Mirador as you watch the sunset.
PLAN YOUR TRIP: Visit Fodor's Guide to Madrid
Courtesy of Sala de Despiece
Cava Baja, the quintessential tapas street in Madrid's historic center, can get so jammed with tourists that it loses its neighborhood feel. That's why city dwellers flock to Calle Ponzano with its mix of classic tabernas and innovative restaurants run by some of Madrid's hottest chefs. Whether or not it's true that Ponzano boasts the most bars per capita of any street in Europe, you can easily spend hours bar-hopping there. Start at Sala de Despiece, Javier Bonet's brainchild whose star dish is beef carpaccio smeared with black truffle paste. Then move along to DeAtún for plates showcasing sushi-grade, line-caught tuna from the coast of Almadraba. Still peckish? Meander down to cozy Sylkar for a slice of tortilla de patata and a nightcap.
PLAN YOUR TRIP: Visit Fodor's Guide to Madrid
To catch a glimpse of how the Spanish bourgeoisie lived in the early 19th century, step into the Museo del Romanticismo. Originally a marquis' palace, each room sparkles with ornate period furniture, evocative portraits, and other historical artifacts culled from the height of Spanish Romanticism. It's worth spending a few minutes admiring the flamboyantly decorated fans and backlit lithophanes. Although the museum can be walked through in an hour or two, don't rush out: The plant-filled interior patio is a gorgeous, tranquil place to enjoy tea and pastries.
PLAN YOUR TRIP: Visit Fodor's Guide to Madrid
Benjamin Kemper
Until five years ago, there weren't many reasons to visit Conde Duque, a residential neighborhood sandwiched between Malasaña and Moncloa. But since the reopening of a sprawling 18th-century barracks as the Conde Duque Cultural Center, the surrounding area has become a hotbed of food and fashion culture. There's Panic, a sourdough bread bakery that could hold its own in San Francisco (they run out daily; call ahead to reserve your loaf). Next door is Cultivo, a sleek new quesería that carries rare treasures like Torrejón, a raw ashed-rind sheep's milk cheese from Castile. There are fashion finds to be had on Calle del Conde Duque as well at boutiques such as Duke, Sportivo, and La Compañía Polar, whose limited-release attire keeps the Madrid fashion elite looking their best.
PLAN YOUR TRIP: Visit Fodor's Guide to Madrid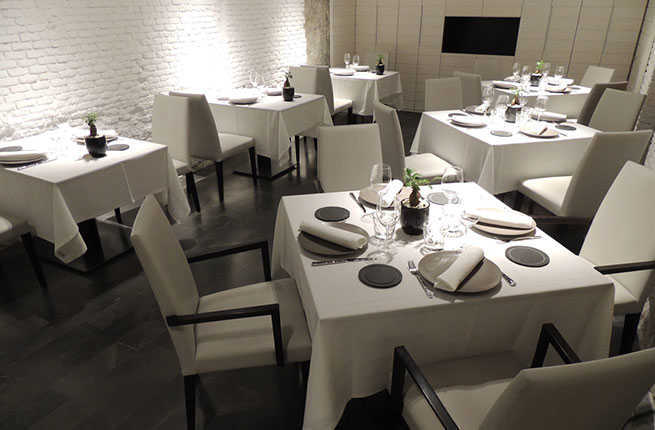 Courtesy of Alabaster
Thanks to Madrid's diverse population, you don't have to go far to savor some of the country's most fabled regional specialties. Even the staunchest paella purists rave about Casa de Valencia's saffron-scented paella valenciana, studded with garrofón beans and tender chunks of rabbit and chicken. For a culinary journey to Asturias in the mountainous north, head to Casa Mingo, a lively sidrería (cider house) that's been ladling fabada (bean soup) and splashing cider since 1888. Other regional restaurants worth marking on your map include La Gaditana, for Andalusian fare like salmorejo and shrimp fritters; Alabaster, for Michelin-starred, Galician-inspired plates; and 7 Delicatessen (in Mercado de San Antón), for Canary Islands-style wrinkly potatoes doused in garlicky green mojo.
PLAN YOUR TRIP: Visit Fodor's Guide to Madrid
Neirfy | Dreamstime.com
Chocolatería San Ginés may be the most well-known churrería in Madrid, but residents of the La Latina neighborhood are partial to Muñiz (Calle de Calatrava, 3), an old-timey bar whose owner, Matías, has been frying churros for 58 years straight—making him the most seasoned churrero in town. For a sweet, boozy treat that you won't find anywhere else, spring for the ranas madrileñas, a plate of porras (thick-piped churros) finished with a sprinkling of sugar and a splash of Chinchón Dulce, a local anise liqueur.
PLAN YOUR TRIP: Visit Fodor's Guide to Madrid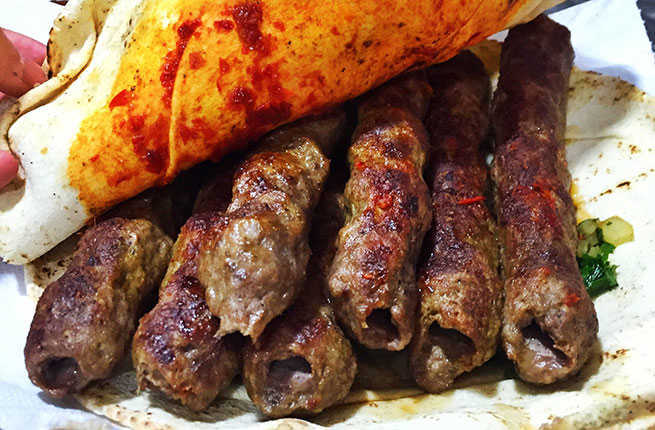 Benjamin Kemper
Madrileños love kebabs, and the smoky, juicy version served at Al-Aga Restaurant (Calle Villaamil, 52) is far and away the city's best. Opened by a family of refugees fleeing Syria's civil war, Al-Aga draws on recipes handed down to the chef and owner, Labib, who cooks with care and attention to detail. His secret may lie in the top-quality Halal beef delivered fresh every day and hand-ground for each order—or perhaps it's the grilling over a charcoal flame that makes Al-Aga's kebabs so craveable. Whatever his magic formula may be, though, it's Labib's smile and hospitality that keep guests returning time and again.
PLAN YOUR TRIP: Visit Fodor's Guide to Madrid
Courtesy of Casa Dani
Madrid is awash in a tidal wave of tapas markets, such as Mercado de San Miguel and Mercado de San Antón, where the main event is trendy dining as opposed to grocery shopping. It may come as a surprise, then, that Madrid's best slice of tortilla de patata (Spanish potato omelette) can be found in Mercado de la Paz, a traditional grocery market. Here you'll find Casa Dani, an unapologetically low-brow bar that flips and plates over 200 tortillas per day. The constant flow of customers ensures piping hot slices that are always runny and heavy-handed with caramelized onion. Adventurous eaters shouldn't miss the con callos variation smothered with stewed tripe.
PLAN YOUR TRIP: Visit Fodor's Guide to Madrid
La Coquette
La Coquette, Madrid's premier blues bar located near Puerta del Sol, offers a terrific—and free—nightly show from Tuesdays to Thursdays in an arcaded brick cellar. Although the venue's size might be likened to a sardine can, the upside is that every seat is front-row— it's always a thrill to watch the talented musicians jam out right in front of you. (Please note that while entry is free, there is a one-drink minimum.)
PLAN YOUR TRIP: Visit Fodor's Guide to Madrid