Vwalakte | Dreamstime.com
With its impressive roster of world-class museums, royal palaces, and scenic parks, taking in all Madrid has to offer can be daunting, especially if you plan to dabble in the city's other major claim to fame: sundown-to-sunup nightlife. Thankfully, though, most of Madrid's main attractions sit within walking distance from one another, so with a little determination—and the jolt from a café con leche or two—you can tackle them all in just a few days. Tapas bars, busy plazas, outdoor markets, and hidden hotspots—these are the 25 things you won't want to miss on your next trip to the sunny capital. —Benjamin Kemper
Dennis_dolkens | Dreamstime.com
Plaza Mayor
Steeped in almost five centuries of history and tradition, Madrid's most famous square—with its brick-red apartments, Flemish-style spires, and endless arcades—once played host to sporting events, bullfights, and even public executions. Although events on the Plaza Mayor are decidedly tamer today, it remains a lively hub of cultural activity, hosting the city's busiest Christmas market in December and luring hungry hordes to casual sandwich joints specializing in the city's signature bocadillo de calamares, an unfussy baguette overstuffed with rings of crisp, tender squid.
PLAN YOUR TRIP: Visit Fodor's Madrid Guide
Anibaltrejo | Dreamstime.com
Museo del Prado
The Museo del Prado, Spain's most prestigious museum, houses some of the world's most universally recognizable works of art from 12th- to 19th-century Europe. You could spend an entire afternoon here browsing through the palatial halls and lingering over masterpieces of the great Spanish painters Diego Velázquez, Francisco de Goya, and El Greco. But regardless of your schedule, be sure to spend some quality time with the Prado's most prized artwork, Las Meninas by Velázquez, a captivating painting that offers a rare, behind-the-scenes glimpse of royal family life in the Spanish Golden Age.
PLAN YOUR TRIP: Visit Fodor's Madrid Guide
Gregory108 | Dreamstime.com
Tapas
There's no more Spanish way to dine than the tapeo, a bar crawl that emphasizes food as much as drink. Originally the tapa was just a free hunk of bread or charcuterie used to tapar (cover) wine glasses to keep bugs away. Yet while there's still plenty of baguette and jamón to go around, today's tapas are far more sophisticated. (There are even tapas tours, for those looking for an immersive experience.) To witness some of the emerging talent on the Madrid food scene, wander down Calle Ponzano in the Chamberí neighborhood, a bar-lined street where the crowd is mostly local and the establishments, like the ultramodern Sala de Despiece and the newly opened Toque de Sal, treat ingredients like art. Those seeking a more classic experience will appreciate stalwart restaurants Casa Lucio and Casa Lucas on Cava Baja, the archetypal, if slightly touristy, tapas street in the heart of the historic center.
PLAN YOUR TRIP: Visit Fodor's Madrid Guide
Vwalakte | Dreamstime.com
Parque del Buen Retiro
El Retiro, as the park is known in Madrid, boasts trails, outdoor cafés, and French gardens—right in the city center. Though the park teems with runners and athletes of all types, you don't have to work up a sweat to enjoy its key landmarks. One of these is the Palacio de Cristal, a soaring greenhouse that serves as one of the country's best specimens of iron and glass architecture. After perusing whatever contemporary art exhibition happens to be on display, make your way to the estanque, the central lake and promenade, where you can rent a rowboat and admire the massive Monument of Alfonso XII, a colonnade surrounding an equestrian statue of the triumphant king. Exit onto the Plaza de la Independencia to see the Puerta de Alcalá, a neoclassical monument that once served as a guarded entryway into the medieval city.
PLAN YOUR TRIP: Visit Fodor's Madrid Guide
Render Emotion
Nightlife
Here's a shocking reality: Every weekend, as revelers around Europe tuck themselves into bed, the party in Madrid has barely begun. It's not uncommon to head out to the nightclub at 3 a.m. Proof of this insomniac tradition, Hemingway once wrote that in Madrid, "Nobody goes to bed until they have killed the night"—certainly the case for neighborhoods like Malasaña, Chueca, and Barrio de las Letras. To party like a Madrileño, start with a primera copa at one of the city's exciting new cocktail bars, Macera, whose drink list revolves around house-macerated spirits like cilantro-steeped gin and cherry-infused whisky. With a couple of mixologist Rubén's strong cocktails in your system, it's time to hit the discoteca. Like electronic music? Kapital and Barco are for you. Prefer a live show? Try La Coquette for blues or ThunderCat for rock 'n roll.
PLAN YOUR TRIP: Visit Fodor's Madrid Guide
Rob3rt82 | Dreamstime.com
Real Madrid
In Spanish, real means royal, and to the network of Real Madrid devotees around the world, the home football team is nothing short of that. Founded in 1902, the famously white-clad squad has won ten European Cups, two European Super Cups, and one FIFA Club World Cup (in 2014), making it one of the most successful teams in soccer history. Their home turf, the 85,454-capacity Santiago Bernabéu Stadium in northern Madrid, offers daily tours into the bowels of the facility, where the the trophy, press, and locker rooms can be found. No matter how much fun you end up having at Real Madrid headquarters, it's advisable to hold your tongue about it in Barcelona.
PLAN YOUR TRIP: Visit Fodor's Madrid Guide
Vwalakte | Dreamstime.com
Plaza de la Cibeles
The Plaza de Cibeles, where three of Madrid's most affluent neighborhoods (Centro, Retiro, and Salamanca) intersect, is both an epicenter of municipal grandeur and a crash-course in Spanish architecture. Two palaces, Buenavista and Linares (Baroque and Baroque Revival, respectively), sit on the northerly corners of the plaza, but these are dwarfed by the ornate Palacio de Cibeles, which houses both the town hall and a cultural center called CentroCentro. In the center of the plaza sits one of Madrid's most defining symbols, the Cybele Fountain, a depiction of the Roman goddess of the Earth driving a lion-drawn chariot.
PLAN YOUR TRIP: Visit Fodor's Madrid Guide
Lucavanzolini | Dreamstime.com
Palacio Real
When a large portion of the alcazar of Old Madrid burned down in 1734, King Philip V opted to demolish what was left and build himself a house. What would emerge, seventeen years later, was the largest palace in all of Western Europe, nearly double the size of Versailles with 2,800 rooms. On the palace tour, classical music buffs will swoon at the sight of the only surviving example of a Stradivarius quartet, part of the permanent art collection. Today, the royal family resides outside the city in Palacio de la Zarzuela, but the Palacio Real, along with its statue-lined Sabatini Gardens, remains the official venue for royal functions and celebrations. To witness one of these few remaining ceremonial flourishes, the Changing of the Guard occurs every Wednesday at 11 am (free admission).
PLAN YOUR TRIP: Visit Fodor's Madrid Guide
Icononiac | Dreamstime.com
Casa de Campo
Over five times the size of Central Park, the Casa de Campo is Madrid's largest park and a nature-lover's paradise, complete with bike trails, picnic tables, and pine forests. Beyond the colorful wildlife in the park itself— which includes hawks, foxes, and red squirrels— Casa de Campo is home to an aquarium and zoo complex, whose star tenants are two giant pandas. The park is bordered by Madrid Río, a new urban development project that's added 30 kilometers of green space and trails along the Manzanares River. Catch a free outdoor concert there this summer as part of the Veranos de la Villa series.
PLAN YOUR TRIP: Visit Fodor's Madrid Guide
Nito100 | Dreamstime.com
El Rastro flea market
Shopping at the Rastro open-air flea market in the La Latina neighborhood—with its 3,000 stalls brimming with collectible books, Che Guevara t-shirts, and everything in between—is not for the faint of heart. The jostling crowds, the brash peddlers, the unrelenting crows of ¡Un euro! ¡Dos euros!—this is not the most relaxing way to spend a Sunday morning. But as far as Madrid experiences go, El Rastro is about as traditional as it gets, since merchants and shoppers have been congregating here weekly since 1740. When you've had your fill of haggling, make a beeline to the Plaza de Cascorro for a mid-morning aperitivo of vermú and some tapas, a tradition that's as resilient as the Rastro itself.
PLAN YOUR TRIP: Visit Fodor's Madrid Guide
Parque del Oeste
Sure, Parque del Oeste is a perfectly charming park with a rose garden, fountains, and tree-shaded footpaths, but the main attraction here is the 2,200 year-old Templo de Debod. It's not every day that you can marvel at a fully reconstructed ancient Egyptian temple, but thanks to the Egyptian government, which bequeathed the edifice to the Spanish government in 1968 for its collaboration with UNESCO, it's free for the public to appreciate. Insider tip: Go at sunset and watch as the day's last light radiates off the time-worn stones.
PLAN YOUR TRIP: Visit Fodor's Madrid Guide
Churros at San Ginés
San Ginés is to Madrid what Café du Monde is to New Orleans. A national sensation, for generations this 19th-century café has been frying spirals of piping-hot churros and porras (churros' larger cousins—try them) day and night. You may see other patrons dunking their breakfast in café con leche or Cola Cao (Spanish chocolate milk); pay them no mind and spring instead for the age-old sidekick, a mug filled with melted dark chocolate thicker than oatmeal.
PLAN YOUR TRIP: Visit Fodor's Madrid Guide
Pedro2009 | Dreamstime.com
Museo Nacional de Reina Sofia
A towering three-dimensional brushstroke by Roy Lichtenstein greets you at the door to the Museo Nacional de Reina Sofía, Spain's preeminent modern art museum. Here, inside a fully renovated 18th-century hospital building, some of the finest modern artists in Spain—and the world—are represented. Works by Francis Bacon, Salvador Dalí, Mark Rothko, and Henry Moore are all part of the museum's permanent collection. But the main attraction at the Reina Sofía is Pablo Picasso's Guernica, the world-famous black-and-white painting that, by showing the pain and damage that war inflicted on the eponymous Basque town, helped to put the injustices of the Spanish Civil War in the global spotlight. The best way to experience the museum is to start on the rooftop terrace and meander down from the temporary exhibitions to the permanent collection.
PLAN YOUR TRIP: Visit Fodor's Madrid Guide
DuncanSharrocks | Dreamstime.com
Museo Thyssen-Bornemisza
Said to bridge the gap between the classical Prado and the modern Reina Sofía, the Thyssen's collection, on loan from a family of well-heeled art connoisseurs, is a mile wide and an inch deep, spanning seven centuries and countless artistic movements. Pieces by Rembrandt, Caravaggio, Manet, Renoir, Cézanne, Kandinsky, and Van Gogh are all under one roof at the Thyssen—and that's just skimming the surface. As you walk through the salmon-hued halls, be sure to pause at Van Gogh's Les Vessenots, Dalí's Dream Caused by the Flight of a Bee Around a Pomegranate a Second Before Awakening, and Domenico Ghirlandaio's Portrait of Giovanna Tornabuoni, three of the museum's many highlights.
PLAN YOUR TRIP: Visit Fodor's Madrid Guide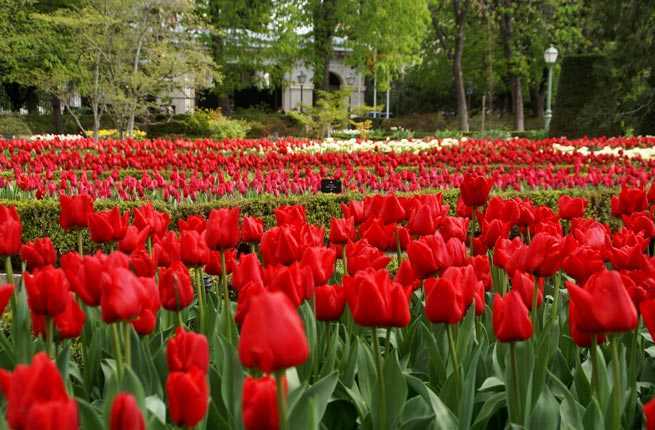 Real Jardin Botanico
You don't have to be a horticulturalist to appreciate the mesmerizing beauty of the exotic plant collection at the Real Jardín Botánico, or Royal Botanical Garden. Opened in 1781 and emblematic of the Age of Enlightenment, this lush Eden of bonsais, orchids, cacti, and more houses more than 5,000 species of living plants and trees in just 20 acres. Its dried specimens number over a million, and many were brought back from exploratory voyages to the New World.
PLAN YOUR TRIP: Visit Fodor's Madrid Guide
Kasto80 | Dreamstime.com
Markets
A curious new way to dine has emerged in Madrid in recent years with the arrival of several epicurean markets that combine grocery shopping and dining under one roof. Far and away the most acclaimed—and chicest—of these is Mercado San Miguel beside the Plaza Mayor, whose pristine stalls sit beneath an early 20th-century glass dome reinforced by elaborate ironwork. In warmer weather, take advantage of the Mercado de San Antón in Chueca and its rooftop terrace. If your creative juices are flowing, buy a few fresh ingredients on the ground level, and let the chefs on the top-floor restaurant cook them for you.
PLAN YOUR TRIP: Visit Fodor's Madrid Guide
Bodega La Ardosa
No food inspires more bickering in Spain than the tortilla de patatas. Should it be runny or cooked through? With or without onion? Variations on the potato-and-egg Spanish omelette abound. But if winning the gold medal in a national tortilla championship is any indication of prowess, trust Bodega La Ardosa. Creamy (but not runny) in the center and subtly sweet from slow-cooked onion, it's an optimal tapa, served in an optimal location: a 19th-century bodega whose walls are lined with vintage beer bottles and miscellaneous gewgaws accumulated over the years. Feeling adventurous? Spring for the ortiguillas, delicate, briny sea anemones delivered daily from the Andalusian coast.
PLAN YOUR TRIP: Visit Fodor's Madrid Guide
Carlos Delgado, via Wikimedia Commons, CC-BY-SA
Círculo de Bellas Artes
Walking the city streets, it can be easy to forget that Madrid is a short drive from one of the country's most significant mountain ranges, the Sierra de Guadarrama. Leave it to Círculo de Bellas Artes, a posh rooftop bar and restaurant with sweeping views of the snow-capped peaks, to remind you. See if you can spot some of Madrid's skyline standouts such as the Metropolis Building with its gilded dome, the Torres de Colón (affectionately known as "The Plug"), and the Telefónica building with its blue-lit clock. Don't get too comfortable, though—the bar is notorious for its inflated drink prices.
PLAN YOUR TRIP: Visit Fodor's Madrid Guide
Benkrut | Dreamstime.com
Flamenco Shows
You don't have to catch the southbound AVE to Andalusia to be transported to a traditional flamenco tablao. There are plenty of options here in Madrid. One of the most popular is the Café de Chinitas—known for its soul-warming cocido madrileño (Spanish-style pot-au-feu)—and Tablao Flamenco Cardamomo, a serious performance venue whose shows often sell out in advance. Both establishments feature effusive bailaoras, who majestically twist, clap, and stomp across the stage.
PLAN YOUR TRIP: Visit Fodor's Madrid Guide
Gkmf10 | Dreamstime.com
Cervecerías
The ubiquity of Spanish wine belies the fact that Spaniards drink more beer per capita than any other alcoholic beverage. There are hundreds of cervecerías, or beer bars, in Madrid, and all share one constant: the unrelenting chorus of voices demanding ¡Una caña!, Madrileño slang for a half-pint. Despite the city's beer-drinking tradition, however, until a few years ago most bars and restaurants served only Mahou, Madrid's drinkable yet insipid pilsner. Luckily Malasaña establishments like Fábrica Maravillas, a microbrewery, and La Tape, a beer bar with a full-time beer sommelier, are breaking the mold by serving seriously good beer in a range of styles.
PLAN YOUR TRIP: Visit Fodor's Madrid Guide
Icononiac | Dreamstime.com
Plaza de Oriente
One of the most stately corners of Madrid, the verdant Plaza de Oriente stretches between the Palacio Real and the Royal Theater. The square's biggest draw is a bronze statue of King Philip IV, located at its center, remarkable not only for its form but also for its technical handiwork. Charged with sculpting the first equestrian statue in the world to be balanced on its hind legs, artist Pietro Tacca called on Diego Velázquez for design expertise and Galileo Galilei for his knowledge of physics. Together, they accomplished their mission, and by 1640 the statue was complete.
PLAN YOUR TRIP: Visit Fodor's Madrid Guide
Baspentrubas | Dreamstime.com
Puerta del Sol
There's never a dull moment in Puerta del Sol, a bustling semicircular plaza where friends gather, buskers perform, and bar crawls begin. Its clocktower ushers Madrid into the New Year each December, as onlookers partake in the Spanish tradition of eating 12 grapes. It's no coincidence that Sol never sleeps—its underground train station, which links the intracity metro to the commuter rail, is the largest in the world. The constant foot traffic has helped keep Casa de Diego, Madrid's most coveted accessory shop, in business since 1858. Their hand-painted fans make excellent souvenirs, as do photos with the symbolic Bear and the Strawberry Tree statue, located on the eastern corner of the plaza.
PLAN YOUR TRIP: Visit Fodor's Madrid Guide
Courtesy of Botin
Botín
Many Madrileños aren't aware that their city is home to the world's oldest restaurant, Botín, according to Guinness World Records. Established in 1725, rumor has it that de Goya was a dishwasher here as a boy. Less debatable is that Botín has long been a favorite haunt of important public figures and writers: Ernest Hemingway sets the final scene of The Sun Also Rises in this very place. What keeps a restaurant in business for nearly 400 years? The food, of course, and at Botín, you can expect a flawless meal. The signature dish—a must, by all accounts—is whole suckling pig, stuffed with aromatics, doused with white wine, and crisped in a wood-burning oven.
PLAN YOUR TRIP: Visit Fodor's Madrid Guide
La Venencia
To get a sense of what pre–Civil War Spain was like, order a glass of sherry at La Venencia and look around. Here, in the early 1930s, republican activists—including a young Ernest Hemingway—met to smoke cigarettes and fulminate against General Franco's advances. Miraculously not much has changed almost a century later, including the chalked bar tabs, sherry-only drink menu, and no-tipping policy that pays homage to La Venencia's socialist roots.
PLAN YOUR TRIP: Visit Fodor's Madrid Guide
Vladteodor | Dreamstime.com
Shopping
There are treasures to be found in Madrid for every type of shopper. It's pleasant to stroll down Gran Vía, the city's central artery, ducking in and out of familiar brand-name stores. If boutiques are more your speed, scope out the up-and-coming Conde Duque neighborhood, where Duke and La Compañía Polar deck out Madrid's fashion elite in limited-release attire. But for something affordable and típico español, take home a pair of espadrilles, the rope-soled Spanish summer shoe available in a panoply of colors at Alpargatería Casa Hernanz.
PLAN YOUR TRIP: Visit Fodor's Madrid Guide