Courtesy of Basque Tourism
Madrid and Barcelona may wow the masses with world-class museums and iconic landmarks, but to tap into Spain's culinary nerve center, you must head north to the Basque Country, the green, hilly region that boasts the highest concentration of Michelin-starred restaurants in the world, not to mention some of Spain's most prestigious vineyards. Given the area's reputation, you might assume that the best Basque meals are exclusive events punctuated by luxurious amuse-bouches served on demitasse spoons. But as locals will tell you, Basque food isn't just for sybarites with deep pockets: From the laidback pintxos (Basque tapas) bars in San Sebastián, to the boisterous cider houses of Gipuzkoa, to the family-owned Txakoli vineyards on the Cantabrian coast, the Basque Country has something for every type of food lover. Here are our top picks for what you can't miss when visiting the region.
By Benjamin Kemper
Gregory108 | Dreamstime.com
The best way to explore cities like San Sebastián, Bilbao, or Vitoria is bite by bite on a pintxos bar crawl— or as the Basques call it, a txikiteo. A pintxo may be as simple as an anchovy draped over a slice of baguette (this is Txepetxa's star item) or a morsel of juicy filet mignon topped with a blistered green pepper (Gandarias' signature offering). But these one-bite wonders can also serve as a playground for the region's emerging young chefs, who use the pintxo as an edible canvas for culinary experiments. At Zeruko in San Sebastián, chef Joxean Calvo's decadent seared cod jowls (kokotxas), topped with foie gras and sherry gelée are a case in point.
PLAN YOUR TRIP: Visit Fodor's Basque Country Travel Guide
Leonardo2012 | Dreamstime.com
Every year between April and June, when anchovies are in their meaty prime, Basque fishermen haul them onto docks by the ton. While fresh, they're dredged and flash-fried, scooped into paper cones, and adorned with a lemon wedge, making for the ultimate beachside snack. But most anchovies are prepared differently; since antiquity, Basques have salt-cured the fillets, elevating the humble fish to umami perfection over the course of six to eight months, a process that curious cooks can investigate further in an anchovy-curing workshop. To savor this local specialty on a txikiteo, dare to try the mouth-puckering gilda, a top-heavy toothpick stacked with pickled peppers, olives, and anchovies that must always be taken in one bite, as dictated by local tradition and every bartender who serves them.
PLAN YOUR TRIP: Visit Fodor's Basque Country Travel Guide
Canovass | Dreamstime.com
Idiazabal is the Basque Country's answer to Manchego: Buttery, grassy, and milder than its southern counterpart, Idiazabal's base is the raw milk of a 7,000-year-old, long-haired heritage breed of sheep called the latxa. Aged for at least 60 days and often wood-smoked, the cheese takes on nutty, gamey aromas that play well with walnuts and young Riojas. Fromage fans shouldn't miss the cheese and wine tastings at the annual Idiazabal festival called Gazga Eguna, held on the first Sunday of May each year, in the small mountain village for which the cheese is named.
PLAN YOUR TRIP: Visit Fodor's Basque Country Travel Guide
Poliki | Dreamstime.com
A highly drinkable, slightly fizzy white wine that Basques quaff from squat chato glasses, Txakoli is the essential pintxo companion and also Spain's wine to watch: American imports are currently on a major upswing. Historically a rustic, simple wine produced in caseríos (Basque farmhouses) along the Bay of Biscay, today's Txakoli is elegant and terroir-driven, a testament to the skilled vintners who have streamlined and modernized it over the past two decades. But in true Basque fashion, today's winemakers continue to push the envelope, introducing enological techniques previously foreign to the appellation such as barrel-aging, malolactic fermentation, and the Champagne method. There's no better place to swirl a glass of Txakoli than at one of the coastal vineyards—Elkano and Berroja are particularly welcoming—whose owners often pamper guests with plump, salt-cured anchovies and crusty bread.
PLAN YOUR TRIP: Visit Fodor's Basque Country Travel Guide
Courtesy of Basque Tourism
Historically the noblest winemaking region of Spain, the rugged vineyards of Rioja stretch 75 miles along the banks of the Ebro River. One third of the Rioja D.O.C. (Denomination of Origin) sits in the Basque Country, in an inland region called Rioja Alavesa, comprising 50 square miles dotted with 276 bodegas. The most famous wines from here are red Tempranillo blends, which can age in oak barrels in cobwebbed cellars for up to 25 years before release. But wine is not Rioja's only attraction: Architecture buffs will marvel at the handiwork of Frank Gehry and Santiago Calatrava, whose vanguardist buildings at Marqués de Riscal and Bodegas Ysios, respectively, dazzle with their modernity while incorporating elements of the natural landscape.
PLAN YOUR TRIP: Visit Fodor's Basque Country Travel Guide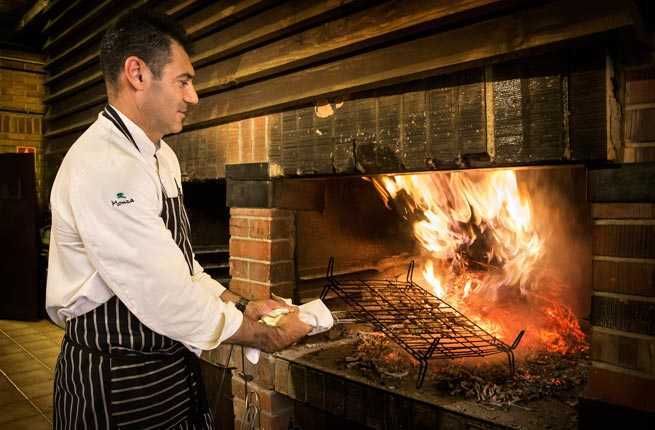 Courtesy of Eguren Ugarte
A trip to the Basque Country wouldn't be complete without savoring one of the region's simplest pleasures: a well-seasoned hunk of meat or fish grilled to perfection over an open flame. Asadores are restaurants that uphold this age-old tradition, and they range in style from the Michelin-starred Asador Etxebarri, where tiny eels called angulas are plated at for $500 per pound, to no-frills steakhouses like Casa Julián, whose gargantuan txuleton (ox steak) will leave you wondering if Tolosa is the unsung steak capital of Europe. Due north in the coastal town of Getaria, where restaurants lining the harbor grill seafood en plein air, the asador show-stopper is turbot, a large, sturdy, flat fish that waiters debone tableside (pro tip: the cheeks are the best part). But If you can't decide between surf and turf, have them both at Kate Zaharra, a quaint asador perched atop Mount Artxanda, overlooking the Bilbao skyline.
PLAN YOUR TRIP: Visit Fodor's Basque Country Travel Guide
Courtesy of Eguren Ugarte
San Sebastián and Bilbao may be the gourmet hubs of the Basque Country, but travelers will encounter equally intriguing culinary experiences in small towns, where you might be lucky enough to sample a funky cheese, share a glass of wine in a family cellar, or stumble upon one of the region's exclusive gastronomic societies. For access to these sorts of hyperlocal experiences—not to mention reservations at Michelin-starred restaurants that fill up months in advance—it helps to have a connection, preferably a guide who speaks Basque and knows the lay of the land. One such operator is Spanish Journeys, run by Teresa Parker, who creates personalized itineraries in tandem with Romotur, a popular Basque travel agency that's been in business for decades and knows all the right people in all the right places.
PLAN YOUR TRIP: Visit Fodor's Basque Country Travel Guide
José Luis López de Zubiria
Michelin-Starred Restaurants
With 28 Michelin stars, the Basque Country is a mecca of fine dining that's constantly evolving and innovating. It's here, in a remote farmhouse outside San Sebastián, that legendary chef Juan Mari Arzak first opened his namesake restaurant, setting the stage for a science-driven culinary revolution that would sweep haute cuisine kitchens from New York to Paris to Barcelona. But if Arzak and the other top spots (e.g., Mugaritz, Asador Etxebarri, Azurmendi) are booked solid, as is often the case, fret not: There are plenty of newcomers on the scene worth scoping out. Take Nerua in the Guggenheim Bilbao, for example, where young chef Josean Martínez Alija foregoes the postmodern, potentially synesthesia-inducing menus of some of his peers in favor of streamlined reinterpretations of the classics: His rendition of txipirones en su tinta (squid in ink sauce) may have Basque grandmothers rolling in their graves, but one bite of Martínez's candied calamari in black-olive broth indicate that the winds of change are blowing in the right direction.
PLAN YOUR TRIP: Visit Fodor's Basque Country Travel Guide
Some 500 years before the Basque Country rose to fame for its Michelin-starred alta cocina, Europe's cooks hailed this region for a different reason: the Basques were making bacalao (salt cod). Today we take shelf-stable food for granted, but in sixteenth-century Europe, a protein-packed product that could last years, provide sustenance through harsh winters and taste fantastic, to boot, was nothing short of revolutionary. Today, despite the availability of fresh cod, Basques still prefer the salty stuff and will pay top dollar for bacalao fillets, jowls, and tongues. Be sure to seek out the region's most famous preparation, al pil-pil, in which the cod's natural gelatin provides the thickening agent for a garlic-parsley sauce.
PLAN YOUR TRIP: Visit Fodor's Basque Country Travel Guide
For those seeking a change of pace, a bucolic getaway to one of the Basque Country's relaxing agroturismos will do the trick. These small hotels, B&Bs, and converted farmhouses are ideal outposts for nature lovers, hikers, and families (many properties feature kitchens and large living spaces). Most agroturismos will happily arrange food-focused excursions to neighboring vineyards, cheesemaking facilities, and more—a money-saving alternative to hiring a professional guide. Astei, whose original buildings date back to the fifteenth century, offers tours and workshops with marmalade makers and beekeepers.
PLAN YOUR TRIP: Visit Fodor's Basque Country Travel Guide
January marks the arrival of cider season in the province of Gipuzkoa, where it's been celebrated with a resounding "Txotx!"— that's "cheers"— since the seventh century. Four months of the year, sidrerías open their doors to thirsty Basques, who drink a mind-boggling nine million liters of the stuff annually. Such immoderate quantities of alcohol command hearty fare, and sidrerías—our favorite is Petritegi—deliver with a standardized menu that's been perfected over generations: runny slices of salt-cod omelette followed by charred beef rib chops, Idiazabal cheese, and to finish, walnuts with membrillo. The food is delectable and sticks to your ribs, but the highlight of any trip to a sidrería is the tart cider, sprayed into your glass from the spigot of a kupela, an enormous cider barrel.
PLAN YOUR TRIP: Visit Fodor's Basque Country Travel Guide
Courtesy of ni neu
Cooks eager to try their hand at old-school dishes, like besugo a la donostiarra (baked sea bream studded with garlic), marmitako (aromatic tuna and potato stew), and even Valencian-style paella, have a treasure trove of classes to choose from at the Basque Culinary Center in San Sebastián. But for younger gourmands, El Txoko del Gourmet down the road is just the ticket with excellent interactive classes for children up to eighteen years old. The classroom isn't the only venue for culinary education in San Sebastián, though: Get a behind-the-scenes look at one of the city's most renowned restaurants, ni neu, by booking a private group class with chef Mikel Gallo, who refills your glass of Txakoli while breaking down the steps to a Basque-inspired bonito tartare.
PLAN YOUR TRIP: Visit Fodor's Basque Country Travel Guide