Ljubljana Tourism
Those who have overlooked Ljubljana (pronounced loo-blee-ah-nuh) in favor of a more well-known European locale might want to take a second look at what the capital city and the country of Slovenia have to offer. Situated between the Alps and Adriatic, Slovenia bridges Europe's western mind and eastern heart, where stunning scenery, festive celebrations, and inspired cuisine are only the beginning. Here are 10 reasons why Ljubljana belongs on every Europhile's radar.
Tomas1111 | Dreamstime.com
Locals and tourists flock to Ljubljana's lively riverfront to eat, drink, listen to music, meet and hang out with friends, and to watch the city go by. At night, the riverfront is beautiful, and colorful lights adorn the bridges and buildings, reminding everyone that they are somewhere special.
The Ljubljanica River has been at the center of life in Ljubljana for centuries, and in the 20th century, Slovenian architect Jože Plečnik was the guiding force behind redesigning the city, featuring the river as the focus of his comprehensive urban plan. Plečnik's vision included bridges, squares, buildings, monuments, churches, and public spaces that remained true to the original character of the city. Today, where the Ljubljanica winds through the center of town, there is a bustling riverfront flanked by pedestrian-only streets lined with bars, restaurants, stores, and markets. Numerous bridges of historical and architectural significance span the river to connect these vibrant public spaces. The most famous, the Triple Bridge (Tromostovje) is three separate bridges built very close to one another. These bridges merge in front of Prešeren Square which is considered to be the center of the downtown and a popular gathering place. The Dragon Bridge (Zmajski Most) strikingly displays the motif of the dragon in the four impressively detailed dragon statues that guard the bridge. Dragons can be found throughout the city, some more obvious than others, including the one on Ljubljana's coat-of-arms.
Ljubljana Tourism
The city displays its convivial and creative spirit with a slew offestivals, concerts, events, and markets that pop up all over the city throughout the year, especially in the summer.
Open Kitchen (Odprta kuhna) takes place every Friday starting in mid-March until October, when the Central Market becomes a street food extravaganza that showcases local chefs in their element, creating delightful and fresh dishes from local and seasonal foods.
The weekend-long Slovenian Wine and Culinary Festival, which takes place in November, highlights the wine and food of Slovenia and is an opportunity to connect the producers with the consumers, so everybody can do their part to keep the wine flowing.
The Shrovetide Carnival is held in February on the Saturday before Shove Tuesday, which is the day of feasting and merriment before Lenten fasting begins. A parade of traditional Slovenian carnival personalities (and a dragon!) march through the city from Krekov trg Square to Presernov trg Square, where brass bands, dancing, and puppets entertain the crowds.
The Christmastime Festive Fair is a significant social affair in Ljubljana, when seemingly everyone spends their chilly winter evenings along the riverside, enjoying imaginative light displays, drinking hot mulled wine, and eating sausages. Gifts and confections are for sale in the many stalls that line the streets. In the Central Market, local specialties such as honey and schnapps or gift items like scarves and hats are for sale, while street performers and musicians create a merry and exciting atmosphere.
Ljubljana Tourism
Slovenians have a reputation for loving the outdoors. The country's varied landscape of mountains, beaches, forests, caves, gorges, and rivers ignites their passion for extreme sports and activities like hiking, rock climbing, skiing, canyoning, kayaking, caving, rafting, andsky diving.
Ljubljana Tourism
Slovenian cuisine reflects influences from surrounding countries, with flavors of Austria, Hungary, Italy, and the Balkans combining in delicious and unique dishes.
Slovenia's national dish is buckwheat dumplings served alongside stews, meat, sauerkraut, or sausages. Potatoes are the staple of many meals and are thought to bring good luck. Mulled wine in the winter keeps everybody warm and happy, and in the spring, salads made with dandelion and lamb's lettuces are refreshing and tasty. In the summer, Slovenia's gelato gives Italy a run for its money, and in the fall, flavorful pumpkin soup simmers on many stoves.
Slovenia's dining style differs slightly from the rest of Europe, with lunch being the main meal of the day. For many people, the traditional Sunday lunch is a leisurely five-course meal.
Slovenia produces high-quality wines similar to its more famous neighbors, adhering to vigilant quality control for world-class results. Craft beers and coffee are served strong and often.
The food scene in Ljubljana is dynamic, with new restaurants that reimagine and explore Slovenian cuisine opening all the time.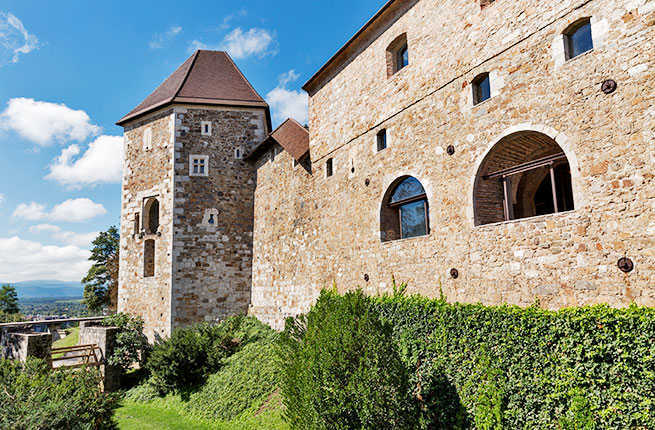 Panama00 | Dreamstime.com
No Shortage of European Charm
Thanks to the vision of Jože Plečnik and a history that is sunny compared to the rest of former Yugoslavia, Ljubljana offers all the charm and relics expected of a small town in Europe. Beautiful old buildings are well preserved and span multiple architectural styles such as Medieval, Baroque, Renaissance, and Art Nouveau. Outdoor cafes buzz with life while musicians play the soundtrack of the street. The Central Market sells an array of local fruits, vegetables, fish and more on every day except Sunday, when a flea and antique market steps in to fill the void.
The old town sits on the narrow eastern bank of the Ljubljana River, directly beneath Ljubljana Castle. Multiple bridges connect the old town to the modern commercial area to the west. The main streets to stroll are Mestni trg, Stari trg, and Gornji trg, where squares, statues, and fountains decorate the thoroughfares. Side streets tuck into the cityscape, ideal for exploring and stumbling on a cozy café or interesting shop.
The towering Ljubljana Castle stands atop the hill in the center of the city above the old town. There are two options to get to the top, either by walking on a winding path through the trees or by hopping on the funicular for a more relaxing ascent. Once at the castle, visitors can visit the café or find a lookout for views of the city and beyond.
Tivoli Park is a huge city park next to the city center where locals and visitors enjoy extensive walking paths, trails, a promenade, and a botanical garden.
Street art is everywhere is Ljubljana; a walking tour is an opportunity to see the best of the best and to hear a local's insight on how the art reflects the social, political, and cultural mood of Slovenia today.
Ljubljana Tourism
Getting In, Out, and Around Is a Breeze
For a European capital, Ljubljana is quite small, which is an advantage when trying to get in and around. Ljubljana is a very accessible 2-hour flight from London, and when tickets can be booked for as low as $30, visiting becomes even more appealing.
Once in Ljubljana, there are a lot of options for getting around. The airport is relatively small, so arriving visitors can hop on the cheap and convenient shuttle bus that operates between the city and the airport or grab a taxi. The flat landscape, dedicated lanes, and a bike-friendly mentality make the city ideal for cycling. In addition, part of the city center is pedestrian-only, keeping the streets moving at a more laid-back pace. Safe and affordable taxis are available if the need should arise, and renting a car to get out and see more of Slovenia is also an option.
Although Ljubljana is more expensive than the rest of Slovenia, the prices are still low compared to many other European destinations. The population of Slovenia is 2 million, and only 300,000 of those people live in Ljubljana. Visitors can enjoy far fewer crowds than the type often seen in neighboring Italy or Croatia. Brushing up on basic Slovenian phrases is a welcome gesture but not mandatory. Slovenians are well educated, and most young people speak very good English.
Ljubljana Tourism
Slovenia has acquired a unique identity in Europe due to a specific combination of cultural characteristics that can each be attributed to either the east or the west. Slovenia's cultural tilt toward the west is seen in the similarities they share with German and Austrian cultures in regard to efficiency and environmental concerns. However, Slovenia was a part of Yugoslavia for most of the 20th century, and their national identity and Slavic language were born of eastern roots.
Most Slovenes are middle class, educated urbanites, resulting in a progressive mind-set where attitudes are more tolerant. Ljubljana is home to the largest university in Slovenia, and the student population helps to maintain the youthful energy of the city.
Maljalen | Dreamstime.com
Shopping (Without the Need for Dropping)
Shopping in Ljubljana is decidedly lower key than in many other European capitals. Forget malls or commercial megaplexes—this is a more casual affair. Streets are dotted with shops and markets, and you never know where one might pop up along a small side street.
Some main shopping avenues in the city center can be a good place to start. Mestni trg and Stari trg are in the old town, and across the river are Wolfova Ulica, Trubarjeva, and Miklošičeva. Between Slovenska Cesta and the river, a number of shops are tucked away in the narrow streets.
Fashions from international and Slovenian designers are readily available along with a large selection of glass and crystal products. There are plenty of specialty food stores and markets: Kraševka sells Slovenian olive oil, pumpkin seed oil, honey, cheese, and a variety of homemade products; and the Central Market sells fruit, vegetables, meat, fish, spices, and Slovenian specialties Monday through Saturday.
In the summer, an art market selling original paintings, jewelry, and ceramics takes place every Saturday on the riverfront. On Sundays, the Central Market becomes an antique flea market where collectors sell interesting and historically valuable wares.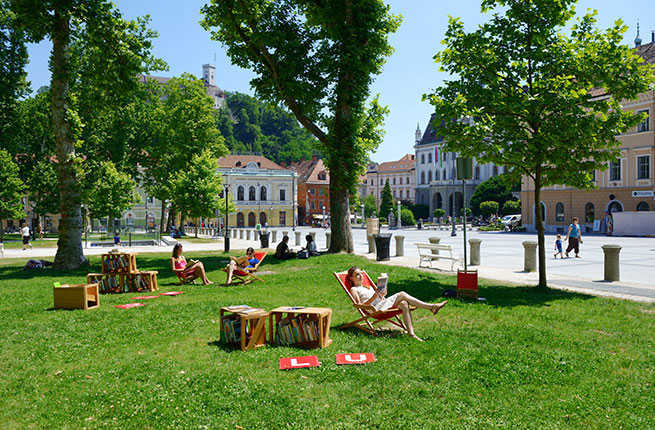 Ljubljana Tourism
Exceptionally Clean and Efficient
The buildings and streets in most European cities are covered in centuries of grime, but somehow Ljubljana manages to look fresh and clean. Voted European Green Capital of 2016, Ljubljana is home to an active community of people, businesses, and industries working together to promote social and environmental consciousness.
Within the last decade, Ljubljana has transformed its city center from a perpetual traffic jam into pedestrian-only streets where people, cyclists, and businesses have more room to flourish. Sidewalk cafes now occupy former parking spots, and buses no longer idle endlessly before crossing the river.
A Zero Waste Strategy is employed by the city, resulting in efficient waste management where 63 percent of waste is separated and processed according to material. Urban land that has been sitting unused is turned into green space, and the city claims that there are 542 square meters of public green space per resident. The city does not even treat its drinking water, which is hard to believe in today's world. The Ljubljanica River is sparkling clean, and it is rare to see trash floating in the water or piling up on the riverbanks.
Serrnovik | Dreamstime.com
Inspiration to See More Slovenia
Ljubljana's central location is a good jumping-off point to tour Slovenia, since most destinations are within 2 hours by car.
Renting a car allows the most freedom and access to natural attractions that would be difficult to reach otherwise. Driving around Slovenia is a pleasure, thanks to the well-maintained and well-marked roads. Slovenia's stunning landscape is varied and pristine. Only a 45-minute drive from Ljubljana and a popular stop on any Slovenian road trip, Lake Bled sits within an expanse of mountains, and in the center of the lake, a picturesque church sits on its own tiny island. Close to Lake Bled is Vintgar Gorge, where visitors can traverse a walkway to admire the erosive effects of the blue-green glacial water.
Slovenia's 39 miles of beach on the Adriatic between Italy and Croatia is worth the journey. From the Italian border into central Slovenia, geological wonders are prevalent, and the rivers, caves, and gorges entice active travelers. A tour of the Postojna Caves will highlight what an underground river can do to solid rock. Predjama Castle is an unbelievable feat of engineering: the castle is built into a vertical rock face that gives way to a maze of underground tunnels below.