Rarrarorro | Dreamstime.com
WHERE: Da Enzo
The most debated dish in Rome is not to be missed. Romans argue over its origins (some say it is the dish coal miners—the carbonari—would eat, and others attribute it to postwar occupation, when American soldiers would mix bacon and eggs with pasta), whether it should have Parmigiano Reggiano and Pecorino Romano cheese or just the latter, and whether pancetta or guanciale (pork cheek) is to be used. It's a dish that must be eaten in a trattoria—Da Enzo, a hole-in-the-wall family-run trattoria in Trastevere, serves one of the best. Theirs is creamy with the right saltiness, and chunky but super crispy pieces of guanciale.
PLAN YOUR TRIP: Visit Fodor's Rome Guide
Tinamou | Dreamstime.com
WHERE: Nonna Betta
Good luck getting through a meal in Rome without someone trying to offer you an artichoke. Best eaten in the fall and winter months, Romans eat artichokes fried, baked, roasted—you name it. One of the most popular dishes from the Roman-Jewish repertoire is carciofi alla Giudea (Jewish-style artichokes). They are double fried, crispy and salty, and look like flowers. Nonna Betta, located in Rome's ghetto area, is a longtime local favorite. Here they serve kosher versions of many of the Roman classics you'll find in trattorias, but their artichokes (and all fried treats) are standouts.
PLAN YOUR TRIP: Visit Fodor's Rome Guide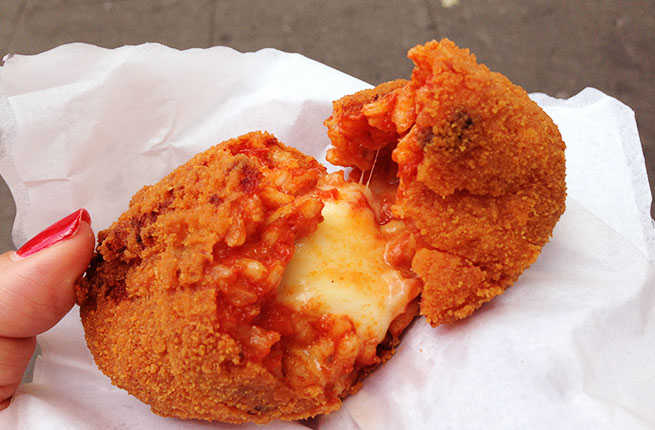 Maria Pasquale
WHERE: I Supplì
The supplì is Rome's favorite street snack. Call it an arancino (the Sicilian fried rice ball equivalent) to the Romans at your own risk! They are very proud of this crumbed and fried ball of risotto, usually with tomato ragù and a mozzarella center. Try one at the tiniest of take-out joints in the city: I Supplì (as the name might suggest) makes some of Rome's best. During the lunch rush, look for the crowd of people spilling onto the street and patiently wait your turn. For just a few euros, you might just stumble upon the tastiest and cheapest lunch of your life.
PLAN YOUR TRIP: Visit Fodor's Rome Guide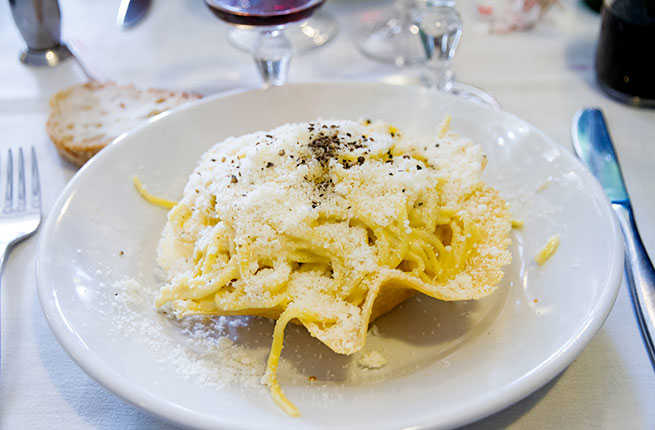 Morenovel | Dreamstime.com
WHERE: Flavio al Velavevodetto
Don't overlook the other Roman classic pasta, cacio e pepe. Pepe is pepper and cacio is Roman dialect for cheese, and yes, two-ingredient pasta might not sound all that exciting, but this is not to be missed. Creamy and rich, it's usually served with tonarrelli, a long, spaghetti-type egg pasta. The version at Flavio al Velavevodetto is outstanding and the setting—an ancient Roman dumpsite—is even more special. Cacio e pepe is on menus all over Rome, but eating it at a neighborhood trattoria like Flavio's is hard to beat.
PLAN YOUR TRIP: Visit Fodor's Rome Guide
Eating Europe Tours
WHERE: Cesare al Casaletto
True Roman cuisine has its origins in offal. Workers at the abattoir in the now gentrified neighborhood of Testaccio were historically paid in leftover animal parts (often referred to as the fifth quarter), and so generations of Roman women would make do with was brought home, from cow's stomach (tripe) to lungs, heart, and the rest. Trippa alla Romana (cooked Roman style) is made in a rich, tomato-based sauce; one of the best places to try is at this Roman hangout, where no doubt you'll feel like a local.
PLAN YOUR TRIP: Visit Fodor's Rome Guide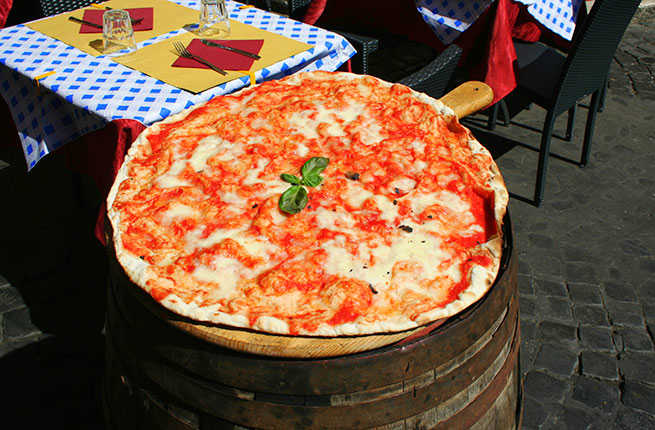 Ady68bt | Dreamstime.com
WHERE: Da Remo
Pizza Romana is different to the Neapolitan cut. Where pizza in Napoli is thick crust, Roman pizza is paper-thin, almost burnt looking. So don't send it back if it lands at the table with a charred crust. Neighborhoods like Testaccio, just a couple of miles from the center, are where some of Rome's best food can be found. Da Remo is a local favorite—like most classic Roman pizzerias, it isn't flashy and the service is hit or miss, but the pizza rarely disappoints! Start off like the Romans do with fritti—fried treats like supplì, mozzarella balls, and stuffed and fried zucchini flowers. The Margherita is always a sure bet here.
PLAN YOUR TRIP: Visit Fodor's Rome Guide
WHERE: Fatamorgana
Not all gelato in Rome is equal. Many places about town claim to stock real deal, gelato artigianale (homemade gelato), but what you're often eating is made from powdered mix. Not at Fatamorgana. Often touted as the gelateria that brought gourmet gelato to Rome, this place is something special. You'll find all your classic flavors here, but with quite a few adventurous mixes like gorgonzola and pear, chocolate with tobacco, basil with walnuts and honey, and even carrot cake. Just pick cup or cone and then a few scoops of their organic and gluten-free gelato and you're bound to smile from ear to ear.
PLAN YOUR TRIP: Visit Fodor's Rome Guide
Salmassara | Dreamstime.com
WHERE: La Taverna dei Fori Imperiali
The only tomato-based pasta dish of the Roman classic set is the amatriciana. With crispy guanciale (pork cheek), tomatoes, and Pecorino Romano cheese (sheep's milk cheese), it's rich and mouthwatering. Usually served either with rigatoni or bucatini pasta, a great central option for this dish is at La Taverna dei Fori Imperiali. Right in the heart of the Monti neighborhood, wedged between the Colosseum and the Roman and Imperial forums. At this bustling, family-run trattoria, amatriciana is served with bucatini and is sure to be a crowd favorite.
PLAN YOUR TRIP: Visit Fodor's Rome Guide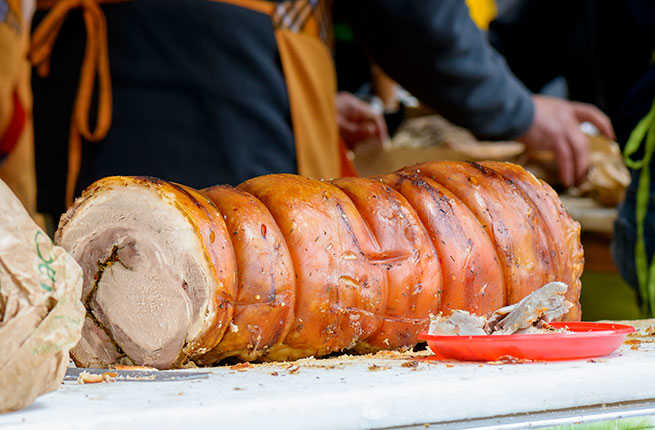 Stefanocarocci | Dreamstime.com
WHERE: Antica Norcineria
Porchetta is tender, juicy, rolled spiced pork with a crispy and salty crackling skin eaten hot, cold, sliced, in sandwiches, or even on its own. While the town in Rome's northern wine country, Arriccia, is known purely for its porchetta skills, you can get your hands on the good stuff in Rome too. Around Rome, at specialty delis and stores (and even in restaurants), you will come across signs that indicate "Porchetta d'Arriccia" is sold here. Piero at the Antica Norcineria di Trastevere is a neighborhood institution, and while he sells more than just porchetta at his delicatessen, it's what he's famous for. Pop in for a sandwich and thank us later!
PLAN YOUR TRIP: Visit Fodor's Rome Guide