Rcerruti | Dreamstime.com
Most wine tourists visiting Italy make a beeline for Tuscany—but there's so much more to Italian wine than just Chianti. In fact, Italy has hundreds of different wine regions, many of which fly completely under the radar and quietly produce fantastic wines you've never even heard of. Next time you're in Rome, Milan, Naples, or Venice, consider taking a quick trip to one of these beautiful, tourist-free wine regions. —Krisanne Fordham
Kcho | Dreamstime.com
Although Sicily is best known for its 600-mile coastline, in recent years tourists have begun to flock to the sun-drenched island for its burgeoning wine region. Though viticulture in Sicily dates back millennia, the island only began producing quality wines around 20 years ago, with a focus on indigenous grapes like Grillo, Zibbibo, and Frappato. At wineries like Planeta, Tasca d'Almerita, and Donnafugata (on Sicily's largest offshore island, Pantelleria), you'll find bright, citrusy, sun-kissed white wines that could give any sauvignon blanc a run for its money. Prefer rich, bold reds? Try the Nero d'Avola, Sicily's signature red wine, comparable to a syrah.
PLAN YOUR TRIP: Visit Fodor's Sicily Guide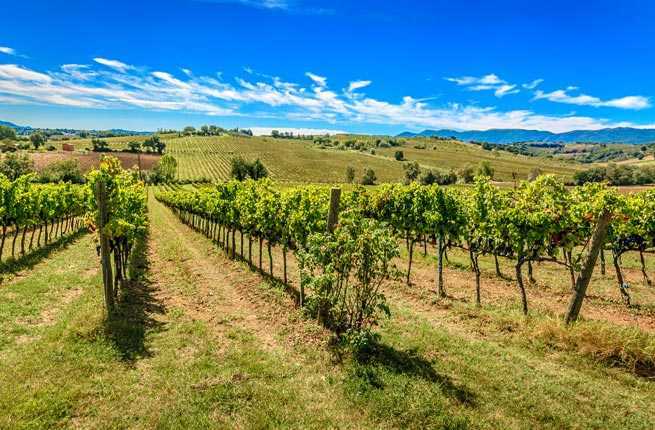 Robertoruggieri | Dreamstime.com
When it comes to big, elegant Italian reds, most people think of Brunellos and Barolos. But unbeknownst to many, some of the best reds come out of the little-known region of Montefalco, birthplace of the bold, tannic, and beautiful Sagrantino wine. Historically, Sagrantino was overshadowed by the more famous reds of neighboring Tuscany, receiving little to no attention outside of Italy. But thanks to a growing following in the United States (the wine is sold and served at Eataly and many Michelin-starred restaurants) it's slowly trickled into mainstream wine consciousness. Wine aside, the lush, leafy region—christened the "balcony of Umbria" for its hilltop perch—is a destination in and of itself.
PLAN YOUR TRIP: Visit Fodor's Northern Umbria Guide
Toldiu74 | Dreamstime.com
Located in northeastern Italy, the Veneto wine region is known mainly for Prosecco, Italy's most famous sparkling wine. But the region has more to offer than just bubbles: it's also home to Soave (a zesty, citrusy white wine made from Garganega and Trebbiano grapes) and Valpolicella (an easy-drinking red blend of Corvina, Rondinella, and Molinara grapes). If three delicious Italian wine varietals weren't enough of a draw, the region itself, nestled between Lake Garda and the Adriatic Sea, is as lovely as the wine it produces. Added bonus: it's just under two hours from Venice by car and boat.
PLAN YOUR TRIP: Visit Fodor's Veneto Guide
Rcerruti | Dreamstime.com
Move over, Champagne—just an hour east of Milan, you'll find some of the finest sparkling wine in the world. The award-winning Franciacorta, which designates both the geographical region and the wine itself, is produced using méthode champenoise, with the same grape varietals used in Champagne. But don't mistake it for Champagne: Franciacorta is distinctly Italian, a unique expression of its Lombardian terroir. Stop by the Ca' Del Bosco winery for some of the region's best sparklers (George Clooney, Eric Ripert, and Daniel Boulud are all fans) and gorgeous views over the lush, hilly region.
PLAN YOUR TRIP: Visit Fodor's Lombardy Guide
Pavel068 | Dreamstime.com
Nestled in the hills above the Adriatic coast just east of Rome, you'll find a wine region that turns out one of the best (and best value) red wines in all of Italy. The juicy, lively, medium-bodied Montepulciano d'Abruzzo—made from a grape of the same name—is one of Italy's most food-friendly red wines, pairing beautifully with everything from grilled steak to pizza. The region of Abruzzo itself is postcard-perfect—lush and mountainous, dotted with medieval villages and ancient hamlets. Insider tip: stay on the coast, in towns like Alba Adriatica or Montesilvano, to get the best of both worlds during your visit.
PLAN YOUR TRIP: Visit Fodor's Italy Guide
Zwawol | Dreamstime.com
Not to be confused with the previously mentioned Montepulciano d'Abruzzo, which is a wine produced in Abruzzo, the town of Montepulciano in Tuscany is another significant (and completely unrelated) wine-producing region. To make matters more confusing, the wine produced in Montepulciano is called Vino Nobile di Montepulciano, and is made from the Sangiovese grape, rather than the Montepulciano grape. It's worth making the distinction because this "noble red" is one of the best wines to come out of Tuscany: it's bold, lusciously smooth, and a fraction of the price of a Brunello (try Ruffino's exceptional Lodola Nuova). Sip, preferably while basking in Montepulciano's bucolic, sun-kissed landscape.
PLAN YOUR TRIP: Visit Fodor's Tuscany Guide
Lianem | Dreamstime.com
Bordered by the Italian Alps to the north, Slovenia to the east and the Adriatic Sea to the south, the beautiful Friuli-Venezia Giulia wine region is Italy's white wine heaven. Here, you'll find international varietals like sauvignon blanc, chardonnay and pinot grigio, as well as bright, herbaceous dry whites made from the region's indigenous grapes, Friulano and Malvasia. Thanks to its moderate ocean climate, wines from Friuli are very fresh, crisp, and have high acidity, particularly in the cool, hilly Collio region. Stop by Livio Felluga and Villa Russiz for some exceptional Friulano wine.
PLAN YOUR TRIP: Visit Fodor's Friuli-Venezia Giulia Guide
Inavanhateren | Dreamstime.com
Puglia might be best known for its olive oil—half of Italy's olive oil is produced here—but it may just be the most underrated wine region in the country. Located in the far southeastern corner of Italy's "boot," this thin peninsula is packed with vineyards and flanked by some of Italy's bluest waters. Here, you'll find delicious, great-value wines made from the little-known, indigenous Negroamaro grape (think reds that are soft, round and easily drinkable, in contrast to the power and tannins of a Brunello). Also keep an eye out for Primitivo wines—made from a grape of the same name—which are slightly richer and more fruit-forward.
PLAN YOUR TRIP: Visit Fodor's Puglia Guide
Antonioscarpi | Dreamstime.com
Trentino-Alto Adige is the northernmost wine region in Italy, and arguably one of the most striking, nestled in a Y-shaped glacial valley just south of the Austrian border with views of the Dolomites from every angle. Technically, it's made up of two regions: Alto Adige in the north and Trentino to the south. Trentino is best known for its light, easy-drinking Schiava and Marzemino red wines, while Alto Adige is renowned for making the country's finest pinot grigio. Don't leave the region without stopping by Cantine Ferrari, one of the oldest estates in the region and home to some spectacular sparkling wine.
PLAN YOUR TRIP: Visit Fodor's Dolomites Guide
Stefanocarocci | Dreamstime.com
Tourists in Rome looking for a quick wine country escape typically head for Tuscany—without realizing that the countryside surrounding Rome is home to some of the most drinkable wines in the country. Lazio, where Rome is located, is the birthplace of Rome's signature wine, Frascati: a delicate, citrusy white that pairs perfectly with light, zesty summer foods. Lazio also produces the lovely Cesanese, a round, medium-bodied red wine made from a grape of the same name (Damiano Ciolli's Cesanese Superiore—and gorgeous winery—is worth the day trip from Rome).
PLAN YOUR TRIP: Visit Fodor's Italy Guide