Rudi1976 | Dreamstime.com
From mountain peaks to pastoral meadows to lush river valleys, there's no better way to experience the beauty and variety of the German landscape than a drive along the Romantic Road. This 220-mile route starts at the foot of the towering Alps, winds north through the forests and hills of Bavarian countryside, and ends at the River Main in the historic city of Würzburg. Along the way, you'll pass perfectly preserved medieval villages, Gothic castles, quaint churches, and grand palaces—a living history lesson of German architecture and culture. Here are the eight stops not to miss on your journey.—Jennifer Ceaser
Xantana | Dreamstime.com
With its cobblestone streets, beautifully preserved timber houses, ancient ramparts, and medieval churches, Rothenburg can feel more like a movie set than a real town. (In fact, the village in Disney's Pinocchio was based on Rothenburg, and scenes from the first Harry Potter were filmed here.) Despite its preciousness, there is a lot of history to explore here, so much so that it's worth at least an overnight stay. Among the highlights is the Town Hall, dating from 1250 and featuring both Gothic and Renaissance architecture; its 200-foot-high tower offers splendid views of the city's red-roofed houses. The thick, medieval-era stone walls surrounding the city are intact; you can walk atop them, popping into many of the 42 gatehouses and towers that dot the fortification.
Insider Tip: Rothenburg's Christmas market is one of Germany's oldest and most famous. If you can't make it during the Advent season, you can get celebrate the Yuletide spirit year-round at Käthe Wohlfahrt, a three-story Christmas emporium just off the town's main square.
PLAN YOUR TRIP: Visit Fodor's Guide to the Romantic Road
Stadtarchiv Bopfingen
WHERE: Bopfingen
If castles and armor appeal to you, Baldern Castle, about 9 miles off the Romantic Road, is worth a stop. Built in the early 1700s high atop a forested hill, it houses a massive private collection ancient weapons and armor—more than 800 items, one of the largest in Germany—on view in the grand hall.
Insider tip: The castle is open seasonally, from mid-March to mid-October.
PLAN YOUR TRIP: Visit Fodor's Guide to the Romantic Road
Filmfoto | Dreamstime.com
WHERE: Wies
From the outside, you may wonder why this pretty, if rather unremarkable-looking church set in the tiny Bavarian hamlet of Wies attracts tourists by the busload. It's what's inside Wieskirche, aka the Pilgrimage Church of the Scourged Savior, that's the real draw: a wooden statue of Jesus that, it's claimed, has miraculous curative powers. Whether or not you're a believer, the building's rococo interior—with elaborate gilding and stuccowork, intricate carvings and ethereal ceiling frescoes—is quite impressive. The church was declared a UNESCO World Heritage Site in 1983.
Insider tip: Visiting the church during Mass is not allowed, so check the website for times of church services.
PLAN YOUR TRIP: Visit Fodor's Guide to the Romantic Road
Simone Sedlmair und Bernd Kittlinger
Remarkably, the river town of Landsberg am Lech looks much like it did 850 years ago, with more than 500 historic buildings surrounded by a fortress-like wall that dates back to the 15th century. A commanding Gothic gateway still stands sentry to the old city, which features a cobblestone main square (actually triangle-shaped) dominated by the Schmalzturm, a tower with a town clock and bell, and a fountain with a large Virgin Mary statue. Other notable buildings include the medieval Parish Church and the Town Hall, built in 1719 by the famed German architect Dominikus Zimmermann.
Insider tip: Once a month from May to October the former office of the mayor, located in the Schmalzturm, is open to the public.
PLAN YOUR TRIP: Visit Fodor's Guide to the Romantic Road
Rudi1976 | Dreamstime.com
WHERE: Hohenschwangau
With its fanciful spires and dramatic hilltop setting, Neuschwanstein is the very definition of a fairytale castle. No wonder then that it was the inspiration for Walt Disney's Sleeping Beauty castle, the centerpiece of his theme parks. Set at the foot of the German Alps in the village of Hohenschwangau, this royal palace, designed by Bavarian King Ludwig II, looks like a medieval fantasy yet it featured modern conveniences that were unheard of when construction began in 1869: central heating, flushable toilets, and warm running water. Ludwig mysteriously died in 1886 before the castle was completed; of the more than 200 planned rooms, only about 15 were finished.
Insider tip: Visiting Neuschwanstein's interior requires a guided tour and advance tickets; allow at least 20 minutes (by bus) or 40 minutes (walking up a steep hill) to reach the castle for your assigned tour time.
PLAN YOUR TRIP: Visit Fodor's Guide to the Romantic Road
Kinsjeroen | Dreamstime.com
WHERE: Würzburg (67 miles northwest of Nuremberg)
The end (or beginning) of the Romantic Road is Würzburg, home to one of Europe's most impressive Baroque palaces, the Würzburg Residence. Listed as a UNESCO World Heritage Site, this palace is noted for its awe-inspiring Staircase Hall, with a massive white marble staircase designed in 1752 by Balthasar Neumann and a ceiling fresco painted by Tiepolo. Other rooms feature intricate stucco work and frescoes by famed Venetian artist, important tapestries, and a stunning Mirror Cabinet: a room entirely covered from walls to ceiling with intricately painted mirrors. Much of the residence was destroyed during World War II and rebuilt—the history of its restoration is chronicled at the end of the tour. Leave time to explore the Court Garden, three large green spaces featuring conical yew trees, trellises, fountains, and flowers.
Insider Tip: All visits to the palace are by guided tour; check to make sure which ones will be given in English.
PLAN YOUR TRIP: Visit Fodor's Guide to the Romantic Road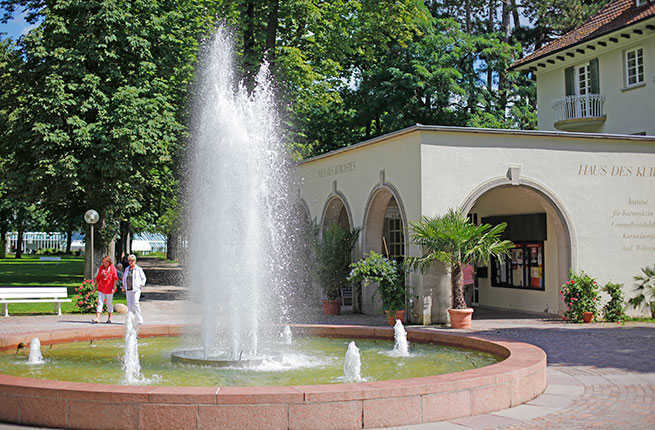 Stadt Bad Mergentheim
WHERE: Bad Mergentheim
Germans love a good spa town, and Bad Mergentheim has been known for its restorative mineral springs and baths since the early 1900s. You'll have to pay to use the baths—or drink its fresh-from-the-ground water—but anyone can wander through 42-acre landscaped park. There's an English garden, a Japanese garden, a rose garden, a sports area, and a (free) outdoor mineral spring pool to get your feet wet and your circulation going.
Insider Tip: From April to November, the fountains in front of the spa "dance" to classical music at regular intervals, while evenings also feature colored lighting effects.
PLAN YOUR TRIP: Visit Fodor's Guide to the Romantic Road