Roberta Valerio
The world's most beautiful city, Paris also possesses the world's most thrilling shopping, where famed international names mingle with small, made-in-France labels known only to Parisians and the privileged few. With exciting new boutiques opening all the time, it's a challenge to keep up. Here we offer a black-book selection of ten of the newest must-sees—offering everything from luxury bags to gourmet delights—so you can shop Paris like a pro.
By Jennifer Ladonne
Chez Paulie and me…Paris
The union between New Yorker Paul Chambel and Paris fashion veteran Lilia Chambel resulted in a beautiful two-year-old son and the exciting new concept store Paulie and me. A marriage of New York City cool and Parisian chic, the store is a handpicked treasure trove of young A-list designer clothes, bags, jewelry, shoes, accessories, and more.
Must-buy jewelry includes Clara Jasmine's lace-print cuff bracelets, rings, and necklaces in 24-carat-gold-plated copper; delicate chain necklaces and bracelets by Sweety Jane; and Marion Godart's sculptural, jewel-laden necklaces in brilliant colors. You'll also find lightweight leather totes, super-stylish shoes by the Brazilian label Cavage (unique to the shop), and huge limited-edition scarves in featherweight cashmere by Maison Passage. Don't miss the 50-percent-off corner!
PLAN YOUR TRIP: Visit Fodor's Paris Travel Guide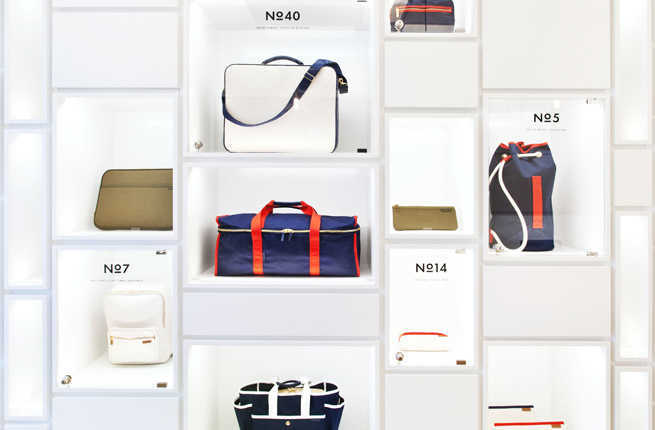 Roberta Valerio
The mission is to elevate the humble canvas bag to the status of a fashion essential. L/Uniform's gleaming new minimalist boutique, on the fashionable quai Malaquais, showcases the label's classic collection of chic, streamlined bags in durable cotton-linen canvas. Light, sturdy, and fortified with colorful piping and leather handles, the bags—which range from laptop carriers to ample travel sizes—make an excellent alternative to leather and can be personalized with monograms and limitless colors.
The sleek No. 11 carryall can work as a market tote or a chic handbag, and the No. 2 schoolbag, a style favored by Parisian kids, is as adorable as it is versatile. You can choose from a range of canvas, piping, and monogram colors for variations that make the bag, manufactured artisanally in the beautiful perched village of Carcassonne in southern France, entirely your own.
PLAN YOUR TRIP: Visit Fodor's Paris Travel Guide
Philippe HUGONNARD
Mesdemoiselles Madeleines
Though French to its tender core, the homey gateau immortalized by Proust has of late been upstaged by the flashy macaron. Thanks to Mesdemoiselles Madeleines, the buttery, shell-shaped sponge cake is making a comeback. Traditionally served nature or flecked with orange or a sprinkling of ground almonds, Mesdemoiselles Madeleines' sophisticated versions come in more than three-dozen flavors—sweet, savory, or crowned with a cream-filled dome.
The teatime pastry is exciting enough to star at any meal. Take Apolline, flavored with grapefruit zest and a Sicilian pistachio-cream-filled dome, or Maxime, a mix of Rhône Valley raspberries lightly perfumed with Moroccan rose. Savory versions come in basil, lemon, and feta cheese topped with pignoli nuts or red onion and crème fraîche with chives. The cakes come in several sizes and can be purchased individually or mixed and matched.
PLAN YOUR TRIP: Visit Fodor's Paris Travel Guide
Coutesy of Borgo delle Tovaglie
Set in a soaring loft space in the city's up-and-coming 11th arrondissement, on the edge of the upper Marais, the new home concept store Borgo delle Tovaglie reflects the neighborhood's stylish boho vibe. A fabulous array of essentials for the home awaits you, including sheets, pillows, tablecloths, curtains, and other classic items in Borgo's luscious Italian linen and dreamy seasonal colors: Caribbean blue, mint, stone, graphite, lavender, coral.
Both classic and contemporary, the store is an eclectic mix of old-world quality and up-to-date chic, with a collection of one-off lighting, unbreakable melamine dishes in yummy colors to harmonize with your table linens, and stylish printed throw pillows and rugs. The in-store café is a neighborhood favorite, the perfect spot for a plate of artisanal charcuterie and a glass of wine or an espresso and a homemade dessert.
PLAN YOUR TRIP: Visit Fodor's Paris Travel Guide
Courtesy of Le Bon Marché
Le Bon Marché – Le Soulier
Your reasons for rushing to Le Bon Marché have just multiplied with the unveiling of the famous left-bank department store's glamorous new Le Soulier shoe salon. The soaring new space, set under a nineteenth-century glass ceiling, highlights a list of crème-de-la-crème designers and plenty of new names to discover. Small salons dedicated to haute couture stars Chanel, Céline, Prada, Jimmy Choo, Valentino, Balenciaga, and Tods open out onto a floor space dressed with comfy modern sofas for maximum trying-on comfort.
The contemporary designer space offers the latest from Dries Van Noten, Lavin, Nicholas Kirkwood, Proenza Schouler, Chloé, and Givenchy, and the "creative spirit" section underscores edgy young designs from the likes of Markus Lupfer, Play Comme des Garçons, Golden Goose, Band of Outsiders, and Isabel Marant. It's one-stop shoe shopping excellence.
PLAN YOUR TRIP: Visit Fodor's Paris Travel Guide
Courtesy of Louboutin Cosmetics
Glamorous women can now match their talons to their soles—the famous fire engine-red immortalized by the designer's mile-high stilettos is the star of his new boutique beauté. Set in the historic nineteenth-century covered passage Vero Dodat, where Christian Louboutin got his start, the tiny boutique resembles a shrine to the hallowed "Rouge Louboutin" along with thirty other high-fashion shades of nail polish.
The lacquer comes in a faceted jewel-like bottle with a gleaming 8-inch cap, the exact height of his famously vertiginous shoes. At €45 a bottle, it's not cheap, but two layers of Louboutin's gloss is said to equal twenty coats of the regular stuff. Think of it as an investment. The men's and women's shoe boutiques are right next-door for easy mixing and matching.
PLAN YOUR TRIP: Visit Fodor's Paris Travel Guide
Courtesy of Verbreuil
Opened in January, Verbreuil's new jewel-box of a boutique, two steps from the Luxembourg Gardens, offers a gorgeous new take on the luxury handbag. Designed by a mother and her three daughters, the bags anticipate a chic Parisian's every desire, combining elegance, sophistication, and staying power in each of the six ultra-sleek silhouettes. The bags' timeless architecture has a vintage feel brought up to date with high-tech details meticulously engineered for the utmost beauty and functionality.
The Canoun, in crocodile with a buttery calfskin interior, has three pockets for day and a removable strap to seamlessly transform into an evening clutch. The streamlined Duo, Verbreuil's take on the tote, is ample enough for a small computer or tablet, yet refined enough to go anywhere, anytime. Handcrafted in France by skilled artisans, the bags are small marvels of design know-how, combining top-quality skins (crocodile, python, calf) with a pared-down aesthetic that's unmistakably luxe.
PLAN YOUR TRIP: Visit Fodor's Paris Travel Guide
Courtesy of Jérôme Dreyfuss
Jérôme Dreyfuss's spirited handbags have graced the arms of chic Parisians since 2002. Though the designer introduced his shoe collection in spring 2013, his first boutique dedicated to shoes just opened in April, at 1 rue Jacob on the city's storied left bank. In keeping with Dreyfuss's signature bohemian chic outlook, the shoes run the gamut from high-glamour pumps in pretty flower-print toile to jaunty red suede moccasins and studded black suede booties with towering stilettos.
The flat Wanda sandal's hippy-chic design is pure Dreyfuss: a braided-leather thong and cut-leather band that comes in five scrumptious colors, including orange, forest green, and pale pink. Sneakers in metallic python or tie-dyed lambskin are this season's standouts. Match them with a bag from his flagship boutique across the street at No. 4.
PLAN YOUR TRIP: Visit Fodor's Paris Travel Guide
Courtesy of Papier Tigre
For those who still relish putting pen to paper, Papier Tigre's sophisticated and colorful take on stationary, cards, notebooks, and all things paper will bring joy to your heart. The Paris papeterie combines a fresh aesthetic with plenty of whimsy in cards with messages like bisous (kisses), original revolving calendars that list each month's seasonal fruits and veggies in French and English, and a do-it-yourself family tree with apertures for four generations of photographs and slots for names and dates.
There's also dreamy scented candles and sachets for closets, drawers, and suitcases by Kerzon, pens and notebooks by Moleskine, embroidered jewelry by Macon & Lesquoy, framed artwork, bags, and even nail polish. Its central location near Les Halles, the Centre Pompidou, and the lively rue de Montmartre shopping mecca make it a convenient place to drop in
PLAN YOUR TRIP: Visit Fodor's Paris Travel Guide
Pierre Luc Baron Moreau
This fifth-generation glove-making family launched its first handbag collection in 2006 to resounding success. With the opening of a gorgeous new boutique in February, Perrin cinches its place as one of Paris's most exciting small handbag and accessories brands. A stone's throw from the Tuilerie Gardens, the opulent new boutique provides a fitting backdrop for a glamorous collection of ultra-contemporary clutches.
Fashioned in a variety of rainbow-hued leathers and fitted with bracelets or glove-like handles in leather or metal for better, well, clutching, the bags recall the company's glove-making origins while confidently expressing their own flair. Irresistible models in fox fur or stingray complement even the most elegant outfit. If clutch bags aren't your thing, check out the fabulous ball bag in sky-blue crocodile or the sleek Hobo Baggala in supple leather and a crocodile shoulder strap. There's also a line of chic sunglasses and a delicious selection of buttery, handmade gloves in calf, crocodile, or goatskin.
PLAN YOUR TRIP: Visit Fodor's Paris Travel Guide