Jazmine Thom
It's widely known as a foodie city, yet Melbourne—which made the 2015 Fodor's Go List—is home to incredible restaurants and chefs that lack international name recognition. Sure, culinary superstars like Nobu Matsuhisha, Heston Blumenthal, and prolific Sydney chef Neil Perry have planted stakes here, but what about the local talent? We've rounded up 10 restaurants where Melbourne–based chefs are doing wonderful things with the bounty of produce, livestock, and wines from from the state of Victoria and beyond. These tasty gems also epitomize the city's major food trends—breakfast and coffee, Asian and pan-Pacific fusion, sharing plates, and multi-course degustation menus—in a variety of neighborhoods, ranging from the City Center (CBD) and its famed laneways to hipster enclaves Fitzroy and Collingwood.
By Lawrence Ferber
Sarah Anderson
Located in Melbourne's Carlton district and taking its name from the Aesop fable about a country and town mouse (the latter being a bon vivant), this cozy, black-tiled bistro is one of those rare venues that can please both vegetarians and carnivores equally, with fair prices to boot. The Town Mouse's head chef Dave Verheul does mind-blowing things with seasonal produce, and the portions are substantial. Try the creamed corn sprinkled with tarragon and zingy dehydrated citrus, or the charred kale hiding a stash of falling-apart braised goat. Don't miss the drinks list, which includes regional and European wines, beers, and bespoke craft libations like wine infused with cinnamon, vanilla, strawberries, and orange. On warm days, request a seat in the courtyard. Incidentally, expansion is afoot: late summer 2015 will see the opening of a two-floor, 100-seat second location in the CBD on Russell Street.
Menu Must: House-made, crusty sourdough bread with brandade and lemon.
PLAN YOUR TRIP: Visit Fodor's Melbourne Travel Guide
Courtesy of Hammer & Tong 412
This Collingwood hot spot blazes with "brekkie" originality, fusion flavors, and technique. The daytime menu's offerings at Hammer & Tong 412, served through 3 pm, include a disc-like salt-and-pepper French toast topped with a sunny-side-up duck egg and, should you prefer it sweet, a side of salted caramel ice cream; breakfast ramen with a soft-boiled hen's egg and bacon; and raw beef salad with smoked egg yolk, yuzu-chili sorbet, and Vietnamese pho jus. The coffee is excellent, too, although cold-brew fans be warned that they treat the chilled liquid like rare whiskey, pouring barely a shot glass's worth before scuttling away with the decanter.
Menu Must: Soft shell crab burger or, for purists, eggs on hearty, chewy toast.
PLAN YOUR TRIP: Visit Fodor's Melbourne Travel Guide
Courtesy of MoVida
A Melbourne institution and sharing-plate trailblazer since its 2002 opening, this perpetually buzzing CBD Spanish tapas joint has truly launched a mini MoVida empire that includes a MoVida Next Door bar and Sydney and Melbourne airport outposts. Flavors run particularly intense in signature items like anchoa, a crispy, almost paper-thin crouton slab with an anchovy and olive-sized scoop of smoked tomato sorbet; the toasted brioche bocadillo packing rich duck-liver pâté; and, for vegetarians, setas asadas con jerez, sherry-vinegar-doused, oven-roasted Portobello mushrooms. Of course, an impressive lineup of Spanish wine, sherry, beer, and house-made sangria is available, along with reminders you're not actually in España, like craft pear cider and ale from Victoria producers.
Menu Must: Rich, decadent, and earthy cecina, a thin layer of prosciutto-like, air-dried Wagyu beef topped with a runny-yolked, poached organic egg and truffle foam.
PLAN YOUR TRIP: Visit Fodor's Melbourne Travel Guide
Courtesy of Industry Beans
In 2013, Fitzroy's Industry Beans coffee roasters transformed part of their open warehouse space into a gorgeous, indoor-outdoor café utilizing painted shipping pallets. The venue, which snagged a 2014 British Restaurant & Bar Design Award, serves up one of the city's best weekend brunches. (Yes, there may be a wait. Yes, it's worth it.) Chef Jess Allen relies on locally sourced produce and inventive flavor and technique combinations: a Shanklish cheese omelet with caramelized leeks, zatar, and pine nuts; rosewater-infused, compressed watermelon brick with passion fruit panna cotta, chia seeds, and rhubarb; and coffee-rubbed Wagyu beef burger with chili jam, cheddar, and pickles. Check the counter's pastry display while you're at it.
Menu Must: Coffee! The near fetishistic java menu is extensive in both its boutique bean selections, sourced from Rwanda, Ethiopia, and Panama in March, and methods of preparation, which even dip into molecular territory.
PLAN YOUR TRIP: Visit Fodor's Melbourne Travel Guide
Marco Maimone
Melbourne native and Cutler & Co. owner Andrew McConnell (named Citi Chef of the Year 2015 by The Age Good Food Guide) is one of the city's true chef superstars, with a handful of venues including City Center's pan-Asian Supernormal and St. Kilda's European-themed Luxembourg Bar & Bistro. McConnell's six-year-old Fitzroy favorite, housed within a former metal works factory that blends industrial and chic design elements like exposed-brick walls and mesh-encased overhead lights, offers superb, consistent, flavorful, and artful modern Australian cuisine in degustation (from $85 to $130) and a la carte selections. The supremely popular sharing plate Sunday lunch, at $75 per person, features a dedicated menu that changes every week.
Menu Must: Flounder with brown butter and pickled onion is divine, although any fresh catch will do. Be sure not to dash off hastily before the parting marshmallow du jour (Earl Grey during a March visit) is presented.
PLAN YOUR TRIP: Visit Fodor's Melbourne Travel Guide
Jazmine Thom
September 2014 saw this 161-year-old pub, situated in Melbourne University's Carlton district, acquired by new owners and revamped for the 21st century—at least food-wise. Although the minimalist décor, tiled exterior, and front-of-house bar with its metal stools and wood furnishings remain, The Lincoln's menu from incoming chef Lachlan Cameron, formerly of MoVida Aqui, is fresh, creative, and fit for sharing. The menu's divided into five categories: "7 oz" (snacks), "schooner" (starters), "pint" (main dishes), "pot" (sides), and desserts (well, dessert); a chef's selection of five or eight dishes—which might include sliced coffee-cured ocean trout with radish and nashi pear, a diced veal tartare with whipped cod roe and tobiko, or pork-and-apple sausages—can take neurotic decision-making out of the equation at $45 or $60 per person, respectively.
Menu Must: Fig with sheep's-milk yogurt, honey, and cured pork cheek.
PLAN YOUR TRIP: Visit Fodor's Melbourne Travel Guide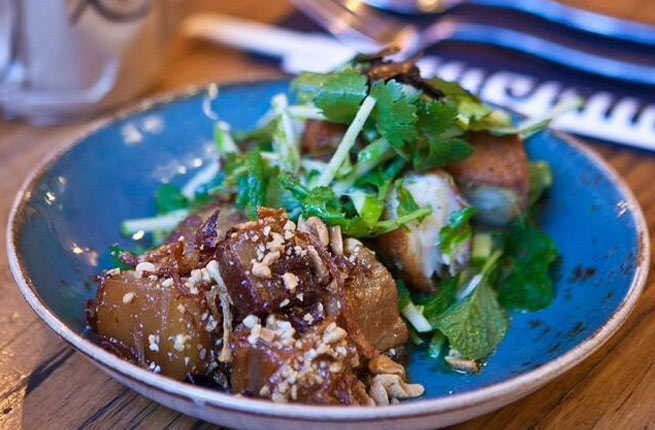 Courtesy of Chin Chin
Flinders Lane and its side streets swell with the City Center's hottest venues, and chef Benjamin Cooper's Southeast Asian fusion mecca is one of them. Lines have wrapped around Chin Chin daily since its opening in 2011, with visitors and locals hungry for the Southeast Asian–inspired fare from executive chef Benjamin Cooper (his kitchen credentials include Bangkok's revered nahm) and the see-and-be-seen buzz. The warehouse-y interior is decked out with pop art fluorishes, like a pink-neon-light rabbit, while over four dozen items fill the menu. Kingfish sashimi with lime juice, chili, coconut, and thread-thin kaffir lime leaf; Isaan staple green papaya salad; and caramelized sticky pork rank among the signature faves. Go nuts with a multi-course "Feed Me" prix fixe for $53 per person and don't overlook the tasty cocktails and wine list.
Menu Must: Fiery, turmeri-and-chili-laced Scud City curry with hay-braised pork shoulder for those who can handle apocalyptic, sweat-causing heat.
PLAN YOUR TRIP: Visit Fodor's Melbourne Travel Guide
EB Studio – Photography by Emily Jane Baker
Still way under the radar compared to trendy Chin Chin, Longrain, and Supernormal, this small Southeast Asian sharing-plate venue serves up vibrant, authentic flavors. At $42 for two people to split five menu items (or $22 per person for larger parties), RICE PAPR SCRS is one of Melbourne's best bargains to boot. The Malaysian flatbread is like a taco laced with rich, coconut-y Wagyu beef curry and cucumber, and pork and spice lovers will go cuckoo for muu kham waan, sliced barbecue pork neck slathered with garlic, coriander root, and black pepper.
Menu Must: Betel leaf piled with tiger prawn, banana blossom, and toasted-coconut salad (Rolled up, it makes for a perfect, aromatic mouthful or two.)
PLAN YOUR TRIP: Visit Fodor's Melbourne Travel Guide
Dominique Cherry
The lively, shop-lined High Street strip in Northcote, the otherwise sleepy Melbourne suburb, saw foodie excitement in early 2015 when this bistro-concept rebirth of four-year-old fine-dining favorite Estelle debuted. Gone are the pink wall tiles, replaced with mod-rustic brick, concrete, and recycled wood in both the front and rear courtyard dining rooms. Also gone are the pricey degustation-only menus, now supplemented by a la carte and more reasonable three- or five-course prix fixe ($54/$69). Estelle Bistro chef-owner Scott Picket, soon to be seen as a host and judge on Aussie reality show The Hot Plate, takes a European approach to his menu, which features a selection of tapas, charcuterie, meat from Victoria farms, and plenty of seafood. The drink list, meanwhile, offers wines from Victoria's Yarra Valley, Mornington Peninsula, and Beechworth. Late 2015 should see the fifty-seat, next-door sibling, ESP, which will offer occasion-worthy, high-end degustation.
Menu Must: Scotch olives, a delectable reinvention of classic Scottish eggs: a deep-fried, feta cheese-stuffed olive encased in spiced lamb sausage.
PLAN YOUR TRIP: Visit Fodor's Melbourne Travel Guide
Colin Page
One of Melbourne's most elegant, cutting-edge degustation experiences and hardest seats to snag (book months in advance) is tucked within a former bank in the Ripponlea suburb. At chef Ben Shewry's Attica, obscure native produce is foraged from the Aussie outback (they created an illustrated guide you can peruse) as well as Shewry's Bellarine Peninsula seaside home, while some herbs are plucked from Attica's own courtyard garden. Meats, sparingly used by comparison, include kangaroo, in addition to wallaby blood. A ruler-like slab of King George whiting fish comes wrapped in a charred paper bark pouch, swimming in liquefied house-churned butter, while the opening symphony of amuse-bouche may include a walnut shell filled with walnut puree, crisp green peas, and delicate wild cabbage flowers. A final sweet, meanwhile, appears to be a speckled Pukeko bird egg, a nod to Shewry's New Zealand homeland, but is actually a delicate chocolate shell housing salted caramel.
Menu Must: The creamy macadamia nut spread that comes with the bread will blow you away.
PLAN YOUR TRIP: Visit Fodor's Melbourne Travel Guide