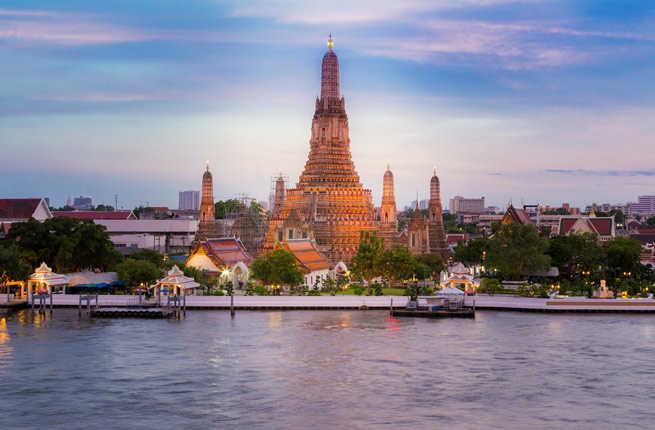 Pranodhm | Dreamstime.com
As the world's second-most visited city in 2014, Bangkok remains an irresistible draw. Sometimes overwhelming, it's a dizzying mix of high-end glamour and gritty street life, full of surprises at every turn. Whether this is your first trip or your fifth, our expert advice will help you keep a cool head and avoid common pitfalls while discovering the best of what this magnetic metropolis has to offer, from muay thai to sky bars to cooking classes. Read on for our top ten things not do in Bangkok, which will help you make the most of your time there.
By Róisín Cameron
Courtesy of Anantara Hotels, Resorts & Spas
Don't stay at a chain hotel
Thailand's capital has no shortage of desirable places to stay, but with so many homegrown properties opening, the scene right now is more about Asian-cool than big-box chains. Hot new hotels include the U Sukhumvit Bangkok, with a design scheme that references four regions of Thailand, and the boutique Sala Rattanakosin, a former shophouse renovated into a handsome, intimate retreat. The hotly anticipated Avani Bangkok Riverside, the second hometown property for this Bangkok-based brand, will open late 2015. But our top pick right now is the Anantara Siam Bangkok (previously the Four Seasons), which rebranded in March 2015 and does Thai luxury like nowhere else.
Insider Tip: Those suffering the effects of jetlag will appreciate the soothing Anantara Spa signature Siam 2482 treatment.
PLAN YOUR TRIP: Visit Fodor's Bangkok Travel Guide
Roisin Cameron
Don't just eat Thai food, but learn to cook it
Thai cuisine balances flavors, spices, and textures in such astoundingly delicious ways that every meal will have you itching to learn the secrets of this kitchen alchemy. Not only is Bangkok a foodie's dream, but it's also home to some of the country's most sought-after cooking schools. There are dozens to choose from, but Tam's half-day waterside class at the Amita, accessed by boat across the Chao Phraya River, is very special. Learn the fundamentals of classic dishes such as Pad Thai—it's all about the quality of the tamarind—and Som Tam Goong (spicy papaya salad with shrimp).
Insider Tip: Pick up a dirt-cheap papaya shredder at the Chatuchak Weekend Market before you leave. An essential piece of equipment in any Thai kitchen, it will make preparing papaya salad once you get home a cinch.
PLAN YOUR TRIP: Visit Fodor's Bangkok Travel Guide
Roisin Cameron
Don't miss the smaller sights.
It can seem as if everything in Bangkok is larger than life, and that certainly goes for its big attractions. The sprawling, 94.5-hectare complex of Wat Phra Kaew and the Grand Palace are together Bangkok's most visited sites and can be overrun with tour groups. Take a break from the heat and crowds at the complex to duck into the Museum of Textiles, which displays cultural ambassador and style icon Queen Sirikit's dresses, many designed by Balmain and others. Another silk-related, off-the-beaten path oasis is the secluded The Jim Thompson House, where tour guides do an excellent job of bringing Thompson's Southeast Asian art collection (and his own mysterious biography) to life.
Insider Tip: As with the Textiles Museum, the gift shop at The Jim Thompson House is a cut above the ordinary and an excellent place to pick up high-quality Thai silks.
PLAN YOUR TRIP: Visit Fodor's Bangkok Travel Guide
Pranodhm | Dreamstime.com
Don't visit Wat Arun, but admire it from afar.
The iconic Wat Arun (Temple of Dawn) is undergoing lengthy renovations, and while you can still visit, many areas are temporarily closed off, including access to the sparkling mosaics made from colorful, broken Chinese porcelain. The structure is still a sight to behold from the outside, however, and is especially striking at sunset. You can admire it from the water (ferries run every few minutes), but the most glorious evening views are across the river at the ultra-hip terrace bar and restaurant Sala Rattanakosin. Try the Kaeng Som Koong Cha-Om Kai (hot and sour curry), and you'll understand why the Bangkok Post named this spot as one of the top eateries of 2014.
PLAN YOUR TRIP: Visit Fodor's Bangkok Travel Guide
Courtesy of Tourism Authority of Thailand
Don't underestimate Songkran.
The New Year festival of Songkran, held over five days in April, is a unique time to immerse yourself in Thai culture. Bangkok is (relatively) empty, as hundreds of thousands of people return to the countryside to celebrate with family. Witnessing traditional almsgiving ceremonies and water sprinkling at sacred sites is a real privilege for visitors—attending Wat Po at this time is particularly humbling. On Day One, after seeing the temples, embrace the madness and head to Khao San Road with a SuperSoaker to join the full-scale water fight that takes over the streets. After the first day, however, being drenched (and we mean completely soaked to the bone) all the time begins to wear thin, and you'll need to plan your day around several changes of attire. We're not saying don't go outside—just pack a raincoat and a sense of humor.
PLAN YOUR TRIP: Visit Fodor's Bangkok Travel Guide
Courtesy of Tourism Authority of Thailand
Don't fear public transport.
A city of almost nine million people and five million cars, Bangkok's traffic jams can be legendary. While taxis are cheap, plentiful, and hard to miss (many are now painted bright pink), they may not always be the quickest way to get around. The Skytrain is a godsend for those staying in Sukhumvit and around Silom where most hotels, shopping malls, restaurants, and spas are located. Safe, fast, and frequent from 6 a.m. to midnight, the Skytrain is infinitely more navigable than Bangkok's confusing bus system, while still letting you travel across the city like a local. Platforms can be crowded, but passengers stand in orderly, designated lines as they wait to board—for visitors from New York, witnessing this wonder alone is worth the ticket price.
PLAN YOUR TRIP: Visit Fodor's Bangkok Travel Guide
Courtesy of Lebua Hotels and Resorts
Don't limit yourself to the street level.
Bangkok's street life is a sight in itself, with aromatic food stalls, competing hawkers, backfiring tuk-tuks, and overflowing life at every turn. But sometimes the city is best appreciated from above, with a cocktail in hand. And nowhere on earth has more rooftop bars than Bangkok. Arguably the grand dame of them all is the sixty-third-floor Sky Bar at the Lebua at State Tower, which featured prominently in The Hangover Part 2. Yes, the drinks are overpriced and the dress code is strict, but those vast 360-degree vistas only get more thrilling as the sun sinks slowly into the haze.
PLAN YOUR TRIP: Visit Fodor's Bangkok Travel Guide
Pius99 | Dreamstime.com
Don't leave without seeing an authentic muay thai match.
One of the world's most intense spectator sports, Thai boxing (muay thai) is also known as the sport of kings. More than 2,000 years old, it's still a national obsession in Thailand, and going to a midweek match is a quintessential Bangkok experience. Ratchadamnoen Stadium has bouts four nights a week, with tickets starting at about $30. Try to visit with a Thai friend who can explain the many rituals fighters engage in before each round, including the homage paid to the kru (trainer).
Insider Tip: After the match, grab a bite next door at Likhit Gai Yang (31/1 Ratchadamnoen Klang; +66-8-68849217). All constantly packed plastic tables and unfortunate strip lighting, this Isan-style chicken joint won high praise from Anthony Bourdain on his No Reservations tour.
PLAN YOUR TRIP: Visit Fodor's Bangkok Travel Guide
Courtesy of Tourism Authority of Thailand
Don't forget about the 'other' urban jungle.
While not the first city to come to mind for bike tours (it's no Amsterdam), Bangkok nevertheless offers some truly surprising two-wheeled adventures. SpiceRoads Cycle Tours run full- and half-day bike trips that link some of the city's biggest attractions, such as Chinatown, the Flower Market, and the Grand Palace. For something completely different, however, outdoor enthusiasts should take the half-day Bangkok Jungle tour (from $36), a gentle 15-mile ride through Bang Kra Jao, an extraordinary lush wilderness across the Chao Phraya River that has somehow escaped urban development. Much of the trail is on elevated canal paths through verdant foliage of every imaginable shade of green, a world away from the other urban jungle across the river. This is a side of Bangkok few visitors get to see.
PLAN YOUR TRIP: Visit Fodor's Bangkok Travel Guide
Roisin Cameron
Don't go sightseeing without covering up.
Those in Bangkok have a relaxed attitude to clothing (in some neighborhoods, a very relaxed attitude) but there are still rules to follow when visiting temples and other revered sites. Always take off your shoes when entering a temple and cover your arms to the elbow and your legs to the knee. Some holy sites, such as the iconic Wat Po (home to the Reclining Buddha), will provide cover-ups for inappropriately dressed visitors, but it's a good idea to carry a sarong if you leave the hotel with bare shoulders.
Insider Tip: If you have a tattoo of the Buddha in any form, you may want to keep it covered for the duration of your stay in Thailand, as it will cause grave offense.
PLAN YOUR TRIP: Visit Fodor's Bangkok Travel Guide