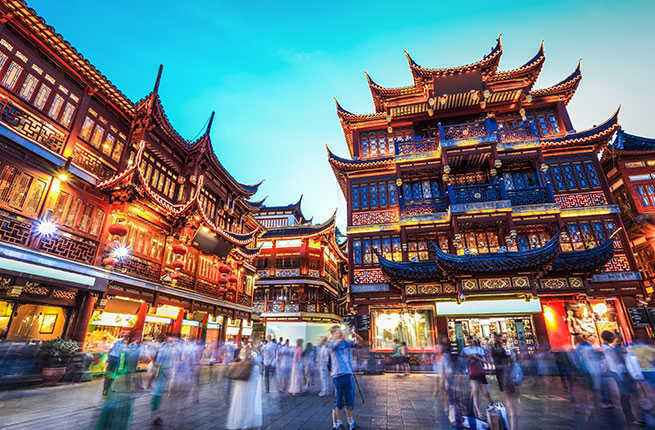 Shanghai has always been China's capital of all things cosmopolitan. At the turn of the 20th century, it was a thriving metropolis to rival Paris, with vibrant nightlife, couture houses, and posh private clubs. One hundred years later—following war, destruction, and redevelopment—it's once again at the top. Shanghai is a city of stunning contrasts, with regal heritage buildings and the world's second-tallest skyscraper. There's so much to see in this city of 23 million, so to help you make the most of your time in Shanghai, we've rounded up 25 of its best sites. Some are ancient, some are new, but all with leave you with a better understanding of one of Asia's most dynamic cities.—Sophie Friedman
ostill / Shutterstock.com
The Bund
The Bund is Shanghai's waterfront boulevard, lined in the heritage buildings that showcase the city's pre-1949 past and across the river from the Pudong skyscrapers of its future. Along the Bund, Shanghai's street life is in full force. It's bustling even at dawn, with locals ballroom dancing, exercising, and practicing tai chi and qi gong. Day and night, Chinese tourists, foreigners, and Shanghai locals walk the Bund, snapping photos of each other backed by the skyscrapers. At night, the towers are lit with flashing neon lights reflected in the Huangpu River.
PLAN YOUR TRIP: Visit Fodor's Shanghai Guide
BartlomiejMagierowski / Shutterstock
Longhua Temple
If you've read J.G. Ballard's Empire of the Sun or seen the Spielberg film adaptation, you'll recognize Longhua Temple. This is Shanghai's largest and most active temple, with five halls and two towers with a 5-ton, 2-meter-high copper bell, which is struck on New Year's Eve. The centerpiece is a 7-story, 8-sided pagoda, which is unfortunately not open to visitors. The temple was once surrounded by extensive gardens, but today these are part of neighboring Longhua Martyr's Cemetery, the execution site of many Communists, particularly during the Guomingdang crackdown in 1927.
PLAN YOUR TRIP: Visit Fodor's Shanghai Guide
ssguy/Shutterstock
Pudong Skyscrapers
Puxi, the west side of Shanghai, has the city's historic buildings, and Pudong, to the east, has its skyscrapers. These are concentrated in the Lujiazui neighborhood, just across from the Bund. Jin Mao Tower stands 88 floors high (8 is an auspicious number), a postmodern spin on a classic 13-tier Buddhist pagoda design. Zoom to the tower's 88th-floor observation deck in just 45 seconds and take in the 360-degree views, or skip the line and settle into a window seat at Grand Hyatt's 87th-floor Cloud 9 bar. Just across the street is Shanghai World Financial Center, often jokingly called "The Bottle Opener." It has three observation decks, the highest of which is on the 100th floor. The view from the top is thrilling—on a clear day, you'll feel as if you're floating above the city, and when it's overcast, it's as if you're adrift in the clouds. As with Jin Mao Tower, you can skip the crowds of the observation deck by going for tea or a drink at Park Hyatt's 87th-floor Living Room. Shanghai Tower—China's tallest building and world's second tallest—is not yet open to the public.
PLAN YOUR TRIP: Visit Fodor's Shanghai Guide
gubgib / Shutterstock
Tianzifang
A labyrinth of alleyways run between the red brick lanehouses of the former residential district that makes up Tianzifang. The narrow alleyways are packed with restaurants, cafés, galleries, and shops. You'll find everything from the ubiquitous Obamao T-shirts to leather journals and shoes, tea, and vintage photographs of Shanghai. Tianzifang has a much more traditional feel than Xintiandi, though like Xintiandi it is packed on weekends. You can enter Tianzifang from the front, on Taikang Lu, or on the back side at 155 Jianguo Zhong Lu.
PLAN YOUR TRIP: Visit Fodor's Shanghai Guide
Pixattitude | Dreamstime.com
Old City
A great neighborhood for exploring and getting lost, the Old City was once the central core of Shanghai, surrounded by a fortified wall built to keep out Japanese pirates. Today, just one 50-year section of the Old City Wall remains, and the area's old shikumen stone gate houses are disappearing rapidly. Here you'll find the highest concentration of narrow, winding laneways where laundry flaps from bamboo poles, locals drive scooters piled perilously high with cargo, and where not so long ago chamber pots were still in use. This is one slice of old Shanghai that will never be replicated, so see it before it's gone.
PLAN YOUR TRIP: Visit Fodor's Shanghai Guide
Huxinting Tea House
Standing on stilts in the middle of a pond just outside Yu Garden, Huxinting Tea House is the place to get away from the crowds in the Old City. The interior is a sea of dark wood and traditional-style carved furniture, but wraparound windows let light in and allow for great people-watching. Tea is expensive here—you're paying for the ambiance and location—and the staff may try to upsell you. Tea options are myriad, and include Chinese favorites like Oolong, jasmine, and longjing green tea from nearby Hangzhou. Tea orders come with a few snacks, including boiled quail's eggs, marinated tofu, and sweets, but Huxinting is best for taking tea, not dining.
PLAN YOUR TRIP: Visit Fodor's Shanghai Guide
Jun from Taiwan [CC BY 2.0], via Wikimedia Commons
Soong Qing-Ling's Former Residence
Soong Qing-ling was married to nationalist leader and Republic of China founder Sun Yat-sen, who was 27 years her senior. Sun Yat-sen died just 10 years later and Soong Qing-Ling soon switched allegiances, from Nationalism to Communism. (Her sister Mei-ling married Chiang Kai-shek, who was the head of the Nationalist government from 1927 to 1949.) Soong Qing-Ling's Former Residence was built in 1920 by a German ship owner; it was her primary residence from 1948 to 1963 and has been well preserved. All of the Soong children were well educated, and Soong Qing-Ling's study houses some 4,000 books. The bedroom is furnished with part of her dowry. Next to the house is a small museum with some sweet photos of Soong Qing-ling and Sun Yat-sen together, including photos from their 1915 wedding in Tokyo.
PLAN YOUR TRIP: Visit Fodor's Shanghai Guide
chungking / Shutterstock
Yu Garden
While the area around Yu Garden is commercialized and the garden itself not as impressive as the classical gardens of Suzhou, it's one of the few old sights left in Shanghai, and a valuable piece of the city's rapidly disappearing past. Commissioned in 1559 by Ming Dynasty official Pan Yunduan, the garden was built over nearly two decades by the renowned architect Zhang Nanyang. In the mid-1800s, it was here that the Society of Small Swords planned their uprising against the French colonists, who then destroyed the garden during the first Opium War. After you walk around carp-filled ponds and through the rock gardens and bamboo groves, visit the small museum dedicated to the Society of Small Swords rebellion.
PLAN YOUR TRIP: Visit Fodor's Shanghai Guide
People's Park
Adjacent to People's Square is the aptly named People's Park. In colonial days, this park was the northern half of the city's racetrack and the now-closed Shanghai Art Museum was the Shanghai Race Club. Today the 30 acres of flowerbeds, lotus ponds, and trees act as a backyard for the millions of Shanghai citizens living nearby. The park is home to the Museum of Contemporary Art and a few minutes' walk from Shanghai Museum and Shanghai Urban Planning Exhibition Center. Don't miss the marriage market, held in the park on weekends from noon to 5 pm. Desperately seeking spouses for their children, parents and grandparents of unmarried adults post flyers (in Chinese) advertising their child's height, weight, education, job, income, Chinese Zodiac sign, and more. People's Park is a good place to take a breather after traversing East Nanjing Road.
PLAN YOUR TRIP: Visit Fodor's Shanghai Guide
Piccaya | Dreamstime.com
Shanghai Expo Site
Shanghai went big when it hosted the World Expo in 2010, turning enormous swaths of pavement over to pavilions from 192 countries. But after it was over and most pavilions dismantled, the site became a barren wasteland. That changed in late 2012 with the opening of the Power Station of Art, a contemporary art museum housed in a former power plant. The museum has no permanent collection, instead hosting large-scale exhibitions, such as works from top Chinese artist Cai Guoqiang or a Warhol retrospective.
PLAN YOUR TRIP: Visit Fodor's Shanghai Guide
Jcamilobernal | Dreamstime.com
Peace Hotel
Right at the corner of the Bund and East Nanjing Road is the Peace Hotel. The former Cathay Hotel opened in 1929, built by landowner and opium trader Victor Sassoon. He lived in the penthouse, housed inside the hotel's copper roof, which has since turned green with age. It was the place to stay, see, and be seen in old Shanghai. Like so many buildings, it fell into disrepair following the Communist takeover in 1949, but was renovated in 2010 and reopened as the Fairmont Peace Hotel with its original jazz bar, tea lounge, restaurant, shopping arcade, and ballroom were restored to their former glory. Not to be missed is the small but impeccable gallery on the mezzanine level chronicling the hotel's history.
PLAN YOUR TRIP: Visit Fodor's Shanghai Guide
Mariagroth | Dreamstime.com
French Concession
In 1849, Shanghai ceded an area for French settlement to the French Consul. The French consulate built Western-style homes and imported London plane trees to shade the streets. Foreigners shopped, drank, and dined, and some got up to no good, visiting opium dens and brothels. As the concession expanded, British and American expats moved in, eventually followed by White Russians. Today, despite massive redevelopment throughout the city, the French Concession looks much as it did a century ago. Its streets today are comparably quiet and leafy, lined in cafés, boutiques, and restaurants.
PLAN YOUR TRIP: Visit Fodor's Shanghai Guide
Eastphoto | Dreamstime.com
Shanghai Museum
The adage "don't judge a book by its cover" surely applies to Shanghai Museum, whose exterior—designed to look like an ancient bronze cooking vessel called a ding—is not pleasing to the eye. Within the museum are more than 120,000 pieces spread across 11 galleries. You'll find paintings, bronzes, ceramics, sculptures, jade, calligraphy, Ming and Qing dynasty furniture, coins, and jewelry. The dress and costume gallery showcases intricate handiwork from some of China's 55 ethnic minority groups. English signage is quite good, and audio guides are available.
PLAN YOUR TRIP: Visit Fodor's Shanghai Guide
Dibrova | Dreamstime.com
Oriental Pearl Tower
When the Oriental Pearl Tower was built in 1994, much of Pudong was still farmland. The structure, which looks straight out of The Jetsons is particularly kitschy when night falls and its neon lights are turned on. Each of the tower's three spheres, which are meant to represent pearls, has its own observation deck, and a museum in the base recalls Shanghai's pre-1949 history. For a 360-degree bird's-eye view of the city go to the top deck, or sit for a drink in the tower's revolving restaurant, although the food should be given a pass.
PLAN YOUR TRIP: Visit Fodor's Shanghai Guide
Hupeng | Dreamstime.com
People's Square
The geographical center of Shanghai, People's Square is an enormous public square in which Shanghai denizens hang out all day, every day. Residents stroll, practice tai chi, and fly kites. Grandparents sit, drinking tea from thermoses and gossiping. Come evening, ballroom dancers hold group lessons. The subway station below people's square is the intersection of metro lines 1, 2, and 8, and is estimated to be the busiest metro station in China, handling some 700,000 people every day. People's Square is home to Shanghai Museum and the Shanghai Urban Planning Exhibition Center. For kids, there's a tiny amusement park with inexpensive rides. Weekends here are extremely busy, particularly on Xizang Road.
PLAN YOUR TRIP: Visit Fodor's Shanghai Guide
Urban Planning Exhibition Center
Gridlock notwithstanding, Shanghai's urban planning, particularly its expansive metro, is impressive. Within People's Square is the Shanghai Urban Planning Exhibition Hall, which looks at Shanghai's past, present, and future from an urban planning standpoint. The topic may sound a little dry, but the museum boasts some engaging exhibitions, including its star display on the third floor. The 6,500-square-foot model of Shanghai, the world's largest scale model, shows the city as urban planners expect it to look in 2020. The level of detail is thrilling; if you know Shanghai well, you'll even be able to pick out your hotel. Featured landmarks include Oriental Pearl Tower, Jin Mao Tower, and Shanghai World Financial Center, as well as the China pavilion at the former World Expo site, which is now the China Art Palace.
PLAN YOUR TRIP: Visit Fodor's Shanghai Guide
Liouyuyaho | Dreamstime.com
Duolun Lu Cultural Street
For a pleasant afternoon stroll, make your way to Hongkou district's Duolun Lu. Although heavily restored, the street's architecture and general ambience takes you back to the 1930s, when the 1-km (½-mile) lane was a favorite of writer Lu Xun and fellow activists. The ground floors of the street's villas and row houses have been turned into antiques shops, art galleries, and cafés. In stark contrast to these quaint businesses is the seven-story gray Shanghai Duolun Museum of Modern Art.
PLAN YOUR TRIP: Visit Fodor's Shanghai Guide
CHEN WS / Shutterstock
Jade Buddha Temple
At less than 100 years old, Jade Buddha Temple is new by Chinese standards. It was built in the style of the Song Dynasty, with symmetrical halls and courtyards, upturned eaves, and bright yellow walls. The temple survived the Cultural Revolution thanks to its smart monks, who pasted portraits of Mao Zedong on the exterior walls; the Red Guards were unable to destroy the walls without tearing down Mao's face. The biggest draw here is the 2-meter (6½-foot) seated Buddha made of white jade with a robe of precious gems, originally brought to Shanghai from Burma. If you come during a festival, be prepared for joyful chaos. There's a simple vegetarian restaurant here serving inexpensive noodles and tofu.
PLAN YOUR TRIP: Visit Fodor's Shanghai Guide
Fjord | Dreamstime.com
Shanghai Zoo
Shanghai doesn't have loads of sights that'll pique kids' interests, but a visit to the zoo should make everyone happy. The most popular animals here, of course, are the giant pandas, but you'll also see monkeys, South China tigers, Asian elephants, gorillas, and birds. There's little food available for purchase, so do as locals do and pack a picnic to eat here. Strollers are available for hire. Avoid visiting during local school holidays, when it's a madhouse.
PLAN YOUR TRIP: Visit Fodor's Shanghai Guide
Streetka2004 | Dreamstime.com
Xintiandi
Most Shanghai residents once lived in shikumen (stone gate houses), but now many have been razed to make way for high-rises. Eight acres of these shikumen—some original and some newly built imitations—have been turned into an upscale shopping-and-dining complex called Xintiandi, or "New Heaven on Earth." The restaurants and cafés here are busy day and night, especially when it's warm and outdoor seating allows prime people-watching. To better understand the area's history, visit the Shikumen Open House Museum, which is filled with artifacts and furniture collected from nearby houses that are now shops.
PLAN YOUR TRIP: Visit Fodor's Shanghai Guide
Presse750 | Dreamstime.com
Nanjing Lu
Shanghai's main shopping street, Nanjing Lu (lu means road) runs in two sections—East Nanjing Road, from the Bund to People's Square, and West Nanjing Road, from People's Square to Jing'an district. A walk along Nanjing Road in either direction is a walk through the city's history. East Nanjing Road is the Times Square of Shanghai, pedestrianized and lit by the blaze of neon signs. It has long been Shanghai's high street, and at the turn of the century had eight posh department stores and a slew of smaller shops. West Nanjing Road ran through the International Settlement and was called Bubbling Well Road. It was quiet and tree-lined, a popular place for expats to stroll and home to a few residences. It was home to Bubbling Well Cemetery, which is now Jing'an Park, and all that remains of its past is a row of imported London planes. Today, West Nanjing Road is a busy upscale street, lined in gleaming malls, shops, offices, and hotels.
PLAN YOUR TRIP: Visit Fodor's Shanghai Guide
Rodho | Dreamstime.com
St. Ignatius Cathedral
Step inside St. Ignasius Cathedral and the cacophony of Xujiahui's gridlocked roads falls away. It's hard to believe that a stone's throw from a cluster of malls, a chaotic metro station, and the honking of thousands of horns is this Neo-Gothic Roman Catholic cathedral, which opened in 1910. As with so many houses of worship, St. Ignatius Cathedral (as well as its staff) suffered during the Cultural Revolution—its beautiful stained-glass windows, ceiling, and spires were destroyed by the Red Guards, and the church spent 10 years as a State-owned grain warehouse. It wasn't until the 1980s that the cathedral was restored, and today it's the headquarters of the Roman Catholic Diocese of Shanghai.
PLAN YOUR TRIP: Visit Fodor's Shanghai Guide
Tempestz | Dreamstime.com
Huangpu Riverboat Tour
The Huangpu River divides Shanghai in two. The older west side, Puxi, is the city center. The newer east side, Pudong, starts off with Shanghai's trio of supertall skyscrapers—Jinmao Tower, Shanghai World Financial Center, and Shanghai Tower—and then gradually becomes more suburban. Huangpu River tours offer a gentle immersion in to Shanghai and are particularly pleasant at night, when buildings on both sides are lit up. Your best bet is the 40-minute cruise departing from the base of the Oriental Pearl Tower in Pudong. You can sit inside or out, and it's just long enough to take in the scenery and enjoy the breeze.
PLAN YOUR TRIP: Visit Fodor's Shanghai Guide
PierreSelim [CC BY 4.0], via Wikimedia Commons
Lu Xun Park
Named for Chinese writer Lu Xun, an important figure in modern Chinese literature, this leafy enclave houses Lu Xun's tomb and Lu Xun Memorial Hall, a small gallery dedicated to his life. When the park opened in 1910, it was a pleasure ground for foreign residents only. There was a golf course, a swimming pool, a bowling green, and tennis courts. In summer, a band performed concerts for residents of the foreign concessions. During the Japanese occupation of Shanghai, Hongkou was the main Japanese settlement, and the park, like so many areas, became inaccessible. It was toward the end of his life that Lu Xun moved to Shanghai, and although he was initially buried elsewhere, his remains were moved to the park in 1956.
PLAN YOUR TRIP: Visit Fodor's Shanghai Guide
Flavijus | Dreamstime.com
Suzhou Creek
Once the boundary between the British and American settlements, Suzhou Creek runs across Shanghai, flowing into the Huangpu River at the northern end of the Bund. Several historical buildings sit here, among them the Russian consulate, dating to 1917. Its design is a combination of German Renaissance and Baroque elements; with its bright red roof, it's a sharp contrast to the surrounding high-rises. Its neighbors are the 1858 Astor House Hotel, the first western hotel in China; Broadway Mansions, a 1934 Art Deco hotel; and the 1924 General Post Office Building, notable for its Corinthian columns and Baroque-style clocktower.
PLAN YOUR TRIP: Visit Fodor's Shanghai Guide