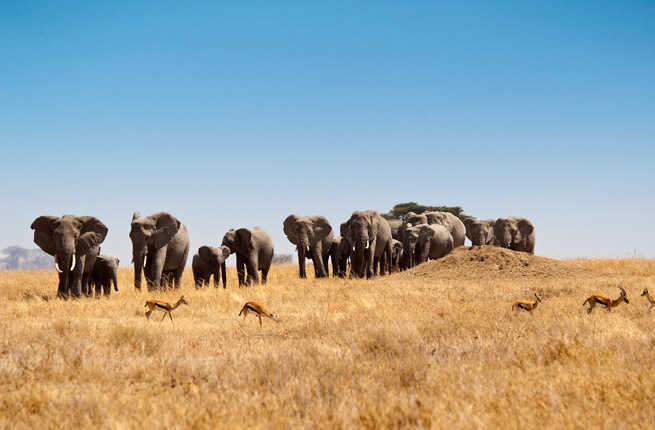 Jaymie Bachiu / G Adventures
If spotting a pride of lions on Africa's endless plains has been a lifelong dream, then Tanzania, one of the best wildlife-viewing spots in the world, is the destination for you. While a visit to the Serengeti during the annual Great Migration is an unforgettable experience, this East African country has so much more to offer beyond game drives: undeveloped beaches, the fascinating Maasai tribe, and the world's tallest freestanding mountain—Mount Kilimanjaro. If you're seeking the trip of a lifetime, here are our picks for unforgettable adventures in Tanzania.
By Kathleen Rellihan
Nicola Bailey Photography
WHERE: Mount Kilimanjaro National Park
While it borders Kenya, Mount Kilimanjaro falls completely in Tanzania, making it the country's biggest tourist draw. About 35,000 climbers from all over the world attempt to reach the top of Kilimanjaro, Africa's highest peak and the world's tallest freestanding mountain, every year. With five unique climates to hike through, including spectacular glaciers at the summit, climbing Kilimanjaro is a once-in-a-lifetime adventure for those seeking a challenge.
Tour to Take: If you're a woman, WHOA (Women High on Adventure) offers two ladies-only, seven-day treks, one on International Women's Day and one under the glow of a full moon (2015's will be extra special with a rare blue moon).
PLAN YOUR TRIP: Visit Fodor's Mount Kilimanjaro Guide
Jaymie Bachiu / G Adventures
Camp in the Serengeti During the Annual Migration
WHERE: Serengeti National Park
Serengeti comes from a word meaning "endless plains" in the traditional Maasai language, and with more than 12,000 square-feet of wilderness, its never-ending landscape is just as awe-inspiring as the numerous animals that call it home. The yearly crossing of giant herds—more than 1.5 million wildebeest and zebras—to greener pastures is one of the most spectacular wildlife wonders to witness.
Tour to Take: Get up-close and personal with the wildlife in tented camps on a G Adventures safari, made extra special with a hot-air balloon safari over the Serengeti at sunrise.
PLAN YOUR TRIP: Visit Fodor's Serengeti National Park Guide
Courtesy of CW Safaris
Sleep in a Tree House in Tarangire National Park
WHERE: Tarangire National Park
Outside of the Serengeti, Tarangire National Park holds the greatest concentration of wildlife. The landscape is full of ancient baobab trees that offer refuge for herds of elephants and the park's legendary tree-climbing lions and pythons. Bird enthusiasts will also be enthralled with more than 550 species that call the park home.
Tour to Take: Sleep in a luxury tree house, Tarangire Treetops, on a Country Walker tour. The rooms are built on trunks of baobab trees offering an elevated viewing of Lake Manyara's wildlife.
PLAN YOUR TRIP: Visit Fodor's Tarangire National Park Guide
Leo Tamburri / G Adventures
See Africa's Eden in Ngorongoro Crater
WHERE: Ngorongoro Conservation Area
While the famed Ngorongoro Crater, the world's largest unbroken caldera, is only about twelve miles across and 102 square-miles of open grassland, it's home to a high concentration of wildlife year-round—30,000 animals, including the densest population of lions the world, the rare black rhino, and flocks of pink flamingos. This is the one place in Africa where if lucky, you can spot the "Big 5"—a lion, a leopard, a rhino, an elephant, and a buffalo.
Tour to Take: Visit this animal kingdom on a G Adventures safari in a 4X4 jeep with local guides and a pop-off roof for prime viewing of the wandering wildlife.
PLAN YOUR TRIP: Visit Fodor's Ngorongoro Crater Guide
Courtesy of G Adventures
Visit a Traditional Maasai Village
WHERE: Mto wa Mbu village
A visit to Tanzania wouldn't be complete without meeting its traditional people—the Maasai tribe. Predominately known as a warrior tribe, the Maasai's lives are centered on herding cattle. Today, you'll often see a Maasai carrying a traditional herding spear in one hand and a cell phone (most often used for making cattle sales) in the other hand, symbolizing the struggle tribes go through in modern times.
Tour to Take: Visit a Maasai village on a G Adventure tour to see a Planeterra-supported sustainable Clean Cookstove Project that is improving the tribe's quality of life, especially for the women.
PLAN YOUR TRIP: Visit Fodor's Tanzania Travel Guide
Tjaart Yssel / G Adventures
Walk Through History in Stone Town
WHERE: Zanzibar City
Stone Town, the historic part of Zanzibar City and a UNESCO World Heritage Site, is a cultural fusion of Arab, Indian, African, and European influences, as evidenced in its architecture and cuisine. See how this island became a cultural melting pot with visits to historical sites like the House of Wonders, which houses a museum on Swahili culture, the Arab Fort, and the Old Anglican Church.
Tour to Take: Don't leave Zanzibar without taking a self-guided taste tour through the night market, where you can taste local specialties like Zanzibar pizza, stuffed bread filled with mince meat, egg, and lots of spices.
PLAN YOUR TRIP: Visit Fodor's Zanzibar Guide
Tour a Spice Plantation on Spice Island
WHERE: Zanzibar
There's no better way to learn why Zanzibar is referred to as "Spice Island" than a tour of a spice plantation. Dating back to the sixteenth century, Zanzibar was a hub for the spice trade. Today you can still see the importance that spices have in local life—from using cloves, nutmeg, cardamom, and pepper for flavor in native dishes to cures for ailments.
Tour to Take: Eco & Culture Tours offers guided tours through spice farms where you can see, feel, and, yes, taste the spices, herbs, and fruits that give this island its unique flavor.
PLAN YOUR TRIP: Visit Fodor's Zanzibar Guide
Genberg Art UW Ltd; Photo by Jesper Anhede
Sleep in an Underwater Hotel Room
WHERE: Pemba Island
Disconnect from civilization in your own private paradise on Pemba. A remote island off Tanzania, Pemba is part of the Zanzibar Archipelago, but it's not as developed, with its unspoiled powder-white beaches and lush green coastline. On the island's far north end, Manta Resort offers all-inclusive luxuries, while embracing traditional Swahili culture and offering close encounters with nature.
Tour to Take: Sleep surrounded by fish in Manta's one-of-a-kind underwater room, a private floating bungalow with 360-degree-glass views of life under the sea.
PLAN YOUR TRIP: Visit Fodor's Tanzania Travel Guide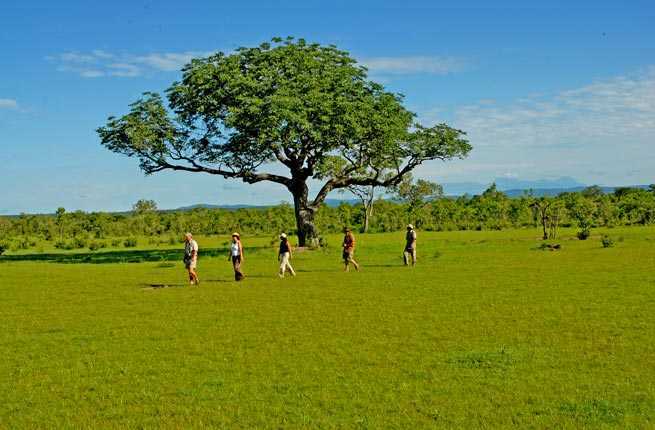 Courtesy of Azura Retreats
Take a Walking Safari in the Selous Game Reserve
WHERE: Selous Game Reserve
Everyone knows about "Big 5" game drives, but taking a walking safari to spot the "Little 5"—a rhinoceros beetle, a buffalo weaver, an elephant shrew, a leopard tortoise, and an ant lion—is an underrated and intimate game-viewing experience. Exploring the vast conservation area (22,000 square miles and four times the size of the Serengeti) of Selous Game Reserve by foot allows you to follow the tracks of these fascinating animals, while learning about the reserve's unique flora and fauna used for medicinal purposes.
Tour to Take: Get away from the crowded safari tracks with a stay at Azura Retreats' eco-stylish tented villas in the Selous Game Reserve that offer private walking safaris with trained local guides.
PLAN YOUR TRIP: Visit Fodor's Selous Game Reserve Guide
Karin Broussard / Kinasi Lodge
Scuba Dive Off Mafia Island
WHERE: Zanzibar Archipelago
While Zanzibar draws in tourists from all over the world, neighboring Mafia Island falls under the radar. It's the perfect spot for travelers looking for a quiet sanctuary on miles of unspoiled beaches. With some of the richest and most diverse reefs in the world—more than fifty genera of coral and 400 species of fish so far identified—Mafia Island Marine Park is a scuba diver's paradise.
Tour to Take: Overlooking Marine Park, Kinasi Lodge's Blue World tours offer all-inclusive, PADI-affiliated diving packages for experts and novices alike.
PLAN YOUR TRIP: Visit Fodor's Zanzibar Guide