© Lawrence Weslowski Jr | Dreamstime.com
Roughly one-third of the couples that get engaged every year do so during the holiday season, and now that it's a new year, they're actively planning their weddings. Many couples want to get married somewhere close to family or in the city where they met, but others want to exchange their vows in exciting locales around the world. Which will you pick for your special day?
Maciej Czekajewski/Shutterstock
It's tough to beat Mexico's diversity as a vacation destination. The country has an incredibly friendly relationship with the United States and while Spanish is Mexico's national language, many locals understand English and American dollars are happily accepted. A network of readily available flights take off from a wide variety of American cities for prime destination wedding locations like Acapulco, Cancun, Cozumel, Riviera Maya, Los Cabos, Mazatlan, and Puerto Vallarta. Mexico is gifted with more than 6,000 miles of gorgeous coastline with beaches on the Gulf of Mexico and Caribbean Sea in the east and the Pacific Ocean to the west. The food is fantastic, the people are friendly, and in addition to amazing beaches and jungles Mexico offers activities as diverse as exploring Mayan ruins or playing golf on a pro course.
Where to Marry: Palace Resorts teases guests with seven alluring, all-inclusive hotels on the Caribbean Sea—each of which host Palace Resorts Weddings. Options include four resorts in Cancun plus additional hotels in Playa del Carmen, Isla Mujeres, and Cozumel.
Perfect for Couples Who: Are looking for an economical yet beautiful destination for a beach wedding.
PLAN YOUR TRIP: Visit Fodor's Mexico Guide
Alexander Chaikin/Shutterstock
Locals are quick to point out that the Bahamas are not part of the Caribbean. Instead, the archipelago of approximately 2,000 islands is actually located close to the tip of Southern Florida in the Atlantic Ocean. There are a few main islands—like New Providence, Grand Bahama, Bimini, Abacos, Eleuthera, and Andros—as well as hundreds of "out islands" and tiny coral cays. The islands call to sailors, beach bums, snorkelers, and divers who prefer spending their time on the beach and in the water. Activities range from dolphin watching and shark encounters to deep-sea fishing and kayaking to kiteboarding and waverunning.
Where to Marry: One&Only Ocean Club on New Providence island was once a posh private estate, complete with a 12th-century Augustinian cloister and terraced gardens inspired by Versailles. It's no wonder now that couples seek out the resort for help planning a sophisticated beach wedding.
Perfect for Couples Who: Want an easily accessible and English-speaking destination for their guests.
PLAN YOUR TRIP: Visit Fodor's Bahamas Guide
Mark Skalny/Shutterstock
Looking for a wedding spot on one of the world's most exotic tropical islands? Consider Kauai, the Garden Island. It's the oldest, and one of the northernmost, islands in the Hawaiian chain. It's smaller than sister islands Oahu, Maui, and the Big Island, and fewer people call Kauai home so the island certainly imparts more of an "old Hawaii" feel. There are many other things to recommend Kauai in addition to the laid-back vibe and pristine beaches. The breathtaking Na Pali Coast, awe-inspiring waterfalls, and Waimea Canyon also contribute to make this an ideal destination wedding spot.
Where to Marry: The Grand Hyatt Kauai Resort and Spa on Keoneloa Bay offer a robust wedding program and the grounds really couldn't be more perfect for a ceremony and reception.
Perfect for Couples Who: Want an exotic tropical wedding destination without leaving the United States.
PLAN YOUR TRIP: Visit Fodor's Kauai Guide
© Crazy80frog | Dreamstime.com
Discovering the islands of the Caribbean will be a jumping-off point for figuring out which island you'd like to get married on. The place to start your research is at Fodor's Caribbean Travel Guide, where experts cover all the details on top destination-wedding-friendly islands like St. Martin, St. Lucia, Turks and Caicos, the U.S. Virgin Islands, and the Cayman Islands.
Where to Marry: With its prime location on Seven Mile Beach, Grand Cayman Marriott Beach Resort is no stranger to hosting weddings. This resort may be busier than others in the Caribbean but its central location means you and your guests can not only enjoy the resort but you can also walk to nearby shops, restaurants, and bars.
Perfect for Couples Who: Want the simplicity of a turnkey destination wedding at a well-known hotel chain.
PLAN YOUR TRIP: Visit Fodor's Caribbean Guide
© Lawrence Weslowski Jr | Dreamstime.com
Jamaica—with its miles upon miles of gold-sand beaches and mountains covered with lush foliage—may very well be the birthplace of the weddings-away-from-home trend. Couples have been coming here for decades to host intimate ceremonies as well as full-blown affairs with hundreds of guests. Wedding packages are available at just about every hotel with options for beach and garden events as well as ceremonies at lavish plantation-style mansions.
Where to Marry: Sandals is the granddaddy among destination wedding providers and offers its popular Weddingmoons program at all of its resorts on Jamaica and across the Caribbean. If you stay six nights or longer at the resort, Sandals' Beautiful Beginnings wedding package is complimentary.
Perfect for Couples Who: Don't have time to preside over all of their wedding details. Leave it to the wedding consultants at Sandals—they've planned thousands of weddings across all of their resorts.
PLAN YOUR TRIP: Visit Fodor's Jamaica Guide
© Goran Bogicevic | Dreamstime.com
Just whisper the word "Italy" and it conjures up romantic notions in most of us. From its historic cities to getaways like beautiful Lake Como and the beloved Isle of Capri, there are thousands of wonderfully unique places across the country to host a Mediterranean destination wedding. The city of Rome dazzles with ancient ruins like the Pantheon and Colosseum. Florence is home to the magnificent Uffizi Gallery with works of art by Michelangelo, Leonardo da Vinci, Botticelli, and Raffaello. And, Venice, what more can we say about gorgeous Venice with architectural achievements like St. Mark's Basilica and its charming web of narrow canals complete with singing gondoliers? It's one of Italy's most popular cities.
Where to Marry: Casanova is said to have spent time in the gardens of Venice's Hotel Cipriani, an Orient-Express property, so perhaps it's fitting that the hotel is now the choice for couples searching for attentive, five-star service when planning their wedding. Wedding coordinators can assist with church ceremonies and blessings aboard gondolas.
Perfect for Couples Who: Want to exchange vows in a romantic Mediterranean setting.
PLAN YOUR TRIP: Visit Fodor's Italy Guide
Konstantin Sutyagin
Starry-eyed couples have been going to Vegas to tie the knot since before Frank Sinatra's Rat Pack made it cool. Dozens of lovely chapels line the Strip, though neighboring casino complexes often dwarf them. Hotels got in the act early on, too, so couples have a huge array of options when it comes to marrying in Vegas. Elvis impersonators preside over some ceremonies while others take place in cars at drive-up chapel windows.
Where to Marry: There are a few reasons to pick Four Seasons Las Vegas for your wedding day. The recently renovated guest rooms offer unparalleled views of the Strip and you'll have complete access to nearby Mandalay Bay Resort & Casino. Ceremony and reception locations range from traditional ballrooms to the pool deck to the outdoor Fountain Terrace.
Perfect for Couples Who: Want the action of the Las Vegas Strip paired with a chapel-style wedding ceremony.
PLAN YOUR TRIP: Visit Fodor's Las Vegas Guide
planet5D LLC/Shutterstock
The state of Florida covers a pretty large geographical range so it may be tough to decide on one particular place for your wedding. Many couples like Amelia Island and St. Augustine near Jacksonville on the state's northeast coast. Others head to Florida's Keys and many more end up in Central Florida: home to Walt Disney World, Universal Studios, and other entertainment complexes.
Where to Marry: Disney's Fairy Tale Weddings has been helping couples tie the knot at the Walt Disney World Resort for more than 20 years. Events can have as much Disney magic as the couple wishes. Consider a ride to the chapel in Cinderella's Glass Coach, a character meet-and-greet during the reception, and Mickey Mouse-themed wedding cake. However, wedding coordinators are equally adept at pulling off ultra-luxe events with nary a hint of the mouse.
Perfect for Couples Who: Are incorporating children from previous marriages into their wedding day. Disney's Fairy Tale Weddings creates spectacular ceremonies and receptions and they know how to make all family members feel as if they are Mickey's honored guests.
PLAN YOUR TRIP: Visit Fodor's Florida Guide
Michael G Smith/Shutterstock
Do you want to make the acquaintance of a howler monkey while hiking through a rain forest with your wedding guests? Maybe you'd prefer to spend the day with your friends and family on a soft, white-sand beach instead? Costa Rica offers an array of land and sea activities that can make any destination wedding special.
Where to Marry: Four Seasons Costa Rica at Peninsula Papagayo, currently celebrating its tenth anniversary on the north Pacific Coast of Costa Rica, is a popular hotel that caters to both eco-adventures and romance travel. Wedding planners can show you romantic ceremony sites from the beach, lawn, and golf course to the indoor/outdoor El Armadillo space that looks—not surprisingly—like the shell of an armadillo. After your big day, plan special moments for two with in-room breakfast in bed or side-by-side spa treatments in the resort's couple's room.
Perfect for Couples Who: Want to incorporate an eco-retreat into their wedding day and honeymoon.
PLAN YOUR TRIP: Visit Fodor's Costa Rica North Pacific Coast Guide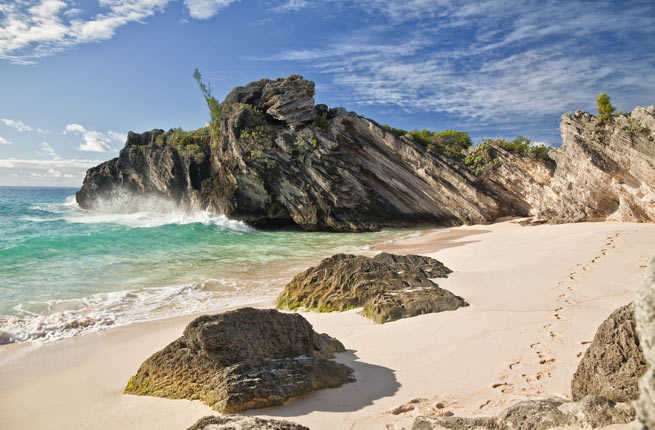 V. J. Matthew/Shutterstock
What's nice about Bermuda—located in the Atlantic Ocean 650 miles east of the United States—is its British roots. You'll find quaint old English pubs in the cities of Hamilton and St. George's and pretty little cottages that dot the island. You'll also find fabled pink-sand beaches, turquoise seas, impressive cliffs, mysterious limestone caves, and lush golf courses that tempt even the pros.
Where to Marry: The Reefs Resort & Club in Southampton offers wedding packages that offer a beach backdrop for your ceremony and reception. The meticulously landscaped grounds offer numerous opportunities for perfect wedding photos. Don't miss the quintessential shot of the bride and groom kissing beneath a moon gate. These circular-shaped architectural elements were introduced into the gardens of Bermuda in the late 19th century. The locals encourage all newlyweds to step through a moon gate. It's said to bring the couple good luck.
Perfect for Couples Who: Want a refined seaside wedding—either on the beach or nearby on dramatic cliffs above the ocean.
PLAN YOUR TRIP: Visit Fodor's Bermuda Guide