BlueOrange Studio/Shutterstock
An updated version of this story is now available for 2015. Please read World's Best Honeymoon Destinations for 2015.
Google's annual Zeitgeist report—consisting of 1,000-plus Top 10 lists of popular and trending searches from 72 countries—revealed 10 up-and-coming destinations for honeymoons that we agreed was right on the money. Will you visit one of them in 2014 after your big day? Warm, sun-kissed beaches are the common trait of every spot on the list. From the Caribbean and Mexico to Europe's Dalmatian Coast and Southeast Asia, these are the top honeymoon-worthy places of the year.
By Andrea Rotondo
Katarina Hoglova/Shutterstock
Land of the Long White Cloud, New Zealand tops Google's list of trending honeymoon destinations and with good reason. If you and your honey enjoy active adventures in a natural setting, you'd be hard-pressed to find a more diverse destination. There are gorgeous beaches for swimming and sunbathing, freshwater lakes for fishing, fast-moving rivers for rafting, breathtaking fjords to explore, and mountains to climb. There's even a region of active volcanoes. New Zealand is also the only place on earth where you can see flightless birds like the kakapo and kiwi. The country—made up of North and South islands as well as a few smaller outer islands—may not be as populated as nearby Australia but it's well developed and easy to get around by car. It's a long haul to get there though: Air New Zealand flies direct from Los Angeles to Auckland. It's a 13-hour trip.
Where to Stay: Located on 17 acres in Taupo in the central region of North Island Huka Lodge is the place to head for an outdoorsy yet decidedly upscale honeymoon. The compound, bordered by the Waikato River and Wairakei Park Reserve, offers opportunities for hiking, fishing, golfing, and day tours to White Island, Mt. Tarawere, Waitomo Caves, and other interesting spots. Within this natural setting you'll also find luxury hotel standards like a swimming pool, hot tubs, and tennis court. The lodge is intimate with just 18 junior suites, the four-bedroom Owner's Cottage, and the two-bedroom Alan Pye Cottage.
Perfect for Couples Who: Enjoy active, outdoor adventures paired with a refined, luxury resort.
PLAN YOUR TRIP: Visit Fodor's New Zealand Guide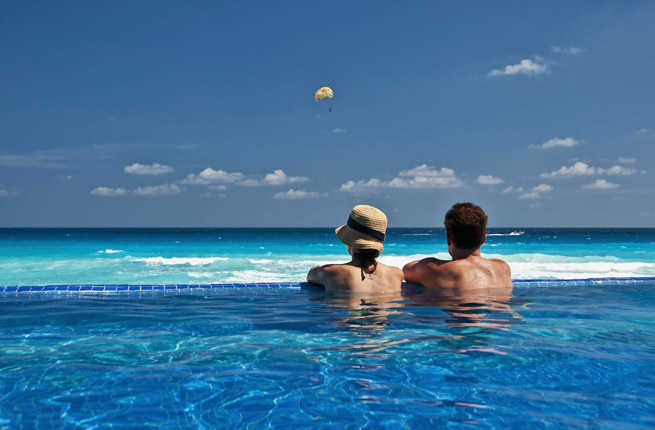 curtis/Shutterstock
Honeymooners have been going to Cancun on Mexico's Yucatan Peninsula for decades to enjoy the soft, white-sand beaches, proximity to ancient Mayan ruins and jungle rainforests, excellent regional cuisine, and well-priced all-inclusive resorts. Crowds descend on Cancun from December through April, but the abundance of resorts and 14 miles of beach help give you a sense of space. Cancun was developed exclusively for tourism so you won't have an authentic Mexican experience unless you venture further afield. However, if you're looking for pools with swim-up bars, festive nightclubs, excellent shopping, spa treatments, and activities like golf, jeep adventures, and parasailing, Cancun fits your bill. Tropical storms and the chance of hurricanes are more prevalent in late summer and early fall.
Where to Stay: Try the recently reflagged Hyatt Zilara Cancun, Hyatt's first all-inclusive resort. There are 307 rooms and suites but honeymooners should especially consider one of 17 spacious "swim-up" split-level suites that offer both direct access to the pool and a wrap-around balcony with unobstructed ocean views in two directions. To truly up the ante, book one of the seven 1,331-square-foot presidential penthouse suites with private terraces and hammocks.
Perfect for Couples Who: Will likely be absolutely exhausted after all their wedding planning and the big day. The all-inclusive hotels of Cancun pamper honeymooners so they can start their married lives off with plenty of "us" time.
PLAN YOUR TRIP: Visit Fodor's Cancun Guide
totophotos/Shutterstock
The islands of the Maldives are quintessential honeymoon destinations with deserted beaches that vie for the title "most romantic spot in the world." This archipelago of dozens of atolls and more than 1,100 coral islands span 35,000 square feet of the Indian Ocean and is located about 500 miles southwest of Sri Lanka. The Maldives are truly one of the last unspoiled island getaways in the world. It's hard to get there—get ready for a long-haul flight from the United States plus either a seaplane or boat transfer from the international airport—but the effort is rewarded with picture-perfect sunsets, wide beaches, and some of the best diving and snorkeling in the world. This is the place to interact with whale sharks, manta rays, reef sharks, sea turtles, and an array of colorful fish and sea creatures. Resorts are confined to their own islands so you won't flit from place to place after you arrive. Almost all of the resorts are firmly in the "luxury" category. This is the place to book a beach villa or overwater bungalow.
Where to Stay: Every island resort is unique so you are bound to find one that fits your vacation style. Consider Per Aquum's Huvafen Fushi with its underwater spa on the North Male Atoll or Niyama on Dhaalu Atoll. Other popular resorts include Taj Exotica Maldives known for the best cuisine in the South Male Atoll, Banyan Tree Vabbinfaru (North Male Atoll), and Angsana Valavaru (Dhaalu Atoll).
Perfect for Couples Who: Love deserted island escapes. Spend your time lazing on the beach, swimming, snorkeling, diving, and enjoying Maldivian sunrises and sunsets.
PLAN YOUR TRIP: Visit Fodor's Maldives Guide
Peter Guttman
Bali is best-known island of the 17,500 that make up Indonesia's archipelago. While the majority of the country is Muslim, Bali is a sliver of Hindu culture and art. Spirituality is ingrained in the population and you'll see offerings of incense, flowers, and rice in front of just about every temple, home, restaurant, or shop. Just south of the equator, Bali is always warm, ranging from the high 60s to the low 90s. Dry season is June through September and that's when the humidity is at its lowest. There are several tourist districts. In South Bali you'll find Kuta and Bukit (both terrific surf spots), Jimbaran, Legian, Nusa Dua, Sansur, and Seminyak along with the airport in Denpasar and popular attractions in Tanah Lot. When honeymooning in Central Bali, look to the artist community of Ubud that is also home to beautiful rice terraces and Monkey Forest (a must-visit).
Where to Stay: Many resort aficionados will tell you that it doesn't get any better than the pampering you'll experience at an Aman Resort and Bali happens to be home to three of them: Amandari near Ubud, Amankila on a cliff overlooking Lombok Strait, and Amanusa in Nusa Dua on Bali's southern peninsula. Book a package to stay a few nights at all three unique destinations.
Perfect for Couples Who: want to experience a fascinating, spiritual culture and immerse themselves in art, dance, Asian cooking, and outdoor activities ranging from swimming and diving to white-water rafting and hiking.
PLAN YOUR TRIP: Visit Fodor's Bali Guide
Efired/Shutterstock
An incredibly diverse country in Southeast Asia, Thailand is bordered by Myanmar to the west, Laos to the northeast, Cambodia to the southeast, and Malaysia to the south. In addition to the mainland, Thailand is home to popular island getaways like Phuket and Phi Phi Island in the Andaman Sea and Ko Samui in the Gulf of Thailand. A perfect multi-week honeymoon to Thailand should include time in Bangkok, the nation's capital, Chiang Mai and/or Chiang Rai (gateway to the Golden Triangle) in the north, and one of the island getaways. That way, you'll get a cosmopolitan city with fantastic food and culture plus scenic mountains, lush jungles, and idyllic beaches.
Where to Stay: Let Four Seasons plan the perfect Thai honeymoon with stays at their three resorts: Four Seasons Hotel Bangkok, Four Seasons Resort Chiang Mai, and Four Seasons Tented Camp Golden Triangle in Chiang Rai, which is well known for its elephant trekking program.
Perfect for Couples Who: Want a mix of activities from city excursions and nightlife to mountain trekking to beach-combing to shopping both modern malls and outdoor fish and flower markets.
PLAN YOUR TRIP: Visit Fodor's Thailand Guide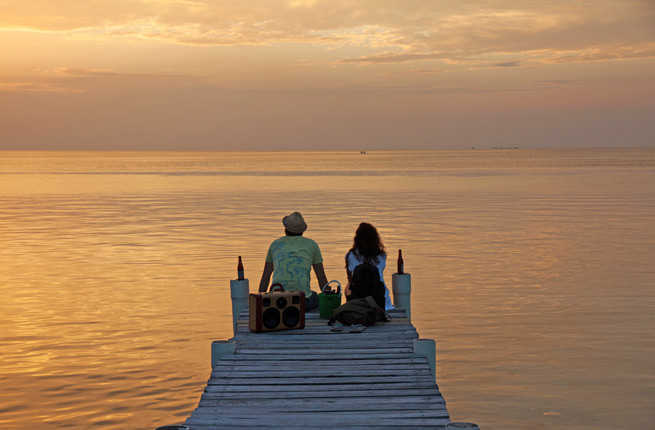 Moreno Novello/Shutterstock
Located in Central America, Belize is an incredibly compelling honeymoon destination for three simple reasons: its close proximity to the United States (a two-hour flight from Miami), its weather (around 84 degrees daily year-round), and the 190-mile-long Belize Barrier Reef. The reef is easily accessible along the coast and is wildly popular for snorkeling and scuba trips, fishing excursions, and romantic sunset cruises. The country is hemmed in by the Caribbean Sea on the east, Guatemala to the west, and Mexico in the north. In addition to the Belize Barrier Reef, the country is gifted with pristine beaches, jungle and rainforests, and ruins dating back to the Mayan period. Belize attracts a variety of honeymooners, from nature-lovers to history buffs to diving fanatics to those who simply prefer to sit on the beach at their resort with drink in hand.
Where to Stay: If water adventures aren't your thing but you'd still love to honeymoon in Belize, head to Ka'ana Resort in the western part of the country. This inland boutique resort is located in a valley in the Maya Mountains in the Cayo District. Luxurious 1,250-square-foot, one-bedroom private pool villas offer the best of indoor/outdoor living and are ideal for romantic getaways. From the resort, you can enjoy day trips to the Tapir Mountain Nature Reserve; Maya ruins like Tikal, Zunantunichm, and Caracol; Barton Creek Cave for kayaking; horseback riding along the bank of the Mopan River; or go jaguar tracking or bird-watching with expert naturalists and guides.
Perfect for Couples Who: Want an authentic and luxurious but eco-friendly experience that blends the country's culture with outdoor activities like zip-lining and cave tubing.
PLAN YOUR TRIP: Visit Fodor's Belize Guide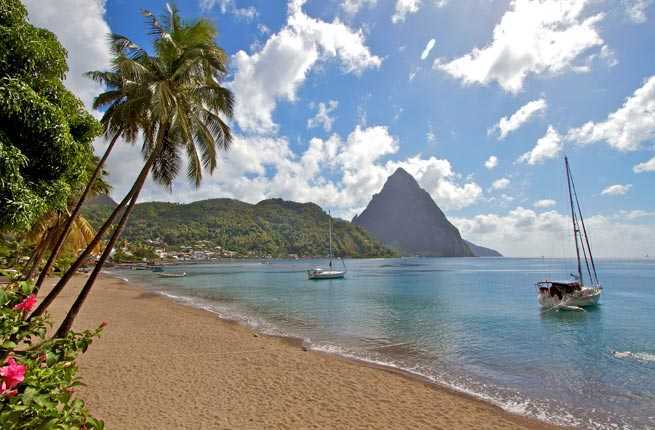 Marc Turcan/Shutterstock
The jewel of the Southern Caribbean, St. Lucia, has been a popular honeymoon destination for many years. There are gorgeous palm-fringed beaches, rainforest, the majestic Piton Mountains, and locals that appreciate the tourists who visit their little piece of paradise. St. Lucia is safe so you won't be confined behind the high walls of your resort. Get out there and explore. Try ATVing along hill trails or zip-lining above the treetops of the rainforest. Spend an afternoon hiking in the mountains, sea kayaking, or just relaxing on the beach. You can go horseback riding or take a dive tour.
Where to Stay: You'll find guesthouses and villas here alongside all-inclusive resorts and luxury boutique-style hideaways. Calabash Cove on the northwest coast of the island is a good choice as is the family-owned Cap Maison and Ladera, which is situated on Soufriere Volcano and overlooks the Pitons and Caribbean Sea.
Perfect for Couples Who: Want a refined beach resort vibe and the flexibility to travel beyond the walls of their resort.
PLAN YOUR TRIP: Visit Fodor's St. Lucia Guide
Konstik/Dreamstime.com
One trending honeymoon destination is Tahiti, which is home to the capital of French Polynesia: Papeete. Often, travelers search "Tahiti" when they are really looking for information about the entire chain of Society Islands that includes Moorea, Bora Bora, Huahine, Raiatea, and Taha'a, among others. These islands—and the Polynesian culture—are intoxicating. The history of how the indigenous tribes later populated Hawaii (traveling there by canoe) is fascinating. France proclaimed these islands its colony in 1880 and French is still the official language. The Polynesian and French cultures blended to create a unique, laidback ethos that nearly every visitor falls in love with. The islands themselves are lovely with perfect white sand beaches (often protected by coral reefs), amazing snorkeling and diving, and lush inlands that are punctuated by fragrant, flowering plants. The international airport is located on Tahiti and it's worth staying there a few days to get your bearings, shop the outdoor market, and maybe even buy some Tahitian pearls.
Where to Stay: InterContinental has a long history in French Polynesia and offers the InterContinental Tahiti Resort, InterContinental Moorea Resort, and two options on Bora Bora: InterContinental Bora Bora Le Moana and InterContinental Bora Bora Resort & Thalasso Spa. Honeymooners often island hop between them. Start with a few nights in Tahiti and then take the ferry to nearby Moorea. You'll then fly to Bora Bora, where you should make a point to stay in one of the overwater bungalows.
Perfect for Couples Who: Want to spend quality time with each other on a secluded beach. Tahiti made the overwater bungalow concept famous and you'll find it so romantic to step off your bungalow's deck right into the crystal clear waters where you can go swimming and snorkeling.
PLAN YOUR TRIP: Visit Fodor's Tahiti Guide
BlueOrange Studio/Shutterstock
While most of the trending topics on Google's list pointed to a particular country or city, one popular search for honeymoon ideas in 2013 was simply: "Caribbean." This region is divided into three areas. The Eastern Caribbean includes the Bahamas, Anguilla, Dominican Republic, Haiti, the U.S. and British Virgin Islands, Turks & Caicos, Puerto Rico, and St. Maarten/St. Martin. Islands in the Southern Caribbean are Antigua, Barbados, Bequia, Curacao, Dominica, Guadeloupe, Martinique, St. Lucia, Aruba, Bonaire, Grenada, Nevis, St. Bart, St. Kitts, St. Vincent, and Trinidad and Tobago. The third region, Western Caribbean, includes Belize, Jamaica, and the Cayman Islands.
Where to Stay: No matter what your vacation style or your budget, there's a place that's right for you in the Caribbean. Jamaica is home to all-inclusive resorts like Sandals and Couples. Jetsetters and yacht-clubbers head for St. Bart with its boutique hotels and French restaurants. Sailors love the U.S. and British Virgin Islands and beach worshippers are at home on Turks & Caicos.
Perfect for Couples Who: Live on the East Coast of the United States and have limited time for a honeymoon. Airlines offer an abundance of flights to the major islands of the Caribbean, where you can find hotels and resorts ranging from camping/budget to well-known chain hotels to all-inclusives to off-the-charts luxury boutique resorts.
PLAN YOUR TRIP: Visit Fodor's Caribbean Guide
Mila Atkovska/Shutterstock
Closing Google's Zeitgeist list of up-and-coming honeymoon destinations is Croatia. If you love the Mediterranean but are tired of the crowds, it's time to visit Croatia. While it's gaining in popularity, peak vacation periods are not nearly as frenetic as their neighbors across the Adriatic. One of the best ways to explore the Dalmatian Coast is via cruise ship. You'll call upon places like the city of Dubrovnik, which has been a bustling seaport since the 7th century; the island of Korcula, where you can bike, snorkel, or kayak; Split with the breathtaking Diocletian's Palace—now a UNESCO World Heritage site—that was built in 305 AD; the fishing port of Rovinj; and the quaint island of Hvar with its beaches, lavender fields, groves of olive trees, pine forests, fruit orchards, and vineyards.
Where to Stay: There is no better way to get acquainted with Croatia than via cruise ship. Try the 694-passenger Azamara Quest, which sails a 7-night round-trip itinerary from Venice that calls upon Zadar, Split, Hvar, and Dubrovnik in Croatia plus Montenegro's Kotor. Tere Moana, the intimate 90-guest ship from Paul Gauguin Cruises also sails round-trip from Venice with calls on Sibenik, Trogir, Split, Korcula, Dubrovnik, Hvar, and Rovinj. SeaDream Yacht Club's 112-guest SeaDream II comes to the table with a Dubrovnik to Venice 7-night cruise that calls on Korcula, Hvar, Sibenik, Rab, Pula, and Piran.
Perfect for Couples Who: Want a mix of Old Europe and a traditional Mediterranean cruise that offers plenty of beach time.
PLAN YOUR TRIP: Visit Fodor's Croatia Guide