Ken Hurst/Dreamstime.com
In a relaxation showdown amongst trains, planes, and automobiles, trains win as the most laidback style of travel, allowing you to sit back, relax, and enjoy the view. Luckily, some of the world's most beautiful destinations are also home to the most scenic train rides—journeys ranging from a few hours to more than a week, costing as little as two movie tickets or as much as a luxury cruise, and traversing terrain as dramatic as snow-capped peaks or orange-hued deserts. Here's a look at 15 exceptionally scenic train rides.
By Donna Heiderstadt
Courtesy of Glacier Express
Glacier Express from Zermatt to St. Moritz, Switzerland
WHERE: Switzerland
Switzerland may be renowned for the quality and punctuality of its trains, but it's the majestic Alps—craggy and awe-inspiring against the brilliant blue sky—and sweeping chalet-and-cow-dotted green valleys that make the Glacier Express from Zermatt to St. Moritz such a visual feast.
Fun Fact: The train chugs through 91 tunnels and crosses 291 bridges on its seven-hour journey.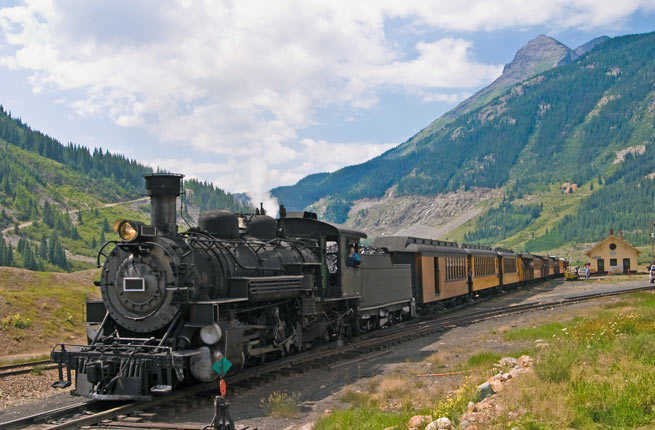 Ken Hurst/Dreamstime.com
Durango and Silverton Narrow Gauge Railroad
WHERE: Colorado
You'll climb 3,000 feet and travel 130 years back in time onboard the Durango & Silverton Narrow Gauge Railroad, a circa-1882 coal-fired, steam-operated train (the locomotives date to the 1920s) that chugs its way at 18 miles per hour (fueled by six tons of coal and 10,000 gallons of water) through the steep mountain passes between Durango and Silverton in Southwest Colorado.
Fun Fact: The train is featured in the 1969 movie Butch Cassidy and the Sundance Kid, starring Paul Newman and Robert Redford.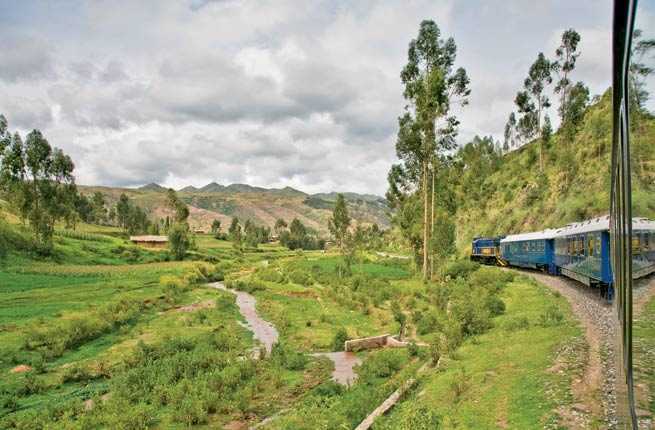 Genivs Loci/Orient-Express Trains & Cruises
Hiram Bingham Orient-Express from Cusco to Machu Picchu
WHERE: Peru
The full-day round-trip on the luxurious Hiram Bingham links two of the top destinations in Peru—the colonial city of Cusco and the ancient Inca citadel of Machu Picchu—via a winding, scenic journey through the Urubamba River Valley with brunch served on the way there and a four-course dinner on the return.
Fun Fact: The 1920s Pullman-style train, richly upholstered and outfitted with fine tableware, is named after the American explorer who discovered Machu Picchu in 1911.
TranzAlpine from Christchurch to Greymouth, New Zealand
WHERE: New Zealand
From the garden-loving city of Christchurch (where you can go punting on the river Avon) to the rugged wilds of Greymouth (where you can climb the nearby Franz Josef Glacier), the TranzAlpine crosses the South Island of New Zealand in 4.5 hours, offering up vistas of Canterbury plains farmland and the Waimakiriri River, followed by dramatic alpine viaducts leading to Arthur's Pass.
Fun Fact: After Arthur's Pass, the train heads into the Otira Rail Tunnel, created by blasting though 5.3 miles of solid rock.
Talyllyn Railway, Wales
WHERE: Wales
If the name, Great Little Trains of Wales, doesn't charm you all on its own, then a 9 mph, 14.5-mile round-trip ride on the adorable narrow gauge, coal-fired Talyllyn Railway certainly will. Staffed by volunteers, the historic train (locomotives and carriages date to 1865) steams its way through the verdant Fathew Valley from Tywyn on a route originally used to carry slate from the area's many mines.
Fun Fact: It was the Talylyn Railway that inspired the Reverend W.V. Awdry to write the "Thomas the Tank Engine" books.
Courtesy of Rocky Mountaineer
Rocky Mountaineer from Banff to Vancouver, Canada
WHERE: Canada
As you gain altitude onboard the Rocky Mountaineer, a two-day rail journey from the mountain resort town of Banff in Alberta through the majestic Canadian Rockies to the cosmopolitan city of Vancouver, it's also quite possible you might gain weight. Splurge on GoldLeaf Service and you'll enjoy plentiful cooked-to-order breakfasts and lunches, served in the dining car, and unlimited cocktails and snacks served by personable hosts on the observation level. The passing scenery is just as irresistible.
Fun Fact: In 2009, The Bachelorette (Jillian's season) filmed onboard the train.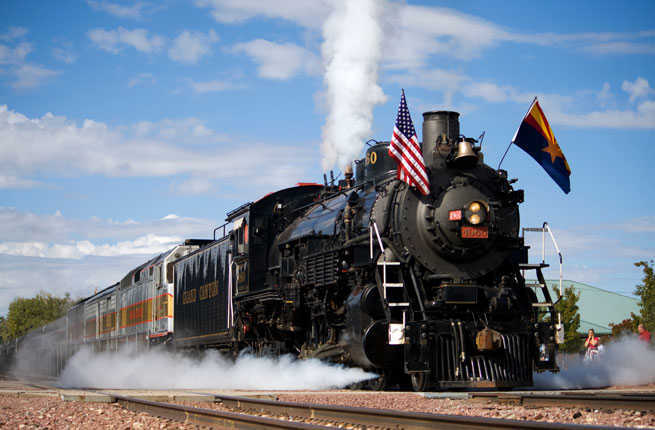 Courtesy of The Grand Canyon Railway
The Grand Canyon Railway, Arizona
WHERE: Arizona
The iconic view may be one of a kind, but the passenger cars on The Grand Canyon Railway offer insight into many eras of U.S. train travel: coach class cars are vintage 1923 Pullmans while the café car dates to 1952; first class cars are all 1950s era, as are most of the observation/dome cars. No matter where you sit, the route—130 miles (round-trip) of Arizona desert from Williams to the South Rim of the Grand Canyon—makes for a scenic day trip.
Fun fact: The one-way time of 2 hours and 15 minutes is 45 minutes faster now than when the train debuted in 1901.
Matt Hind/Orient-Express Trains & Cruises
The Royal Scotsman, Scotland
WHERE: Scotland
With a name like The Royal Scotsman, you might expect this exclusive 36-passenger train to be proper—but with textured plaid and polished wood décor straight out of a Highlands country estate it's downright posh, too. Making journeys from Edinburgh around the Scottish Highlands, the vintage train passes serene lochs (lakes) and glens, ancient castles, babbling streams, and more pristine green countryside than you ever imagined possible.
Fun Fact: Passengers can rent a kilt or have one custom-tailored to wear during the journey.
Maharajas Express, India
WHERE: India
The Maharajas Express debuted in 2010 as a recreation of the exquisite carriages used to transport the ruling maharajas of a bygone era. Carrying just 88 passengers, the train takes journeys from Delhi and Mumbai that last three-to-seven nights through colorful Rajasthan to India's most photo-worthy destinations: Agra (home of the Taj Mahal), Jaipur, Udaipur and Ranthambore (where you can see Bengal tigers in the wild).
Fun Fact: Each salon is named for a legendary jewel of a maharaja—from Heera (diamond) to Panna (emerald).
Goncalo Carreira/Dreamstime.com
Douro Line, Portugal
WHERE: Portugal
From early spring to late summer, during the time when the almond trees blossom in March and dramatically terraced grape vines burst with fruit in August, the circa-1887 Douro Line route from Porto to Pocinho is one of the easiest ways to enjoy Portugal's verdant Douro River valley.
Fun Fact: The river-hugging route crosses 30 bridges and passes through 26 tunnels as well as making stops at beautiful historic train stations, such as those at Régua and Pinhão.
Johnjewell/Dreamstime.com
The Ghan from Adelaide to Darwin , Australia
WHERE: Australia
Yes, it's a long journey (1,845 miles over three days and two nights), but there's no better way to get a perspective of the vastness of the Australian Outback than to book a passage on The Ghan. Traversing the route from Adelaide through the Flinders Ranges and into the heart of the Red Centre for the past 80 years, the train stops for four hours in both Alice Springs and Katherine, allowing for leg-stretching and sightseeing.
Fun Fact: The name Ghan was inspired by the intrepid Afghani cameleers who forged a trail into the Red Centre 150 years ago.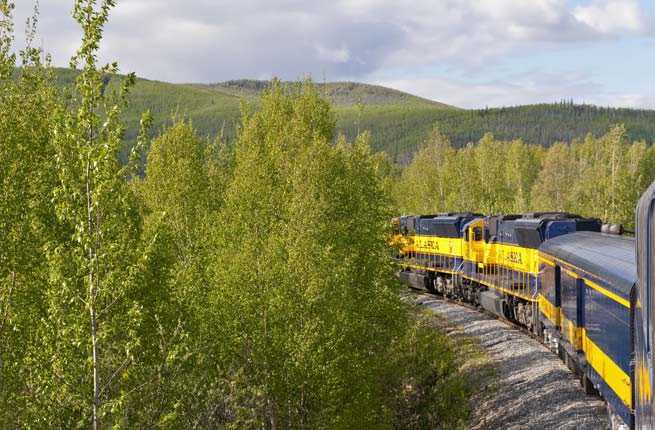 Tom Dowd/Dreamstime.com
Denali Star from Anchorage to Fairbanks, Alaska
WHERE: Alaska
Keep your eyes peeled for wildlife—from massive moose to lumbering grizzlies—as you ride the flagship Denali Star across the Alaskan tundra from Anchorage to Fairbanks. The viewing is especially panoramic from the GoldStar double-decker dome cars, particularly when Mt. McKinley comes into view.
Fun Fact: The train calls on Wasilla, best known as the headquarters of the Iditarod dog-sled race—and as 2008 Vice Presidential candidate Sarah Palin's hometown.
Andrew Zarivny/Shutterstock
Napa Valley Wine Train from Napa to St. Helena, California
WHERE: California
How many varietals can you sip on the three-hour, 36-mile roundtrip lunch or dinner journey onboard the Napa Valley Wine Train as it winds its way from the Napa Valley's main hub, Napa, to St. Helena? If you head to the Zinfandel Wine Tasting Lounge, you'll have your pick—but first enjoy the passing sun-kissed vineyard views in the retro 1915-1917 Pullman dining car as you savor a freshly prepared three-course meal.
Fun Fact: The Wine Train tracks were originally laid in the 1860s to bring guests to the hot springs resort town of Calistoga.
S.Borisov/Shutterstock
Rhine Valley Line from Mainz to Koblenz, Germany
WHERE: Germany
For postcard-perfect views of centuries-old castles overlooking a picturesque river, consider this 62-mile journey on Germany's Rhine Valley Line from Mainz to Koblenz. Castles appear every few miles—including Pfalz Castle on an island in the river—and when you arrive at your destination in Koblenz, you can visit the fortress of Ehrenbreitstein for a panoramic valley view.
Fun Fact: With a Eurail Pass, you can switch on and off from the train to riverboats operated by the KD Rhine Line.
Dorottya Mathe/Shutterstock
Danube Express from Budapest to Istanbul
WHERE: Hungary and Turkey
With stunning architecture in both Budapest and Istanbul (you can start your journey in either) and miles of legendary Transylvania countryside in between, the four-day Danube Express serves as your base for sightseeing during stops in medieval Sighisoara (said to be the birthplace of Dracula) and Bran Castle (aka Dracula's Castle).
Fun Fact: This "hotel on wheels" is the only international private train in Europe with en-suite compartments and air conditioning.