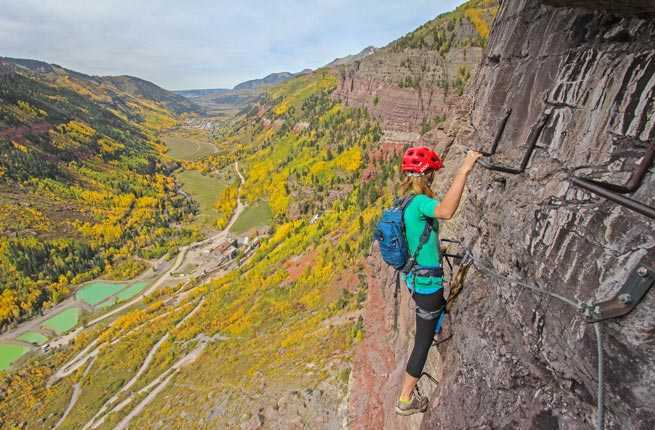 Ryan Bonneau / Telluride Tourism Board
Looking for a new challenge? Via ferrata (meaning "iron path" in Italian) offers an exciting mix of alpine hiking and rock climbing. The term refers to protected mountain climbing routes consisting of anchored cables, rungs, steps, bridges, and ladders, which allows lesser or even inexperienced climbers to face otherwise dangerous—but incredibly scenic—routes. (Like rock climbing, routes are rated using a numerical system.) Ranging in length from a few hundred to several thousand feet, via ferratas can take anywhere from one to eight hours to traverse, but all of these adrenaline-inducing routes feature magnificent vistas. In some mountain ranges, you can even link routes together for a multi-day, high-altitude climbing experience you'll never forget. Read on to see our picks for 10 of the world's best via ferrata routes.
By Davina van Buren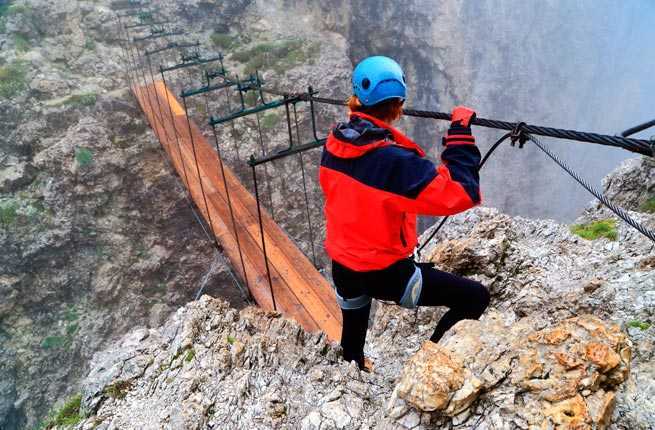 Florin Stana / Shutterstock
The Dolomites via ferrata
WHERE: Northeastern Italy
The Dolomites are home to some of the most famous and challenging via ferrata. During World War I, Italian soldiers built these routes so troops could move quickly and safely over the mountains. While most of the world's via ferrata were built for tourism, these are historically significant—you can still see relics such as dugouts and trenches along the routes.
Insider Tip: Dolomite Mountains S.r.l. offers multiday day trips that combine hiking and via ferrata, and you can sleep in rifugios along the way.
PLAN YOUR TRIP: Visit Fodor's Dolomites Travel Guide
Courtesy of China National Tourist Office
WHERE: Shaanxi Province, China
If you can survive a trek up the nearly vertical "Heavenly Stairs," a harrowing gondola ride, and a plank walk across rickety wooden boards and a single chain rail nailed to the side of the mountain, you'll be handsomely rewarded at the end of this death-defying via ferrata on China's sacred Mount Hua Shan. The path ends at an ancient Taoist temple and teahouse.
Insider Tip: Some daredevils climb the path at night in order to watch the sun rise from the mountain's east peak.
PLAN YOUR TRIP: Visit Fodor's The Silk Road Guide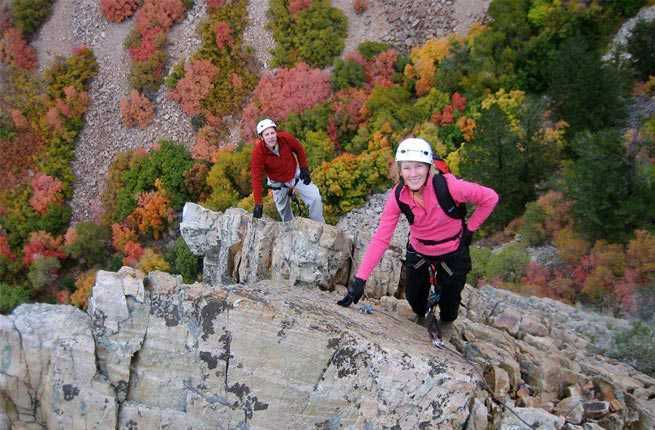 Courtesy of UtahAdventureCenter.com
WHERE: Ogden, Utah
Located in a private climbing area in Utah, the Mount Ogden route is open for guided tours only and has a training wall, so it's perfect for beginners. You'll climb up the sheer rock faces of Waterfall Canyon and be treated to views of its 200-foot cascade, Antelope Island, Great Salt Lake, and surrounding ski country.
Insider Tip: Keep your eyes peeled for mountain goats.
PLAN YOUR TRIP: Visit Fodor's North of Salt Lake City Travel Guide
Zbynek Burival / Shutterstock
WHERE: Chamonix, France
Normally, reaching a via ferrata allows some hiking, but this one is easily accessible from the Chamonix town center. Ladders descend from the train station right onto the Mer de Glace climbing trails. You'll cross the glacier, climbing thirty ladders along the way, then head toward Refuge du Courvercle, a hut and campground with majestic views of the French Alps. You'll definitely want to stay the night.
Insider Tip: Several Chamonix tour companies offer guided trips to the via ferrata plus other adrenaline rushes like bungee jumping, paragliding, and canyoning.
PLAN YOUR TRIP: Visit Fodor's Lyon and The Alps Travel Guide
Ryan Bonneau / Telluride Tourism Board
WHERE: Telluride, Colorado
One of the newest via ferrata in the United States, this route is located in Colorado's gargantuan San Juan mountain range. Running alongside Ajax Peak, the path follows an old mining trail and offers views of Telluride, Bridal Veil Falls, and the town's famed box canyon.
Insider Tip: While you're in town, take a ride on the public gondola. The thirteen-minute ride up to 10,500 feet is free and connects the towns of Telluride and Mountain Village.
PLAN YOUR TRIP: Visit Fodor's Southwest Colorado Travel Guide
WHERE: Mount Kenya National Park, East Africa
At 16,355 feet above sea level, Mount Kenya is the world's highest via ferrata, with views to match. The mountain is actually an extinct volcano, and its deep gorges, ridges, and sharp peaks provide an unparalleled backdrop to experience climbing. Combine your climb with a safari—you can see elephants, rhinos, leopards, and giant forest hogs in the park's interior.
Insider Tip: Go soon to see remnants of the mountain's rapidly receding glaciers.
PLAN YOUR TRIP: Visit Fodor's Kenya Travel Guide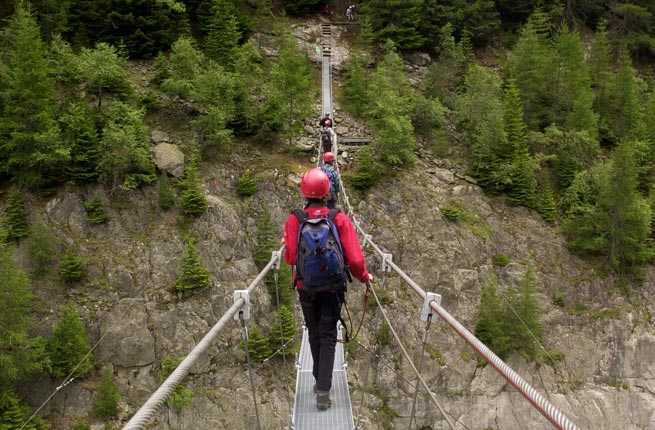 Courtesy of Blatten-Belalp Tourismus
WHERE: Valais, Switzerland
Aletsch is the largest alpine glacier in the Alps, covering an astonishing 46 square miles. On one end, a glacial lake was dammed to create the Stausee Gibidum reservoir, which the route circles. This course features many traverses over steep cliffs, hiking, and the longest suspension bridge in the Alps (thankfully, it's solid—albeit rather bouncy—instead of a single braided rope like other courses).
Insider Tip: Treat yourself to a relaxing dip in Valais' thermal baths. After spending the day on a glacier, you'll deserve it.
PLAN YOUR TRIP: Visit Fodor's Valais Travel Guide
Courtesy of Natura Vive
Sacred Valley via ferrata
WHERE: Ollantaytambo, Peru
This may be the world's most beautiful via ferrata. The route features a 984-foot vertical climb up steel rungs, stunning views of the Sacred Valley and Urubamba River, and colorful flora jutting from the rock faces. You can choose to rappel down, but we prefer the zip-line descent. Seven interconnected cables whisk you through the air, a perfect end to an incredible commune with nature.
Insider Tip: Stay at the Skylodge Adventure Suites, where you can sleep in a transparent hanging capsule above the valley floor.
PLAN YOUR TRIP: Visit Fodor's Cusco and the Sacred Valley Travel Guide
Coldback Mountain via ferrata
WHERE: Isafjordur, Iceland
A visit to the land of fire and ice is thrilling enough as it is. Throw in a via ferrata experience, and it's over the top. This is Iceland's only via ferrata: You'll start by hiking up a narrow ridge, then skirt the side of Coldback Mountain at about 3,000 feet. As you enter the Skutulsfjordur fjord, enjoy spectacular views of the towns of Isafjordur and Isafjardardjup and their surrounding mountains.
Insider Tip: There are many other adventures near Isafjordur. One of our favorites is a hike to Dynjandi, a mammoth waterfall just a short hike from the Ring Road.
PLAN YOUR TRIP: Visit Fodor's Iceland Travel Guide
Courtesy of Honister Slate Mine
WHERE: Keswick, United Kingdom
Located at the Honister Slate Mine in Cumbria's Lake District, this route follows old mining trails and offers two versions: classic and extreme. Because this course is fairly tame as via ferrata go, we suggest the extreme. It offers more vertical climbs, edge exposure, a Burma bridge, and a fun cargo net crossing.
Insider Tip: PLAN YOUR TRIP in May to coincide with the Keswick Mountain Festival, a four-day celebration with sporting events, talks by world-class mountaineers and adventurers, live music, and camping.
PLAN YOUR TRIP: Visit Fodor's Lake District Travel Guide