Jorge Casais / Shutterstock
With spring on the horizon, the romance of Europe seems more appealing than almost any other time of year. Rich in heritage, architecture, arts, music, and food, the Continent's cities welcome visitors with pretty flowers lining elegant boulevards, scintillating scenic coastlines, fine wines, and an expansive roster of museums and shopping. Spring in Europe is guaranteed to dazzle and delight your senses, whether you're looking to take off to an exclusive enclave, the newest hot spot, or a trendy metropolis for shopping and time on the beach. Here are Europe's best city escapes for spring.
By Anisha Shah
Anisha Shah is a luxury and emerging destinations travel journalist. Her background as BBC TV & radio news reporter combined with long-standing love affair for travel, sees her first on the scene of new and exciting travel hotspots. Her work has appeared in Huffington Post, Fodor's and Yahoo Travel. Follow Anisha on Twitter: @anishahbbc.
Vitaly Titov & Maria Sidelnikova / Shutterstock
The Netherlands takes pride in its tulips, and for good reason: these flowers are big business. This spring, explore the countryside on bicycle to see vast fields carpeted with vibrant tulips in a dazzling array of colors. Keukenhof Gardens, located in nearby Lisse, is famed for rows upon rows of flowers that stretch as far as the eye can see. Take a day trip there when the gardens are open, from mid-March to mid-May, by direct bus (No. 858) from Schiphol Airport.
Insider Tip: In the city, opt for Amsterdam's equally fabulous and historical floating flower market on the Singel canal—the only one in the world, open daily—to view floating barges that burst in fragrant swathes of red, pink, orange, and yellow petals.
PLAN YOUR TRIP: Visit Fodor's Amsterdam Guide
Anilah / Shutterstock
Deeply etched in European history, Riga is synonymous with classical music, elegance, and historic architecture. Get lost in the quaint side streets on a spring morning and make sure to visit the city's medieval center, which offers the widest collection of art nouveau buildings in the world. Here, the concentration of remarkably intact medieval architecture dates back to the 12th century, which contributed to Riga's World Heritage status. The European Union also recently recognized the city as the European Capital of Culture for 2014.
Insider Tip: Foodies should head to Central Market for locally sourced Latvian tidbits ranging from pig snout and sauerkraut to hemp butter. End your day with a drink and a rooftop view from the Radisson Blu Hotel Latvija's 26th-floor Skyline Bar. The spot fills up fast, so get there early to enjoy spectacular panoramic vistas.
PLAN YOUR TRIP: Visit Fodor's Riga Guide
Vacclav / Shutterstock.com
The hip capital Budapest ranks as a popular budget-friendly destination. The city offers medicinal thermal baths, edgy "ruin pubs," and a gritty, post-Communist exuberance. For exploring, the lower Pest side of the Danube River boasts opera, theaters, and the city's historic Jewish quarter, while Buda on the upper side features the castle district's posh residences.
Insider Tip: Spanning three floors, Central Market Hall offers everything from local meats to baked sweets. Spring kicks off a roster of world-themed food days, including Chilean and Moroccan eats. The Easter market is one of the busiest times of year; expect throngs of hungry crowds counting their forints.
PLAN YOUR TRIP: Visit Fodor's Budapest Guide
Jorge Casais / Shutterstock
In spring, Europe's westernmost capital is bathed in warm climes, with picture-perfect hues that pervade twisting cobblestone alleyways. A spring trip to Lisbon is a fairy-tale fling in a global city that's undergoing something of a renaissance. Outside the city, neighboring castle-clad towns Sintra and Cascais both make for easy day trips.
Insider Tip: The hip, bohemian neighborhood of Bairro Alto is filled with creatives. Explore the quarter's abundance of artistic murals, three-table bars where elderly men smoking pipes flank traditional bars, and Capoeira schools and cafés that boast an eclectic edge.
PLAN YOUR TRIP: Visit Fodor's Lisbon Guide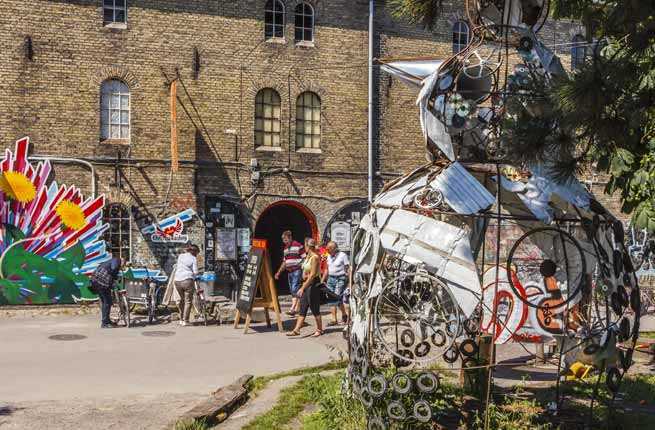 © Ed Francissen | Dreamstime.com
Spring kick-starts a year of Danish design and architecture exhibitions. Start at the iconic Hotel D'Angleterre, which first opened in 1755. The hotel is newly refurbished, overlooks famous Kongens Nytorv square, and sits near the Nyhavn Canal, the Royal Danish Theatre, and shopping street Stroget. Spend another afternoon at The Blue Planet, Northern Europe's largest aquarium.
Insider Tip: For unforgettable organic fare, go to super-hip Vesterbro, the Meat District neighborhood, and try BioMio restaurant, which is housed within a 1920s Bosch warehouse, or the neighboring We Do Food.
PLAN YOUR TRIP: Visit Fodor's Copenhagen Guide
© Vlado Marinkovic | Dreamstime.com
Serbia's fierce history gives beauty an edge in Belgrade, where Soviet structures sit between modern artistic masterpieces. The city radiates an outdoor lifestyle: During Easter, the rivers spring to life with cruises, floating bars, and clubs—called splavovi.For trendsetters, Savamala is the elite spot to be seen. Don't miss the new Ada Bridge, which is already an iconic landmark.
Insider Tip: The cultural epicenter of Knez Mihailova Street, a city landmark, is a shopper's delight. It leads to the Belgrade Fortress, which crowns the city. Grab a bite to eat in the bohemian quarter Skadarlija, which is known for local eats and live music in nearly every restaurant. Fountains, cobblestones, and candelabras embellish the neighborhood.
PLAN YOUR TRIP: Visit Fodor's Europe Guide
InnaFelker / Shutterstock
Croatia's dramatic Dalmatian Coast is especially spectacular in Dubrovnik. Christened by Lord Byron as the "Pearl of the Adriatic," the city is fringed by bold blue seas and outlined by rugged peaks. From March 1 to 4, the Dubrovnik Carnival Fest transforms the city into a masked playground, where classical musicians serenade dancers in the streets. A two-kilometer historic city wall, which is easily navigable on foot, overlooks ancient monasteries, aristocratic palaces, and baroque churches.
Insider Tip: Have a drink at sunset at Villa Dubrovnik. Perched atop a cliff, the hotel features a rooftop lounge and two restaurants with alfresco terraces. Hop onto the hotel's private water shuttle for a shopping trip in Dubrovnik Old Town, a UNESCO Heritage site.
PLAN YOUR TRIP: Visit Fodor's Dubrovnik Guide
Mi.Ti. / Shutterstock
A haphazard mix of stone settlements chaotically piled together defines Matera, where an air of peace pervades this southern Italian city's streets. As one of Italy's oldest inhabited cities, the historical center is a treasure chest of baroque palazzi, Romanesque and rock churches, and traces of nobility. Work up an appetite exploring Matera's nooks and crannies, and then head to Antica Trattoria Lucana, a restaurant run by two brothers, Tonio and Gigi Sancrocco.
Insider Tip: Take a walking tour of the famous Sassi di Matera ancient cave dwellings—some of the first human settlements in Italy. There, you'll also explore unique prehistoric cave houses, known as caveoso, which were once the modest homes of the peasant community.
PLAN YOUR TRIP: Visit Fodor's Matera Guide
Bauer Alexander / Shutterstock
Home to the music of Mozart, Beethoven, and Strauss, the Austrian capital boasts symbolic architecture of carved cherubs, flamboyant figureheads, and dramatic domes. Alluring and romantic, Vienna offers a quintessential slice of Europe with arts, music, and culture overflowing into elegant, Parisian-style boulevards. Spring kicks off a big year, as Vienna celebrates nearly 200 years of dancing during the city's ball season. Museums will also be commemorating the 100th anniversary of World War I.
Insider Tip: Coffeehouses, which originated in Vienna, continue to show the world how to savor caffeine and patisseries with UNESCO World Heritage status. Café Central has a timeless elegance.
PLAN YOUR TRIP: Visit Fodor's Vienna Guide
© Peter Guttman / Fodor's Travel
The attractive Swiss Riviera embodies splendor in spring, when temperatures thaw and flowers blossom along Lake Geneva's lakeside promenade. Montreux's hauntingly beautiful landscape features lush, mighty alpine hills, crystal-clear Lake Geneva, and beautiful views of snow-capped Mont Blanc. The clean, crisp air is perfect for hiking, boating, or relaxing outdoors.
Insider Tip: Explore the fairy-tale island Château de Chillon. Located at the foot of the Alps and Lake Geneva, the castle creates a magical storybook scene that has inspired lyricists and poets including Victor Hugo, Lord Byron, and Corbet. Hop onto the trolley bus along Promenade Fleurie, a picturesque pathway with dramatic lakeside vistas.
PLAN YOUR TRIP: Visit Fodor's Montreux Guide