(c) Adpower99 | Dreamstime.com
Whether you're a local or a visitor, one of the best things to do in a city is escape for a while. And sometimes all you need is a day to recharge, which is why we've selected 20 outstanding trips that only take an hour or two from the country's major cities. Beautiful islands, stunning state parks, and charming towns await you outside the city limits, so get ready to hop in the car or catch a train to these places that offer a welcome change of scenery.
by Christina Valhouli
LEE SNIDER PHOTO IMAGES/Shutterstock
Tarrytown and Sleepy Hollow
Near: New York City
Sleepy Hollow may be familiar to fans of the short story, but there's more to this town than that. Fans of Washington Irving's work (and the TV show) should pay a visit to his home, Sunnyside, as well as Sleepy Hollow Cemetery, where the Headless Horseman chased Ichabod Crane. For something less spooky, carve out time to visit the area's historic mansions, such as the Rockefeller estate, Kykuit, and Tarrytown's Lyndhurst, once owned by a railroad baron. Stop for a meal at Blue Hill at Stone Barns, a celebrated restaurant located on a working farm.
Insider Tip: Irving is famous for his iconic literary characters—including Brom Bones, Ichabod Crane, and Rip Van Winkle—but few people know he was also the U.S. Ambassador to Spain from 1842–1846.
PLAN YOUR TRIP: Visit Fodor's Hudson Valley Guide
Jason Patrick Ross/Shutterstock
Near: Chicago
Beat Chicago's heat with a visit to Starved Rock State Park, located about two hours southwest of the city. The park, which was once home to Native Americans, is a National Historic Landmark filled with canyons, waterfalls, and sandstone bluffs boasting views of the Illinois River. In addition, visitors can spend the day exploring 13 miles of hiking trails. Once you've worked up an appetite, stop for lunch at the Starved Rock Lodge. During the winter, it's a popular place to spot bald eagles.
Insider Tip: On the way back to Chicago, stop by two wineries near Starved Rock, August Hill and Illinois River.
PLAN YOUR TRIP: Visit Fodor's Chicago Guide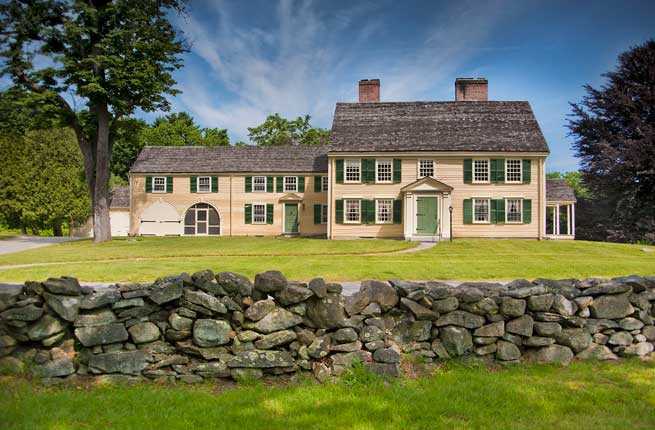 Christian Delbert/Shutterstock
Near: Boston
History buffs, fans of literature, and outdoorsmen will all find something to love in Concord. This small town is famous for its role during the American Revolution (Paul Revere rode through Concord to warn the militia that the British were coming) and is the hometown of literary heroes. Emerson, Thoreau, Alcott, and Hawthorne all lived here, and visitors can stop by Orchard House, the Alcott family home, or Wayside, where Hawthorne once lived. Head to Walden Pond to see where Thoreau spent nearly two years of his life, and spend an afternoon hiking or canoeing. Treat yourself to a farm-to-table meal at Bondir Concord.
Insider Tip: In 1849, horticulturist Ephraim Bull bred the Concord grape at his home on 491 Lexington Avenue, where the original vine is still growing.
PLAN YOUR TRIP: Visit Fodor's Boston Guide
Jon Bilous/Shutterstock
Near: Philadelphia
Wilmington is known for its beautiful architecture and abundance of museums, as well as being a family-friendly area. Head to the Brandywine Zoo, the only one in the state, or spend some time at the Delaware Children's Museum, which will appeal to toddlers and preteens. For a taste of the gilded life, visit Nemours Mansion and Gardens, a Du Pont family home spread over 300 acres (reservations are essential).
Insider Tip: Love factory tours? Herr's Snack Factory in nearby Nottingham, Pennsylvania offers free tours. Visitors can learn the ins and outs of making pretzels and tortilla chips.
PLAN YOUR TRIP: Visit Fodor's Wilmington Guide
Near: Washington, D.C.
Middleburg is known as the epicenter of Virginia's horse country and is a popular retreat for D.C. power brokers. Fox hunts and polo matches are the big social events here, but there's also plenty of antique shopping to be done as well. The National Sporting Library & Museum is located here, and there's no shortage of upscale, British and French inspired gastropubs. Love wine? The area is home to about 30 producers.
Insider Tip: The oldest building in town is the The Red Fox Inn & Tavern, which was built in 1728 and is listed on the National Register of Historic Places.
PLAN YOUR TRIP: Visit Fodor's Middleburg Guide
Sebastien Burel/Shutterstock
Near: San Francisco
Most people who visit California wine country head to Napa or Sonoma, but for a different twist on the experience, explore Calistoga. This town is the most laid-back in the region, and is known for its hot springs and Victorian architecture as well as its wine. Dr. Wilkinson's is one of the original spas and offers mud baths in a no-frills setting; go for "the works," which includes a soak in a mud tub, massage, and facial. Don't miss Chateau Montelena, or Clos Pegase winery, which was designed by Michael Graves and features large-scale sculptures dotted around its property.
Insider Tip: En route to Calistoga, stop at Gott's Roadside, whose menu includes green chile cheeseburgers and Ahi tuna burgers. There's also an impressive wine list.
PLAN YOUR TRIP: Visit Fodor's Calistoga Guide
S.Borisov/Shutterstock
Near: Los Angeles
There's a good reason some of the world's richest people live in Santa Barbara, replete with beautiful beaches, perfect Mediterranean weather, wineries, art galleries, and gourmet restaurants. Pop into the Santa Barbara Museum of Art before hitting a few tasting rooms on the Urban Wine Trail, all located within a few blocks of each other. Unwind at the Alice Keck Park Memorial Garden, or soak up at the sun at the beach.
Insider Tip: Julienne, in the heart of downtown, serves farm-to-table cuisine (dinner only) in a low-key setting.
PLAN YOUR TRIP: Visit Fodor's Santa Barbara Guide
Carlsbad
Near: San Diego
Although it can be hard to tear yourself away from San Diego, it's worth it to take a short drive to Carlsbad, which is famous for its natural springs and world-class golf. For those traveling with children, Carlsbad means one thing: LEGOLAND California. Carlsbad also offers a superb five-mile stretch of beach, and top attractions include the SEA LIFE Aquarium and the Leo Carrillo Ranch Historic Park, which was once a cattle farm and now offers four miles of hiking trails that wind past hand-crafted adobe buildings.
Insider Tip: Mineral water was found here in 1882 by Capt. John Frazier, when he was drilling a well for his farm. The Carlsbad Mineral Water Spa, located one block from the beach, is home to Frazier's original drilling site and has a small day spa.
PLAN YOUR TRIP: Visit Fodor's Carlsbad Guide
2009fotofriends/Shutterstock
Near: Seattle
For fresh air and even fresher seafood, hop on a ferry to Whidbey Island. Only 45 miles long, the island offers gorgeous natural scenery, with beaches, forests, bluffs, and farms. Famous for its museels, Whidbey is also home to gourmet restaurants as well as art galleries and independent boutiques. Drive around the island or stroll along the beach to see the best Whidbey has to offer.
Insider Tip: Coupeville has the largest mussel farm in America and is also home to Greenbank Farm, the largest producer of loganberries.
PLAN YOUR TRIP: Visit Fodor's Whidbey Island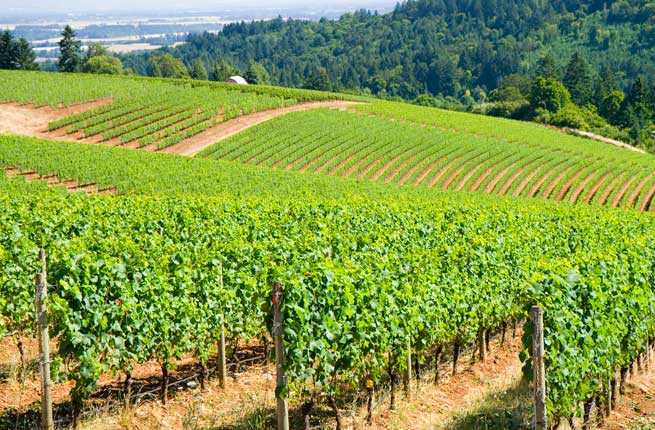 John Kropewnicki/Shutterstock
Near: Portland, OR
Located just 30 miles from Portland, Dundee is the epicenter of Oregon's wine country in the Willamette Valley. The area is famous for its Pinot Noir, and visitors can explore more than 30 wineries in a compact area; some of the best-known wineries here include Cameron, Argyle, and Erath. Dundee is also home to artisanal cheese companies and a microdistillery. You'll find many scenic hiking and biking trails here, perfect for burning off all that wine and cheese.
Insider Tip: Sokol Blosser Vineyard offers a tour of the property on a 50% bio-diesel-powered ATV.
PLAN YOUR TRIP: Visit Fodor's Dundee Guide
S. Kubyshin/Shutterstock
Near: Houston
Just an hour from Houston, the barrier island of Galveston makes an ideal beach getaway. Before laying out your towel, explore the town by renting a bicycle or hopping aboard a Duck Tour. Seafood is the star attraction at any restaurant, so get your fill of lobster tacos, crab cakes, and shrimp po'boys. Kids will be amused by the massive Pleasure Pier, which has carnival games and a roller coaster, as well as the Schlitterbahn water park. Don't miss the town's historic homes, such as Moody Mansion and Bishop's Palace.
Insider Tip: Apart from its beaches, Galveston is also known for its beautifully preserved Victorian homes.
PLAN YOUR TRIP: Visit Fodor's Houston and Galveston Guide
Rudy Umans/Shutterstock
Near: Miami
Located about 126 miles from Miami, Bahia Honda State Park makes for a fun drive along US 1. The park offers some of the best snorkeling in Florida, and lucky visitors might spot a barracuda or stingrays on a guided tour. In addition to its beaches, this 524-acre park boasts sand dunes, mangroves, and lagoons. Visitors can happily spend the day swimming in the warm waters, fishing, or paddling out in a kayak.
Insider Tip: The beach here was named the #1 beach in America by "Dr. Beach" in 1992.
PLAN YOUR TRIP: Visit Fodor's Miami Guide
(c) Adpower99 | Dreamstime.com
Near: New Orleans
To get your fill of graceful antebellum homes and antique shopping, head to St. Francisville. This small town has seven plantation homes that can be toured, including Myrtles Plantation, which is rumored to be haunted, and Greenwood Plantation, built in 1830. Visitors can also spend their time visiting public gardens, hiking, biking, or birdwatching.
Insider Tip: A short drive away is the Angola Louisiana State Penitentiary Museum, which was built on the site of a former plantation home and was the nation's largest maximum-security facility.
PLAN YOUR TRIP: Visit Fodor's St. Francisville Guide
Ami Parikh/Shutterstock
Near: Phoenix
It's fair to say that Sedona is one of the most beautiful spots in America. This town is famous for its red rocks, mesas, and canyons, so sunset is one of the best times of day to appreciate its majesty. Don't miss Slide Rock State Park, which has a 50-foot natural water slide carved into its riverbed. Sedona is also a great spot for golf, hiking, and spas. In addition, Sedona's boutiques offer plenty of Native American-inspired jewelry and accessories.
Insider Tip: Some people believe that Sedona has a unique energy, which is called a vortex.
PLAN YOUR TRIP: Visit Fodor's Sedona Guide
tobkatrina / Shutterstock
Death Valley National Park
Near: Las Vegas
Although the drive to Death Valley can be a little far from Las Vegas, it is well worth the 120-mile journey to see the lowest, driest place in North America. Bring plenty of water with you and be prepared for the otherworldly desert landscape, which includes Joshua trees, sand dunes, and eerie silence. Be sure to visit Badwater Basin, which is often the hottest place in the U.S. If you have time, take a scenic drive past Devil's Golf Course and Zabriskie Point.
Insider Tip: Explore the tiny Borax Museum, which is located in an old miners' boardinghouse at the Ranch at Furnace Creek, to learn about this mineral and its importance in the valley.
PLAN YOUR TRIP: Visit Fodor's Las Vegas Guide
JASON TENCH/Shutterstock
Near: Charleston
This barrier island is just 25 miles south of Charleston, and offers 10 miles of beaches, 10,000 acres of pine forests, marshes, and magnolia trees. This privately owned island makes for a great beach escape, but also offers plenty of opportunities for tennis and golf; there are five championship golf courses here, and The Ocean Course has hosted the Ryder Cup. To enjoy the natural surroundings, take a kayak tour through the salt marshes; lucky visitors might spot alligators, turtles, and snakes.
Insider Tip: Kiawah is also home to a small bobcat population. Their preferred habitat is located near the marsh edges and secondary sand dunes.
PLAN YOUR TRIP: Visit Fodor's Charleston Guide
RIRF Stock/Shutterstock
Rocky Mountain National Park
Near: Denver
A trip to this national park could result in a moose, elk, or bighorn sheep sighting. Rocky Mountain National Park is just an hour and a half from Denver, and offers a picture-perfect landscape of snowcapped peaks, grassy meadows, and pine forests. Visitors can spend the day hiking (there are more than 355 miles of trails), biking, or horseback riding.
Insider Tip: En route to Denver, stop at Snowy Peaks Winery and Tasting Room, which offers local wines and artisanal foods such as cheese, chocolates, and fruit ciders.
PLAN YOUR TRIP: Visit Fodor's Denver Guide
Laura Stone/Shutterstock
Near: Providence, RI
A popular weekend escape for locals is Narragansett, but it also makes an ideal day trip to beat the heat. The beach is the main attraction here, and it's one of New England's top surfing destinations. Scarborough State Beach is a popular surfing spot, while Roger W. Wheeler State Beach has calmer waters that appeal to families. Rent a bike or kayak to explore the town, or sign up for a fishing trip to catch your dinner.
Insider Tip: The Towers here were designed by the famed architects McKim, Mead & White and landscaped by Fredrick Olmstead. Today the Towers host cultural performances.
PLAN YOUR TRIP: Visit Fodor's Providence Guide
AHPix/Shutterstock
Near: Tampa
This tiny island, reachable via a causeway from Breadenton (45 miles south of Tampa), offers a slice of old-school Florida. There are no high-rises or chain stores on Anna Maria Island; instead, visitors will find a low-key way of life and pristine beaches. The further north you travel along the seven-mile-long island, the quieter it becomes. Fishing off the Rod and Reel pier is also popular, but small mackerel can be caught by just wading into the ocean.
Insider Tip: Some of the island's best restaurants include the Sign of the Mermaid and Beach Bistro.
PLAN YOUR TRIP: Visit Fodor's Tampa Guide
SeanPavonePhoto/Shutterstock
Near: Atlanta
This college town is famous for its musical heritage (REM, B-52's), but offers much more than that. Seventy miles from Atlanta, Athens features picture-perfect antebellum mansions, a Victorian-era downtown, and a hot culinary scene. For relaxation, don't miss the State Botanical Garden of Georgia, as well as the recently expanded Georgia Museum of Art. Despite its growth, Athens is still a breeding ground for rock groups and offers plenty of live music venues and microbreweries.
Insider Tip: Both REM and the B-52's got their start at the 40 Watt Club, which still sits in downtown.
PLAN YOUR TRIP: Visit Fodor's Atlanta Guide