Paris Tourist Office/Marc Bertrand
The lazy days of summer bring out the best in Paris—long days and languorous nights are perfect for outdoor enjoyment, whether its sipping a cocktail on an elegant terrace, dining al fresco, or enjoying a picnic while taking in a movie en plein air. Outdoor cultural events abound, with an exciting lineup of summer arts festivals, featuring classical music, jazz, or rock in some of the city's most spectacular gardens. Our insider's guide to the best of Paris this summer makes it easy to PLAN YOUR TRIP and summer like a Parisian. —Jennifer Ladonne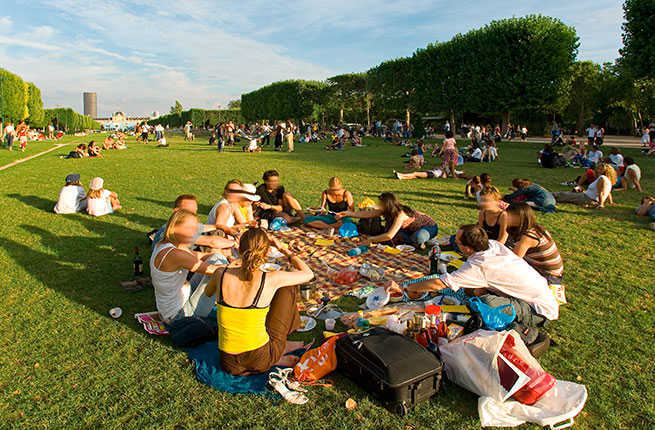 Paris Tourist Office/David Lefranc
Picnic in the Paris Parks of Bois de Vincennes, Palais-Royal, and Parc Monceau
Parks in Paris run the gamut from big and diverse (Bois de Vincennes, Bois de Boulogne, Buttes-Chaumont, Parc Floral, Parc de la Villette, Parc de Belleville), to elegant and orderly (Palais-Royal, Jardin du Luxembourg, Jardins des Plantes), to the glorious in-between (Parc Monceau, Parc Montsouris). Each park has its own distinct personality and charm, and each hosts a variety of summer events that pair well with picnic time. What could be better than grabbing a picnic lunch at a great gourmet épicerie and spending a languorous summer afternoon lounging and dreaming? Some parks allow you to spread out on the grass, others provide lounge chairs and/or benches (Luxembourg, Palais-Royal), but all offer a sublime Paris moment in the sun or shade.
PLAN YOUR TRIP: Visit Fodor's Paris Guide
Paris Tourist Office/Marc Bertrand
Catch an Outdoor Movie at Cinema en Plein Air
A time-honored summer tradition among Paris's movie-loving public, the month-long Cinema en Plein Air festival (July 22–August 23), on the sprawling lawn of the Parc de la Villette, features the city's biggest movie screen. Grab a picnic dinner and a bottle of wine and settle in for a magical night of movie going as the sun sets. A few of the many English language films featured this summer are Gravity, Rushmore, The Seven-Year Itch, and Casino Royale. Films begin at nightfall (around 8:30 pm), admission is free, and deck chair and blanket rentals are available for €7.
PLAN YOUR TRIP: Visit Fodor's Paris Guide
Paris Tourist Office/Marc Bertrand
Get out to the Flea Markets Including Puces de Saint-Ouen
Summer is a great time to head to Paris's legendary flea markets, where there are treasures to be had for every budget. The world's largest flea market, the 150-year-old Puces de Saint-Ouen has been steadily sprucing itself up over the last several years, adding Ma Cocotte, a hugely popular bistro by Philippe Stark furnished with flea market finds, and the new Village Vintage, a stylish courtyard devoted to 20th-century decor, fashion, and furniture, with several chic cafés. A perennial favorite for bargain hunters, Vanves flea market has everything from gilded mirrors and vintage Yves St. Laurent to hand-colored wallpaper and inlaid frames. Each neighborhood hosts its own flea market; just pick up a Pariscope at any newsstand to find a complete listing.
PLAN YOUR TRIP: Visit Fodor's Paris Guide
Jean-Baptiste Millot
Enjoy Classical Music at Parc Floral, Paris's Most Beautiful Park
Celebrating its 25th year, Classique au Vert (August 6–September 18) is Paris's leading outdoor classical music festival, held in the beautiful Parc Floral, in the Bois de Vincennes. A roster of world-class musicians performs 14 open-air concerts that you can enjoy seated in the pavilion or lounging on the lawn. Picnic under the trees to the dulcet strains of the Chamber Orchestra of Paris, the Amazing Keystone Big Band, or the Chamber Orchestra of Paris, with soloists Selphine Haidan, Karine Dshayes, and many more. Each weekend has its own theme: Douce France (sweet France), Mediterraneo, or Si tu vas à Rio (if you go to Rio). For a nominal €6 fee you gain all-day admission to the park and concerts. There are two cafés on the premises or bring your own lunch and blanket.
PLAN YOUR TRIP: Visit Fodor's Paris Guide
Ladiras81 | Dreamstime.com
Cruise on the Seine
There's no more romantic way to get to know Paris than from a boat on the Seine—and there's no lack of boats to choose from. See Paris's monuments and bridges up close on a relaxing boat ride that lasts between two and six hours. The Bateaux Mouches (fly boats) offer everything from sightseeing with commentary to a glass of Champagne or a gourmet meal served on white linen. Check companies online, or go to the Pont Neuf for one of the best stations (Vedettes de Pont Neuf). Another great option: the Bateaubus operates 7 days a week, from 10 am to 9:30 pm, leaving every 20 minutes from nine stops around Paris. For €17 a day (€19 for a 2-day pass) you can hop on and off this water taxi all day long. Stops include the Louvre, Eiffel Tower, Musée d'Orsay, Champs-Elysées, Saint-Germain-des-Prés, Notre Dame, and the Jardin des Plantes.
PLAN YOUR TRIP: Visit Fodor's Paris Guide
Yann Piriou
See Vaux-le-Vicomte, a Fabulous French Chateau, by candlelight
An hour bus or car ride from the city takes you to the outstanding Vaux-le-Vicomte, one of France's most beautiful chateaux. And there's no better time to go than on a candlelit Saturday, between May and October, when the chateau is illuminated inside and out with 2,000 candles. Visitors can enjoy a gourmet meal al fresco on an elegant terrace facing the castle or sip a glass of Champagne in the garden while reclining in a lawn chair to the strains of classical music (open all day). The evening ends at 10:50 pm when a grand fireworks display pops and shimmers, reflected in the palace's beautiful André le Nôtre–designed pools. An unforgettable evening.
PLAN YOUR TRIP: Visit Fodor's Paris Guide
Paris Tourist Office/Marc Bertrand
Go for a Ride in the Tuileries Gardens
In summer, the elegant Tuileries gardens, in the very heart of Paris, sheds its haughty image to host the fun-filled Fête des Tuileries (June 25–August 28). The carnival spirit reigns at this outdoor fair designed for the whole family and featuring more than 80 rides and games, including the famous Ferris wheel and a French double-decker carousel. Traditional French-inflected fairground snacks include waffles, crepes and yummy barbe à papa (cotton candy). Entry is free and visitors pay by the ride.
PLAN YOUR TRIP: Visit Fodor's Paris Guide
Zach Nelson / Fodor's Travel
Get in on the Sales!
Twice a year, in June and January, every boutique and department store in Paris opens its doors for the city's hotly anticipated soldes. For more than five weeks this summer—from June 22 until August—bargain hunters will benefit from discounts anywhere from 20 to 60 percent off retail prices. Although savvy Parisians hit the shops at 8 am sharp on the first morning of the sales to nab those dreamy Louboutins or a coveted designer bag, the longer you wait, the lower the prices.
PLAN YOUR TRIP: Visit Fodor's Paris Guide
Paris Tourist Office
Go to a Farmers' Market, Like the Marché Raspail
For anyone interested in food and the Parisian way of life, Paris's greenmarkets are a must. In summer, you're likely to find fresh, homegrown produce at markets around the city. The best organic markets are at opposite ends of town: open since 1989, Marché Raspail, in Saint-Germain, is the benchmark in bio (short for biologique, the French term for organic), but the colorful Marché des Batignoles is also a fabulous choice in an equally wonderful neighborhood. At the Marché President Wilson, you'll find small producers who supply the big-name chefs and home gourmets. Marché d'Aligre and Richard Lenoir, both near the Bastille, are as colorful as they come, and the Marais's Marché d'Enfants Rouge—the oldest in Paris—is the chicest and coziest, where you'll also find fabulous food stands and a stylish vibe.
PLAN YOUR TRIP: Visit Fodor's Paris Guide
Dennis_dolkens | Dreamstime.com
Take in the Art and Music at Versailles
Versailles isn't one of the most visited monuments on the planet for nothing, and if you think it's just a gilt-edged confection, think again. Each summer, the palace of palaces taps a major international artist to create site-specific works for the chateau's sprawling gardens and parterres. This year, the Danish-Icelandic artist Olafur Eliasson was invited to create works for several key locations in and around the chateau. Versailles's Grandes Eaux Nocturnes, a nighttime spectacle of lights, color, and fireworks that extends through the summer, is another can't-miss event, and there's also a range of events incorporating music and dance, including the Royal Serenade of the Hall of Mirrors.
PLAN YOUR TRIP: Visit Fodor's Paris Guide
Paris Tourist Office/Daniel Thierry
Dine al Fresco at GrandCoeur
Come spring, Parisians take to the streets en masse to partake of one of one of their very favorite activities: outdoor drinking and dining. Cafés are teeming and terrace restaurants are suddenly all the rage. One of the city's newest hotspots, GrandCoeur's seriously fabulous terrace (steps from the Centre Pompidou), is catnip for the chic Marais crowd. With a stylish brasserie menu conceived by Mauro Colagreco, one of France's reigning chefs, a superb list of wines by the glass, and all-day hours, this is the summer's not-to-miss spot. Other stellar terraces: Ralph's at the Ralph Lauren boutique, Mini-Palais at the Grand Palais, Monsieur Blue at the Palais de Tokyo, and the elegant Restaurant du Palais Royal in the sublime Palais-Royal gardens.
PLAN YOUR TRIP: Visit Fodor's Paris Guide
Dennisvdwater | Dreamstime.com
Go For a Bike Ride With Velib
Paris has made huge strides in creating safe, dedicated lanes throughout the capital, and biking is now more popular than ever. There's no better way to see this easily traversable city up close and personal and get from place to place as quickly, or slowly, as you like. Velib' bike-sharing system is a great way to start. As long as you have a credit card with a chip, you can buy a ticket at any Velib' station or online. The first 30 minutes are free with a nominal charge each 20 minutes thereafter. If you'd like a little more structure, Bike About and Fat Tire Tours offer a huge range of bike tours that take you through to the top monuments of Paris as well as the off-the-beaten-path streets, around Versailles, and more.
PLAN YOUR TRIP: Visit Fodor's Paris Guide
Courtesy of The Peninsula Paris
Sip a Cocktail on the Terrace of the Peninsula or L'Hotel
Paris has more than embraced the new global cocktail craze, and some of the best and most romantic spots for sipping the evening away is on one of the city's great hotel terraces. From the extraordinary rooftop bar of the Peninsula's L'Oiseau Blanc to L'Hotel's intimate garden enclave, Paris's hotel bars can't be beat. For elegance, great views, and the best service—not to mention top-notch beverages—head to Hotel Particulier and the new Terrass Hotel in Montmartre, Buddha Bar Hotel, M Gallery Molitor, and the Bar Vendôme at the newly opened Ritz.
PLAN YOUR TRIP: Visit Fodor's Paris Guide
Ludovic des Cognets
Go Avant-Garde at the Quartier d'Été Summer Arts Festival
From July 17 to August 7 the Quartier d'Été Festival assembles an exciting lineup of prestigious international artists for Paris's most expansive summer arts festival. Featuring dance, music, performance art, theater, art exhibitions, and more, and set in more than 30 venues around Paris—both indoors and out—the festival is a great way to join the city's avant-garde cultural scene. This year's lineup—which features Korean artists—includes Arthur Lavandier and the Orchestre Impromptu, playing Berlioz's 1830s masterpiece La Symphonie Fantastique in the beautiful Parc de la Butte du Chapeau Rouge, the Hee-Moon Lee Company at the Carreau de Temple, and Catalan choreographer Maria Muñoz with flamenco singer El Niño performing at the stately Bibliothèque de la Ville de Paris. Many of the performances are free; others ask a minimal admission price.
PLAN YOUR TRIP: Visit Fodor's Paris Guide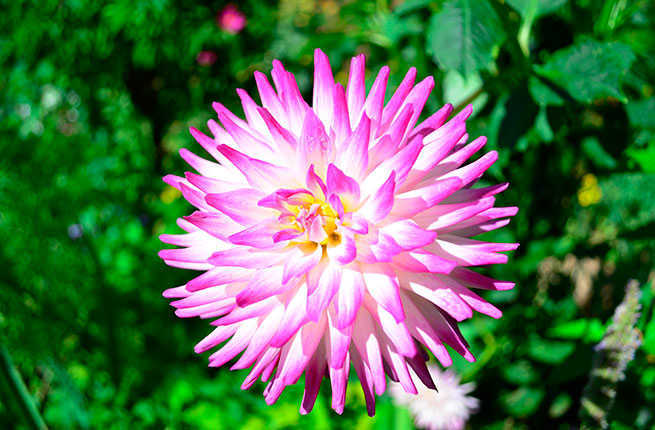 Esinel | Dreamstime.com
Celebrate the Normandy Impressionist Festival at Giverny
Every six years, several museums in Paris join forces for the spectacular Normandy Impressionist Festival. This five-month extravaganza of exhibitions, music, theater, performance art, photography, and much more celebrates one of the greatest movements in the history of art. The movement's undisputed master, Claude Monet, made one of his most extraordinary masterpieces out of his own garden in Giverny, just an hour from Paris. This year, Giverny, and the Musée des Impressionnismes, celebrates the festival with a superb exhibition of the work of Impressionist painter Gustave Caillbottes, Spanish Impressionist Joaquín Sorolla and, of course, Claude Monet. A wonderful addition to a day spent visiting the master's home and garden. Don't miss the wonderful museum café and bookstore!
PLAN YOUR TRIP: Visit Fodor's Paris Guide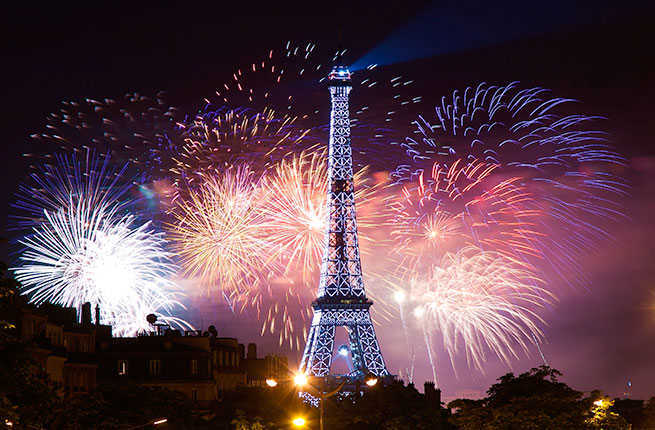 Patrickwang | Dreamstime.com
Celebrate Bastille Day Parisian style
July 14th is a great time to join Parisians in the biggest event of the year. The day begins at 10 am with a military parade down the Champs-Elysées with the French president leading the ceremonies. At 11 pm Paris's largest fireworks display is set off from the Eiffel Tower and Trocadéro. Watch from the Champs des Mars (the park around the Eiffel Tower). Or, to avoid the crowds, plan in advance where you'll stake your place, whether at a terrace restaurant or café or a vantage point nearby. But the night's not over yet! Every fire station in Paris holds its annual Fireman's Ball, a time-honored tradition of dancing and revelry from 9 pm till dawn.
PLAN YOUR TRIP: Visit Fodor's Paris Guide
Fotoember | Dreamstime.com
Go to the Beach of Paris Plages
What do you get when you cross a sunny Seine-side setting with 5,000 tons of sand? Now in its 14th edition, Paris Plages (July 18–August 21) is one of the city's most cherished and long-awaited summer events. Along with a half-kilometer of sandy beach to lie out on a beach chair (provided) or blanket, there's plenty of fun under the sun to be had, from concerts, outdoor bowling, and exercise or dancing classes (zumba, ballroom dancing, tai chi) to outdoor sports (rowing, canoeing, pedal boating). Outdoor cafés make it easy to spend the day and admission is free. Paris Plages also extends to the banks of the Bassin de la Villette.
PLAN YOUR TRIP: Visit Fodor's Paris Guide
Chbm89 | Dreamstime.com
Camp Out at Rock on the Seine
Held on the last weekend in August, Rock on the Seine (August 26–28) is Paris's biggest blowout rock event, drawing fans from all over Europe. For three days, in the beautiful Park de Saint-Cloud, just outside the city, the festival features more than 50 bands, including the biggest names in rock 'n' roll. Iggy Pop headlines this year's festival, along with Massive Attack, Sigur Ros, Foals, La Femme, Gregory Porter, Aurora, and many more. Go for the day (€49) or camp out at the park for all three days (spaces for a 2-person tent are €60, €90 with breakfast; a 4-person tent is €120, €180 with breakfast; available only for 3-day pass holders, €119). For pint-sized rock 'n' rollers (6–10 years old), Mini Rock on the Seine teaches kids all the dance moves and much more!
PLAN YOUR TRIP: Visit Fodor's Paris Guide
Paris Tourist Office/Amélie Dupont
Take a Stroll on Promenades of Coulée Verte René-Dumont or Les Berges de Seine
There's nothing like a stroll under the trees on a summer's day in Paris, and there are plenty of lovely promenades where you can feel like you're both in the thick of it and away from it all. The Coulée Verte René-Dumont, a 3-mile walkway atop the Viaduc des Arts, is planted with spectacular trees and flowerbeds and offers up-close views of Paris's residential areas and architecture. Or, if you crave exercise, Les Berges de Seine promenade, extending from the Musée d'Orsay to the Pont Alexandre III, offers scores of classes, like boxing, yoga, tai chi, dancing, knitting, and much more. With great views of the city, you can wander, rest in a cabane, or just sit and watch the river go by.
PLAN YOUR TRIP: Visit Fodor's Paris Guide