Flume covered bridge
New England is known for its stunning coastline, gorgeous fall foliage, and delicious seafood, but it's also home to more covered bridges than any other part of the country. There's something inherently romantic about driving down a country lane and coming upon a picture-perfect bridge that crosses a rushing river or seeking out a bridge that you'd never find while speeding down the interstate. These 20 covered bridges are definitely worth getting off the highway and slowing down for.— Kim Foley MacKinnon
Credit TK

Silk Bridge
WHERE: North Bennington, Vermont
A hop, skip and a jump from the Henry Bridge and the Paper Mill Bridge, the red, one-lane, 88-foot-long Silk Covered Bridge (once called the Robinson Bridge), was built around 1840 and features a Town lattice truss and crosses the Waloomsac River. It was built by Benjamin Sears, whose son Charles built the Paper Mill Bridge.
PLAN YOUR TRIP: Visit Fodor's Vermont Guide
Credit TK

Old Sturbridge Village Bridge
WHERE: Sturbridge, Massachusetts
You have to visit the living history museum in Old Sturbridge Village to get a peek at this Vermont Covered Bridge, but it's worth it. Built around 1870 in Dummerston, Vermont, the 55-foot-long bridge was moved to the museum in 1951 when it was facing destruction from new highway construction. It is one of only 12 covered bridges left in Massachusetts and fits in perfectly with the 19th-century setting of the museum. Even here, it wasn't quite safe: in 1955 Hurricane Diane knocked it off its abutments into the Quinebaug River, but it was moved nearby to a more secure spot.
PLAN YOUR TRIP: Visit Fodor's Massachusetts Guide
Credit TK

Cornish Windsor Bridge
WHERE: Cornish, New Hampshire and Windsor, Vermont
At 460 feet, the Cornish-Windsor Covered Bridge, spanning the Connecticut River to connect the towns of Cornish NH and Windsor, VT , is the longest wooden covered bridge in the United States and the longest two-span covered bridge in the world. It has had an eventful history and its current iteration, built in 1866, is actually its fourth: three previous bridges built in 1796, 1824 and 1828 were all destroyed by floods. The lattice truss bridge was originally a toll bridge and the amusing sign "Walk your horse or pay two dollars fine" is posted over the entrance.
PLAN YOUR TRIP: Visit Fodor's Vermont Guide
Credit TK

Chiselville Bridge
WHERE: Sunderland, Vermont
This 117-foot-long, green-roofed, red lattice covered bridge, built in 1870, traverses the Roaring Branch Brook and is about as picture perfect as it gets. In a state with more than 100 covered bridges, this one stands out. It sits about 40 feet above the water and like many other covered bridges it features a quirky sign over the entrance, this one says "One Dollar Fine For Driving Faster Than A Walk On This Bridge."
PLAN YOUR TRIP: Visit Fodor's Vermont Guide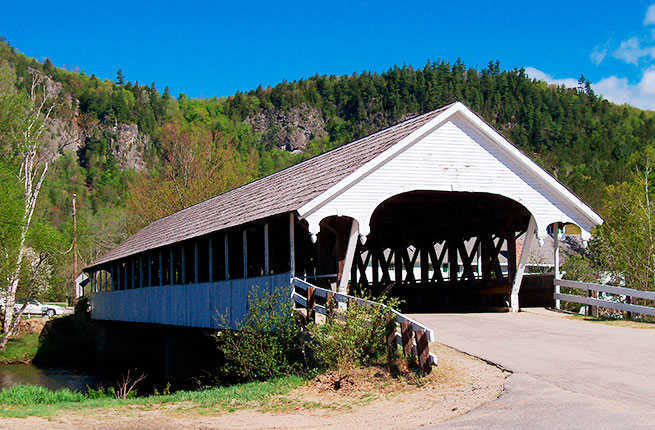 Credit TK

Stark Bridge
WHERE: Stark, New Hampshire
A white-painted covered bridge on a country road with white picket fences next to a white-painted church: it sounds like a movie set, but this is what you'll find in the small town of Stark. The bridge, built around 1862, has a colorful history, from being washed down the stream in the 1890s to almost being replaced with a steel structure in the 1950s. Two walkways on either side of the bridge are ideal for taking photographs.
PLAN YOUR TRIP: Visit Fodor's New Hampshire Guide
Credit TK

Bridge on the Green
WHERE: Arlington, Vermont
Situated over the popular trout stream at Battenkill River, the 84-foot bridge, variously called the Bridge at the Green, Arlington Bridge, and West Arlington Bridge, is said to be the most photographed in Vermont. The red Town lattice truss bridge with a green roof certainly is a stunner and it's easily photographed from different areas along the river.
PLAN YOUR TRIP: Visit Fodor's Vermont Guide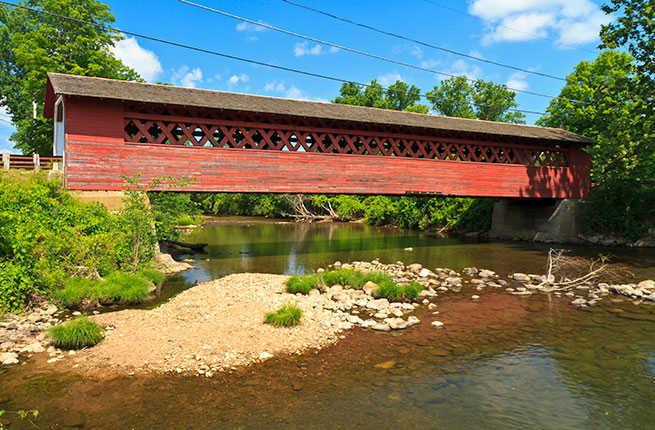 Credit TK

Henry Bridge
WHERE: West Bennington, Vermont
Originally built in 1840, the 127-foot-long red-painted Henry Bridge, with a Town lattice truss design, crosses the Waloomsac River, one of the three covered bridges in the area that do so. In the 1860s, it had to handle heavy wagon loads from the nearby Burden Iron Ore Company. They added extra supports to the bridge for strength, so at the time the Henry was the strongest covered bridge in the state.
PLAN YOUR TRIP: Visit Fodor's Vermont Guide
Credit TK

West Cornwall
WHERE: West Cornwall, Connecticut
Litchfield County is filled with charming towns, idyllic spots, and three covered bridges. The West Cornwall Bridge, painted barn red, crosses the Housatonic River, marking the boundary between the towns of Sharon and Cornwall and dates back to 1841. Since the bridge is quite close to Housatonic Meadows State Park, it's a popular place to stop, especially in the fall.
PLAN YOUR TRIP: Visit Fodor's Connecticut Guide
Credit TK

Flume covered bridge
WHERE: Lincoln, New Hampshire
It's definitely worth the price of admission ($16) to Flume Gorge park at the base of Mount Liberty to gain access to see the charming covered bridge which crosses Pemigewasset River. The bridge, built in the late 1800s, is only used by buses bringing visitors to the Flume from May through October. As you explore the area, you'll understand why the Pemigewasset, which means "swift or rapid current" in the Abenaki Indian language, got its name.
PLAN YOUR TRIP: Visit Fodor's New Hampshire Guide
Credit TK

Bulls Bridge
WHERE: South Kent, Connecticut
Spanning the Housatonic River, Bull's Bridge, built (or rather rebuilt) in 1842, sports a Town and queen truss design and stretches 109 feet. Local lore has it that George Washington had a mishap at the bridge in 1781 involving a horse, which apparently fell in the river and had to be fished out. True or not, the town of Kent did supply the Continental Army with iron ore, goods, and soldiers during the Revolutionary War. Trails lead down to the water, making it easy to see the bridge on foot from a safe spot.
PLAN YOUR TRIP: Visit Fodor's Connecticut Guide
Credit TK

Artist's Bridge
WHERE: Newry, Maine
There are various explanations for how this scenic bridge earned its name, but it's probably because so many people have travelled to photograph it or paint it over the years. The 99-foot Paddleford truss bridge, which is only open to foot traffic, is a beauty. Built in 1872, it spans the Sunday River and remains a mecca for tourists, though locals are quite protective of it.
PLAN YOUR TRIP: Visit Fodor's Maine Guide
Credit TK

Arthur A. Smith Bridge
WHERE: Colrain, Massachusetts
The only remaining Burr arch truss bridge in Massachusetts narrowly missed being lost to time and neglect. Built in 1870, the 99-foot-long bridge crossed the North River at a different spot than where it sits now, and was damaged in a flood in 1878. It was abandoned until 1896, when it was rehabbed and moved, until it was damaged again. Happily, in 2008 it was restored and now the pedestrian-only bridge is as pretty as a picture. It's named after a local Civil War captain.
PLAN YOUR TRIP: Visit Fodor's Massachusetts Guide
Credit TK

Waterloo Bridge
WHERE: Warner, New Hampshire
Most sources agree that there has been a covered bridge spanning the Warner River at this point since 1840, but there are few details about that first bridge. In 1857, the Town lattice truss structure was completely rebuilt, and then again in 1970. In 1987, it was once more rehabilitated to its current photogenic state.
PLAN YOUR TRIP: Visit Fodor's New Hampshire Guide
Credit TK

Ware-Hardwick Bridge
WHERE: Gilbertville, Massachusetts
Linking the towns of Ware and Hardwick over the Ware River, this 139-foot bridge, originally built in 1886, has been called the Ware-Hardwick, Hardwick-Ware, and the Gilbertville Bridge (named for the nearby village). Due to structural issues, the bridge had to close for eight years until it was fully restored in 2002. Now the green-roofed bridge should be set for years to come.
PLAN YOUR TRIP: Visit Fodor's Massachusetts Guide
Credit TK

Comstock Covered Bridge
WHERE: Montgomery, Vermont
This 68-foot-long Town lattice truss bridge was built in 1883 and crosses the Trout River on the aptly named Comstock Bridge Road. Both take their names from 19th-century mill owner John Comstock. It's one of seven bridges that brothers Sheldon and Savannah Jewett built in the late 1800s. Left unpainted, the one-lane bridge is one of six in the small, charming town of Montgomery.
PLAN YOUR TRIP: Visit Fodor's Vermont Guide
Credit TK
Swiftwater Bridge
WHERE: Bath, New Hampshire
Almost 160 feet long, the Swiftwater Bridge crossing the Wild Ammonoosuc River in Bath is the fourth one built at this site. Bridges built in 1810 and 1828 were destroyed by floods, and the one erected in 1829 was dismantled and replaced by the current bridge in 1849. At one point, logs were floated down this part of the river to a nearby sawmill and sometimes threatened the safety of the bridge.
PLAN YOUR TRIP: Visit Fodor's New Hampshire Guide