Courtesy of Sugar Beach, A Viceroy Resort, St Lucia
Every traveler has a different fantasy about their ultimate beach vacation. Adventure-seekers want beaches that are both beautiful and close to exciting attractions, like exotic jungles or a historically important port city. Honeymooners, on the other hand, gravitate toward deserted islands with palm-fringed beaches of the softest sand on Earth. Meanwhile, a family may be looking for fun-filled beach towns that have boardwalks lined with amusement rides and food stalls hawking saltwater taffy and corn dogs. No matter what your definition of the perfect beach vacation, you're sure to find inspiration on our list of the 15 best beaches to explore in 2014.
By Andrea M. Rotondo
Brandon Bourdages/Shutterstock
WHERE: Belize
The beauty of Belize just got closer with Delta's new non-stop weekly service from Los Angeles to Belize City. Delta joins a variety of carriers that already offer non-stop flights from places like Houston, Dallas, Newark, Atlanta, and Miami. The ease of getting to this striking Central American nation is helping to boost Belize's status as one of the most compelling getaways for nature-lovers. The country is home to the massive Belize Barrier Reef Reserve System—the largest reef in the Atlantic Ocean—as well as the awe-inspiring Blue Hole. Many travelers peg Ambergris Caye as their home base. Its Belize's largest island and it's situated in the northeast, surrounded by the turquoise waters of the Caribbean Sea. The mangrove island is 25 miles long and one mile wide with white-sand beaches ringing the atoll. Visitors spend lazy days on the beach, bird watch, bike, golf, and take a variety of tours in the Caribbean Sea to fish, snorkel, dive, windsurf, or sail. Those interested in Mayan culture can take day trips to Lamanai Ruins, or Tikal in the Petén district of nearby Guatemala.
Insider Tip: Just 11 miles north of San Pedro town on Ambergris Caye you'll find El Secreto, which debuted on Fodor's 100 Hotel Awards in 2013. This one-year-old resort touts "barefoot luxury" and lures couples that want to lose themselves on the secluded beach. The property consists of 13 very private thatched-roof villas—four of them are beachfront—all outfitted with private pools.
PLAN YOUR TRIP: Visit Fodor's Belize Cayes and Atolls Travel Guide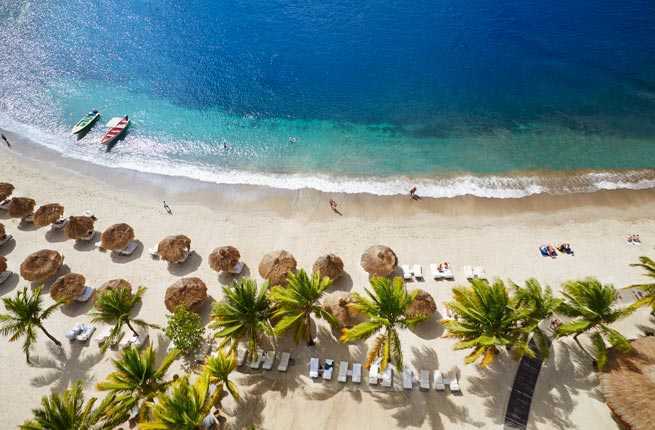 Courtesy of Sugar Beach, A Viceroy Resort, St Lucia
WHERE: St. Lucia
Honeymooners have long understood the allure of Soufrière, a small but vibrant town on St. Lucia's west coast. Formerly the domain of French plantation owners in the 1700s, today Soufrière is the epicenter for tourism on the island. People come here for both luxurious and laid-back resorts, gorgeous beaches, and other natural attractions like The Pitons, the now-dormant volcano Qualibou, Sulphur Springs, dozens of waterfalls, and the expansive St. Lucia Rainforest. In welcome news for those on the East Coast, United Airlines recently launched nonstop service from Newark to St. Lucia's Hewanorra International Airport (UVF).
Insider Tip: It's hard to define the most enchanting aspect of the new Sugar Beach, A Viceroy Resort in Soufriere. It's situated on 100 acres of lush rainforest and is gifted with amazing views of the most breathtaking UNESCO World Heritage site in the Caribbean: the dual mountains of The Pitons. The meticulously landscaped resort was once an 18th-century sugar plantation and still holds that old-world charm. Sugar Beach is blessed with a particularly wide swath of white powdery sand that fronts Pitons Bay with excellent opportunities for swimming, kayaking, and snorkeling. Viceroy rebranded the resort (formerly The Jalousie Planation) in late 2012 after a $100 million dollar renovation and it's already a favorite with travelers as proven by its place on Fodor's 100 Hotel Awards 2013.
PLAN YOUR TRIP: Visit Fodor's St. Lucia Travel Guide
Cosmopol/Dreamstime.com
WHERE: Colombia
If you haven't gotten around to visiting Cartagena, don't delay much longer. As the country's government and economy stabilize, more and more travelers are heading to this diverse destination in South America. The historic walled city on the coast is a study in Spanish colonial architecture and monuments to both military and religious figures. The city is now also home to all types of restaurants, chic art galleries, and trendy bars.
Insider Tip: Take a day trip to the Islas del Rosario archipelago, one of Colombia's protected Natural National Parks. This group of 27 coral islands in the Caribbean Sea, just 30 miles south of Cartagena, offers superb beaches for sunbathing and coral reefs where you can see 170 species of fish and 52 different types of coral. Day tours generally include the boat transfer from Cartagena, lunch, a visit to El Oceanario aquarium, and a visit to Playa Blanca on Isla Baru. This beach, with its soft, white sand is the one you want to visit. Be sure your tour includes a stop there.
PLAN YOUR TRIP: Visit Fodor's Colombia Caribbean Coast Travel Guide
WHERE: France
The island of Corsica in the Mediterranean may be part of France but it has a vibe all its own. Where else can you find a beach retreat that's both hip and chic (it's a favorite summertime vacation spot for Parisians) while retaining its old-world charm and culinary traditions? Best-known for being the birthplace of French emperor Napoleon Bonaparte in 1769, his ancestral home—Maison Bonaparte—in Ajaccio is now a museum. While hikers consider Corsica's mountains a Mecca, its coastline consists of nearly 200 beaches that should not be missed. You'll find powdery white sand, coarse golden grains, and beaches strewn with pebbles polished by the sea. Some of the best beaches can only be accessed by boat or a hike.
Insider Tip: Porto Vecchio on the southern coast of Corsica is home to a number of popular beaches such as Palombaggia, Santa Giulia, Pinarellu, San Ciprianu, and Cala Rossa. Nestled by a lush hillside dotted with gorgeous villas, Cala Rossa is known for its red-sand beach lapped by perfect turquoise water. There's no better way to explore the area than to stay at hotel situated right on the beach. The Relais & Chateaux property, Grand Hotel de Cala Rossa, fits the bill.
PLAN YOUR TRIP: Visit Fodor's Corsica Travel Guide
Mila Atkovska/Shutterstock
WHERE: Greece
If you've only visited Corfu for the day while your cruise ship was in port, you're missing out. This lovely island in the Ionian Sea played an important role in the development of the Greek Isles but was also home to Venetians, the French, and the British throughout the years. You can see layers of those influences in the iconic palaces, monuments, and fortresses that still stand on the island today. Corfu Town, with its narrow, shop-lined streets and outdoor cafes, is the most-visited part of the island but sun worshippers also head south for sandy beaches or north for beautiful, but more pebbly, options.
Insider Tip: Summer crowds and the heat bother some. If you're in that camp, visit Corfu from October 8–12, 2014, for the Corfu Beer and Gastronomy Festival in Arillas. Arillas Beach on the northwestern side of the island is a favorite for its shallow, clear water and the nearby shops and tavernas.
PLAN YOUR TRIP: Visit Fodor's Corfu Travel Guide
Evgeniya Moroz/Shutterstock
WHERE: Croatia
There is one place on the Dalmatian Coast that's currently raising some eyebrows: Hvar, Croatia. It's long been a favorite stopover for sailors and the yacht set, but a wave of hotel development, most notably by Suncani Hvar Hotels, is bringing a whole new generation of couples and families to this island in the Adriatic Sea. The 115-square-mile island is notable for its lush hillsides that are dotted with olive groves, vineyards, aromatic lavender fields, pine forests, and fruit orchards. Hvar's St. Stephen's Square is the main gathering place with restaurants, shops, and a port that is nearly always packed with yachts and sailboats.
Insider Tip: All beaches in Hvar are covered in pebbles so be sure to bring water shoes. They won't be the softest beaches you've ever walked on, but the water will be perfectly clear and turquoise and many of the cove beaches are nestled against shady pine scrug. Dubovica cove, near Stari Grad, is a popular beach that's just a 10-minute walk from the road. A lovely seafood restaurant is right on the beach.
PLAN YOUR TRIP: Visit Fodor's Central Dalmatia Travel Guide
Andrew Kazmierski/Dreamstime.com
WHERE: New Jersey Shore
Thousands of travelers flock to the Jersey Shore every year but it's more important that you plan a visit in 2014. The fact is, tourism to New Jersey's shore communities—with 130 miles of beautiful beaches—still hasn't fully rebounded after October 2012's category 3 Hurricane Sandy. The towns have rebuilt and are better than ever and that's one reason the Jersey Shore is on Fodor's 2014 Go List.
Insider Tip: Towns like Ocean Grove have worked hard to rebuild their little bit of paradise and they want to share it with you. Established in 1869, Victorian architecture is still a major draw of the area as is the beach and boardwalk. The downtown district—with cute shops and restaurants—is just two blocks from the famed boardwalk. But, you go to the Shore for the beach and Ocean Grove's is pristine. It's popular with families for its annual sandcastle and kite-flying contests, volleyball games, and boogey board races. Ocean Grove is a one-hour drive from Manhattan and Philadelphia, or you can take the train.
PLAN YOUR TRIP: Visit Fodor's New Jersey Shore Travel Guide
Luiz Rocha/Shutterstock
WHERE: Brazil
Soccer fans are busy planning their Rio de Janeiro vacations for this summer when the city hosts the FIFA World Cup from June 12–July 13, 2014. But, don't stick to the soccer fields and pub! Explore the city, visit the nearby Amazon rainforest, and check out a few of Rio's chic beaches.
Insider Tip: Locals will tempt you to visit well-known Copacabana Beach on the Atlantic. You've got the waves crashing on the beach in front of you, high-rise hotels behind you, and mountains towering above it all. Definitely spend some time on Copacabana, but don't stop there. Just beyond Copacabana is Ipanema. It's decidedly more upscale and the beach vendors are plentiful, selling everything from water and beer to beach towels and sunglasses to Brazilian bikinis. This is not a quiet beach but rather one where you can join an impromptu volleyball game or try a watersport like boogie boarding or surfing.
PLAN YOUR TRIP: Visit Fodor's Rio de Janeiro Travel Guide
Sebastien Burel/Shutterstock
WHERE: California
Lists of "best beaches" often gloss over the ones that are suitable for families, but if that's what you're looking for you can't do better than La Jolla, a cool neighborhood in Southern California's San Diego. La Jolla Shores offers safe swimming and snorkeling right from the beach and is a point of embarkation for kayakers who paddle to nearby La Jolla Cove. Caves have been carved out of the cliffs by the might of the Pacific Ocean's waves over the years. When you tire of the beach, explore the nearby hillsides, go into town to check out some shops and galleries, and have a bite to eat at any of the restaurants that line La Jolla Village.
Insider Tip: Southwest Airlines launches new routes to San Diego this year from New Orleans, Orlando, Portland, and Seattle.
PLAN YOUR TRIP: Visit Fodor's San Diego Travel Guide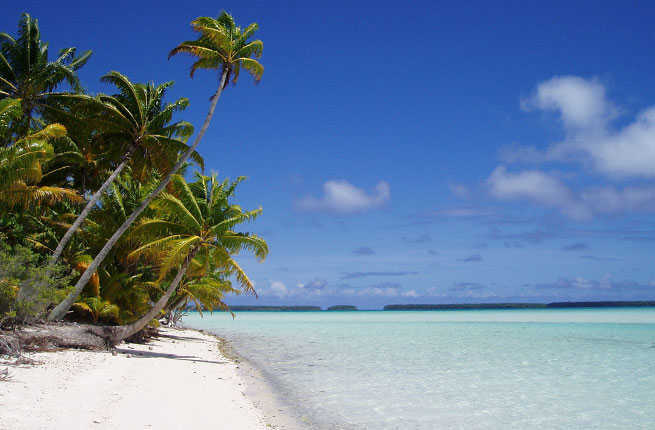 James H. Boyum/Shutterstock
WHERE: French Polynesia
Tetiaroa—a gorgeous atoll 33 miles northwest of Tahiti in the Windward group of the Society Islands in French Polynesia—used to be the playground for Tahitian royalty. To this day, locals believe the island is a sacred place. Famous Royal Navy captain William Bligh is said to be the first European to visit the atoll, in 1789, while searching for the mutineers that commandeered HMS Bounty. Over the years the island changed hands until actor Marlon Brando bought Tetiaroa in the late 1960. He, ironically, was visiting the island while scouting locations for the movie Mutiny on the Bounty. The island with its 12 islets is known for untouched white-sand beaches and a healthy coral reef that is home to a large population of sea turtles and 167 different species of fish from spotted eagle rays to blacktip sharks to parrotfish.
Insider Tip: In July 2014, the vision of the late Marlon Brando—for a sustainable boutique luxury resort—comes to fruition with the opening of The Brando on Tetiaroa. The ultra-posh resort will feature 35 villas with private plunge pools, two restaurants and two bars, a spa, organic fruit orchards and vegetable garden, and ecological research station that will offer unique programs for guests. The island reef is continuous with no opening for boat traffic so you'll need to catch a 20-minute connecting flight from Tahiti's Fa'a'a International Airport.
PLAN YOUR TRIP: Visit Fodor's French Polynesia Travel Guide
maxhphoto/Shutterstock
WHERE: Guanacaste, Costa Rica
The Gulf of Papagayo on the north Pacific Coast of Costa Rica makes for the ultimate beach vacation while throwing in access to dense tropical forests where you'll spy howler monkeys and squirrel monkeys, Guanacaste Mountains for hiking, and national parks for day-long treks. But, most people come here for the crisp, white-sand beaches that glisten as the sapphire waters lap the coast. A new and expansive terminal was recently added to the Daniel Oduber Quiros International Airport in Liberia, which greatly increased incoming and outgoing flights. Now is the time to visit Costa Rica.
Insider Tip: Andaz Peninsula Papagayo, a Hyatt Hotels property, opened in December 2013 and is well worth a visit since it's located on an impressive stretch of beach on the Bay of Culebra. The 28-acre resort on the northwest Pacific coast of the country has a mix of luxury suites and traditional guest rooms plus three restaurants, 11,000-square-foot ONDA Spa, and two swimming pools.
PLAN YOUR TRIP: Visit Fodor's Costa Rica North Pacific Coast Travel Guide
Robert Lerich/Dreamstime.com
WHERE: Puerto Plata, Dominican Republic
The best news about Playa Dorada, the best stretch of golden sand along the Dominican Republic's Amber Coast, is that the region still offers a range of accommodations from budget to super deluxe. It's also easy to get here from the United States with flights from a variety of major and budget carriers. In fact, Delta just increased service from New York's JFK to both Santiago and Santo Domingo.
Insider Tip: A solid choice for your stay is the all-inclusive Iberostar Costa Dorada. The water can get a bit rough here but it's ideal for water-skiing and windsurfing.
PLAN YOUR TRIP: Visit Fodor's Dominican Republic North Coast Travel Guide
Pniesen/Dreamstime.com
WHERE: Nicaragua
Central America's Nicaragua may not initially spring to mind when you're planning your next beach vacation but it should. It's got coastlines along the Caribbean Sea in the east and the Pacific Ocean to the west. Now is the time to visit before the country comes into vogue. It's known for eco-friendly accommodations, active adventures on land and at sea, and impressive colonial architecture in its cities.
Insider Tip: A new league of luxury hotels—like Mukul Beach, Golf & Spa Resort in the private beach community of Guacalito de la Isla—are opening along the Emerald Coast off the Pacific Ocean. These resorts make it much easier to explore the hidden, gold-sand beaches that are fringed by Nicaragua's dense rainforest.
PLAN YOUR TRIP: Visit Nicaragua is Ready for Prime Time
Photo Image/Shutterstock
WHERE: Mamanuca Islands, Fiji
"Bula" is the Fijian word for "welcome" and islanders are getting ready to greet a new beach retreat on the southwestern corner of Tokoriki Island in the nation's Mamanuca Islands chain. Sheraton Fiji Resort & Spa, Tokoriki Islands opens on May 3, 2014 on the northernmost island of this archipelago of volcanic atolls off the western coast of Nadi. It's just a 12-minute helicopter or seaplane ride from the airport in Nadi or a one-hour, high-speed catamaran voyage from Denarau Marina. Tokoriki is known throughout the South Pacific for its palm-fringed beaches of powdery soft sand and its reef that astounds divers and snorkelers who are especially interested in sneaking a peek of a Fijian Giant Clam. The new resort will offer 101 rooms and suites, including Family Suites and Tokoriki Retreats that feature private plunge pools. The 35-acre complex will offer what you'd expect from a luxury resort, including a spa with four treatment rooms, a 38-seat movie theater, boutique, kids club, fitness center, tennis courts, and pool.
Insider Tip: Book your flight on the recently rebranded Fiji Airways (previously Air Pacific). The airline is flying three new Airbus A330s from Los Angeles to Nadi International Airport in Fiji. It's a 10-hour trip so you may want to book into the business-class cabin, which features angled lie-flat seats.
PLAN YOUR TRIP: Visit Fodor's Fiji Mamanuca and Yasawa Groups Travel Guide
Elisa Locci/Shutterstock
WHERE: Thailand
The quietest and most peaceful beach on this list has to be Chaweng Noi Beach (to the north of the much more boisterous Chaweng Beach). It fronts the recently opened Vana Belle in Koh Samui. This Luxury Collection resort is set along a secluded cove with an impossibly soft white-sand beach. The suites and villas—each with private pools and terraces—are tucked amid native foliage that keeps things cool and cozy. Vana Belle's proximity to Chaweng and other more populated areas means it's easy for you to explore the area, check out local restaurants, and go on shopping sprees.
Insider Tip: Reputable beach hut businesses are in full swing along Chaweng Beach. Try the inexpensive but, oh so relaxing, massages.
PLAN YOUR TRIP: Visit Fodor's Thailand Gulf Coast Beaches Travel Guide