FTWS/Shutterstock
At Fodor's, we're always on the hunt for where to go next. From travel-worthy events (World Cup in Brazil) and buzzy hotspots (sun and scene in Corsica) to brilliant values (a Greek Isles getaway) and emerging destinations (UNESCO site-hopping in Ethiopia), 2014 is shaping up to be an epic year for travel. These are the top 25 trips we're looking to book right now—and we hope you'll join us!
Peter Guttman
It's still the trip of a lifetime, 100 years after Shackleton's heroic journey
Why Go Now: With its stark and sometimes dangerous beauty, and engaging wildlife like seals and penguins, Antarctica is one of Earth's incredible untamed frontiers—and irresistible to explorers and travelers. In 1914 Sir Ernest Shackleton began his Imperial Trans-Antarctic Exploration, hoping to cross from one side of Antarctica to the other. His ship, the Endurance, sank, but Shackleton and five others rowed 800 nautical miles and then returned to rescue the others. This saga's 100-year anniversary is the perfect time to consider an Antarctic cruise aboard the deluxe Lindblad Expeditions or Quark Expeditions.
Insider Tip: Reading lists, like packing lists, are vital for this journey. Shackleton's South: The Endurance Expedition is a classic, while Sarah Wheeler's more recent Terra Incognita vividly describes the journalist's seven-month Antarctic stay. Original photographs from Robert F. Scott's and Ernest Shackleton's expeditions reproduced in In the Heart of the Great Alone convey the continent's majesty.
When to Go: November through March, the Southern Hemisphere's summer, is the window for Antarctic cruises. November is quieter (fewer visitors at sites) but colder, with impressive icebergs. December and January are popular because of the long days and baby penguins on view. From mid-February through March you see more whales—but fewer penguins.
PLAN YOUR TRIP: Start planning using Fodor's blog, and read a trip report from our community. Plan the time before or after your cruise with Fodor's Buenos Aires and Ushuaia guides. –Linda Cabasin
Botond Horvath/Shutterstock
Commemorate the 100th anniversary of World War I in Europe's quaintest country
Why Go Now: Snuggled in between the Netherlands, Germany, and France, Belgium is sometimes overlooked on European itineraries. But its medieval cities are charming architectural treasures, and Belgian beer and chocolate are synonymous with excellence. 2014 marks the centenary of the start of World War I, and while events will occur throughout Europe over the next four years, the Flanders Field region is taking center stage. Home to several important battles throughout the war, including the very first one in Liege, there are memorials, battlefields, cemeteries, and museums ready for visitors to explore, including special exhibits and tours created just for the occasion.
Insider Tip: Due to Flanders's calm, rolling terrain, a cycling tour is the perfect way to explore and learn about the Western Front battlegrounds.
When to Go: While many museums will offer exhibits commemorating the war as early as February, the actual anniversary of the first battle is in August, marking the official beginning of the centenary.
PLAN YOUR TRIP: Start planning using Fodor's Belgium Travel Guide. –Amanda Sadlowski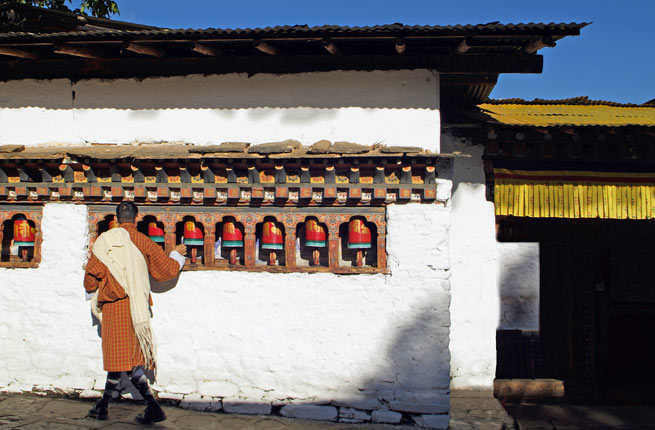 fritz16/Shutterstock
Venture to an exotic and tranquil Buddhist kingdom in the Himalayas
Why Go Now: The country that invented the quotient of Gross National Happiness wants you to experience its beguiling charms, but only on its terms. Closed off from the world for decades, Bhutan has only allowed tourism since 1974. Those willing to go the extra mile to come here are rewarded with a traditional Buddhist society that has also embraced modern conveniences. Visit the Taktsang Goemba (Tiger's Nest Monastery), perched on a perilous cliff, or the Jigme Dorji National Park to see the takin, Bhutan's national animal, which resembles a goat crossed with a horse. Only two airlines are allowed to fly here, so the country remains difficult to reach, although that exclusivity is part of its allure.
Insider Tip: Completely independent travel to Bhutan is not allowed. You must have a guide and go on a government-approved itinerary. There's also a minimum cost of $200 to $250 per day if you stay in the country's most basic three-star hotels. Happily, this price includes your guide, meals, and transportation (except flights).
When to Go: Spring and fall are optimum times to visit for lush greenery and popular regional festivals. Winter and summer attracts fewer travelers as you run the risk of extreme cold or the monsoon season.
PLAN YOUR TRIP: Start planning using Fodor's Bhutan Travel Guide. –Doug Stallings
FTWS/Shutterstock
Already rich in culture and adventure, Bolivia has added gastronomy to its appeal
Why Go Now: Intrepid travelers know all about Bolivia's off-the-grid adventures, but with no hotspots or luxury hotels to speak of, it's never been on many globetrotters' radars. That may change now that Noma co-founder Claus Meyer opened his second restaurant, Gustu, in La Paz last April. It was a surprising move—the high altitude here impacts culinary alchemy and appetites—with the potential to attract traveling foodies to this fascinating corner of South America. Once there, they'll discover astonishing landscapes full of salt flats, deserts, lagoons, and lakes, plus a rich indigenous culture unlike any in the world.
Insider Tip: You can eat á la carte at Gustu, but the 5-, 7-, or 15-course tasting menu with wine is the way to go. At a reasonable $65-plus a person, it's the best-value gastronomic experience you're likely to have in 2014.
When to Go: Late June to early September has the best weather and festivals, but also commands top dollar (by Bolivian standards). April to June and September to October offer excellent value and fewer crowds.
PLAN YOUR TRIP: Start planning using Fodor's Bolivia Travel Guide. –Arabella Bowen
fstockfoto/Shutterstock
Expect an all-out party when the World Cup returns to this soccer-crazed country
Why Go Now: Soccer is a passion and an art form in Brazil, and the country's fervor will be on full display when it hosts the FIFA World Cup in 2014. Hundreds of thousands of visitors will descend on Brazil for the event, looking to cheer on their national teams from 12 host cities spread across the country. Brazil has erected roughly 150 new hotels for the World Cup, and the foodie scene continues to boom. In between matches, you can choose between adventures: a trek through the Amazon rain forest, a spray-soaked ride into Iguaçu's raging waterfalls, or a relaxing afternoon on Rio's stylish beaches.
Insider Tip: If you don't have tickets for the World Cup, you can still soak in the atmosphere at a fan-fest locale: a designated beach or public space in each host city where crowds will be able to follow the matches on massive screens while enjoying live music and festivities.
When to Go: The World Cup runs from June 12-July 13, and Rio's Carnival usually takes place in February. To avoid massive crowds, head to Brazil in September or October, when the weather is mild and the prices are lower.
PLAN YOUR TRIP: Start planning using Fodor's Brazil Travel Guide. –Luke Epplin
Dan Breckwoldt/Shutterstock
With hip cities, gorgeous scenery, and popular vineyards, it's redefining West Coast cool
Why Go Now: Canada's western province is ready to shine. Cities like Vancouver and Victoria have exploded with new bars and chic hotels in recent years, while still maintaining their small-town charm. Beach bums can head out to the Pacific Rim's coastal towns of Tofino and Ucluelet, which offer dramatic waves for surfers and unbeatable whale-watching opportunities for those who prefer to stay dry. Skiers will find snow paradise (along with legendary après-ski nightlife) in the mountains of Whistler, while less active travelers won't be able to resist the vineyards of Okanagan Wine Country, known as the "Napa of the North."
Insider Tip: British Columbia is home to over 30 First Nations groups, with several museums and cultural centers to help visitors learn the history of these aboriginal peoples. Join First Nation members at the Kamloopa Powwow every summer, complete with drumming circles, dances, and traditional foods.
When to Go: With beaches and skiing, British Columbia has something to offer season, but the weather is at its nicest and the crowds at their smallest in September.
PLAN YOUR TRIP: Start planning using Fodor's British Columbia Travel Guide. –Amanda Sadlowski
Rafal Cichawa/Shutterstock
A vibrant, historic city that's one of South America's newest hotspots.
Why Go Now: A decade ago, travelers tended to stay away from Cartagena, wary of the country's drug trade, but with a stabilized, cleaned-up economy, travelers are flocking to this stunning walled city on the Caribbean coast of Colombia. Direct flights from New York, Miami, and Fort Lauderdale make the trip fast and easy. Once there, check out the Palacio de la Inquisicion for insight into the area's history from pre-Colombian days, including instruments of torture used in the Inquisition. For more light-hearted fun, head out to art galleries like NH Galeria (which has work by local and international artists), or check out restaurants serving the freshest seafood, or try salsa dancing till the wee hours.
Insider Tip: There are plenty of sights to see in the Old City: rent bikes for even easier exploring. If beaches are your thing, take a day trip to nearby Islas del Rosario, or if you have a few days to spare, head to Isla Grande off the coast of Panama.
When to Go: December through April is the dry season, with temperatures in the mid 70s to the high 80s. The annual Hay Festival Cartagena will take place January 30-February 2, 2014, bringing together writers and artists from 20 countries. The city's international film festival is set for March 13-19, 2014.
PLAN YOUR TRIP: Start planning using Fodor's Cartagena Travel Guide. –Caroline Trefler
chungking/Shutterstock
Visit for the giant pandas and ancient temples—plus the spiciest food in China
Why Go Now: Sichuanese warn their children, "don't go to Chengdu when you're young," because there's a real danger of falling for this dynamic city, smack in the middle of China. Chengdu's famed Panda Research Center is reason enough to travel halfway around the world, but that's just for starters. Join locals sipping tea in one of its many tea gardens and parks. Savor some of the spiciest food on the planet. Then, add in a little art: Chengdu is quickly becoming known for it's contemporary arts scene and recently hosted its 6th Biennial.
Insider Tip: Visit the Chengdu Research Base of Giant Panda Breeding during feeding time between 9 and 10 am and watch in awe as the cuddly beasts nibble bamboo. You can even hold a baby bear for a small donation.
When to Go: Chengdu has mild, humid weather and four distinct seasons with a long, languid spring. Avoid the lowest and highest temperatures by visiting from March to June or from September to November.
PLAN YOUR TRIP: Start planning using Fodor's Chengdu Travel Guide. –Margaret Kelly
Richard Cavalleri/Shutterstock
An all-American city for baseball fans, outdoor enthusiasts, and dedicated foodies
Why Go Now: The fact that 2014 marks the 100th anniversary of Wrigley Field, with planned activities throughout Chicago all year to celebrate isn't the only reason to visit the windy city this year. With culinary hotspots like Next and Alinea, exclusive bars like The Aviary, and the famous boutique Ikram, started by Michele Obama favorite Ikram Goldman, Chicago's star continues to rise. And now it's also home to the Langham Chicago, the world's only hotel in a Mies Van Der Rohe-designed building, as well as the nation's largest bike share program, with 300 stations across the city.
Insider Tip: Be sure to catch a show at Second City, the comedy troupe that's an incubator for famous Saturday Night Live alums (like Jim Belushi and Tina Fey). Remember—if the early shows sell out, you can almost always get tickets for the 11 pm weekend show.
When to Go: Chicago's weather can be unpredictable but in general winters are frigid and summers are sunny. Enjoy a Cubs game at Wrigley Field in the spring; in the summer, experience Chicago's outdoor festivals; and in the winter, see the city decked out in holiday lights.
PLAN YOUR TRIP: Start planning using Fodor's Chicago Travel Guide –Kristan Schiller
Jack Affleck / Vail Resorts
Come for the skiing and outdoor adventures, stay for the microbrews and posh resorts
Why Go Now: As February's Olympic games approach, winter sports will be on everyone's mind, and no place in the United States offers better winter activities than Colorado. The state's champagne powder and thrilling downhill runs through the majestic Rocky Mountains lure skiers and snowboarders of all levels. Après-ski, you can relax at a posh resort in ski-towns like Aspen, Vail, and Breckenridge. The summer months bring forth different outdoor adventures like excellent hiking, rafting, fishing, and horseback riding. Don't forget to spend a few days in vibrant Denver and Boulder, where superb microbreweries and trendy galleries have proliferated.
Insider Tip: Microbrews may command all the attention, but one of Colorado's best-kept secrets is its burgeoning wine scene. Vineyards in the state's northwest corner produce a range of whites and reds. You can take winery tours in Palisade and Grand Junction.
When to Go: If you want to hit the slopes, book a trip for January or February. For hiking and other outdoor activities, aim for July or August.
PLAN YOUR TRIP: Start planning using Fodor's Colorado Travel Guide. –Luke Epplin
Anilah/Shutterstock
Enjoy "scene," sun, and sand on this French- and Italian-accented island
Why Go Now: There's never a bad time to explore this culturally vibrant, gastronomically blessed French island in the Mediterranean Sea. Snap your fingers alongside the hip Parisian crowd that descends each June for the Calvi on the Rocks jazz festival. Or celebrate the birth of Corsica's most famous son, Napoleon, during an August celebration filled with processions and fireworks. Home to a vivid food culture, festivals and markets year-round celebrate the island's bounty. You can also spend hours strolling the miles of pristine beaches or snorkeling the crystalline waters.
Insider Tip: Pack hiking boots to fully enjoy the striking hills on the island, especially Cap Corse on the northern end. You won't want to miss the stone villas, lime trees, olive groves, and rocky fjords—just a few of Corsica's marvelous natural features.
When to Go: For cooler weather and less crowded beaches, visit in late spring or fall. June and October are the perfect months to experience the pinnacle of Corsican cuisine.
PLAN YOUR TRIP: Start planning using Fodor's Corsica Travel Guide –Amanda Oppold
DIA by m13m
An under-the-radar city getaway that's closer (and cooler) than you realize
Why Go Now: A hip, new, cultural- and design-savvy Detroit is emerging from what remains of Motor City. Some compare it to hipster Brooklyn because of the microbreweries, coffee shops, organic bakeries, guerilla farming, forward fashion boutiques, and funky cocktail spots popping up all over town. Art is a big draw these days, especially as talk continues about whether the world-class Detroit Institute of Arts will have to sell off important works to pay Detroit's creditors. If you're interested in more avant-garde work, check out the many new gallery spaces, or the Heidelberg Project, a blocks-long outdoor art project where the houses are the works of art. Beer aficionados tout the quality and diversity of Detroit area microbreweries, while foodies love Detroit for its innovative new restaurants, and for the feast of artisanal food and local procedure that takes place every Saturday morning at the Eastern Market.
Insider Tip: Detroit's renaissance means there are festivals and special events most of the year, so plan to get out with the locals. Friday Night Live! is the weekly celebration organized by the Detroit Institute of Art, with music, workshops, and food. Every third Thursday, venues all over town stay open late with openings, exhibits, and all sorts of programs. Also of note: JetBlue is set to introduce a new direct Boston-Detroit route in March 2014.
When to Go: Late spring, summer, and early fall are the most popular time to visit Detroit, when the weather's fine and you can rent a bike to tour the city. Winters tend to be cold and less hospitable, with sudden snowstorms.
PLAN YOUR TRIP: Start planning using Fodor's Detroit Travel Guide. –Caroline Trefler
Mapics/Dreamstime.com
The most beautiful wine country in the world borders a wonderfully wild coastline
Why Go Now: One of the world's oldest wine regions and a UNESCO world heritage site, the Douro Valley remains one of Europe's lesser-explored gems. But this may soon change. Recent awards for the country's wines, especially the affordable, deep, rich Douro reds and effervescent vinho verdes, have spurred a savvier hospitality industry all along the wine trail. Porto, Portugal's famed second city and the Douro Valley anchor, is at the ocean's edge, so a day at the beach is certainly not out of the question.
Insider Tip: No trip to this region is complete without a boat ride on the Douro River, whose curve after curve of terraced vineyards together form a World Heritage Site. The less-traveled Rota dos Vinhos Verdes (Green Wine Route) explores the young wines produced across the Minho.
When to Go: It's best to visit the Douro Valley in summer when it's warm and the vines are bursting. Try your hand at harvesting in September.
PLAN YOUR TRIP: Start planning using Fodor's Portugal Travel Guide. –Margaret Kelly
Edwardje/Dreamstime.com
See some of Africa's most famous historical and natural sites—without breaking the bank
Why Go Now: With nine UNESCO world heritage sites and known as one of the oldest locations of human life, Ethiopia is a cultural and historical treasure chest just waiting to be explored. Flights along the country's Historic Route offer tourists an easy and wallet-friendly way of seeing Ethiopia's most incredible sites—from the capital city, Addis Ababa (Africa's fourth largest), to the famous churches of Lalibela, one of the most important holy cities in the country (dubbed "the second Jerusalem"), to the colorful Lake Tana Monasteries and extraordinary Blue Nile Falls.
Insider Tip: Service on Ethiopia's public transport system can be erratic and usually offers only one bus per day between destinations. So if traveling by road, to save time (and avoid flat tires) hire a 4-wheel drive vehicle for the more remote areas, which are potholed, jagged, and mainly unpaved.
When to Go: Avoid the rainy season (mid-June to mid-September), which makes traveling by many of the remote roads difficult and often unfeasible.
PLAN YOUR TRIP: Start planning using Fodor's community Ethiopia Trip Reports –Perrie Hartz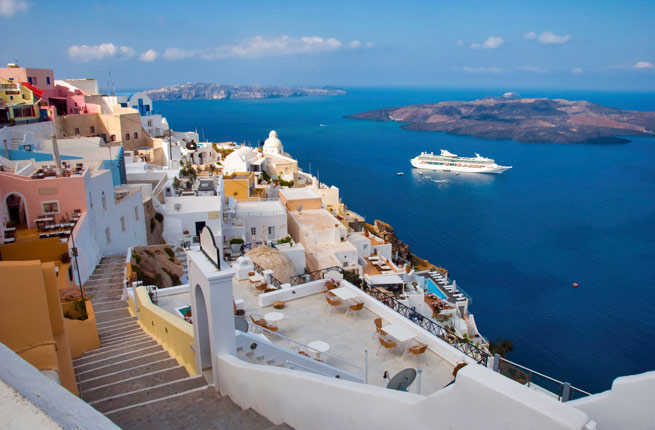 dr.katsf/Shutterstock
A laidback, budget-friendly stay with picturesque beaches and boutique hotels
Why Go Now: With the Greek economy finally improving after a six-year depression, tourism is on the rebound. Among the notable highlights: Disney Cruise Line announced the Greek Isles as one of their 2014 itineraries so families can get in on the island hopping action. Meanwhile, couples will enjoy the postcard-perfect Mykonos and Santorini with their striking white architecture and blue-domed churches. Then step back in time for a hands-on history lesson on Crete and Rhodes. Enjoy scenic vistas and sun-soaked beaches on Corfu and Kos.
Insider Tip: There's not much going on between 3-5 pm, so plan to do your own recuperating during that time, taking in the beautiful vistas and wandering the charming streets.
When to Go: The isles are in full swing from April to mid-October, but visit in mid-may to June for moderate weather, discounted room rates, and better service due to the lower number of tourists.
PLAN YOUR TRIP: Start planning using Fodor's Greece Travel Guide –Amanda Oppold
Evgeniya Moroz/Shutterstock
A new hot spot for beach lovers and yachties on Croatia's Dalmatian coast
Why Go Now: While the hip European crowd has migrated to Hvar's stunning cypress-lined beaches for countless summers, the island's location along the route of Croatia's trendy Yacht Week—a 7-day tour of coastal locales in a fleet packed with young travelers from around the world—has expanded its popularity internationally and cemented its status as a partier's paradise (clubs like Carpe Diem continue to buzz well past sunrise). If beach parties aren't your thing, explore the winding medieval streets of Hvar Town and its outstandingly well-preserved ancient structures like the Franjevacki Samostan, or the magnificent main square, Trg Sveti Stjepan, the largest piazza in Dalmatia.
Insider Tips: Make sure to reserve a table in advance for dinner at one of Hvar's most popular restaurants, Macondo. Tucked away down a narrow, cobblestone street near the main square, this quaint eatery is renowned for its superb seafood and faultless service.
When to Go: While prices during high season (July-August) rise considerably and the large influx of young partiers could deter travelers looking for a more peaceful holiday, the constant sunshine and lively atmosphere of the summer months are not to be missed.
PLAN YOUR TRIP: Start planning using Fodor's Hvar Travel Guide –Perrie Hartz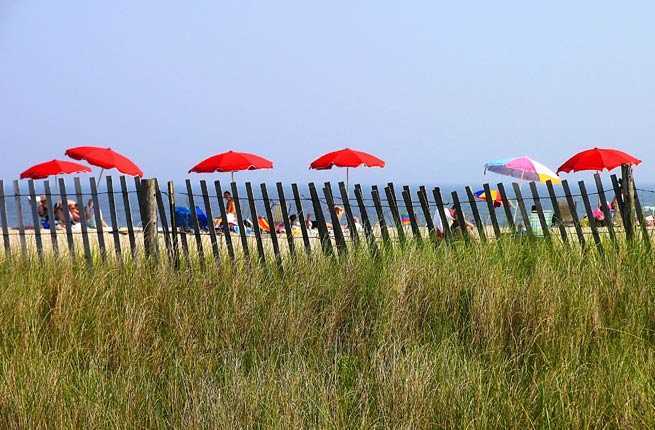 Andrei Orlov/Shutterstock
Stronger than ever, the Jersey Shore has 130 miles of beaches with every scene imaginable
Why Go Now: After October 2012's Superstorm Sandy, the Jersey Shore proudly declared it was open for business for the 2013 summer season. This year, from Sandy Hook to Cape May, boardwalks and communities along the coast are eager to show off their new, improved attractions. Atlantic City's Steel Pier is well into a three-phase makeover that includes a new museum, entertainment space, and 200-foot Ferris Wheel. Wildwood's burgeoning vineyard community recently added the 50-acre Willow Creek Winery, which now offers wine tastings and tours. Many exciting developments in family travel as well romantic getaways are expected as well.
Insider Tip: For the Jersey Shore's more tranquil side, visit Spring Lake, a smaller community with a non-commercial boardwalk and a selection of boutique inns.
When to Go: Summer shore traffic is notorious throughout the state. Go midweek to save hours on the road. Or visit from late September through October for smaller crowds and warm waters.
PLAN YOUR TRIP: Start planning using Fodor's Jersey Shore Travel Guide. –Eric Wechter
f9photos/Shutterstock
India's welcoming southwest has never been so accessible
Why Go Now: For first timers and families, gentle Kerala—one of India's most prosperous states—is an inviting entry point to the great Subcontinent. Laid back riverside villages, tropical beaches, and verdant jungle in the foothills of the mighty Ghats make for a truly diverse experience. India has long been an affordable destination, but with the rupee falling fast against the dollar, there's never been better value on offer, from spice tours to beachside yoga vacations to chic houseboat trips along the famed backwaters. Then of course, there's the food—richly infused with the coconuts and spices that grow in abundance.
Insider Tip: The beaches are hard to leave, but don't miss the lush attractions inland. A visit to the fragrant tea plantations around the former hill station of Munnar can be combined with a tour of the Rajamala Wildlife Sanctuary. After the scenic but bumpy ride, indulge in an Ayurvedic massage.
When to Go: Kerala's large Christian community makes Christmastime a particularly festive time to experience the region's cultural mix. October sees heavily discounted 'monsoon tourism' deals, and the weather is better than you might expect.
PLAN YOUR TRIP: Start planning using Fodor's Kerala Travel Guide –Roisin Cameron
Kseghe2/Dreamstime.com
Music City gains hipster cred while maintaining its honky-tonk roots
Why Go Now: Thanks to local scene-makers like Max and Benjamin Goldberg, Nashville has become one of the South's hottest culinary destinations. Inventive eateries and gastropubs such as their Catbird Seat and Patterson House are part of wave of exciting restaurants joining the party that fun spots like Silly Goose and Etch recently started. As the hit TV series Nashville energizes a new wave of music fans, the city is revving up its already-legendary scene with the opening of the sprawling Music City Center complex, an expansion of the Country Music Hall of Fame, and a new Johnny Cash Museum.
Insider Tip: When locals want to unwind they head to Centennial Park. Like New York's Central Park, its tourist appeal doesn't detract from its relaxing vibe. You'll always see kids playing Frisbee and plenty of people running and walking their dogs. It's also home to the Parthenon, Nashville's full-scale replica of the original Parthenon in Athens.
When to Go: Fall is prime for music festivals, the most well-known of which is the Country Music Association Festival. In summer, the Music City July 4th is one of the nation's most patriotic parties.
PLAN YOUR TRIP: Start planning using Fodor's Nashville Travel Guide. –Eric Wechter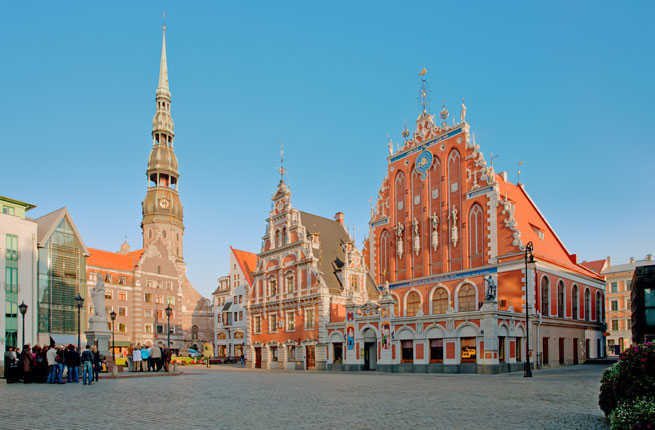 gadag/Shutterstock
A wallet-friendly Baltic getaway for lovers of Art Nouveau
Why Go Now: Those looking for a value-oriented destination, just a short hop from Scandinavia, should head straight to Riga. Most visitors are drawn to the city for its historic Old Town, an 800-year-old mix of architectural styles, from medieval to Art Nouveau (many noteworthy examples of the latter having been designed by Russian architect Mikhail Eisenstein). But just as interesting is the Latvian Occupation Museum, which details the troubled half-century when Latvia was subjugated by the Germans and then the Soviets. When you're ready to escape the city, the 13th-century ruins of Turaida Castle are nestled in the heavily forested Gauja National Park. Riga is easy to reach from Helsinki on Finnair or from the rest of Europe on airBaltic, which is based in Riga.
Insider Tip: The tradition of the decorated Christmas tree started Riga in 1510, and Christmas markets are still a huge draw in the region. Riga also has a Christmas-season music festival every year that draws lovers of classical music.
When to Go: The weather is best from June through September, but many visitors decide to come during the festive Christmas season, when the streets are covered with snow and holiday markets are in full swing.
PLAN YOUR TRIP: Start planning using Fodor's Riga Travel Guide –Doug Stallings
David Hughes/Shutterstock
A year of celebrations showcasing culture, food, sport, and spectacular landscapes
Why Go Now: Scotland plans a yearlong calendar of activities for 2014's Homecoming, inviting everyone with Scottish roots or an interest in things Scottish to come experience its rich culture and natural beauty first-hand. Events of all kinds are scheduled country-wide: you can watch caber-tossing at the Highland Games, or see a reenactment of the medieval Battle of Bannockburn near Stirling. Music, theater, and dance festivals reflect Scottish creativity. Sport gets its due too: Glasgow hosts the Commonwealth Games in July, and Gleneagles will be the site of September's Ryder Cup as this team competition returns to the home of golf.
Insider Tip: Those with Scottish ancestry may join special clan and family gatherings in Scotland during Homecoming. VisitScotland helps you connect with your heritage, identify your tartan, and more. Looking to do some family research when you visit? ScotlandsPeople gets you started and points you to resources such as Edinburgh's ScotlandsPeople Centre.
When to Go: Homecoming events will rock the calendar year-round, but the months of May through September are top times for pleasant weather and a range of indoor and outdoor activities. A May Homecoming highlight in 2014 is Whisky Month, with festivities from Speyside to Islay. August brings Edinburgh's famous cultural festivals.
PLAN YOUR TRIP: Start planning using Fodor's Scotland Travel Guide. –Linda Cabasin
littlewormy/Shutterstock
Safari savannahs, bucolic wine lands, and the sophisticated city of Cape Town
Why Go Now: South Africa was home to world leader Nelson Mandela and 2014 marks the 20th anniversary of the recently deceased Mandela's presidency. And with the new release of a film based on Mandela's memoir, Mandela: Long Walk to Freedom, the destination is gaining renewed interest. What's more, Cape Town was chosen as the World Design Capital for 2014 with the theme "Live Design. Transform Life." As the winning city, Cape Town will offer events throughout 2014 focusing on the use of design as a means of transforming the cityscape. Cape Town will also be receiving new, state-of-the art passenger trains, which will start running in 2015.
Insider Tip: Full and half-day guided art tours are on offer to guests at One&Only Cape Town. The Galleries Art Tour visits a collection of the city's best galleries, while the Contemporary Art Tour visits the latest crop of modern artists at work in studios around the city.
When to Go: The best time to go on safari in South Africa is May through September when vegetation is sparse and it's easier to spot game. November through January is Cape Town's most popular time, but the best weather is in February and March.
PLAN YOUR TRIP: Start planning using Fodor's South Africa Travel Guide –Kristan Schiller
SeanPavonePhoto/Shutterstock
Explore Asia's premiere foodie city
Why Go Now: In 2013, Tokyo did the unthinkable: it bested Paris in culinary acclaim. This populous Japanese city now has the most Michelin three-star restaurants of any city in the world. Dedicated foodies have even been known to book plane tickets around dinner reservation at Sukiyabashi Jiro—home to the world's first three-Michelin star sushi chef, Jiro Ono (star of acclaimed documentary Jiro Dreams of Sushi). While you're there, don't miss out on the legendary yakitori at Ganchan, and haute tofu at Ume No Hana.
Insider Tip: Read up on Tokyo's subway system before you hit the city. You'll want to know how to maximize your visit and cover as much ground as possible.
When to Go: Visit Tokyo in the spring for a dazzling display of cherry and plum blossoms. Or, for pleasant temperatures and brilliant foliage, visit in autumn.
PLAN YOUR TRIP: Start planning using Fodor's Tokyo Travel Guide –Amanda Oppold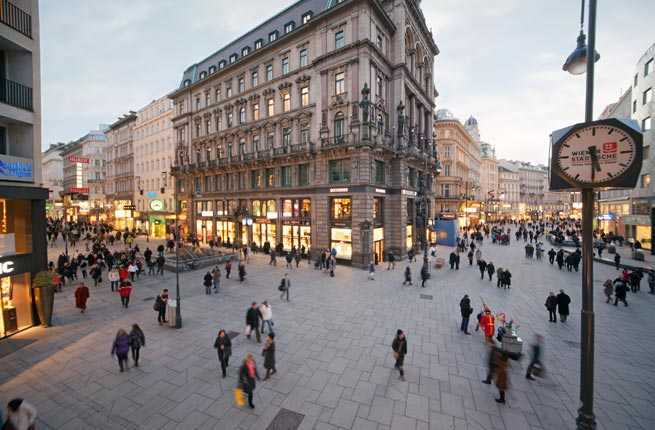 Pavel L Photo and Video/Shutterstock
A classic European city with modern attractions, rich arts culture, and vibrant wine scene
Why Go Now: A new pedestrian "Golden Quarter," opening in 2014, will feature high-brow fashion names located in historic, grandiose buildings. A brand new Park Hyatt in the gilded area will offer a premium stay. After enjoying the modern, take in Austria's impressive history with a visit to the Belvedere Palace or watch a performance of dancing horses at the Spanish Riding School, the world's oldest equestrian academy. Sip on a glass of Viennese wine at a trendy wine bar to experience why Vienna claims to be Europe's hottest wine scene. Then waltz the night away in celebration of 200 years of Viennese ball culture.
Insider Tip: Before embarking read up on Vienna's coffee trends to properly order and enjoy the traditional Viennese coffeehouse experience.
When to Go: Comfortably warm temperatures and sunny days are the norm in Vienna during May and June. This is also when most festivals, marathons, concerts, and operas are in season.
PLAN YOUR TRIP: Start planning using Fodor's Vienna Travel Guide –Amanda Oppold
Anna Azimi/Shutterstock
Head west to wish California's most celebrated wilderness a very happy birthday
Why Go Now: Spectacular waterfalls, dramatic granite cliffs, rushing streams, and the unforgettable silhouettes of Half Dome and El Capitan have long called the wild at heart to this UNESCO World Heritage Site. Back in business after a year of wildfires and government shutdowns, Yosemite enters 2014 with a fun, low-key roster of activities to mark the 150th anniversary of the Yosemite Land Grant, from rock-climbing events to film festivals. In the park itself, spot black bear, peregrine falcons, marmots, and more among the peaks and alpine meadows. There's never been a better time to tick it off the bucket list.
Insider Tip: In Yosemite Village, make time to stop by the Ansel Adams Gallery, in business since 1902, to view the famed photographer's arresting black-and-white images of the Yosemite Valley. The high quality prints on sale mean you can take a little slice of the park's grandeur home with you.
When to Go: Visit midweek in September or October when the crowds have thinned but the weather is still clear and pleasant. To see the park in a dramatically different light, come for snowshoeing in winter.
PLAN YOUR TRIP: Start planning using Fodor's Yosemite Travel Guide –Roisin Cameron