Speedfighter17 | Dreamstime.com
It may surprise that the leisure activities of such an isolated and relaxed country like New Zealand include throwing oneself off the highest possible bridges and into deep canyons. New Zealand is the country that gave us jet boats, bungy jumping, zorbing, shweebing, and swooping. The kiwis love to roll, jump, drive, fly, slide, swing, tube, and raft through their beautiful landscape and if you go there sampling at least a few of their weird and wonderful activities is unavoidable. So go on and try some of the 10 craziest adventure activities in New Zealand until your budget, or your nerves, give up!—Wibke Carter
Waitomo
Where: Waitomo
If you fear the dark, the cold and the underground, bungy jumping might be better for you. But if you're excited by the idea of exploring the underworld on your back, don a wetsuit and settle into a tire tube: Black Water Rafting is perfect for you. Numerous places in New Zealand offer this type of excursion, but the first commercial operator was The Legendary Black Water Rafting Co. in Waitomo, world-famous for its glowworm cave system. In the Ruakuri Cave, you'll float down an underground river, leap over cascading waterfalls, and see glowworms hanging from the limestone when the flashlights are off and it's so dark you can't see your hands in front of your eyes.
PLAN YOUR TRIP: VisitFodor's North Island's West Coast Travel Guide
Pominoz | Dreamstime.com
Where: Queenstown
For many travelers, bungy jumping tops their New Zealand bucket list because the phenomenon of jumping off bridges orginates here. In 1988, the world's first commercial bungy site opened for business in Queenstown at the historic Kawarau Bridge. Since then, millions have jumped from bridges, cranes, buildings, even hovering objects in more than 50 countries. At AJ Hackett, the original site, you can also get tied up with a friend and jump together. Unfortunately doubling up for the fun doesn't halve the fear!
PLAN YOUR TRIP: VisitFodor's The Southern Alps and Fiordland Travel Guide
Shotover Canyon Swing
Where: Queenstown
The excuse of "I'd really like to bungee jump, but just don't want to leap down head first" does not count at the Canyon Swing. Strapped in a swing, you'll be dropped from a height of 358 feet into the famous Shotover River. Following a freefall of 197 feet, the rope then swings out 656 feet along rocky cliffs on both sides. After the initial adrenaline shock, you might just enjoy the solitude and unique views in this spectacular location. There are 10 different jump styles from rocking back on a chair on the edge to the Indian Rope Trick (in which you're suspended over the canyon holding on to a rope; after the release trigger is pulled, it's up to you to hold on as long as you can).
PLAN YOUR TRIP: VisitFodor's The Southern Alps and Fiordland Travel Guide
New Zealand Tourism
Where: Christchurch
Get ready to be put behind bars and taken into an enclosure for an eye-to-eye encounter with a pride of lions at feeding time at Orana Park, New Zealand's only open-range zoo. Join up to 19 others at 2:30 pm daily at the park's Lion Encounter, where you'll hop inside a truck-mounted cage for scarily close views of one's of the world's deadliest predators. While a specialized keeper feeds the animals from inside the cage, you'll be busy taking close-up shots of the big cats who often climb onto the roof of the truck. Keep head, fingers, and toes behind the cage during this activity. It has been operating since 1999 and often sells out in advance.
PLAN YOUR TRIP: VisitFodor's Christchurch and Canterbury Travel Guide
Shotover Jet/New Zealand Tourism
Where: Queenstown
Another thrill-seeker activity made in New Zealand, the jet boat was invented in the 1950s by local farmer William Hamilton to navigate shallow and fast flowing rivers. It didn't take long until its adventure potential was realized in 1965 on the Upper Shotover River. In the self-proclaimed adventure capital of the world, Queenstown, you can jump in the Shotover Jet, just like the Duke and Duchess of Cambridge (William and Kate), and speed through narrow river gorges along sheer rock cliffs. The most fun is the exhilarating spins caused when the driver cuts the engine and turns the steering, causing the boat to spin 360 degrees amid large sprays of water. More than three million people have already taken this trip, so buckle in and enjoy the ride!
PLAN YOUR TRIP: VisitFodor's The Southern Alps and Fiordland Travel Guide
Agroventures Adventure Park
Where: Rotorua
The one and only place in the world where you can Shweeb (from the German word schweben, to float) is Rotorua. The Shweeb is a 656-foot-long overhead monorail race circuit from which suspended pedal-powered pods hang, thus creating one of the world's most efficient man-powered inventions. So jump in, lie down and pedal at maximum speed! You can race the clock or a friend while reaching up to 30 mph, and there is a $1,000 cash reward if you can beat the current world record. And fun aside, in 2010, Google invested $1 million into the Shweeb system to assist with transit research and development of a future, eco-friendly public transportation option.
PLAN YOUR TRIP: VisitFodor's Rotorua Travel Guide

Speedfighter17 | Dreamstime.com
Where: Taupo
Although skydiving is another activity that you can do all over the country, few sites can rival Taupo, which claims to be the world's home of skydiving. Its dropzones operate "the most tandem skydives each year out of anywhere on the planet." Throw yourself out of a plane at 15,000 feet above Lake Taupo, which is the same size as Singapore and is Oceana's largest fresh water lake. While trying to breathe, you can take in the vistas over Tongariro National Park and its snow-capped volcanos, Mt. Tongariro, Mt. Ruapehu, and Mt. Ngauruhoe (that's Mt. Doom for Lord of the Rings movie fans). What can be more thrilling than falling to earth at 124mph before a safe, controlled canopy landing?
PLAN YOUR TRIP: VisitFodor's East Coast and the Volcanic Zone Travel Guide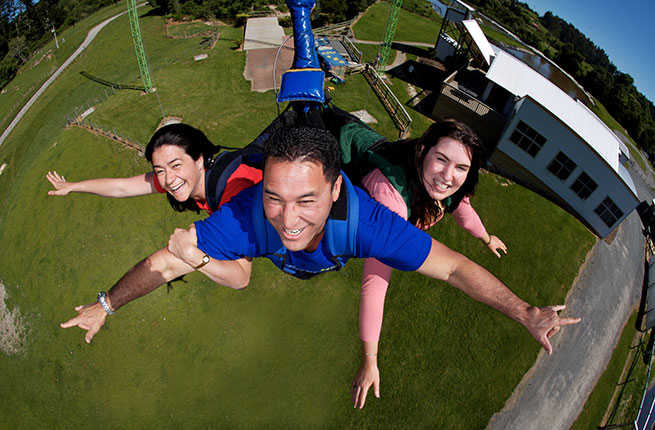 Agroventures Adventure Park
Where: Rotorua
You can swoop alone, with one or even two friends—and one of you will have to pull the cord. Cocooned inside a specially designed gliding harness, you are winched 141 feet above the Ngongotaha Stream at Rotorua's Agroventures Adventure Park. After the jumpmaster gives the all clear call, release yourself and plunge down at maximum speed of 81mph. That equals 32 feet per second! If you played Tarzan as a little child and still can't go past the ropes on the local playground, then the Swoop is the best thrill for you.
PLAN YOUR TRIP: VisitFodor's Rotorua Travel Guide

David Kirkland
Where: Northland
New Zealand is fortunate to have a wide variety of stunning landscapes, and giant sand dunes are among them. In Northland, bordering 90 Mile Beach, are the Te Paki Sand Dunes where you can toboggan. Some of the dunes are more than 300 feet, so make no mistake, sledding down can be quite scary, especially at the end of the run when the highest speeds are reached. If you're too reckless, you could end up flipping the sled and rolling down to the end. The punishment might be a good chunk of pristine New Zealand sand in your mouth before trudging up the dune for the next run.
PLAN YOUR TRIP: VisitFodor's Northland and the Bay of Islands Travel Guide
Master Man via Wikimedia Commons, [CC BY 2.0]
Where: Rotorua
Kiwi ingenuity is at its best in the small town of Rotorua where Zorbing, also known as globe-riding, sphereing, or orbing, was invented. Zorbing is rolling down a hill in a huge plastic ball (the zorb) with you inside it! You can go alone or with up to two friends in a couple of different styles: strapped into a harness for a dry ride, or free wheeling inside a zorb partially filled with water. It feels just like being in a washing machine (or so we imagine). Zorbing is now practiced around the world on either straight or windy slopes, and is just as much fun as it sounds.
PLAN YOUR TRIP: Visit Fodor's Rotorua Travel Guide