Andrey Bayda/Shutterstock
Forget Mount Rushmore or the Statue of Liberty—some landmarks are a little bit more unique (and off the beaten path) than others. But that doesn't make them any less interesting. If you're looking for something a little different the next time a road trip takes you across the country, make a stop at one of these quirky spots, some of which are truly beautiful, some kitschy, and some downright bizarre. From Kansas to California, here are America's ten most unusual landmarks.
by Zachary Laks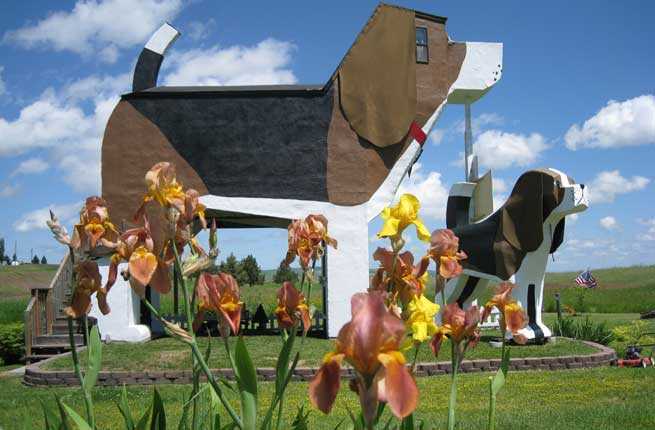 Courtesy of Dog Bark Park
World's Biggest Beagle, Dog Bark Park Inn
WHERE: Cottonwood, Idaho
The world's biggest beagle has neither a bark nor a bite at the Dog Bark Park Inn in Cottonwood, a small town in northern Idaho. Chainsaw-carving, husband-and-wife team Dennis Sullivan and Frances Conklin built the record-breaking pooch with earnings from their business of carving popular wooden dog statues. For less than $100/night, guests can stay in the bedroom inside the oversized canine. And, of course, your pooch is most welcome to join.
Insider Tip: Idaho has some phenomenal and challenging whitewater rafting river courses. Salmon River Trips offer guided rafting tours about 90 minutes from Dog Bark Park Inn.
PLAN YOUR TRIP: Visit Fodor's Idaho Guide
Andrey Bayda/Shutterstock
Cadillac Ranch
WHERE: Amarillo, Texas
Along Interstate 40, east of Amarillo, stand ten classic Cadillac cars half-buried in the ground. Funded by the light-hearted Texas millionaire Stanley Marsh III, the Cadillac Ranch was created by the artists collective Ant Farm. Erected in 1974, the cars have undergone countless colorful paint jobs over the years to signify special events. Recently, tourists have taken to leaving their own mark with spray cans.
Insider Tip: For a more natural wonder, check out the Amarillo Botanical Gardens where the flora and fauna are in full bloom.
PLAN YOUR TRIP: Visit Fodor's Amarillo Guide
(c) Underwatermaui | Dreamstime.com
World's Largest Thermometer
WHERE: Baker, California
Rain or shine, you can't miss the trumpeting obelisk of the world's largest thermometer. Willis Herron, a businessman with a penchant for mercury, was inspired to build the monument in commemoration of a record-breaking, 134-degree day that hit Death Valley in 1913. Built in 1991, the giant thermometer is 134 feet tall and racks up $8,000 a month in electrical charges. Having changed owners several times and been dark for years due to changes in management, the thermometer triumphantly returned to duty in October 2014 alongside a new gift shop aptly titled TEMP134.
Insider Tip: Close to Baker is the Mojave National Preserve, home to vast landscapes of cacti and picturesque mountainscapes.
PLAN YOUR TRIP: Visit Fodor's California Guide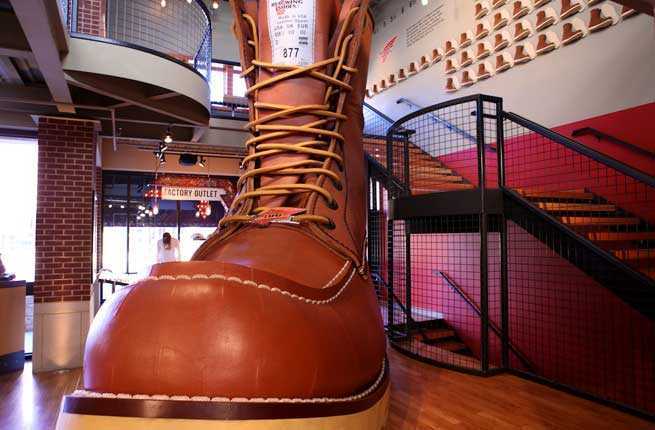 Axiom71 [CC BY 3.0], via Wikimedia Commons
World's Largest Boot
WHERE: Red Wing, Minnesota
Fit for a giant, the world's largest boot laces up to an enormous size 638. This unique boot, made of real leather, is the centerpiece of the Red Wing Shoe Company located in the town of the same name. Home to a museum, shoe shop, and outlet center, the company flagship sells a variety of men's boots and shoes for all occasions. Take a stroll through the museum to see samples of boots through the years, as well as insight into how the sturdy footwear is made.
Insider Tip: While in Red Wing, check out the Barn Bluff, a 400-foot cliff that features the best scenic views of the area.
PLAN YOUR TRIP: Visit Fodor's Minnesota Guide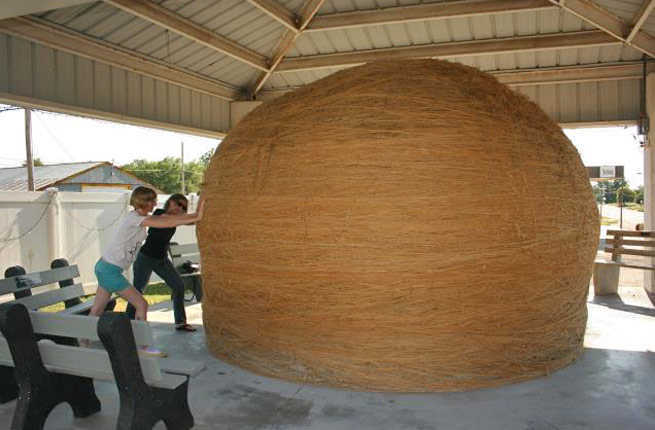 [Public Domain}, via Wikimedia Commons
World's Largest Ball of Twine
WHERE: Cawker City, Kansas
Unravel the quirky joy of the world's largest ball of twine in northern Kansas. Eleven feet in diameter, the spherical behemoth rests under a permanent pavilion that is free to view and open 24 hours a day. It began with a piece of string that Frank Stoeber spun in 1953. Stoeber continued for four years until his little twine grew to weigh 5,000 pounds and stand eight feet tall. Stoeber gave the ball of twine to Cawker City, where it has since continued to grow with new additions from townspeople and visitors alike.
Insider Tip: If you'd like to add some twine to the ball, make arrangements by contacting [email protected].
PLAN YOUR TRIP: Visit Fodor's Kansas Guide
Sean Pavone/Shutterstock
Sunsphere Tower
WHERE: Knoxville, Tennessee
Standing tall as a lasting marker of the 1982 World's Fair in Knoxville, the Sunsphere Tower is a 75-foot golden reflective sphere resting on a 266-foot tower. The Tower serves as an observation deck, as well as the home of the Icon Ultra Lounge, where you can enjoy cocktails and dinner with a view. Come for the view, but stay for the history, as displays along the walls detail the popular 1982 World's Fair. At no charge, the Sunsphere Tower is the best way to get your bearings of the city.
Insider Tip: Head over to the Bijou Theatre for a live performance in the gorgeously restored local landmark.
PLAN YOUR TRIP: Visit Fodor's Tennessee Guide
Scott Cornell/Shutterstock
Carhenge
WHERE: Alliance, Nebraska
You don't have to travel to England to behold the wonder of Stonehenge when you can visit its quirky American cousin, Carhenge. Imagined and built by Jim Reinders as a memorial to his father in 1987, the structure consists of 38 vintage American automobiles arranged in the same formation as the mystical Stonehenge. Carhenge will align with the solar eclipse on August 21, 2017, though you don't have to wait three years. With free entry and a fun, friendly gift shop, Carhenge is a whimsical stop for any road trip.
Insider Tip: While in Alliance, stop by the Knight Museum and Sandhills Center for an informative look at the history of Native American and settler life in Nebraska.
PLAN YOUR TRIP: Visit Fodor's Nebraska Guide
FloridaStock/Shutterstock
Palace of Fine Arts
WHERE: San Francisco
An architectural wonder from the 1915 Panama-Pacific Exposition stands distinctly in San Francisco's Marina District. Off a man-made lagoon, the Palace of Fine Arts, initially built to display artwork, is now a popular destination for locals and tourists to enjoy the natural surroundings. The rotunda is a popular spot for weddings and nuptial photoshoots. Pack a picnic lunch and head to one of the grassy hills to enjoy the treasured view.
Insider Tip: On your quest for the best views of San Francisco, head fifteen minutes from downtown to Twin Peaks for the best panoramas, which no camera can fully capture.
PLAN YOUR TRIP: Visit Fodor's San Francisco Guide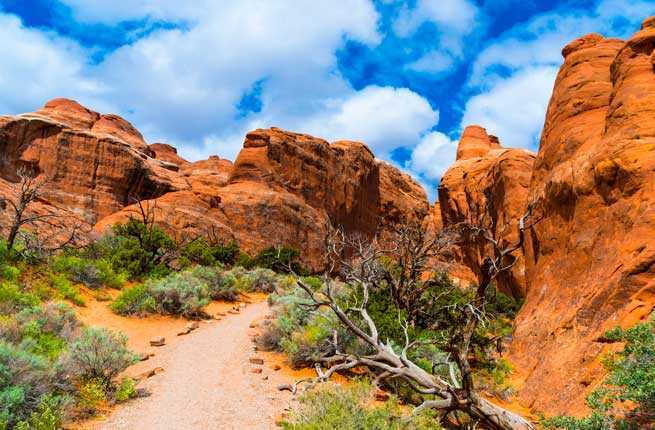 Krzysztof Wiktor/Shutterstock
Devils Garden, Arches National Park
WHERE: Moab, Utah
The devil's in the details of the natural arch formations of Devils Garden in Arches National Park, home to more than 2,000 natural stone arches along with a vast array of scenic wonders. The National Park Service offers three trail routes, each with its own degree of difficulty. Most popular is the Delicate Arch trail that takes hikers on a three-mile hike through the park to the most recognizable vistas. For those looking for a challenging hike, the Devils Garden Primitive Loop is a 7.2-mile trail that covers all eight notable arches in the park.
Insider Tip: Begin hiking early to avoid the mid-day heat. The paths have no shade, so be sure to bring a hat and stay hydrated, as temperatures can reach over 100 degrees.
PLAN YOUR TRIP: Visit Fodor's Utah Guide
Peter Guttman/Peterguttman.com
Grand Canyon Skywalk
WHERE: Arizona
Test your limits as you go over the edge at the Grand Canyon Skywalk. Built in 2007, this glass-bottom bridge is a feat of architectural engineering that hovers from a cliff 3,500 feet above the ground. Managed and maintained by the native Hualapai Tribe, the Skywalk experience has multiple packages available for visitors, some including canyon-side meals, souvenirs, and photo ops.
Insider Tip: From the top of the canyon, head to the caverns with the Grand Canyon Cavern Tours, which takes you 300 feet below the surface. These are the largest dry caverns in the U.S., and the tour sheds light on the incredible rock formations and natural wonders below the surface of the Grand Canyon.
PLAN YOUR TRIP: Visit Fodor's Grand Canyon Guide