Courtesy of Jay Peak Resort
There are two types of people in this world: those who ski, and those who don't. But if you fall into the latter camp and have never vacationed at a ski lodge, then you've been missing out. Resorts across the country go all out to accommodate their non-skiing guests, with enough activities both on and off the mountain to fill any winter weekend. Whether you want to hang out in an indoor water park, soar above the trails on a zip-line course, or have a relaxing day at the spa, you'll find no shortage of fun diversions at resorts that welcome the skiing-averse with open arms.
By Zachary Laks
Courtesy of Montage Deer Valley
WHERE: Park City, UT
Nestled into the Wasatch Mountains, Montage Deer Valley is much more than just a place to ski Utah's fine slopes. Adept at catering to all outdoor tastes, the resort offers the opportunity to explore the wintry terrain via snowshoeing, tubing, ice-skating, and snowmobiling. Experience the thrill of an Olympic bobsled firsthand at the Utah Olympic Park, where high-speed rides are available to the public. For an adventure without the adrenaline rush, seek out the Snowcat Sleigh ride, a 23-minute mountain adventure ledby a giant vehicle. And for something more relaxing, the Spa Montage is a grand, 35,000-square-foot escape, complete with copper soaking tubs, redwood saunas, and deluge showers.
Insider Tip: Park City's vibrant town, with over a hundred restaurants, comes to life each night in the winter with live music at hotspots like Vista Lounge, where cheese fondue and warm cider are must-have items.
PLAN YOUR TRIP: Visit Fodor's Park City Travel Guide
Courtesy of Stowe Mountain Resort
WHERE: Stowe, VT
There's no need to stress about skipping the slopes at Stowe Mountain Resort, since this rustic compound excels at catering to everyone's idea of a winter getaway. Experience the mountainside like never before on a sled pulled by Alaskan huskies with Stowe's dog sledding excursions. Special night tours bring guests on an exhilarating ride through the starlit landscape, where only sounds of the dogs' swift paws against the snow can be heard. The best views and cuisine around can be found atop Mount Mansfield at the Cliff House, a fine rustic lodge serving hearty American classics with fun twists, such as meaty mac and cheese, buffalo chili, and venison-apple sausage.
Insider Tip: Explore one of the town's most beloved bars, the Rusty Nail Bar & Grille, where a sunken dance floor and live music brings out the best moves in everyone.
PLAN YOUR TRIP: Visit Fodor's Stowe Travel Guide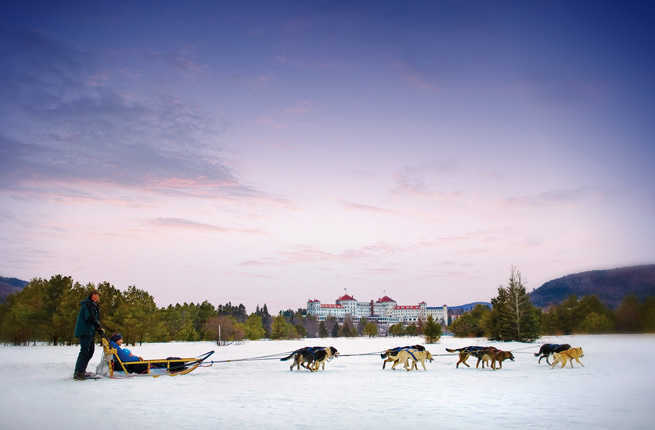 Courtesy of Omni Mount Washington Resort
Omni Mount Washington Resort
WHERE: Bretton Woods, NH
The stately Omni Mount Washington, one of New England's most luxurious resorts, is a sight to behold with its white façade and striking red roof. Skiing is just one of many activities here: Start at the compound's newest addition, the Bretton Woods Canopy Tour, a year-round zip-line course with 10 tracks and two sky bridges offering the most thrilling views of the White Mountains. The resort's slopeslide climbing wall is 624 square feet and welcomes climbers of all skill levels. For a romantic journey through the woods, opt for Omni Mount Washington's sleigh rides, where horses pull a vintage carriage on the wooded mountainside.
Insider Tip: Take the hotel's guided tour, offered daily. The property, which dates back to 1881, has a rich historic legacy that is well presented in this engaging tour.
PLAN YOUR TRIP: Visit Fodor's White Mountains Travel Guide
Courtesy of Madeline Hotel and Residences
Madeline Hotel and Residences
WHERE: Telluride, CO
Buzzing with activity and excitement, Hotel Madeline's wide array of wintertime fun is a fine match for its pristine alpine slopes. Start with a dazzling 13-minute ride on the free gondola that connects Telluride and Mountain Village as you take in the best view of the San Juan Mountains from 10,500 feet. Hotel Madeline's ice skating rink features a nightly show of professional skaters who wow the crowd with jumps and flips. Hop aboard a custom-built 4×4 truck for a unique tour of the terrain as well as the area's history of silver mining. Telluride's vivacious art community is present throughout the historic village, where art galleries, exhibits, and street-side statues mark the town's culture.
Insider Tip: The breakfasts at Hotel Madeline are among some of the best in the region. Try the homemade granola and oatmeal with a bevy of toppings.
PLAN YOUR TRIP: Visit Fodor's Telluride Travel Guide
Courtesy of Sun Valley Resort
WHERE: Sun Valley, ID
Sun Valley Resort's winter wonderland offers activities for everyone. The thrill of gliding atop the snow attracts families each year to Sun Valley's Tubing Hill on Dollar Mountain. A lift brings tubers up to the top of the run where the circular tubes spin down the slope at impressive speeds. Make a pit stop at Carol's Dollar Mountain Lodge for hot chocolate before the next round. The Dinner Sleigh package at Sun Valley offers a classic opportunity to take a sleigh ride on the mountainside to a sumptuous meal at Trail Creek Cabin, a fine dining lodge with a seasonal menu of New American classics.
Insider Tip: Make sure to stop by The Chocolate Foundry in Sun Valley, where fine confections are crafted and sold alongside fresh fudge and frozen yogurt.
PLAN YOUR TRIP: Visit Fodor's Sun Valley Travel Guide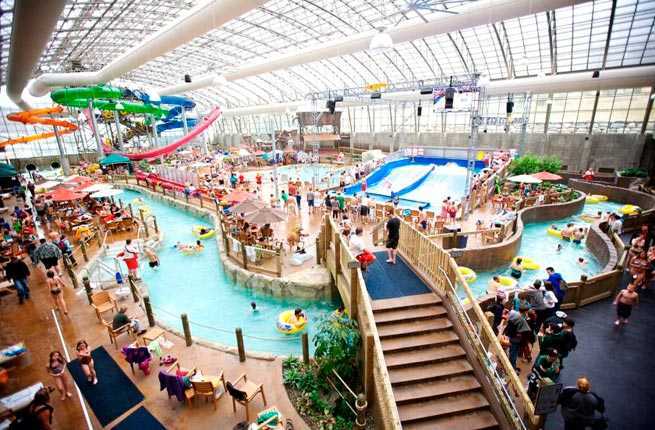 Courtesy of Jay Peak Resort
WHERE: Jay, VT
Head to Jay Peak Resort, an hour and a half north east of Burlington, for an all-access winter getaway. Non-skiers rejoice for Jay Peak's indoor waterpark, an oasis of year-round water thrills. The landmark attraction here is the 65-foot drop, La Chute, a terrifying plunge where the floor disappears beneath you, sending riders plummeting at a near-free-fall rate before scaling a large 360-degree turn. The fun gets even cooler at the resort's new NHL-size ice skating rink. Free skating, pick-up hockey games, and skating lessons are all offered at the rink.
Insider Tip: Save some money by shopping for local souvenirs at the Jay Country Store in town. Jay Peak apparel and Vermont maple syrup are among the most popular items.
PLAN YOUR TRIP: Visit Fodor's Jay Travel Guide
Courtesy of Hotel Terra
WHERE: Teton Village, WY
Jackson Hole is an ideal retreat for those seeking winter amusement and recreation. Luxurious and centrally located, the Hotel Terra Jackson Hole serves as a hub for the many winter activities of the area. Take the time to fully explore the region with the hotel's Winter Wildlife Expeditions, where full- or half-day winter safaris led by biologists offer great insight into what is referred to as the "Serengetti of North America." The tour is your chance to come face-to-face with the many wolves, elk, moose, and bighorn sheep that roam the mountains. If the cold air's got the best of you, take a breather in Hotel Terra's Chill Spa, where massages, facials, and custom detoxifying wraps add pampering to your vacation.
Insider Tip: For some good country home cooking, stop in at The Bunnery Bakery and Restaurant, where breakfasts of fluffy homemade pancakes and cinnamon rolls are king.
PLAN YOUR TRIP: Visit Fodor's Jackson Hole Guide
Courtesy of The Kessler Collection
WHERE: Beaver Creek, CO
Programmed with families in mind, Beaver Creek Lodge hosts an impressive lineup of weekly events that bring out the best in the area's winter activities. Every Thursday evening is Night Lights, when onlookers marvel as skiers illuminate the mountain wearing glow sticks; the event culminates in a dazzling firework display. Friday continues the fun with #FOTOFRIDAY, a photo scavenger hunt across the village that's fun for all ages. For daytime excitement, take a leisurely stroll through Beaver Creek Village, the quaint cultural hub that features over 50 shops filled with local crafts and fun gifts.
Insider Tip: Each day from 3–4 pm, the Lodge serves fresh cookies at the base of the main lift. Get there early, as the cookies go fast!
PLAN YOUR TRIP: Visit Fodor's Colorado Travel Guide
Courtesy of Crystal Mountain Resort
WHERE: Crystal Mountain, WA
Exploring the great outdoors at Crystal Mountain Resort means a lot more than alpine skiing. Two hours south of Seattle, the resort offers great options for staying active in the frosty air. Crystal Mountain's guided snowshoe tour is a 2.5-hour trek through the alpine forest and around Henskin Lake. There's a traditional cheese fondue dinner waiting at the end of the hike as a reward for an afternoon's work. For something a little lower-key, take the scenic ride on Mt. Rainier's gondola, a 2,500-foot trip with endless, 360-degree views.
Insider Tip: If you plan to visit Crystal Mountain Resort via car, fill up your tank before entering the resort. Its remote location does not lend well to convenient gas stations and many of the closest fueling centers have limited hours.
PLAN YOUR TRIP: Visit Fodor's Washington Travel Guide
Tripp Fay, Copper Mountain Resort
WHERE: Copper Mountain, CO
About 75 miles west of Denver and 20 miles east of Vail, Copper Mountain Resort has a winning mix of fun for the whole family. Watch jaws drop as you enter Woodward Copper – The Barn, the onsite 19,400 square-foot indoor mega-playground complete with skateboard ramps and bowls, Olympic fly-bed trampolines, a huge trampoline, and one of the biggest foam pits you've ever seen. If you're looking for some outdoor adrenaline, Copper Mountain's Alpine Rush Zip Line is a 300-foot course that flies the brave across the grounds at speeds up to 30 miles per hour. For the younger set, Critterland at Copper Mountain is a theme park that features snowy attractions such as a tubing carousel and a miniature tubing hill.
Insider Tip: Check out the app Sherpa for an in-depth map and expert info on the surrounding area, including audio tips from staff, visitors, and celebrities.
PLAN YOUR TRIP: Visit Fodor's Summit County Travel Guide