Deymos.HR / Shutterstock
No two beach vacations are exactly the same. Some travelers want sun during the day, and a trendy, urban scene to explore by night; others want deserted islands offering peace and quiet. Fortunately, there's no shortage of stunning beaches around the world to choose from, but which ones are the best to visit right now? With new luxury resorts and nonstop flights, these destinations are the best places to enjoy sun and sand this year. —Fodor's Editors
Dspencephoto | Dreamstime.com
Riviera Nayarit, Mexico
Near Puerto Vallarta, this 192-mile stretch of Pacific coastline is packed with authentic beach towns, all-inclusive resorts, and colonial history, yet it remains relatively under-the-radar when compared with destinations such as Cancún and Los Cabos. Home to hotels and beaches for every taste, this unspoiled region has something to offer all travelers. Jungle adventures and humpback whale watching await nature lovers, and there's a nascent culinary scene for foodies to tap into. New hotels are popping up here all the time; look for the W Punta de Mita in the first half of the year.
PLAN YOUR TRIP: Visit Fodor's Riviera Nayarit Guide
Hegel99 | Dreamstime.com
Guadeloupe & Martinique
Martinique is simply one of the Caribbean's most enchanting destinations. Francophiles adore the French island for its gastronomy, its music and élan, and the availability of the finest French products. Meanwhile, the French-Caribbean archipelago of Guadeloupe is an increasingly sought-after destination among sun-seekers and nature lovers looking for an affordable alternative to St. Barth. With budget airline Norwegian Air's recent introduction of nonstop service from Baltimore, Boston, and New York Kennedy, it's easier than ever to reach these incredible islands.
PLAN YOUR TRIP: Visit Fodor's Guadeloupe Guide & Fodor's Martinique Guide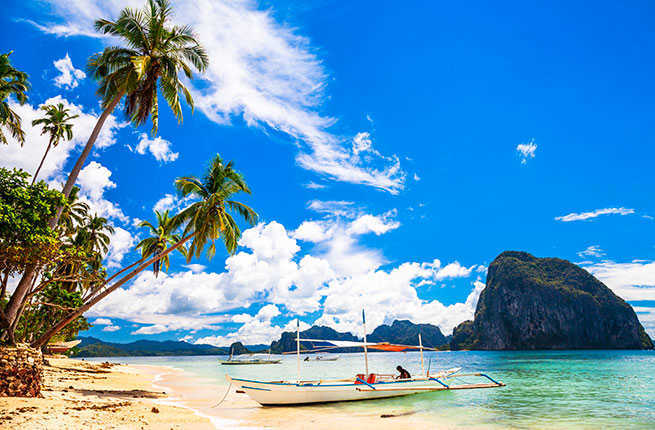 Freesurf69 | Dreamstime.com
Philippines
Friendly, welcoming, and primarily English-speaking, the Philippines offer a unique mix of indigenous and European cultures in Southeast Asia. Beyond the frenetic bustle of Manila, more than 7,000 islands offer an endless variety of beach experiences, from commercial resorts to remote, private-island retreats. One of the country's highlights is undoubtedly El Nido, in the northern part of Palawan province, a short flight from Manila or Cebu City, where limestone cliffs tower over pristine bays brimming with sea life. Soft, white-sand beaches and excellent diving sites bring tourists from around the world to the region's resorts. New direct flights on Philippine Airlines from New York City's JFK Airport to Manila have made the country as accessible from the East Coast as the West Coast.
PLAN YOUR TRIP: Visit Fodor's Philippines Guide
Thecriss | Dreamstime.com
Sicily
With more than 600 miles of coastline, Sicily is home to golden sands, pebbly coves, nature reserves, and bustling seaside resorts. Beaches on the northern side tend to be long and sandy, though also busier; if you're looking for wild and untouched stretches of sand, the southern part of the island will serve you better. Beyond the beaches, there are magnificent Greek and Roman ruins, breathtaking scenery, vibrant cuisine, well-preserved Baroque architecture, a melting-pot culture, and so much more to enjoy. Even if you're beach-focused, no trip to Sicily would be complete without enjoying a visit to one of the island's 700 vineyards.
PLAN YOUR TRIP: Visit Fodor's Sicily Guide
Carla720 | Dreamstime.com
Emerald Coast, Ecuador
Bordering Colombia, Ecuador's Emerald Coast offers visitors a rustic alternative to favored beach destinations such as Salinas and Cuenca. Featuring low-key charms, the region's green-focused eco-resorts look to preserve and celebrate the wild character of the natural surrounding rather than dress them up. Ecuador is small enough that you can explore the entire country in a week, mixing up beach time with hiking, jungle exploration, and whale-watching. You can also visit Quito, the highest capital city in the world; stand with one foot in both the northern and southern hemispheres at the Intiñan Solar Museum; and marvel at the otherworldly 35,000-acre Mindo Cloudforest Reserve, which reaches elevations of more than 15,000 feet.
PLAN YOUR TRIP: Visit Fodor's Ecuador Guide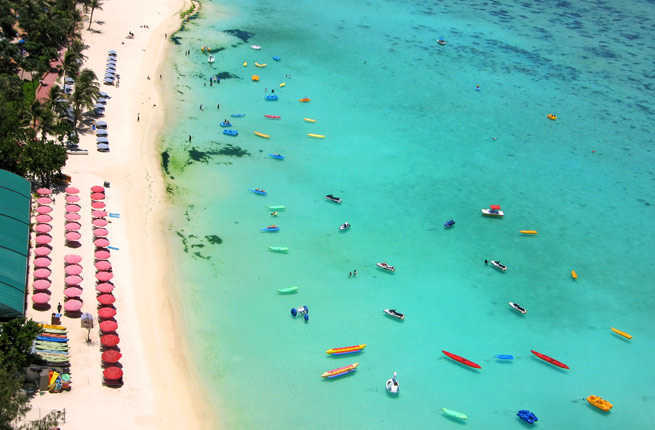 Tatisol | Dreamstime.com
Guam
Guam isn't the easiest (or cheapest) island to get to, but it has perfect year-round temperatures, powdery white beaches, gentle waves, teeming coral reefs, Rodeo Drive–worthy boutiques, and delicious culinary traditions. The gorgeous beaches of Tumon are where Guam's nicest hotels are located, including the Dusit Thani, the island's newest five-star resort. The island's 2016 cultural calendar is packed with festivals and cultural events, including the Guam International Marathon, the LIVE International Music Festival, Guam BBQ Block Party, and the annual Shop Guam Festival. The year's highlight will certainly be the 12th Festival of Pacific Arts, or FESTPAC, an event hosted every four years by a different country in Oceania.
PLAN YOUR TRIP: Visit Fodor's Guam Guide
Deymos.HR / Shutterstock
San Sebastian, Spain
At the heart of Spain's culturally unique Basque Country, San Sebastián is one of the region's most popular cities, renowned for its beautiful promenade and La Concha beach. Two grande-dame hotels grace San Sebastián's shores. The Hotel Maria Cristina is the city's most luxurious stay and the choice of stars in town for the film festival. For a view of La Concha's idyllic coastline from your window, stay at the Hotel de Londres y de Inglaterra, located right on the promenade. And then there's the food: Every night is a pub crawl for traveling gourmands, as the historic streets of the Parte Vieja (Old Town) are packed with cutting-edge and traditional pinxtos (Basque tapas) bars and restaurants. Other top gastronomic attractions include the Basque Culinary Center, Mercado de la Bretxa, and world-class restaurants such as Arzak.
PLAN YOUR TRIP: Visit Fodor's San Sebastián Guide
Bamse008 | Dreamstime.com
Byron Bay, Australia
Byron Bay is the easternmost point on the Australian mainland, and perhaps earns Australia its nickname the "Lucky Country." Fabulous beaches, storms that spin rainbows across the mountains behind the town, and a sunny, relaxed style cast a spell over practically everyone who visits. For many years Byron Bay lured surfers with abundant sunshine, perfect waves on Watego's Beach, and tolerant locals who allowed them to sleep on the sand. These days a more upscale crowd frequents Byron Bay. The forthcoming Elements of Byron promises to be "Byron Bay's only world-class beachfront resort."
PLAN YOUR TRIP: Visit Fodor's North Coast Guide
BlueOrange Studio / Shutterstock
Antigua
The wonder of Antigua, and especially its astonishingly undeveloped sister island, Barbuda, is that you can still play Robinson Crusoe here. Travel brochures trumpet the 365 sensuous beaches, "one for every day of the year," as locals love saying, though when the island was first developed for tourism, the unofficial count was 52 ("one for every weekend"). Either way, even longtime residents haven't combed every stretch of sand. There's not a single building on stunning Darkwood Beach, a good indicator of the kind of secluded experience you can expect to have here.
PLAN YOUR TRIP: Visit Fodor's Antigua Guide
Vacclav / Shutterstock.com
San Diego
In San Diego you're never far from a coastal breeze, the sting of saltwater on your face, or the feeling of soft sand squishing between your toes. This unique Southern California city, known for its easygoing charm, has 70-plus miles of pristine coastline, and the beaches here can rival any in Hawaii or the Mediterranean in terms of beauty and variety. There are beaches backed by dramatic, sheer cliffs, wide, straight stretches, and exotic coves with palm trees and shimmering blue water. Surfing and surf culture dominate some beaches, but nonsurfers can appreciate the delights of snorkeling or stand-up paddling in calmer waters. Each beach charms in a different way. Ocean Beach has a bohemian feel, while Pacific Beach is a magnet for partiers. The North County lays claim to some of the choicest surfing spots, and Black's Beach attracts a smattering of nudists.
PLAN YOUR TRIP: Visit Fodor's San Diego Guide