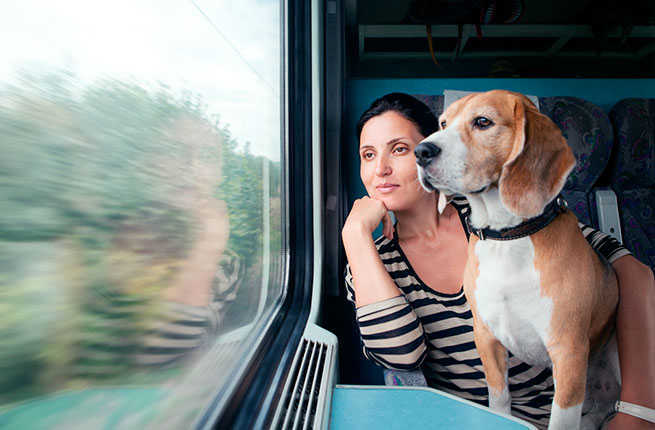 Soloway | Dreamstime.com
There are some trips that just wouldn't be right without your best furry friend. Taking a pet along for the ride can be a complicated pursuit—but if you're prepared, you can simplify the process significantly. Whether you're moving, traveling long-term, or simply retreating for a weekend, you'll benefit from some reminders and tips for transporting man's best friends.—Elizabeth Lynch
Fedor Selivanov / Shutterstock
Airlines vary on requirements for animal travel. Visit a site likePetTravel or Bring Fido to find a complete updated list of each airline's rules, and to find out if your pet can travel in the cabin with you, or must travel with checked baggage. It is definitely important to book over the phone instead of online when traveling with an animal—questions should be asked in the early stages of booking.
Like medically certified service animals, comfort and therapy animals are accepted in the cabin on many airlines. A note from a mental health professional explaining that the owner should not be separated from his or her pet will usually suffice for obtaining permission, but you can find more info here.
In either case, you'll want to consider your pet's comfort—choose nonstop flights and don't go too far if you don't need to, especially during extreme weather months. Many airlines do not accept pets who have been tranquilized, so choose a natural pet calmer if you have a nervous pet. Pre-flight care is equally important; keep your pet well-hydrated especially in the days leading up to the trip.
Paperwork-wise, know that all pets crossing state borders will need a rabies immunization and health certificate issued by your local veterinarian within 30 days of your trip.
Nick Pavlakis / Shutterstock
Amtrak does not accept pets (except for service pets) on their trains, which can be an impediment for non-fliers. Traveling in Europe by train with a pet is a bit easier, with most local trains accepting dogs and cats of all sizes with a fee or purchase of a pet ticket.
V. J. Matthew / Shutterstock
Most local ferries are fine with pet passengers, but cruise ships and long-distance ships are not, with the notable exception of Cunard'sQueen Mary II.
Nickolay Stanev / Shutterstock
Many national car rental agencies will allow pets in rental cars for no additional charge—but it is worth it to return the car already cleaned if you want to avoid extra cleaning fees. Some companies only allow pets if they are confined to crates, and policies often differ by location. Call the local branch up ahead of time to clarify.
Websubstance | Dreamstime.com
Many large hotel chains have pet policies allowing smaller pets for a small fee—it is harder to find lodging that will accept a pet over 50lbs. You'll have good luck if you're on the road and staying in a budget hotel, but higher-end hotels tend to be more restrictive. Since the policies are often location-by-location, you'll want to call ahead and ask at your destination.
Once at the hotel, courtesy is the name of the game. Other guests may not know there is a pet in a nearby room—so try to keep it that way. Hotels will be strict with pet-related disruptions, so be ready to keep your pet on his best behavior.
Check out our list of the best pet-friendly hotel chains before you PLAN YOUR TRIP.
Perati Komson / Shutterstock
Steps for taking a pet out of the country is a little more laborious, but manageable. You'll need to contact theVeterinary Services Area Office of the state that you're leaving from—even if you reside in a different state—and ask to be briefed on the regulations, tests, and required forms you'll need to prepare. Then you should contact the visiting country's consulate or embassy for any additional requirements they have for pet entry.