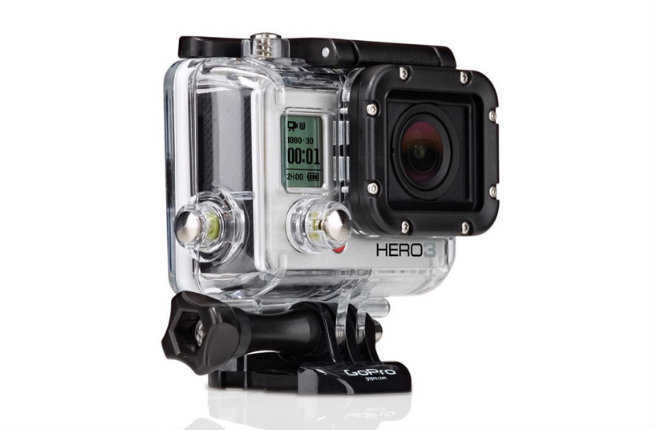 Courtesy of GoPro, Inc.
On vacation, your first inclination may be to unplug. But some tech accessories can make your travels even more enjoyable. We've selected the top 15 trip-improving gadgets—from a video camera that documents underwater experiences to a battery-powered backpack that recharges phones. Whether you're headed out on a beach vacation or a city escape, these accessories will help you get the most out of your next adventure.
by Zach Honig
© 2014 Apple Inc.
Apple MacBook Air (11-inch)
Starting at $900
You can get by without a laptop if you're only traveling for a long weekend, but a notebook can be incredibly useful on extended trips, letting you research restaurants and local excursions, change your bookings, and back up photos and videos on the road. The 11-inch MacBook Air is incredibly thin and weighs just 2.4 pounds, giving you added functionality without extra weight. It's also a great choice for keeping you entertained en-route.
Courtesy of Sony Electronics, Inc.
Sony Cyber-shot DSC-RX100M III
$800
The most powerful point-and-shoot camera you can buy is also one of the most expensive, but the Sony Cyber-shot RX100M III is a fantastic pick. Small enough to fit in your pocket, with a battery that will last all day, the Sony will allow you to snap hundreds of shots and plenty of HD video without weighing you down. With a large sensor and a very capable lens, it can keep up with larger, more advanced models.
Courtesy of GoPro, Inc.
GoPro HERO3: Silver Edition
$275
The camera itself may not look like much, but the footage you'll get out of this tiny rectangular shooter is professional-grade. In fact, the HERO3 is so reliable that it's even used for high-end television shoots, particularly when it comes to action scenes and aerial footage. At $275, it's a no-brainer accessory for your next ski trip or surfing adventure, and with dozens of available mounts, you can secure it to just about any surface.
Courtesy of SanDisk Corporation
SanDisk Ultra 64GB MicroSDXC card
$40
If you're buying an SD card that you plan to use for years to come, make it a microSD. This miniature media can hold just as much as the big guys, but it's small enough to fit into compact devices, such as the GoPro HERO3, some recent point-and-shoot cameras, and most Android smartphones. Most microSD cards also ship with a full-size adapter, so you can use the card with cameras and other gadgets that accept the regular SD format, too.
Courtesy of Fitbit® Flex™
Fitbit Flex Activity Wristband
$100
If you're exploring a new city for hours a day, chances are you're walking many miles in the process, and probably eating a lot, too. The Fitbit Flex can track the meals you consume, tally the distance you walk, chart calories burned each day, and give you an idea of how much exercise you're getting on the road. It also keeps an eye on you overnight, tracking the number of hours you sleep and how many times you woke up. When it's time to wake up, the Fitbit will vibrate.
Courtesy of Balanzza
Balanzza Handheld Digital Luggage Scale
$20
We all hate baggage fees, and while you may not be able to avoid paying them altogether when you check a bag on a domestic flight, you can at least avoid overweight charges. Simply attach the scale to your luggage straps and lift. If you're over the limit, you can move clothes and other items from one bag to another before you arrive at the airport, helping reduce wait times or stress on your wallet.
Courtesy of TP-LINK Technologies Co.
TP-Link TL-WR710N Wireless Mini Pocket Router
$30
If you travel with your laptop, you've probably run into issues connecting to a hotel's WiFi. The hardwired Ethernet option is typically much more reliable, and if you bring along a wireless router, you can create your own WiFi network by tapping into the cable attached to the desk in many hotel rooms. This TP-Link model is one of the most affordable and compact—roughly the size of your laptop's power adapter. There's also a built-in USB port for external storage devices or charging other gadgets.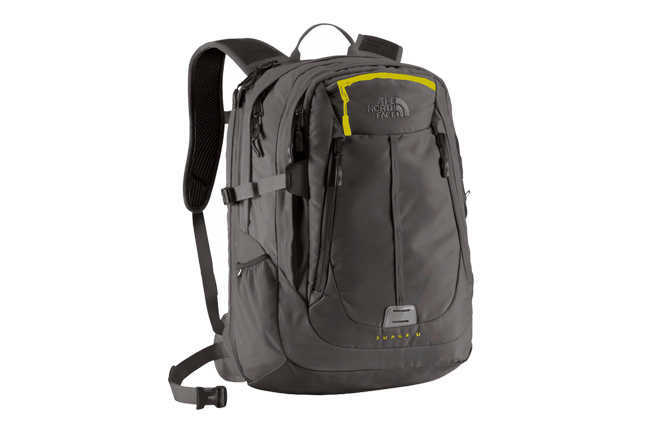 Courtesy of The North Face
The North Face Surge II Charged Backpack
$229
You're going to need a bag to haul around all that new gear, and The North Face Surge II Charged backpack includes a unique accessory that makes it even more practical for avid travelers. The front compartment features something called a Joey—an integrated battery pack with a USB port, providing enough power to charge smartphones or other USB-powered gadgets up to three times. There's also room for a 17-inch laptop, tablets, e-readers, and anything else you might bring.
Courtesy of XTG Technology
Ultra Slim Wall Plate with USB
$20
Once you make it to your hotel room, you'll probably need a power strip with USB ports to power up your gear. This compact wall plate folds flat for storage and expands to provide two full-size grounded power outlets and a pair of USB ports. The integrated ports are great for fueling up smartphones, but you'll want to bring along a regular AC adapter if you need to charge two tablets. This is also a must-have for airports, where power outlets are few and far between (and often need to be shared with strangers).
Courtesy of Mudder
Mudder International Plug Adapter with USB
$14
Most electronics can handle the full range of international voltages, from 110-240 volts, but if you travel overseas, there's a good chance you'll need an adapter to match your gadget's plug to the outlet. You can pick up a very basic version for a couple of bucks online, or you can step up to this all-in-one adapter that'll have you covered in more than 150 countries while also providing a pair of USB ports.
Courtesy of Anker
Anker 5-Port USB Travel Charger
$16
The two plug adapters we looked at both include USB ports, and while they'll accommodate a smartphone or two, you'll need a different charger to fuel up several tablets at once. This USB travel charger includes five USB ports with a combined 5 amps of output, so you can charge all of your family's electronics at once.
Courtesy of Kensington Computer Products Group
Kensington ComboSaver Portable Notebook Lock
$14
A cable lock won't stop determined thieves from walking away with your expensive gear, but it will slow them down, making a huge difference when they only have a moment to grab a laptop. With this notebook lock securing your device to a table or chair, you can walk over to the water fountain or check-in desk at an airport without packing up your laptop.
Courtesy of Samsung
Samsung Galaxy S 5—T-Mobile
$660 without contract
You'll have to pay full price (or make monthly payments) for the Samsung Galaxy S 5 on T-Mobile, but at $50 for unlimited usage, service plans are less expensive than those from other U.S. carriers. You also get a unique and tremendously beneficial perk: free data and texting in more than 120 countries around the world. To take advantage, all you need to do is turn on your phone and enable roaming; you won't be charged for usage, but global data speeds are limited to 128 Kbps, so while you can tweet and send emails, it's not ideal for browsing the web.
Courtesy of Keepgo
from $4/day
If you need faster international performance or don't have a T-Mobile SIM, you can purchase Keepgo's global data service, which ranges in price from $4/day for 50MB of data to $12 for 500MB of usage each day, depending on your destination. Speeds are unlimited, so you can browse without restriction, assuming you stay within your daily limits. Once you hit that cap, you can't use the SIM for the rest of the day, so keep that in mind when choosing a plan. Keepgo also offers AT&T SIM cards.
Courtesy of Spot LLC.
SPOT Global Satellite Phone
$500
Nearly every populated area around the world has access to basic cell phone service, but if your travel plans include remote areas, such as oceans or deserts, you may need a satellite phone in order to stay connected. The SPOT Global Phone lets you send short text messages and make voice calls just about anywhere in the world; you can even tether your laptop to send and receive emails (but not much else). Service starts at $25/month (for 10 minutes of calling or data usage), with rates dropping to 50 cents per minute if you sign up for a $100 monthly plan. There's also an unlimited offering for $150/month or $1,800/year.